Last week was spring break for my girls.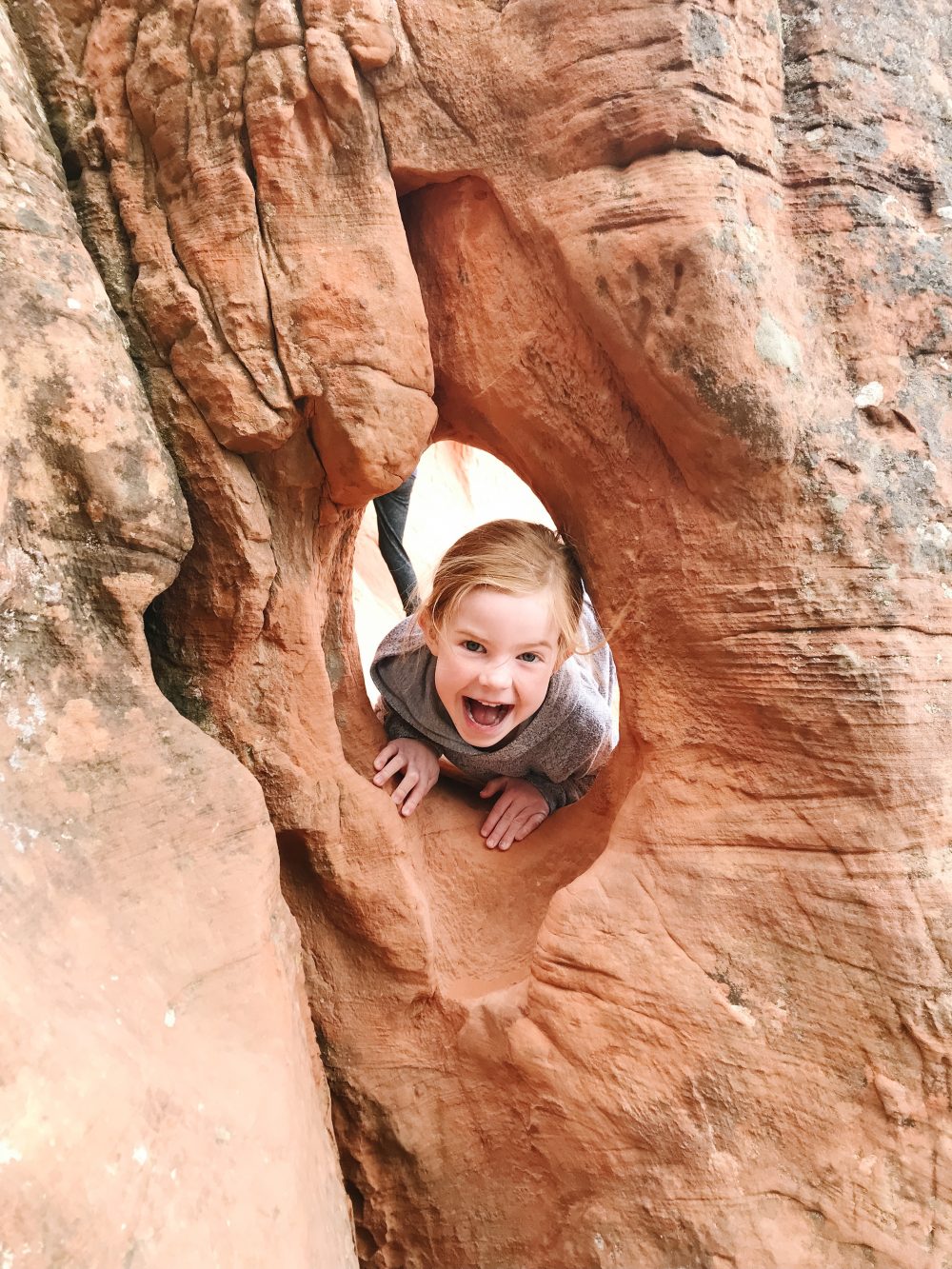 In the past, we've been pretty terrible about doing anything fun for spring break (our last-minute cruise was was a notable exception!), so over Christmas break, when we were planning out our year, we decided to take a trip to St. George, Utah.
We knew the weather would be reasonably warm in April, plus it's not a super long drive (and I am not a road-trip lover) and it's not terribly expensive.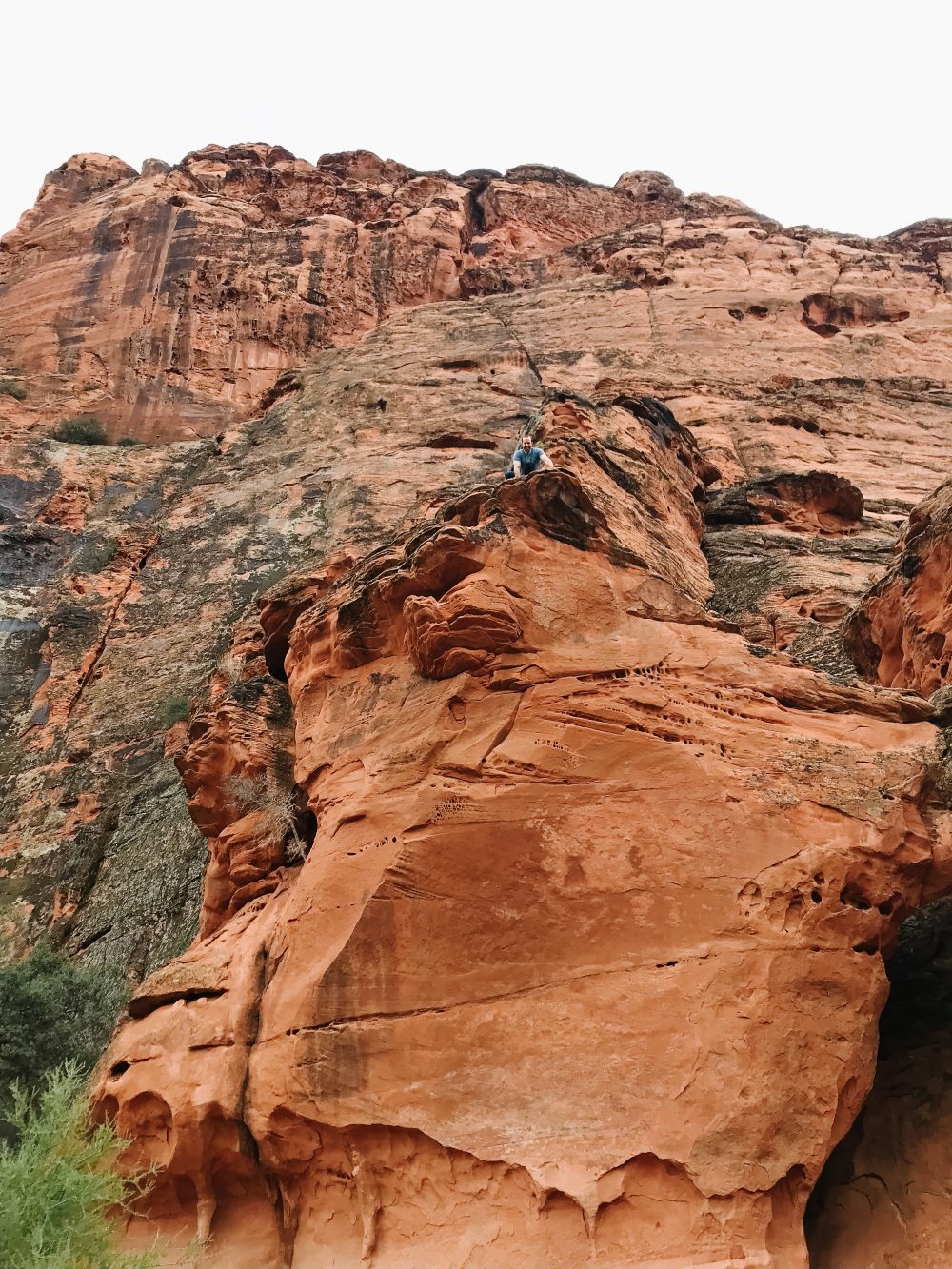 I grew up going to St. George reasonably often since it's only a couple of hours from Las Vegas, plus some family friends had a condo there and would invite us to join them occasionally. So I have fond memories of going there and the idea of taking my own children was appealing.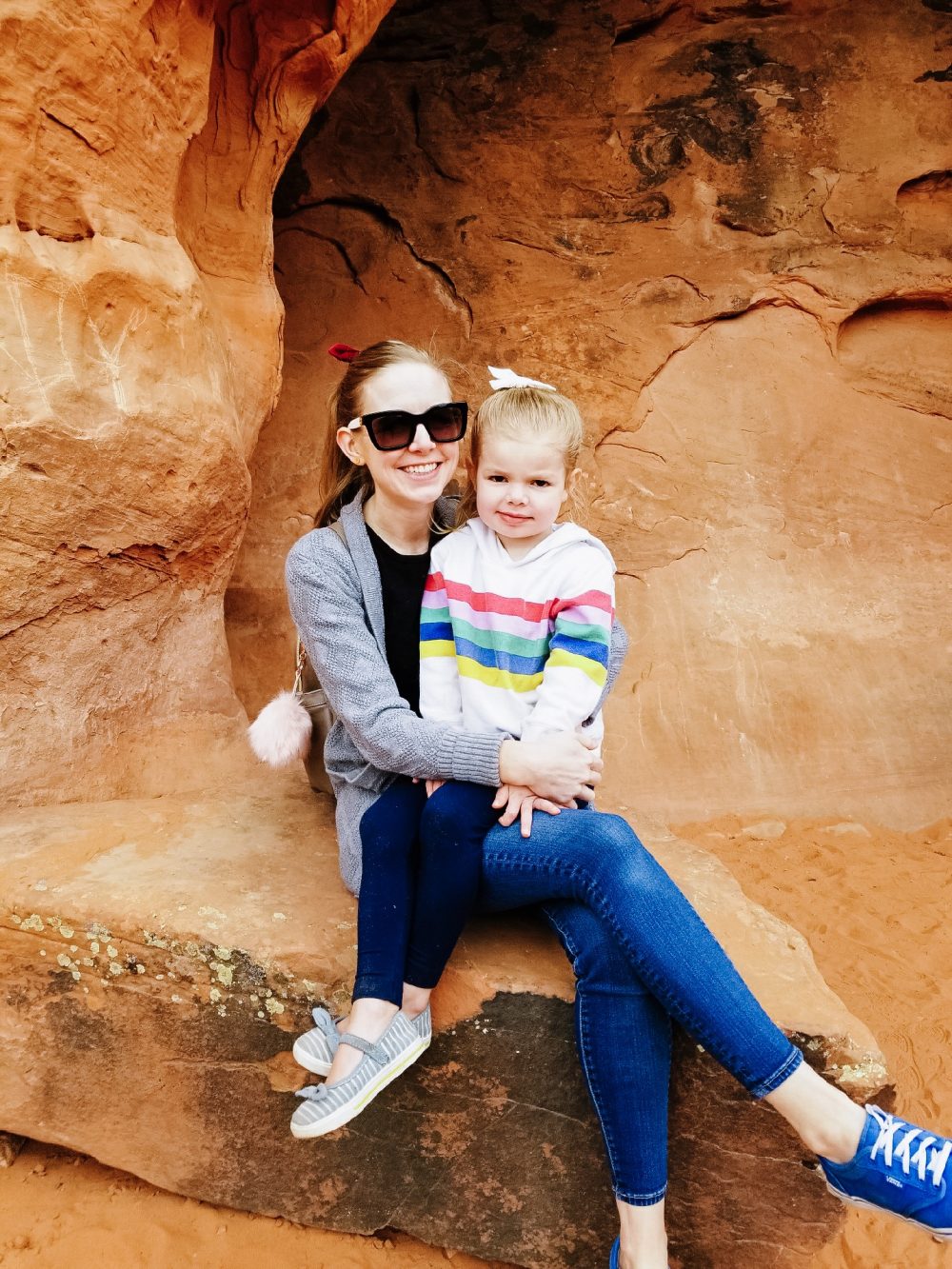 We also thought it'd be more fun to go with another family, so we invited Bart's cousin and his wife, plus their four children that are close in age to ours, to join us.
We booked a place to stay and then I didn't have to worry about it for three months – it was all ready to go.
It was the PERFECT spring break trip.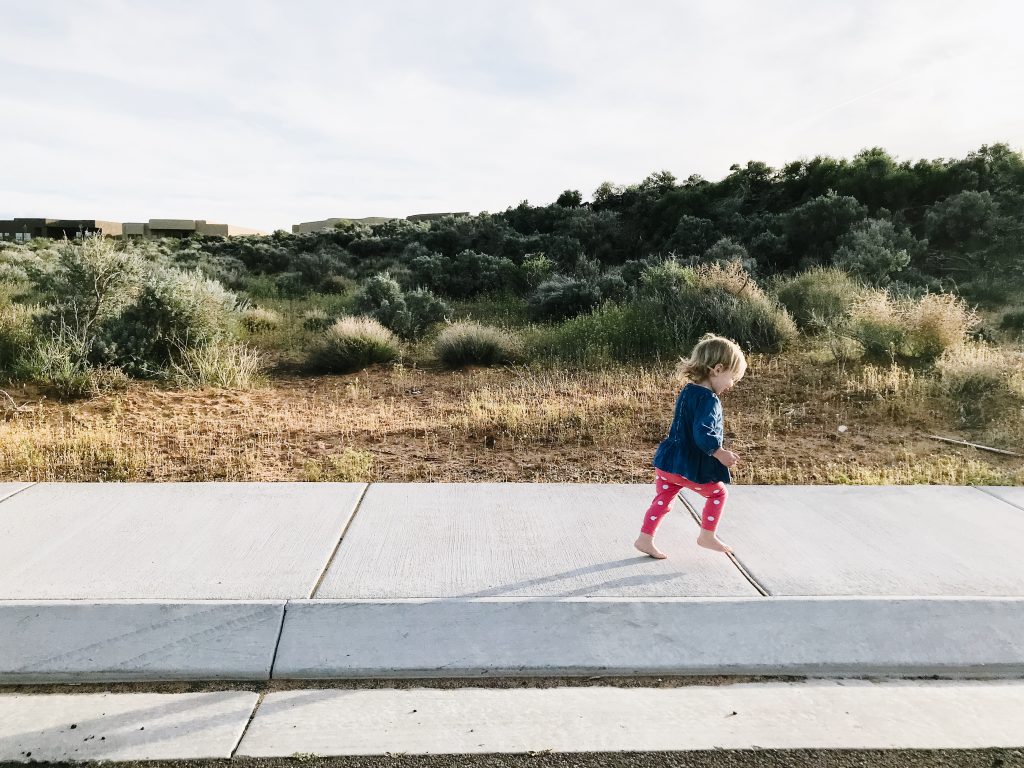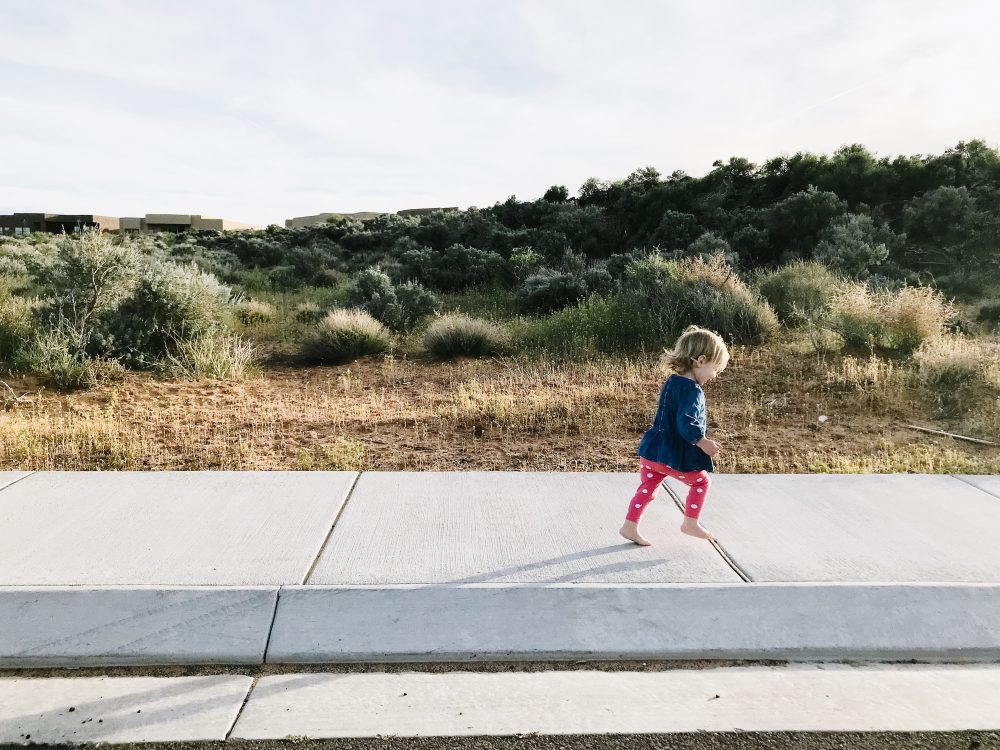 The weather was perfect – warm enough to swim in the heated pool every day, but also cool enough for hiking – and St. George has enough to do that we never got bored, but we also didn't feel pressure to get out if we wanted to stay at the condo and play endless rounds of Phase 10.
Having another family there meant our kids always had someone to play with and that when they went to bed, the grown-ups could hang out.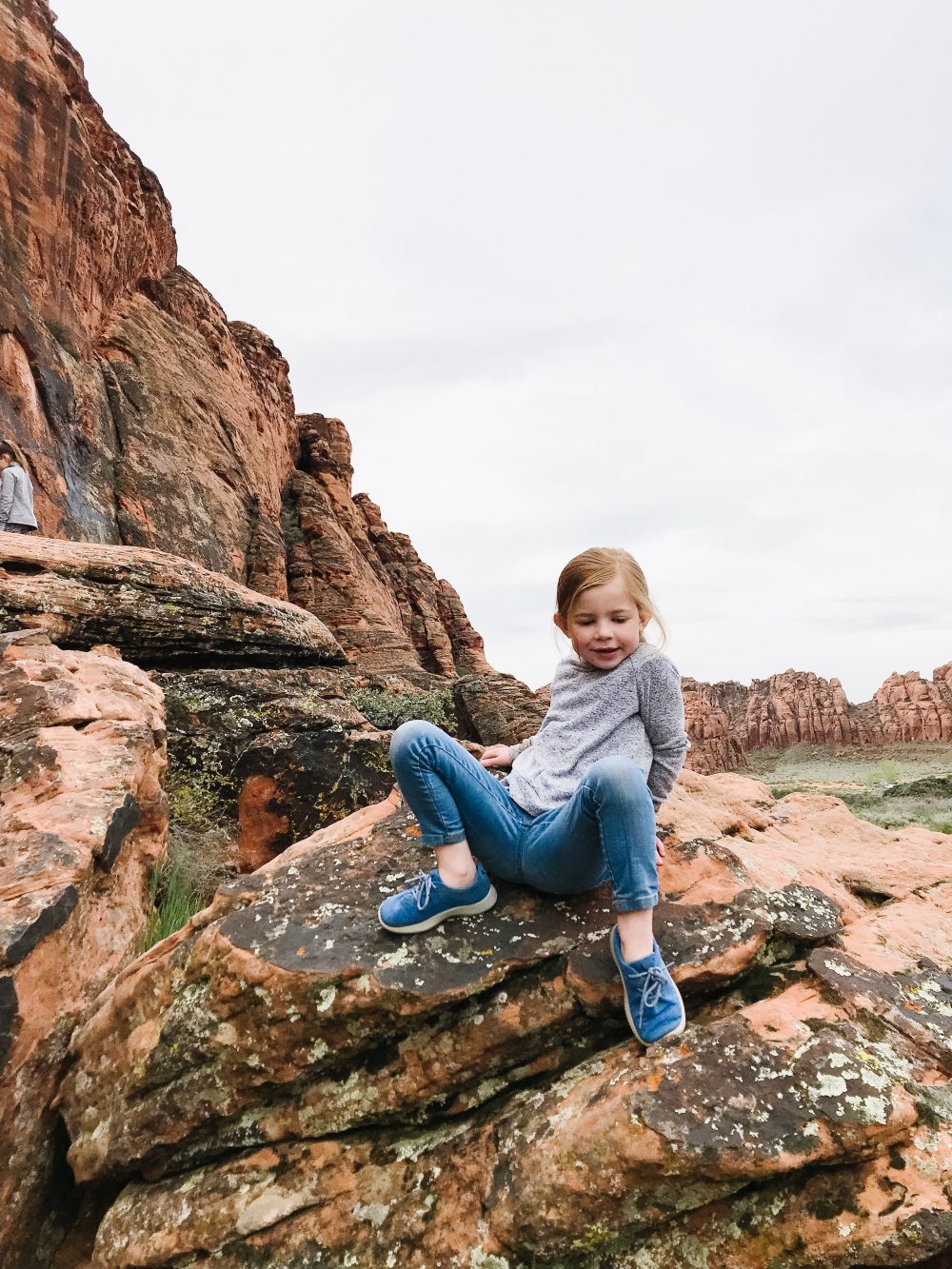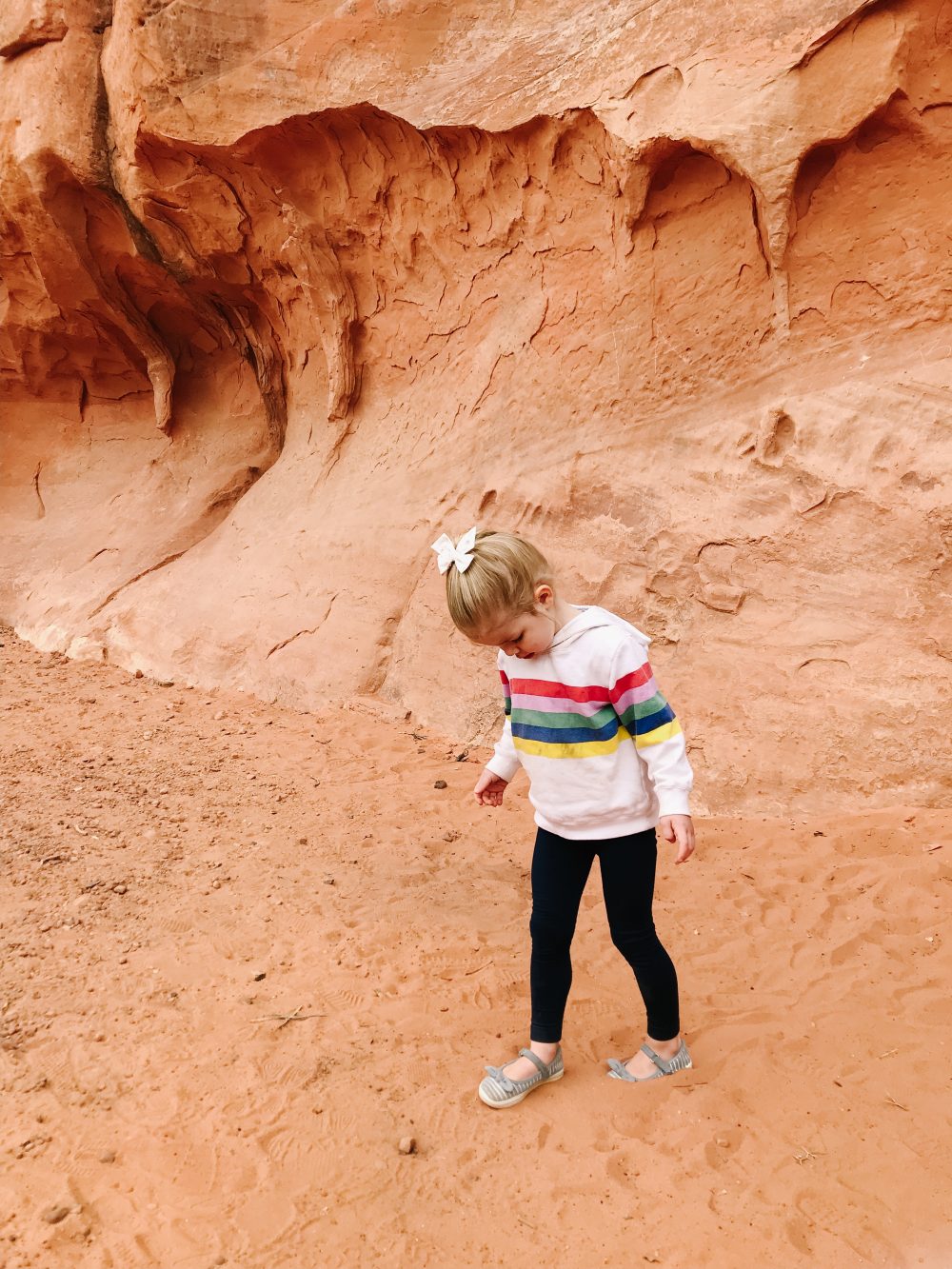 Where to stay in St. George, Utah
Our vacation rental was in a small complex just outside of St. George, a few minutes from Snow Canyon, and despite the fact that there were apparently a million people in St. George for spring break, it never felt crowded (the one we stayed at is available on both VRBO and AirBnb, plus there are lots of other rentals in the complex).
It also had a really nice pool that was perfectly set up for families – it had a massive section that was 6 inches deep, plus a big pool that never got deeper than 5 feet and a hot tub nestled against both of those sections so you could sit in the hot tub and all your children were almost within arm's reach.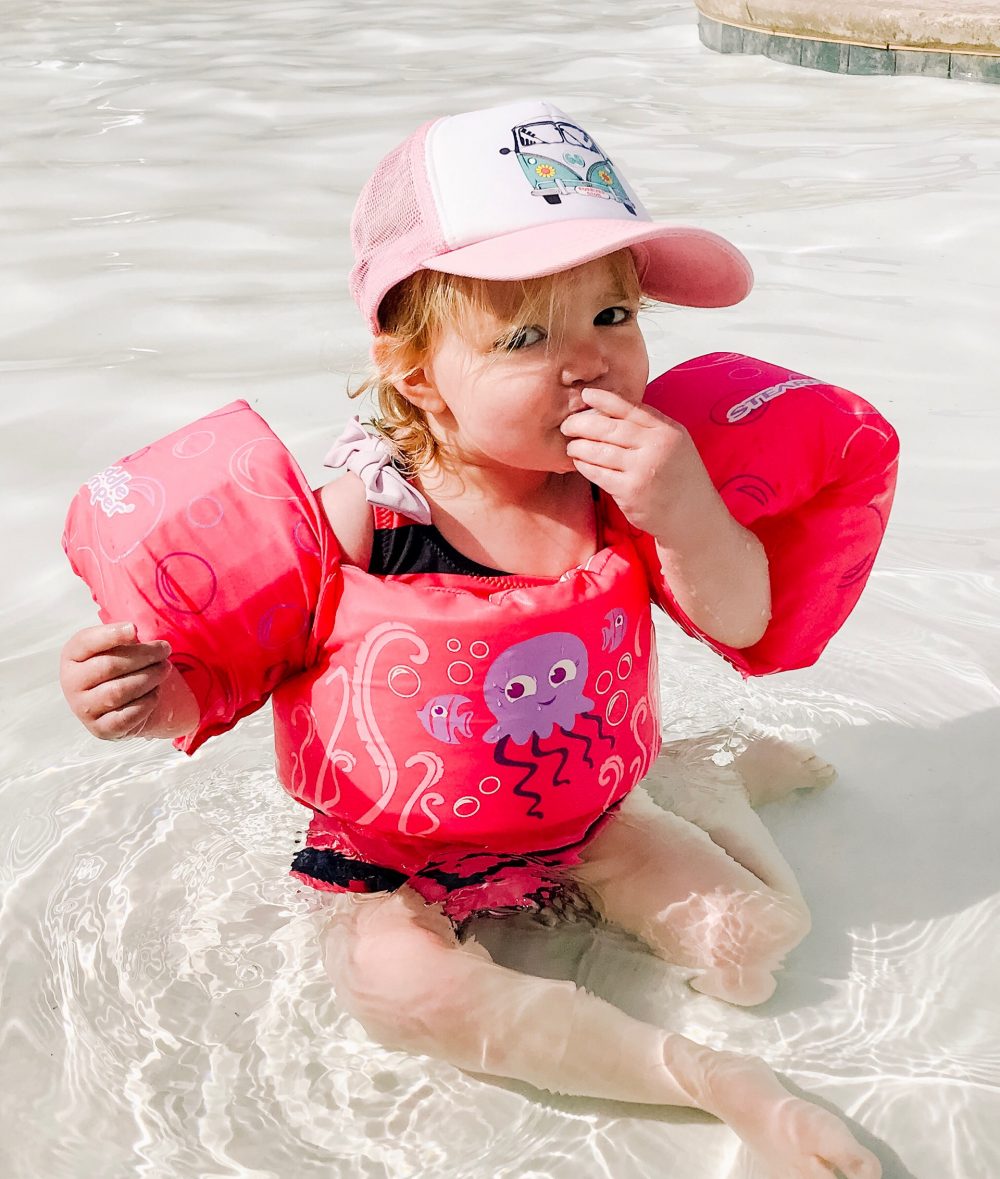 Plus, it was right outside our back door, so it was about 30 seconds from inside to pool for us. We'd go back to this place in a HEARTBEAT (Bart kept saying, "I'm tempted to buy one of these townhouses").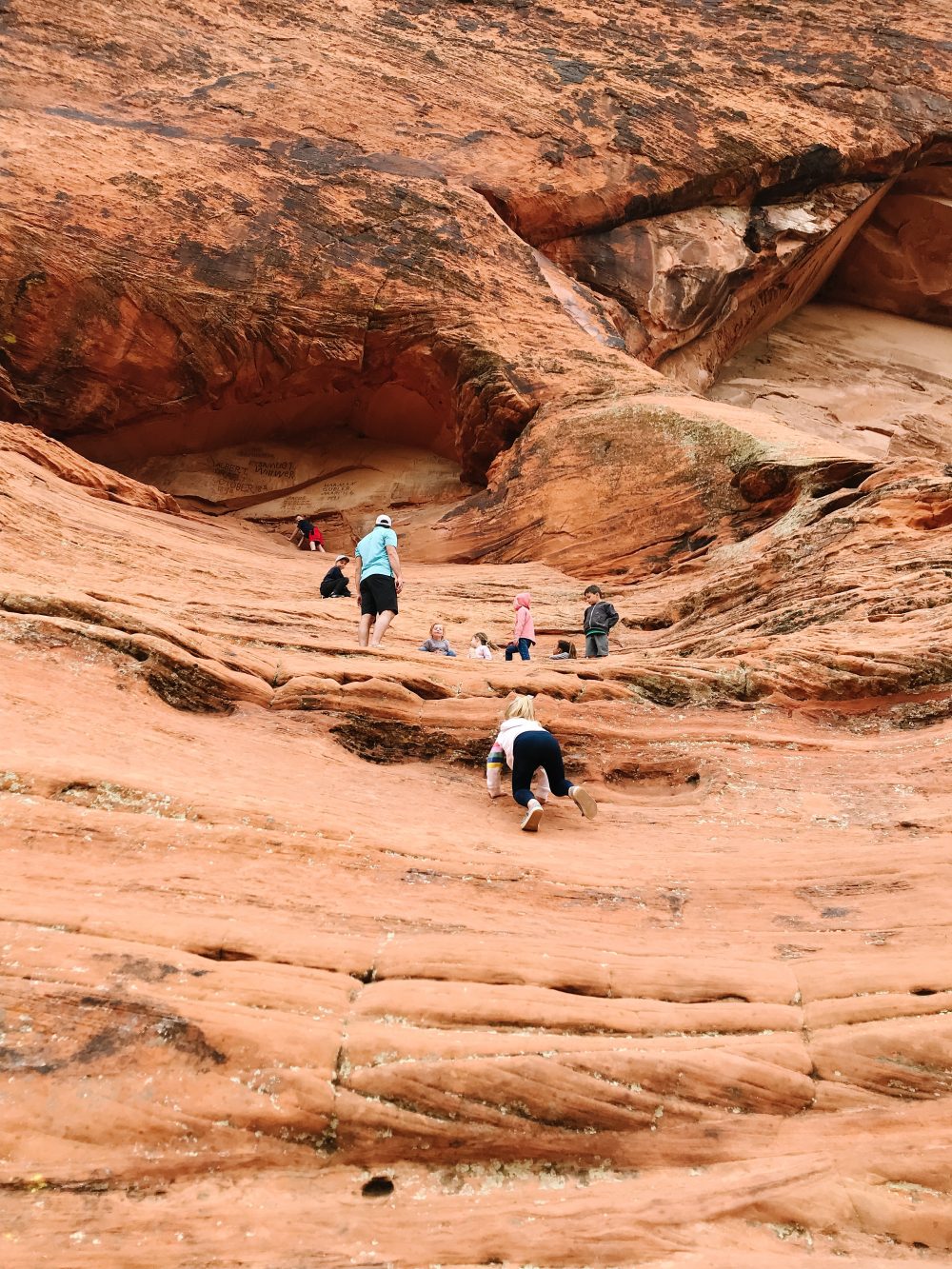 Things to do in St. George, Utah
Our goal on our trip wasn't to get out and see everything – we spent a lot of time at the pool, but here a few of our favorite things we did while we were there: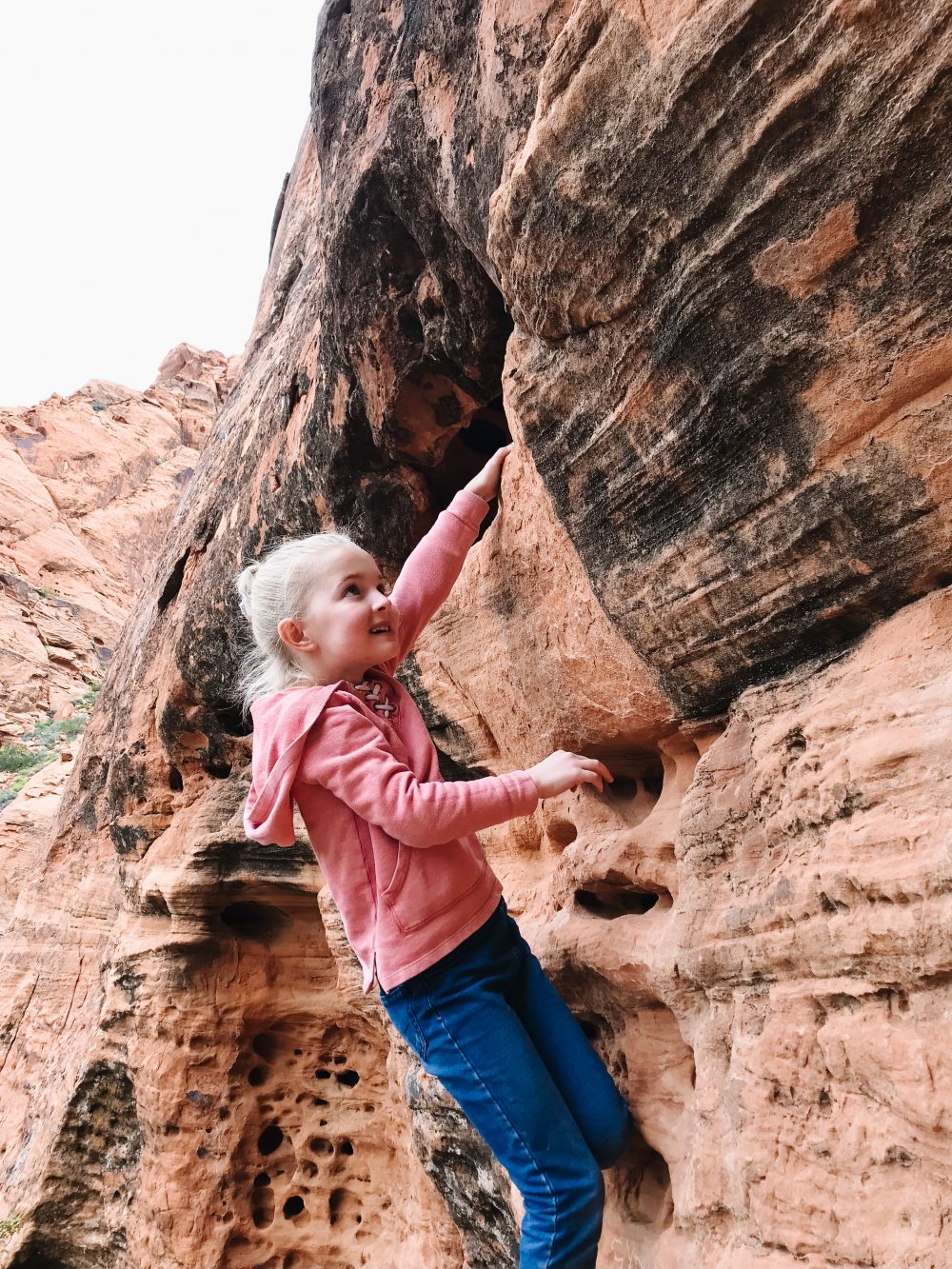 Hiking in Snow Canyon. Snow Canyon is GREAT for hiking with little kids because there are a lot of short trails. We hiked both Pioneer Names and Jenny's Canyon in the same morning (total, it took less than 2 hours) and both of them were perfect for little kids. Plus, it was only about a 5 minute drive from our vacation rental.
Thunder Junction All Abilities Park. This park was pretty busy on a Tuesday afternoon, but not too busy to still be really fun. It has a splash pad and a train (which we didn't ride) and lots of equipment and it's made to be accessible for children of all abilities. We stayed for probably three hours and my girls still didn't want to leave.
St George Children's Museum. On our last full day there, we spent the morning at the St George Children's Museum which was really fun (it's only $5 per person). It's not huge, but it's very well-designed with lots of fun things. My girls would have happily stayed for several more hours. Afterward, we ate lunch on the lawn outside which also has a big fountain and little river to play in.
I'm sure we'll visit St. George many more times over the years since it's so close (and probably convince my parents to come up and meet us) and I can't wait to get to know it better.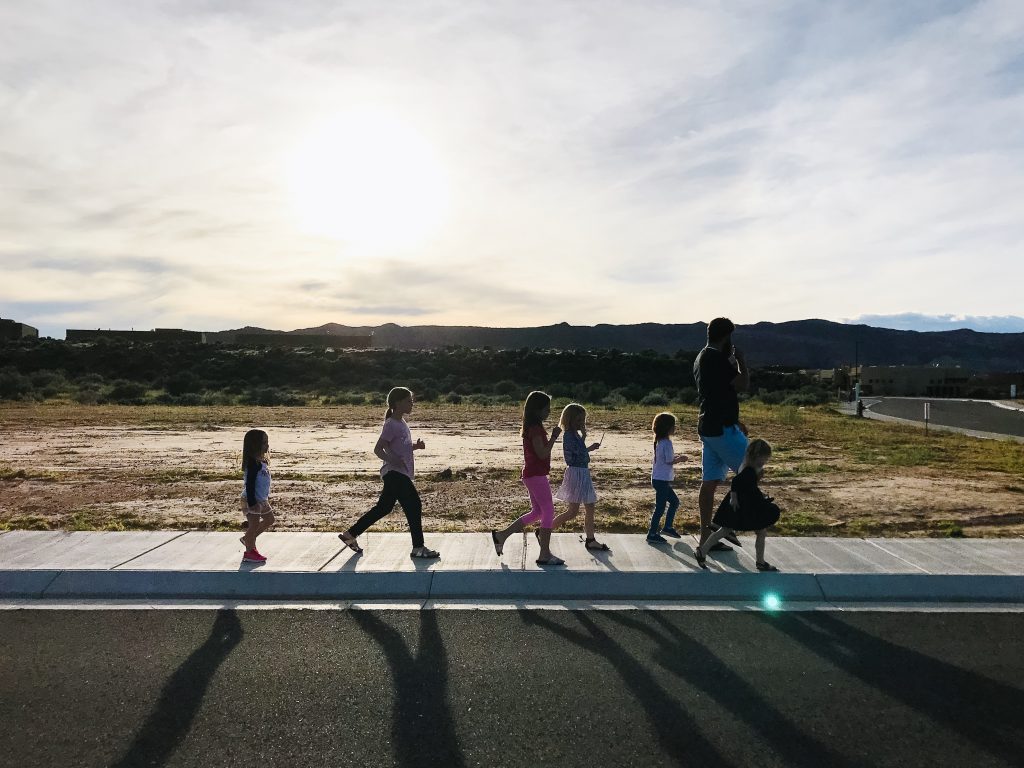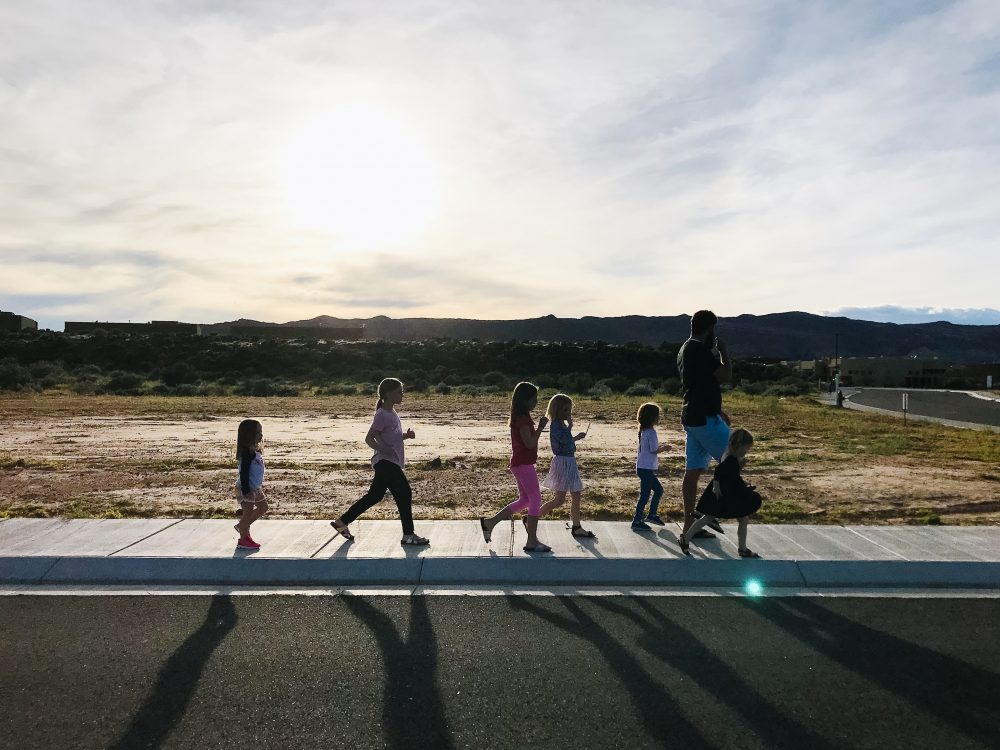 I also made a little video of our trip – I don't want to forget any of this fun!