First off, is "Modern Mrs. Darcy" the best name for a blog you've ever heard, or is it the best name for a blog you ever heard?
I think so too.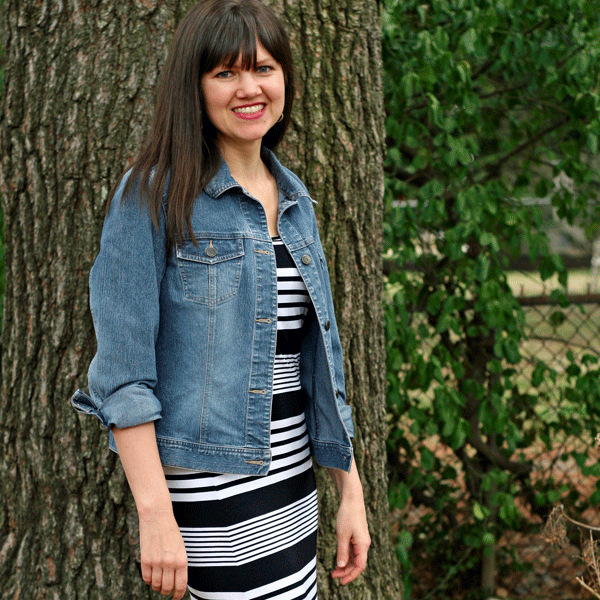 I discovered Anne's blog last summer when someone on Twitter mentioned her 2013 Summer Reading Guide (I am one of those people who CANNOT resist a reading list of any kind).
And I was immediately hooked. We have fairly similar reading taste – lots of kid-lit classics (she mentions later in this post that she loved Emily of New Moon as a child, which is one of my all-time favorite books. I can see my battered and beloved trilogy from my desk chair), and a love of food-related non-fiction.
She does these fantastic posts each month called "Twitterature" where she writes a very very brief review and recommendation of books she's read recently. Every month, I'm maxing out my hold list three minutes after finishing her post.
And she's an audiobook fiend too (here are 40 of her favorites). Of course I love her.
Plus, she talks about all sorts of other interesting things (I loved this post last week about why women don't show up), and basically every single post she writes.
I wish I knew her in real life – it'd be a quiet friendship since we're both introverts, but I'm certain we'd share a lot of books.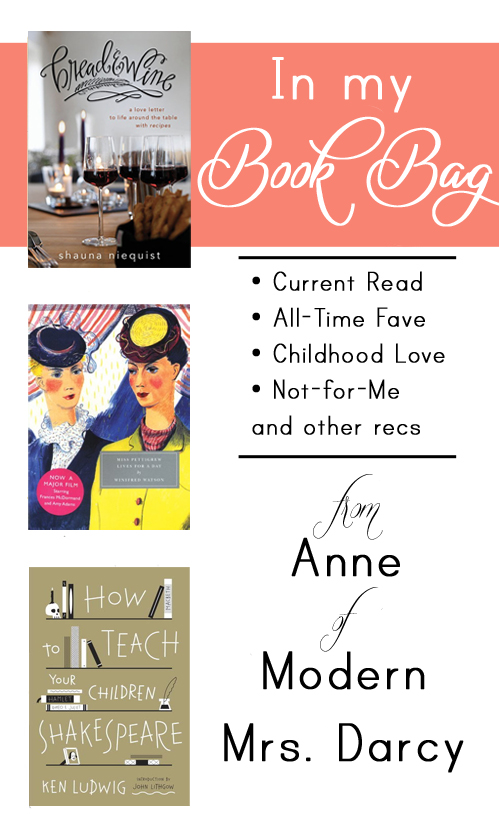 I can't remember a time when I didn't love to read. I read for fun and for bibliotherapy: it's my favorite introvert coping mechanism. It's what I do to recharge after a morning with my noisy kids and to unwind before bed.


My to-read stack has morphed over the years from a polite stack to a terrifying teetering tower. Blogging has NOT been good for this: I find so many book recommendations online, and get so many from my readers, that I'll never make much of a dent in my to-read list. But it's worth it, because right after reading itself, talking about books–over coffee or in the blogosphere–is one of my very favorite things. – Anne


Childhood Favorite: My first loyalties were to the tween girl trifecta of The Baby-Sitters Club, Sweet Valley High, and Nancy Drew … but the first book I stayed up half the night reading was Emily of New Moon, by L. M. Montgomery. My taste has definitely gotten better with age.
Currently Reading: I'm usually reading through 5 or 6 books at any given time. Currently I'm working on The Red Tent, My Berlin Kitchen, How to Teach Your Children Shakespeare, and Clutterfree with Kids. And my 8-year-old asked me to read The Borrowers, so I'm reading The Borrowers.
Comfort Reading: I catch myself re-reading when I'm stressed out or sad–especially Kid Lit or anything cookbook-ish. This is when you'll find me reading through all the Anne of Green Gables or Betsy-Tacy books, or all of Ruth Reichl's foodie memoirs.
A Book Everyone Else Seemed to Love, But I Didn't Like: I might be the only person on the planet who hated Gone Girl. The writer in me wants to appreciate the way Gillian Flynn structured it, but I can't quite get there. She pulled a cheap trick, and it feels very gimmicky to me.
A Book on My To-Read List: Um, Goodreads says I have 130 books on my to-read list, and it's not even complete! I'll share two books I'm dying to read: Delancey, Molly Wizenberg's latest foodie memoir, and Delicious, Ruth Reichl's first novel. Both are due out in May and I can't wait.
Book I'm Most Likely to Recommend to Someone Else: I'm constantly recommending books to people and have to check myself so I don't get pushy about it! I've recommended the heck out of Quiet and Bread and Wine over this past year, because they're wonderfully written and so timely. My go-to, crowd-pleasing fiction recommendation is Miss Pettigrew Lives for a Day.