When I wrote my post about how to download audiobooks to your smartphone using the Overdrive app a couple of weeks ago, some people still wanted to know how to do it through your computer.
And Jenna commented saying her phone said a book was disabled for her device. After I started using the app more, I realized that the app won't let you use WMA files on the app (that's why you get the disabled message). For the books in that format, you still have to transfer them the hard way.
So, here's how that works. And I promise, it's not actually that hard. It's just. . .not quite as easy as the app.
The other benefit of this is that it won't be removed automatically from your device when your two week checkout is up. It'll stay on your device until you delete it manually. Which is really nice if you aren't QUITE done with it in two weeks and want to finish it up.
(Is it illegal for me to be saying this? DELETE IT THE MOMENT THE TWO WEEKS IS UP. OBVIOUSLY (but. . . just know it won't disappear on its own. Take that information and use it as you will. Don't hold me responsible)).
So most public libraries use a system called Overdrive to handle their electronic books (both audiobooks and digital copies you can download to your e-reader). If you aren't sure if your library has it, try googling the name of your library and Overdrive together.
Both of my Texas libraries used it, the Utah library system uses it, the Boston library system did, and so does North Carolina. So, it's likely that your library system uses it too (if you can't find it, comment with the name of your library and I'll try to help you figure out if it does or doesn't. What's my library degree for, anyway?).
Okay, so you've found Overdrive. It will look something like this:
Choose your category of choice (obviously, I'm always clicking through to "Teen Fiction" first). You'll notice you can have it display only books that are currently available to check out. You can also filter to audiobooks or ebooks only below that.
Once you find a book, click on it and choose "borrow." (Or if it's not available, choose "Place a Hold" and it'll email you when it becomes available).
Once you click borrow, you'll need to sign in with your library card number. And then it'll give you the "download" button.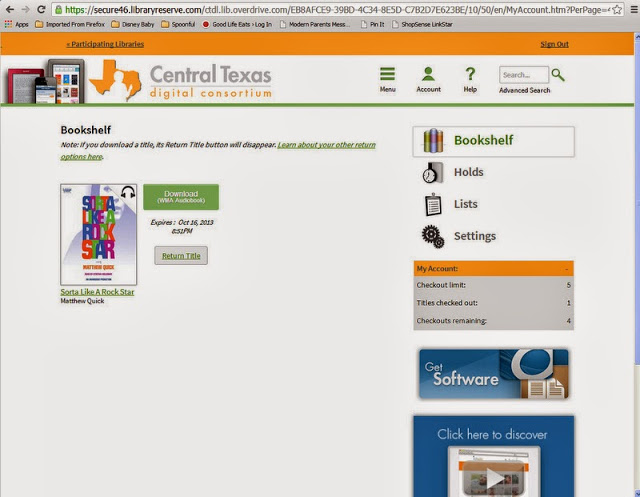 Sometimes it'll give you a choice between downloading a WMA file and an MP3 file. If you can choose, I highly recommend picking WMA. Much easier to work with, I've found (I'll admit, it was only when I was writing this post that I finally paid attention to which was the easy one and which was the tough one. Before that, I just picked randomly and was sometimes happy and sometimes annoyed).
Now click the file that's just downloaded to open it (in Chrome, it'll be in the bottom of your browser window).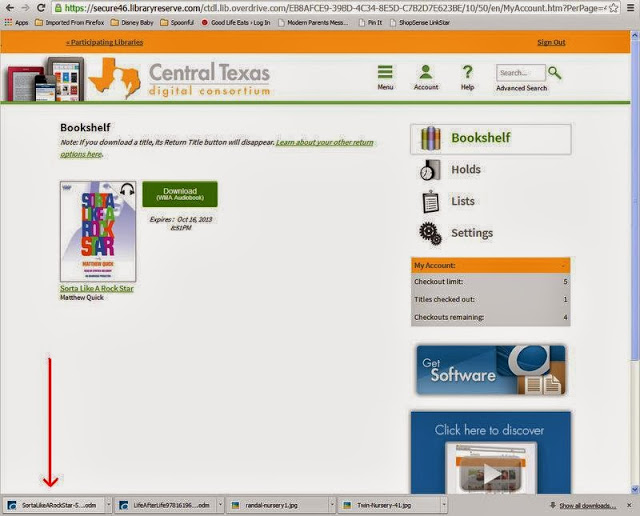 It will open the Overdrive Media Console (if you haven't downloaded it previously, you'll need to download it before you can use audiobooks from your library).
First it will download the files to your computer (click "ok" in the pop up box to let that happen).
Once that's done, you need to transfer it to your phone or iPod. (If you just want to listen via your computer, you're done now. Just right-click the title you want to listen to and choose "Play.").
Plug your phone or iPod into the computer and make sure iTunes is open and ready to run.
Right-click on the title you want to transfer and choose "Transfer." It'll search for your phone or iPod and then just click Next, Next, Next until it starts transferring.
Go check your phone or iPod and see if all the parts have transferred. I cannot TELL you how many times I have been on Part 5 of 7 only to realize that somehow Part 6 didn't make the trip over. I have zero idea how this happens, but it is infuriating. Especially when the book has expired already and I have to wait through 6 people again for it to come available. So check. You'll be glad you did.
If they haven't, go back through the transfer steps again, but select only the parts that are missing. It'll tell you they're already on there and do you want to overwrite them? Yes, yes you do.
I also find that sometimes they don't transfer in the right order and you'll have Part 4 sandwiched between Part 1 and 2 (again, I have no idea why this is).
Click the "Edit" button in the top left corner, and then drag and drop them (touch the bars on the right hand side of each Part) to the correct spot, then press "Done."
Voila! Ready for listening.
Leave a comment if you have questions or problems and I'll try to walk you through it. Happy reading!