This post is part of a social shopper marketing insight campaign with Pollinate Media Group™ and WonderBag, but all my opinions are my own. #pmedia #WonderBag 
One of the things that most excited us about having a house was finally being able to invite over slightly larger groups of people (to be honest, this didn't really stop us in the apartment – we had groups of 20+ people over on multiple occasions but it was EXTREMELY tight).
On Sunday, we invited several families over for dinner – I made two kinds of soup and then the other families brought rolls, salad, and cookies.
There was room for everyone to spread out a bit, and the kids spent most of the evening playing in the backyard. I was a little bit in heaven.
I made two soups – one was a crockpot jalapeno popper chili (recipe coming once I make it again, because it all got scarfed before I could snap a picture) and one was this carrot soup recipe.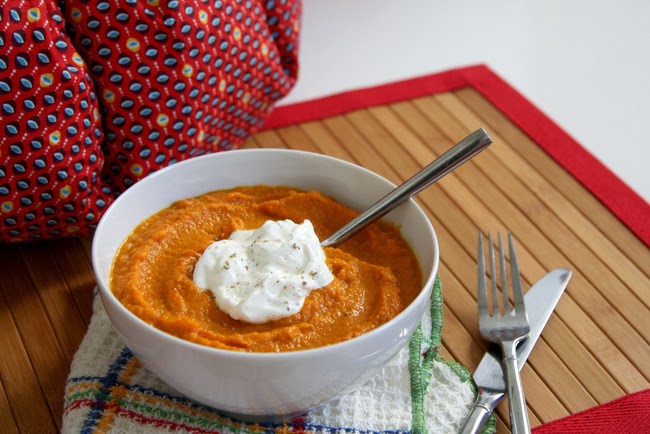 I've been making this carrot soup recipe for a couple of years, and Bart absolutely loves it.
I've always made this on the stovetop before, but I was throwing both soups together before church and didn't have time to let this one cook until the carrots got soft.
And I couldn't throw it in the crockpot because I was already USING my crockpot for the other soup.
So this was my big chance to try out the Wonderbag.
It's a pretty cool concept and one I was instantly enamored with, thanks to my obsession with my crockpot.
The Wonderbag is a super-insulated bag that holds your cooking pot and lets the contents keep cooking for up to 12 hours, without electricity (so it's perfect for taking food on a roadtrip, to potlucks, or to a tailgate party). You just bring your ingredients to a boil on the stove, simmer for about 10 minutes, then put the lid on, stick it in the Wonderbag and pull it out later in the day when you're ready to eat.
Two things about it I really like. First, no burning (I cannot tell you how many times I've burned stuff in the bottom of my crockpot which definitely seems to run a little on the hot side). Second, you know how so many crockpot recipes say to brown your meat before you put it in the crockpot for better flavor? Right, I NEVER do that because I'm way too lazy to use a second pot. With the Wonderbag, you're already using a pot on the stovetop, so you can brown your meat, add the additional ingredients, bring it all to a boil, and then let it cook away in the Wonderbag. No extra dishes.
Even better than my own convenience is the fact that the Wonderbag is helping families (especially women) in Africa. Since many African women and girls spend such a huge amount of time preparing meals, the Wonderbag means less money is spent on fuel, less time is spent GATHERING that fuel and water for cooking, and there is time and money available to send more girls to school.
As someone who has benefited hugely from my opportunities for education (and had to make very little sacrifice to do so), I love that other women around the world can have the chance to achieve some of those same kinds of dreams.
Plus, for every Wonderbag purchased in the US, a second Wonderbag is donated to a family in Africa. Win-win. (They are available on Amazon).
If I ever get brave enough to go camping with our girls, I'll definitely bring this along. In the meantime, we'll use it for outings less likely to leave us crazily sleep-deprived (aka, picnics. Mostly in exotic locations like our back porch).
By the way, ever since I read Zero Waste Home, I've stopped peeling my carrots before cooking them. I haven't noticed a difference except in the time I save NOT peeling a pound of carrots.
AND, when I was making this carrot soup, I was thinking it would be perfect for Halloween because of its bright orange color. And, if you are much more awesome than I am, you could even put the sour cream on top in the shape of a ghost.
carrot soup recipe

You can also follow Wonderbag on Twitter and Instagram.
if you liked this carrot soup recipe, you might also like these other recipes: