You know what pretty much the entire Internet hates?
These word verification forms in order to comment on a blog post. I mean, everyone has always disLIKED them, but then Blogger went and made them unbelievably difficult (adding those ridiculous numbers) and ALSO more people started reading blogs via phones and tablets and such, where it's even MORE difficult to type out those ridiculous little "words" (could I have used more capital letters in this paragraph? No, I do not think so).
So, everyone should get rid of them, right? Yes.
(Also, I know people worry about spam, but really, I think you shouldn't worry too much about it. I got rid of my word verification years ago and I've gotten only a handful of spam comments in that time (although I do have it set to make comments on posts older than a month get verified by me first). And really, deleting the occasional spam comment is so much better than making your beloved readers type in made-up words and random number sets every time they want to comment).
If you DO have significant problems with spam or are worried about it, might I suggest that you moderate your comments (meaning you push them through to published instead of having them instantly published) instead? Then your readers don't have to fill out the word verification and you control the spam.
Anyway. . . .
The thing that makes this is a tiny bit tricky is that when you're signed into your Google account, it won't make you do a word verification if you comment on your own blog, so you might THINK you don't have the word verification, even if you actually do.
So. . . you know, you might want to check. Also, it takes all of about sixty seconds.
First, go to your Blogger dashboard and choose the little dropdown arrow next to the picture of some papers:
A bunch of options will pop up. Choose "Settings."
When the settings page comes up, choose "Posts and comments" from the left-hand sidebar.
When the "Posts and Comments" page opens, you'll see an option for "Show Word Verification." Change it to "No." Think about what a good person you are.
And now press 'Save Changes" in the top right corner and pat yourself on the back.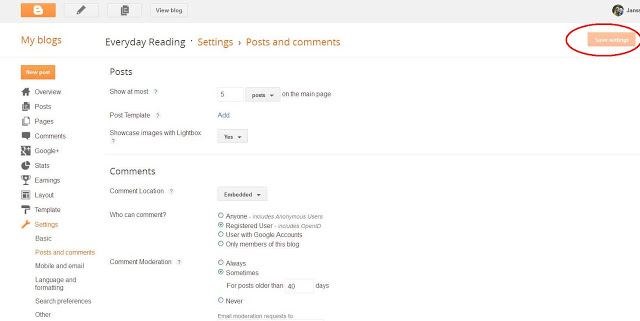 Well, you've just made MY day.