Before I made this recipe, I'd never even heard of farro (spell-check, I'm just discovering, also has never heard of it. I'd feel better about that, but it doesn't know my name either. It's rather disconcerting to go through life with your name always getting a giant red line of doom underneath it).
When I saw it on Smitten Kitchen, though, I was instantly convinced that it was a recipe I'd like. And when I read that you just tossed everything in one pot, set the timer, and returned to find it ready to eat? I was really convinced.
This is the perfect dish to make when Bart's busy at school (which I'm starting to realize is going to be the story of the next two years), and I want some real dinner that both of my girls will eat and doesn't require me to do a lot of dishes afterward. I've been spoiled by 8 years of Bart doing all the dishes for me.
I made a few tweaks to make it vegan, but I noticed that she mentioned eating it with a fried egg on top. And right now I'm ALL about fried eggs. So, I'll probably be trying that decidedly non-vegan option very soon. Possibly this afternoon.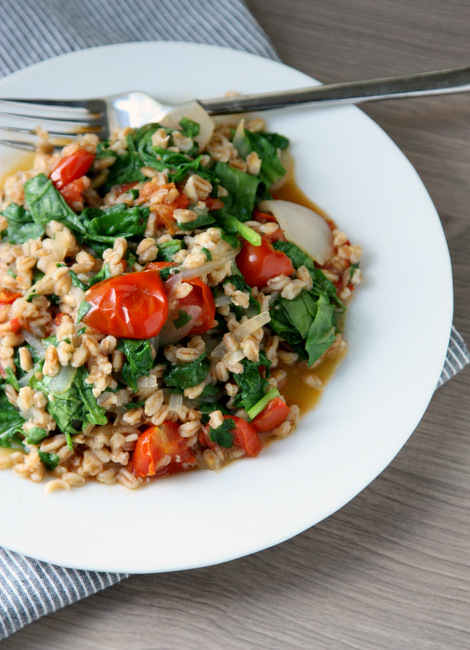 one pot tomato and spinach farro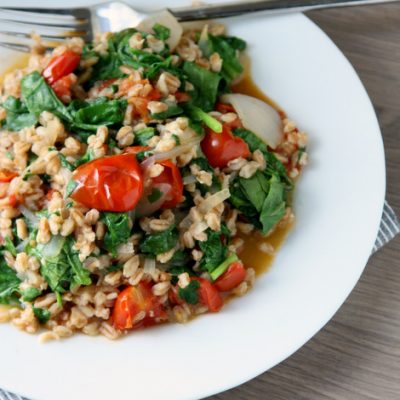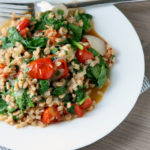 One-Pot Tomato and Spinach Farro
Easy one-pot recipe that is full of flavor!
Ingredients
2

cups

semi-pearled farro

or quick-cooking farro or under 30 minute farro. I found mine in the pasta section at Trader Joes

4

cups

water

1

onion

thinly sliced

1

lb

cherry tomatoes

halved or full-size tomatoes, diced

4

cloves

garlic

minced

2

Tablespoons

olive oil

Two dashes red pepper flakes

2 1/2

teaspoons

salt

3

cups

chopped baby spinach

loosely packed
Instructions
In a large saucepan, put the farro and the water in to soak while you prep the other ingredients. Add all of the other ingredients except the spinach as you go.

Turn the heat on to medium. Set the timer for 30 minutes.

Let the mixture come to a boil (you don't need to cover the pot) and then reduce heat to medium-low and let simmer until the timer goes off.

Remove from heat, stir, and add baby spinach. Stir and serve immediately.
if you liked this tomato and spinach farro recipe, you might also like these other recipes: