It's not even close to actual fall weather here (this week, the coolest day has a high of 95 degrees), but my Halloween decorations are out and it's getting darker early, so I'm going to make soup whether or not Arizona cooperates.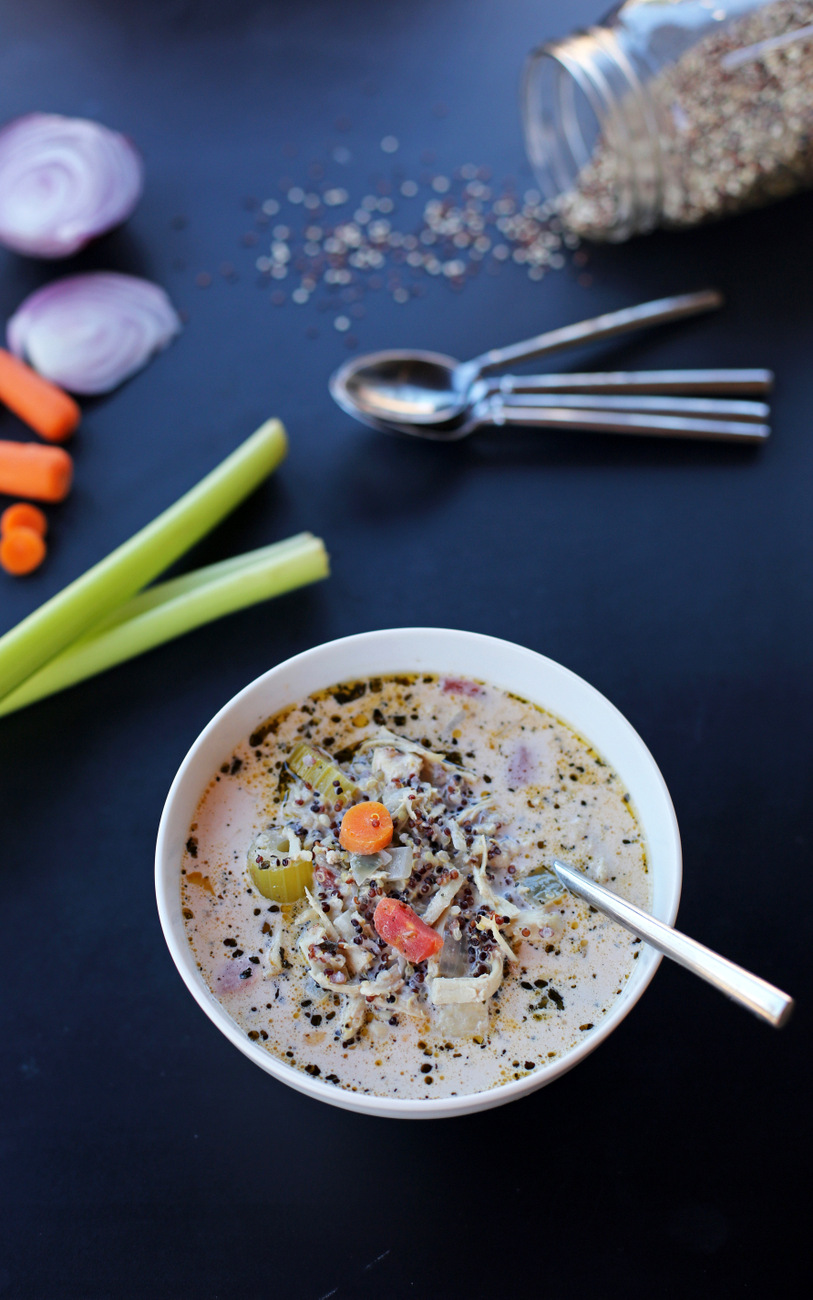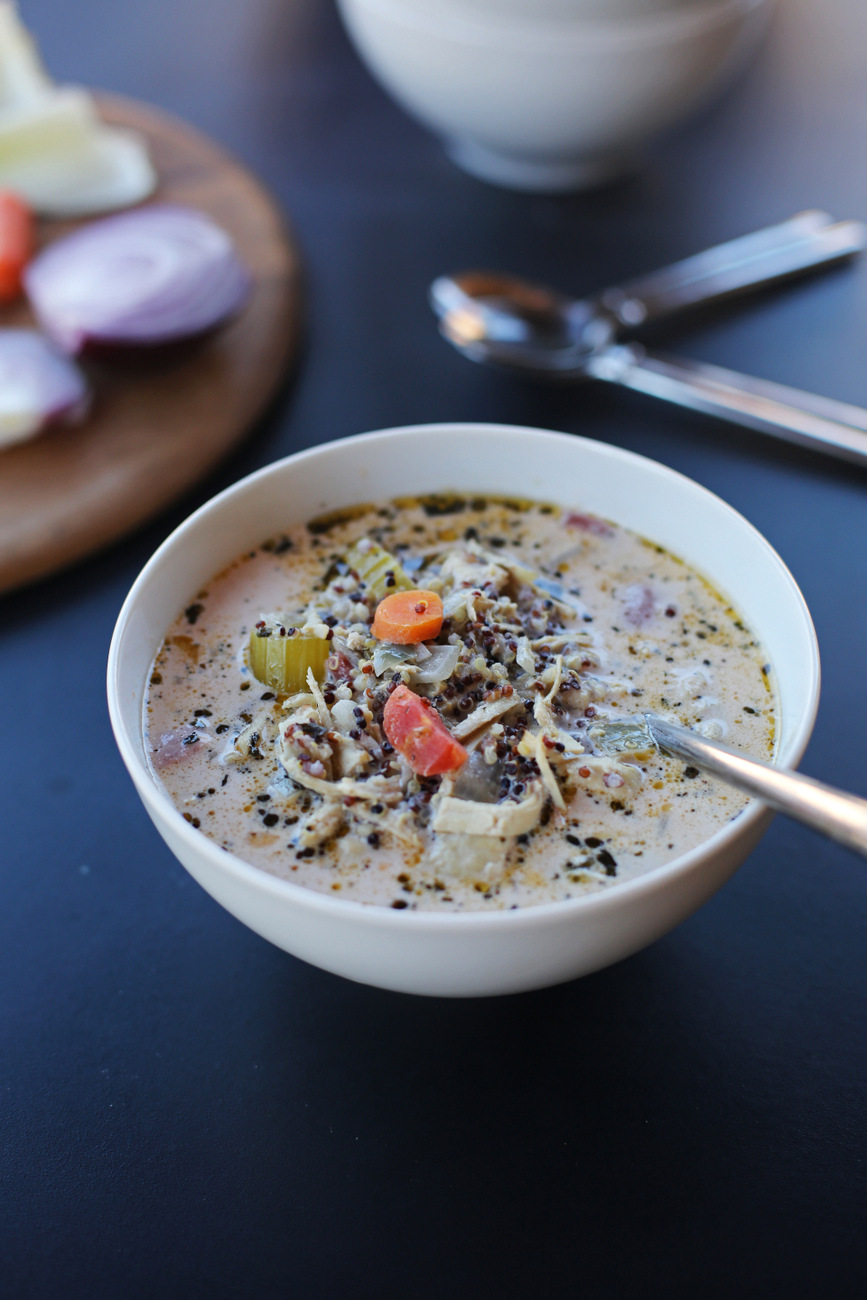 And this soup is SO DARN GOOD.
Every winter, when I make this chicken quinoa vegetable soup again for the first time, I think, "Was it really as good as I remember?"
And then when I take the first bite, I think, "Actually, it's even better than I remembered."
I love that this soup can be made in one pot – you just throw in the vegetables to sauté for a few minutes and then add the liquid, the quinoa, and the uncooked chicken (I just throw mine in still frozen!) and let the whole thing cook until the quinoa is fluffy, the chicken is perfectly cooked, and all the flavors have simmered together.
Last week, when I made this on a Sunday evening, I put it on the stove to simmer and then we went  for a walk around the neighborhood while it cooked, and when we got home 30 minutes later, the whole house smelled amazing and dinner was ready five minutes later.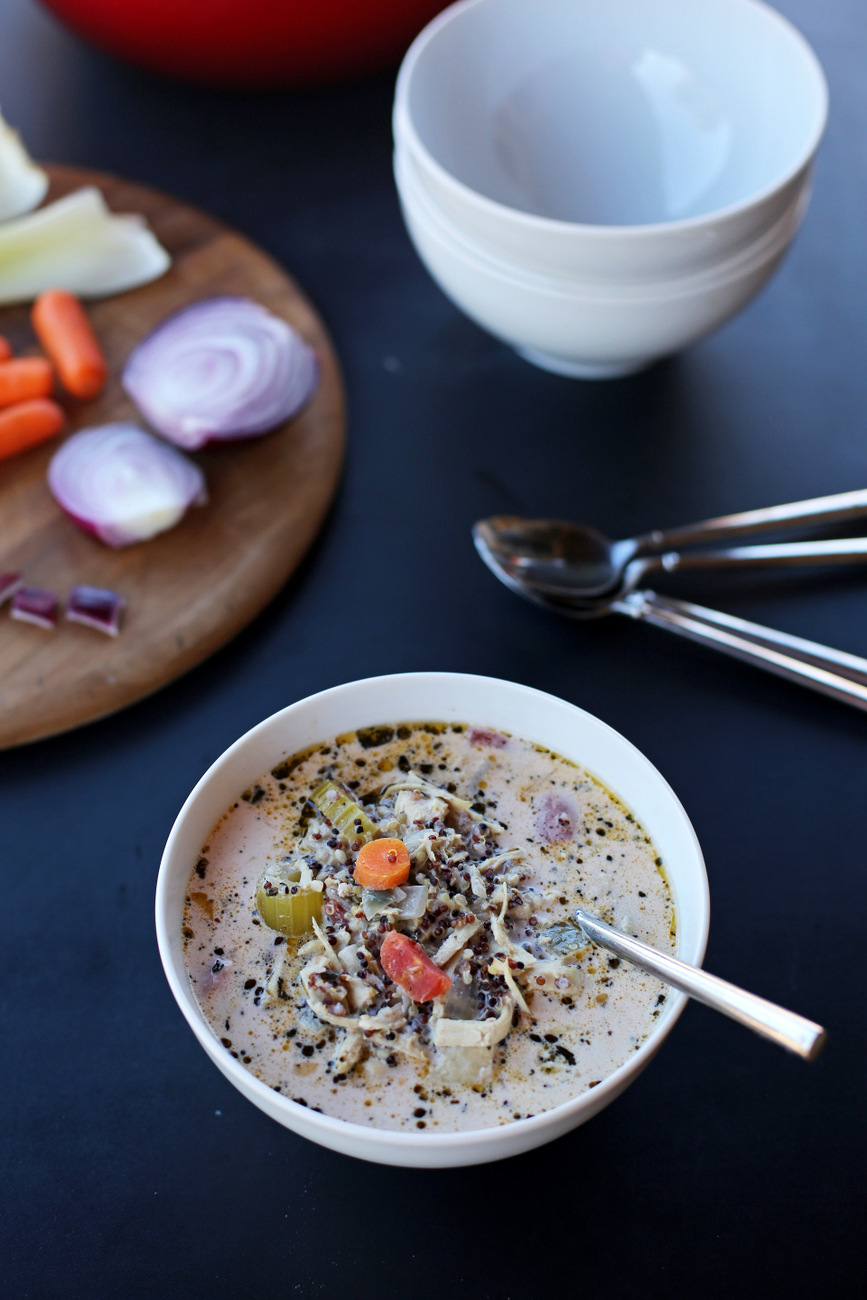 I also want to try this in a crockpot, because I think it'd be even easier, if that's possible. I'd just add everything except the tomatoes and cream and let it cook all day, then stir those two things in at the end.  If you try it, let me know how it turns out!
I'm kind of medium on quinoa – I like it, but I don't necessarily seek it out, but in this soup, it's just so good.
And I love all the vegetables, the creamy broth and the perfect flavor combo.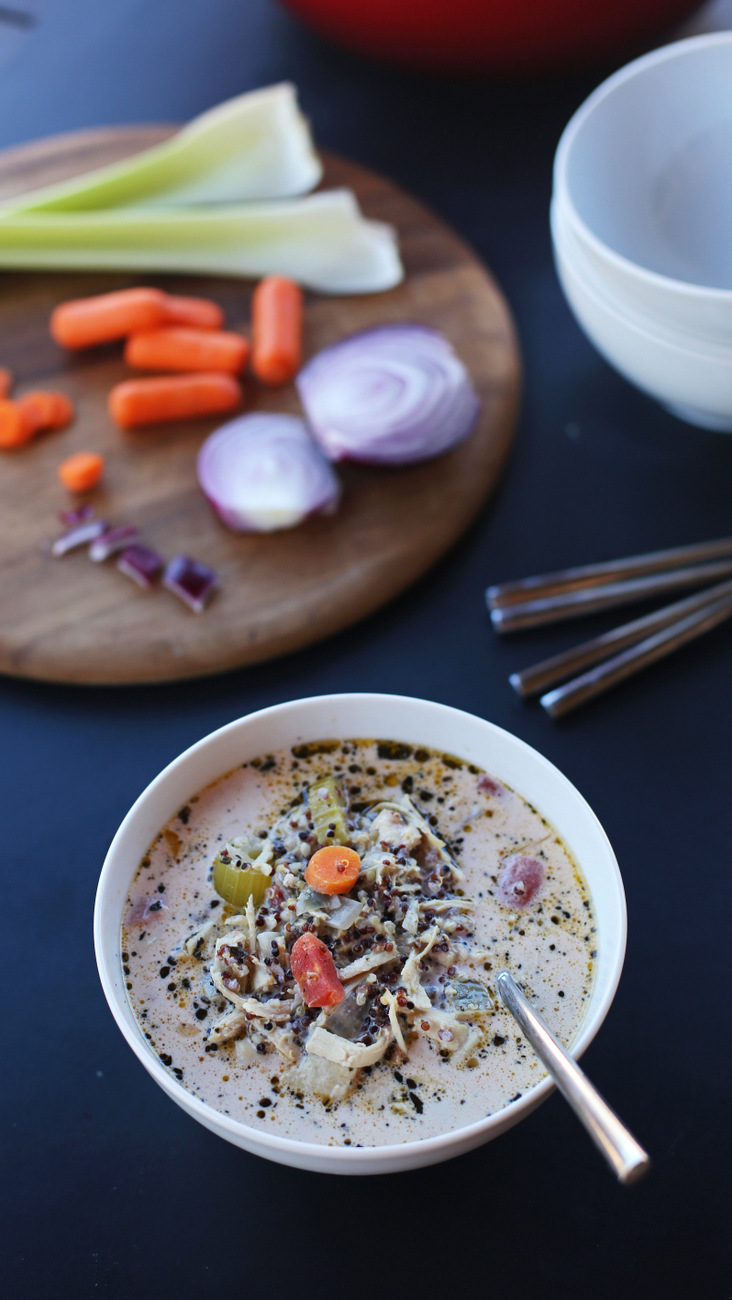 This one is definitely on our repeat menu all winter long. Add some biscuits or rolls, and some fruit, and dinner is ready to roll!
creamy chicken quinoa vegetable soup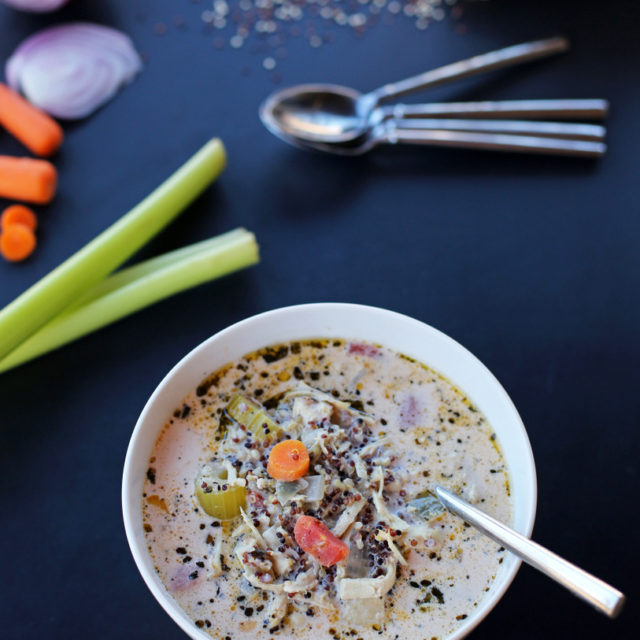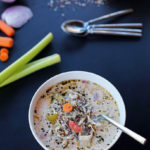 Creamy Quinoa and Chicken Vegetable Soup
This creamy quinoa and chicken soup is packed with vegetables and easy to make in one pot - perfect for cool fall days and chilly winter evenings.
Ingredients
4

Tablespoons

butter

1/2

red onion

diced

2

stalks

celery

diced

3

carrots

diced

3

cloves

garlic

minced

4

cups

chicken broth

1

Tablespoon

dried basil

1/2

cup

uncooked quinoa

rinsed

2-3

chicken breasts

fresh or frozen

1

can

diced tomatoes

1 1/3

cups

whipping cream
Instructions
In a dutch oven or stock pot, melt the butter over medium heat. Add the onion, celery and carrots, and cook about 5-8 minutes, until the onions are beginning to turn translucent and the carrots are slightly softened. Add the garlic and cook, stirring, for another 30 seconds.

Pour in the broth and bring the mixture to a gentle boil.

Stir in the basil, quinoa and chicken breasts, then cover the pot and reduce heat to medium-low and let cook for 15-25 minutes, until the chicken is completely cooked through.

Remove the chicken breasts and shred, then stir the shredded chicken back into the soup, add the can of tomatoes (no need to drain it) and the cream.

Bring to a simmer, then salt and pepper to taste, and serve hot.