Last summer, Bart and I decided to do no-sugar for a month (which turned into a week. . . . ).
I made a pan of homemade lara bars during that week and they were kind of a disaster, mainly because I reread the directions a dozen times and couldn't figure out whether or not to drain the dates before adding them to the food processor (I didn't, but I definitely should have). Also, I had no idea dates had pits in them (I am not very bright, clearly), so after two bites I almost chipped a tooth off.
Then Bart bought me a bunch of Lara bars and Clif Bars for my stocking at Christmas and after eating them all in a week after Ella would go to bed at nights, I thought perhaps I should take another stab at making them.
This time, I bought pitted dates.
And when Ella was helping me make them, she picked up one date after another and said, "Why these all have holes in them?"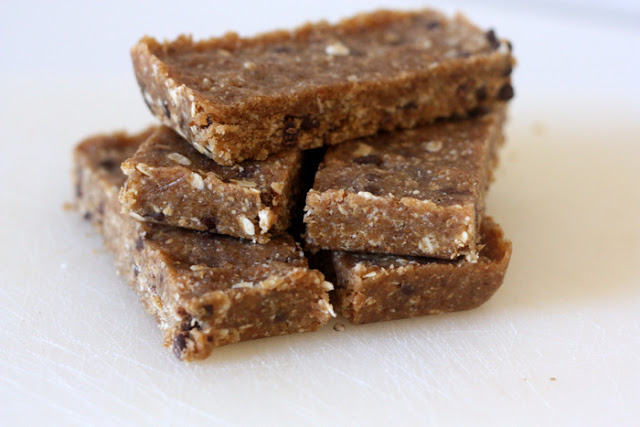 homemade lara bars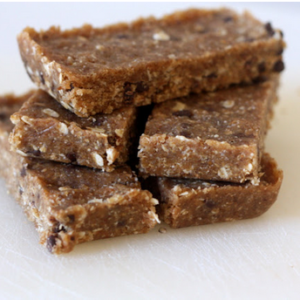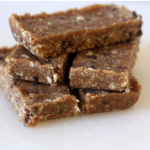 Peanut Butter Chocolate Chip Lara Bars
A delicious no sugar snack, these peanut butter chocolate chip lara bars kick my sweet craving every time!
Servings
1
8x8 pan (10 bars)
Ingredients
1/2

cup

cashews

1/2

cup

almonds

3/4

cup

quick oats

1

cup

pitted dates

1/4

cup

peanut butter

I used creamy

2-3

T

water

1/3

cup

chocolate chips

1/4

cup

quick oats

not a typo
Instructions
Line an 8x8 pan with tinfoil, leaving some extra on both sides so you can use them like handles to pull the bars out later.

In a food processor, grind the nuts and 3/4 cup oats until they are in fine crumbs. Add the dates and process until you have what looks like coarse wet sand. Add the peanut butter and blend some more. I've found you cannot overblend these - the tinier the crumbs, the better your bars will hold together. Add the water, about 1/2 a tablespoon at a time until the mixture is just slightly damp (I usually use all 3 T).

With a spatula stir in the chocolate chips and the remaining oats until evenly distributed.

Pour the mixture into your pan and press them firmly and evenly into all corners. Pack it in as tightly as possible. Oh, really? You think that was as tightly as you can pack it? No, do a little more. I promise you won't regret it.

Refrigerate for at least an hour. Remove foil and bars from pan and slice into bars or squares. Store in the fridge or freezer.
if you liked this homemade lara bars recipe, you might also like these other recipes: