I've been talking about Kindle Readers on Everyday Reading for close to a decade and I love answering questions about them and helping people get the most out of their Kindle reader purchase.
Recently, a reader asked if I had a "Kindle 101" post to help her figure out if a Kindle was a good choice for her and answer all the questions she had as she considered getting a Kindle reader, picking the right one for her and figuring out how a Kindle works.
Well, I do now! Consider this post your Intro to Kindles – welcome to class!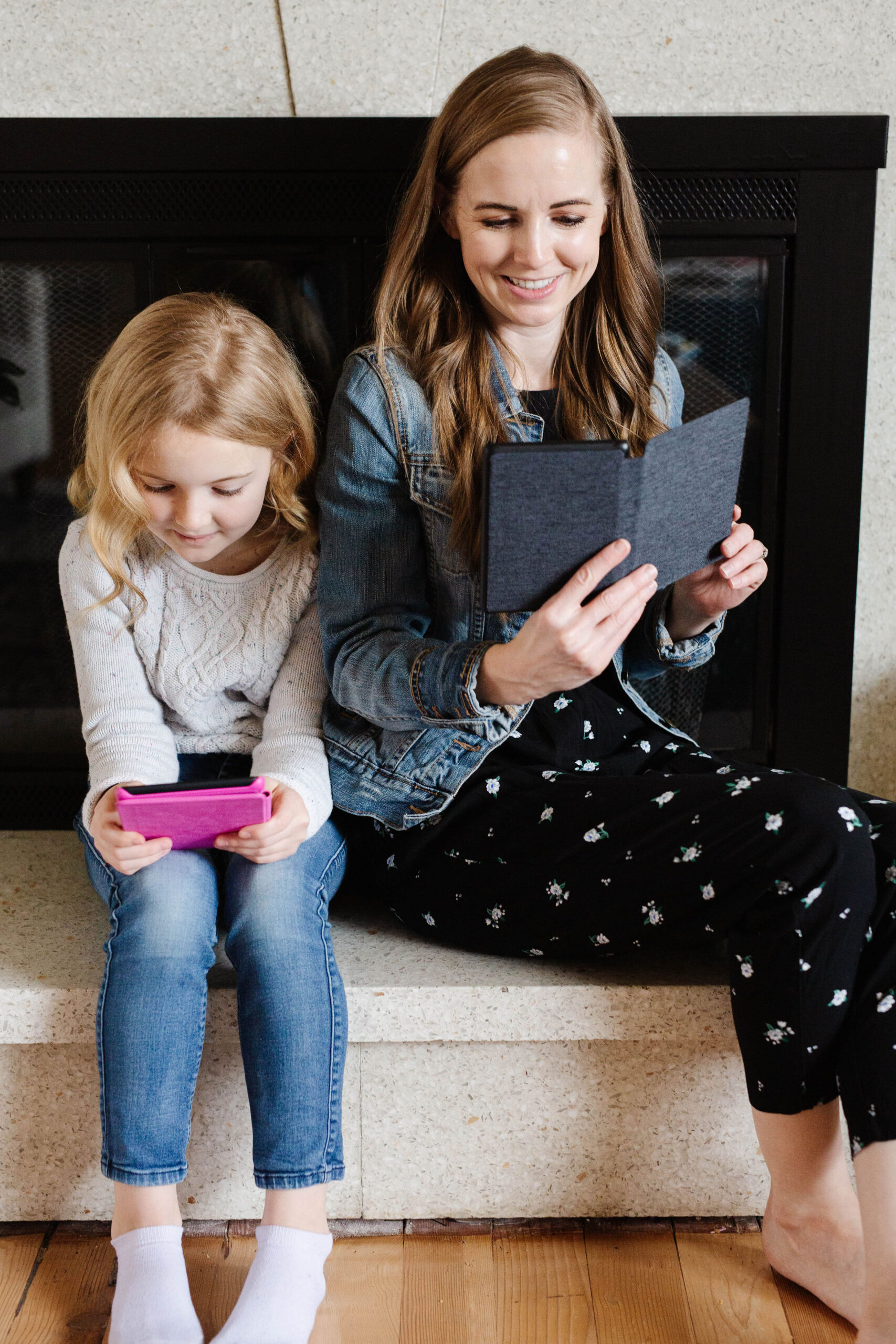 WHY WOULD I EVEN WANT A KINDLE? 
Every time I talk about the Kindle readers, I get this question and if you are firmly set against an ereader, I'm not going to try to convince you that you need one! You know your own circumstances and preferences better than I ever will and if you don't want one, you don't need one!
For me and my family, the Kindle readers are fantastic because:
a Kindle gives us easy access to the ebook collection that our library provides (many of which are titles they don't have in physical copies
when we travel, we can take literally hundreds of books with us and it doesn't take up half the suitcase or weigh a million pounds
a Kindle gives you instant access to books without a trip to the library or bookstore (this was hugely helpful during the pandemic when our library was closed for months. It's also really handy over holidays or when you're traveling).
A Kindle is easier to use in the dark or if you're reading one-handed (like if you're nursing a baby!)
I can take advantage of ebook sales. It's RARE for a physical book to be on sale for under $2 but this happens for ebooks ALL the time.
you can change the font or font size which is terrific if you have a dyslexic reader or if your eyesight isn't what it once was
WHAT'S THE DIFFERENCE BETWEEN A KINDLE EREADER AND A KINDLE FIRE?
A Kindle Fire is a tablet (and a pretty terrible one at that – I do NOT care for the Kindle Fire tablets at all and never recommend them) whereas the Kindle reader is a dedicated e-reader. No apps, no distractions.
WHY NOT JUST READ ON THE KINDLE APP ON MY TABLET OR PHONE?
You certainly can use the Kindle app for free on your tablet and phone and many people do so! I prefer the Kindle reader because the battery life is WAY longer (think 6+ weeks), the blue light is WAY less than a tablet or phone, the digital ink format is much easier on my eyes than a tablet or phone screen, and there are no distractions when I'm reading.
WHICH KINDLE EREADER SHOULD I CHOOSE?
There are currently 5 different Kindle ereaders:
Basic Kindle. This is the baseline Kindle ereader (and the one that I have and that all my kids have). It's the least expensive and has the least bells and whistles, but it does the job beautifully and I haven't felt compelled to upgrade. (The Kids Kindle is exactly the same hardware as the Basic Kindle but comes with a cover and a 2 year warranty and no ads).
Kindle Paperwhite. This is probably the most popular Kindle ereader. The screen is a little bigger (6.8″ instead of 6.0″ and is waterproof. The screen is also a flush front screen and has warm light options, plus the battery lasts up to 10 weeks instead of the 6 weeks of the basic Kindle. The page turns are also 20% faster. (There is also a Kids Paperwhite version which comes with a case and a 2 year warranty and no ads)
Kindle Paperwhite Signature edition. This is a nicer version of the Kindle Paperwhite that includes wireless charging, an auto-adjusting front light and 32 GB storage.
Kindle Oasis. This is the Rolls Royce of Kindle ereaders – it's weighted on one side for easier holding with one hand and has a 7″ screen and page turn buttons. It's very nice and if money is no object, give it a go!
Kindle Scribe. This is the most expensive Kindle ereader and it comes with a pen and the ability to write directly on the screen (if you're a big notetaker, this may be for you). The screen is also 10.2″ so it's got a much bigger readable surface.
CAN AN ADULT USE A KIDS KINDLE AND VICE VERSA?
Yes! The base level kids and adult kindles are identical hardware and the adult and kids Paperwhites are identical hardware. The only difference is based on whether you're signed in as a child or an adult and you can switch back and forth at will.
CAN I DELAY THE START OF MY AMAZON KIDS+ OR KINDLE UNLIMITED SUBSCRIPTION?
Yes! If you buy a Kindle for a birthday or holiday several months in advance, the subscription won't start until you set up the Kindle.
CAN I READ LIBRARY BOOKS ON A KINDLE?
Yes! If your library uses Libby, it's very simple to add ebooks to your Kindle (directions for that here). Hoopla or Scribd ebooks will NOT work on your Kindle reader.
CAN I LISTEN TO AUDIOBOOKS ON A KINDLE?
You CAN listen to Audible audiobooks on a Kindle (you'll need Bluetooth headphones) but you can't listen to Libby or Hoopla or other audiobooks.
SHOULD I UPGRADE MY KINDLE STORAGE? 
I've always picked the lowest level of storage on my Kindle and never had any problem. An 8 GB Kindle will hold around 2000-4000 ebooks, so you're not likely to run out of room anytime soon.
DO I NEED A SCREEN PROTECTOR FOR MY KINDLE?
I've never bothered to get one and my kids don't have them either. If you're very worried about it, it may be worth getting a screen protector, but I wouldn't personally bother.
ARE THERE ADS ON A KINDLE?
None of the Kids Kindles have ads on them, but if you don't upgrade to an ad-free option on the other Kindles, there will be ads that show on the lock screen and on the home screen. I have a post here about how to get rid of the ads.
DO ALL KINDLES HAVE A BUILT-IN LIGHT?
Yes! It used to be that you had to upgrade to a Paperwhite to get a light on your Kindle, but now every version of Kindle has a built-in light so you can read in the dark.
IS A KINDLE WATERPROOF?
All the Kindles except the Basic Kindle are waterproof. If you're a big bathtub or pool reader, you may want to go with the Paperwhite!
DOES A KINDLE GIVE OFF BLUELIGHT?
It does give off some, but nothing compared to what a tablet or phone or TV does.
CAN I READ A KINDLE IN BRIGHT SUNLIGHT?
Yes! This is another reason I love a Kindle reader over using the app on a phone or tablet – the digital ink means you don't have the glare of a normal screen and you can read outdoors without any issues.
ARE BOOKS INCLUDED WITH A KINDLE?
Most Kindles come with a free subscription to either Amazon Kids+ or Kindle Unlimited so you'll have plenty of reading material through that. Once that subscription expires, you can either keep paying for it or just load it up with library books or ebooks you buy.
DO I HAVE TO KEEP PAYING FOR A KINDLE UNLIMITED OR AMAZON KIDS+ SUBSCRIPTION TO KEEP USING MY KINDLE?
Nope! You certainly CAN keep paying for them, but you don't need to – it'll work perfectly fine without either subscription and you can just buy ebooks or check them out from your library's ebook collection.
DO I NEED TO HAVE PRIME TO BUY OR USE A KINDLE?
Nope – your Kindle is completely separate from Prime so you don't need Prime to buy a Kindle or to use it (I don't have a Prime account, so I can say with certainty that this is the case!).
WHERE SHOULD I BUY A KINDLE?
You can buy them from Target or Best Buy or other online or physical retailers, but I'd always suggest buying them directly from Amazon because it'll be so neatly integrated.
WILL MY CHILD (OR I) STOP READING PHYSICAL BOOKS IF I GET A KINDLE?
This hasn't been my experience AT ALL. My kids (and I) tend to read whatever is mostly readily available. So if a book is available as a paper copy, we'll pick that up. If the hold line is a fraction of the time for an ebook, we'll go that one. For most people, they find that their reading goes WAY up when they get a Kindle. I can't tell you how many people have told me they read a few books a year before a Kindle and now they read upwards of 100 books a year.
What other questions do you have about how a Kindle works? I'm happy to answer – there are no silly questions!
if you liked this post about how does A kindle work you might also like these other posts: