I'd never even heard of StoryGraph until a few months ago and then suddenly a bunch of people at once started asking me what I thought of it.
Clearly, it was something I needed to check out.
And now that I've been playing around with it for a few months, I'm a BIG fan.
If you love tracking your reading, finding new book recommendations, and seeing all sorts of data about your reading habit? StoryGraph is for you.
Here's how StoryGraph works.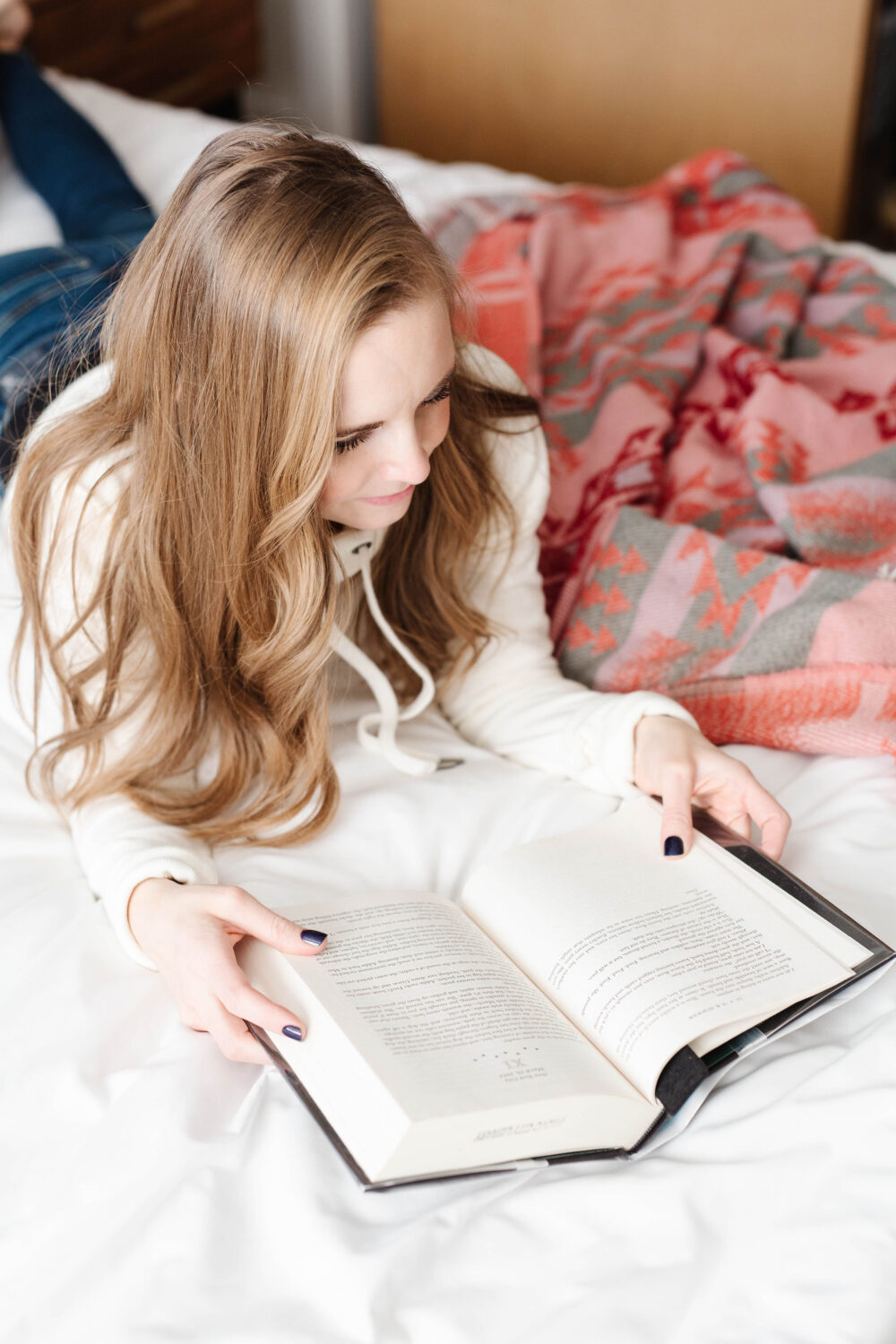 Everything to know about StoryGraph
First off, StoryGraph does NOT have an app in the App or Play store – but you can still use it on your phone like an app and they have step-by-step directions for how to do that here.
With that out of the way, we can talk about the fun stuff.
StoryGraph is a book tracking platform like Goodreads, but it feels much more focused on the BOOKS to me, rather than community.
It's also a much more visually soothing experience for me (I find Goodreads pretty overwhelming to look at, personally).
Here's what my homepage looks like on StoryGraph.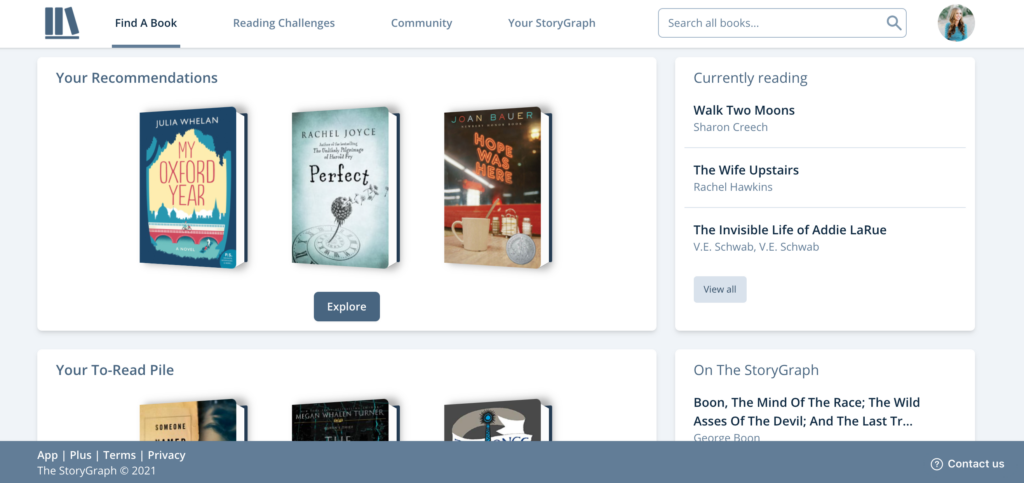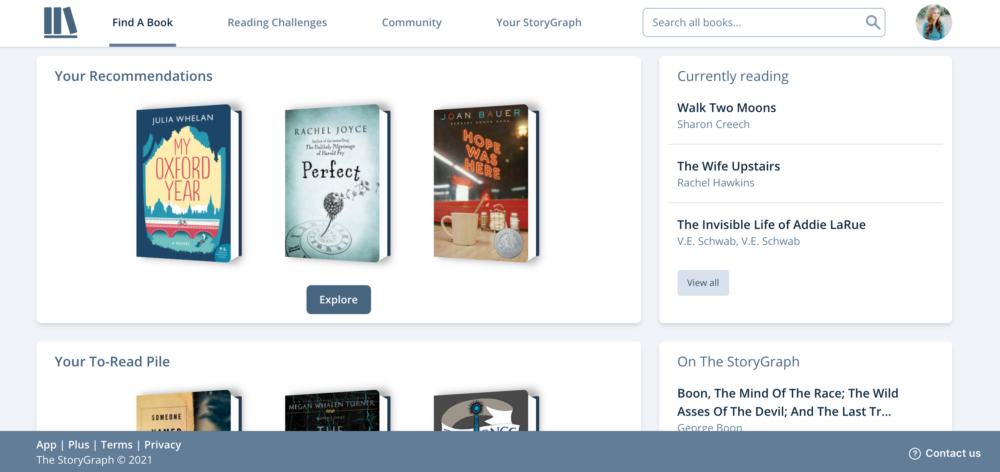 You can import all your Goodreads data in (it's truly 2 clicks, although it may take a bit for your Goodreads data to export if you have a lot of books) and then it'll start showing you stats about all the books you've read. Here's some snapshots from my 2020 reading.
They also specialize in excellent recommendations based on your profile. If you click the "Find a Book" tab at the top, they will give you a short survey to take about what you like or don't like. After that, when you press that tab, you'll see a list of book recommendations or you can filter the recommendations with these options from the drop-down: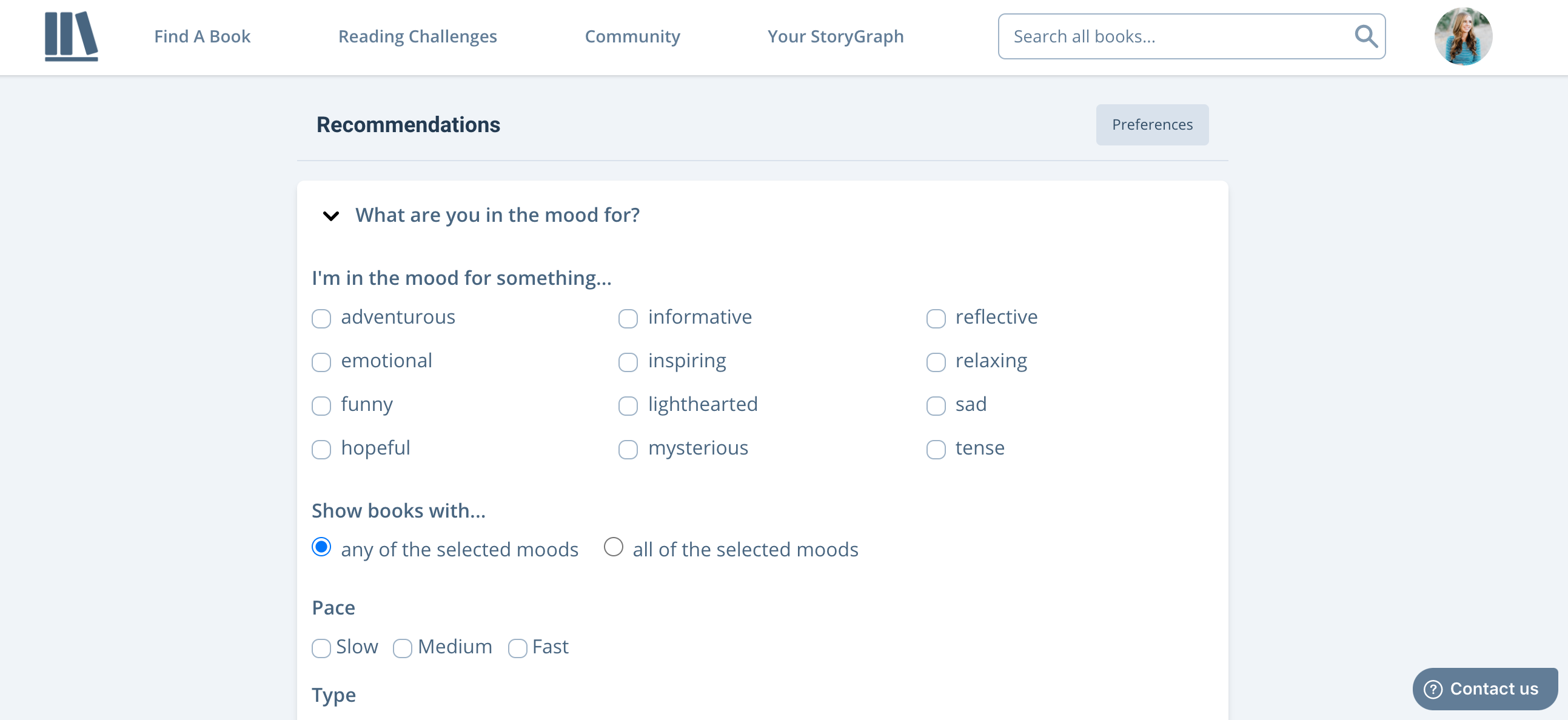 And for any given book, you can click into it and see if there are content warnings, the pace, and answers to lot of other questions about the book, so you can get a reasonable feel for if it's a good fit for you before you buy or borrow it.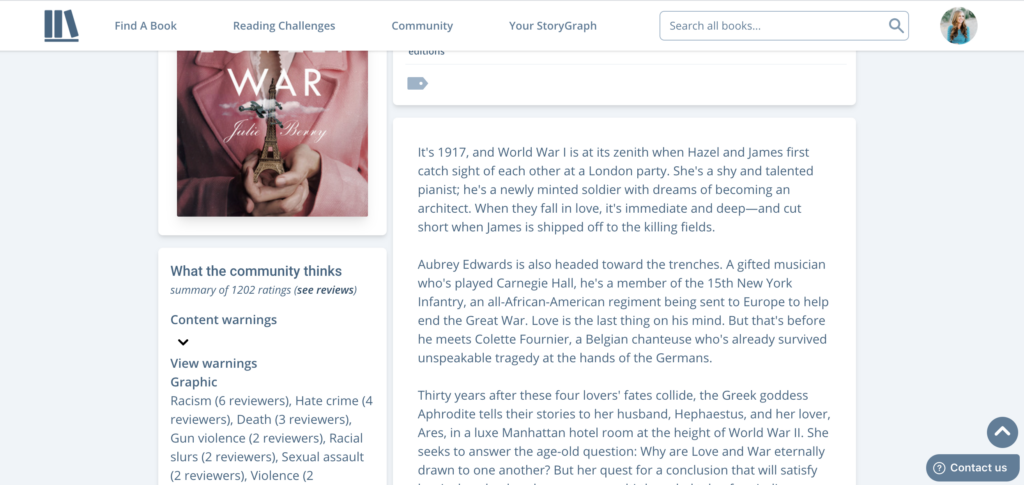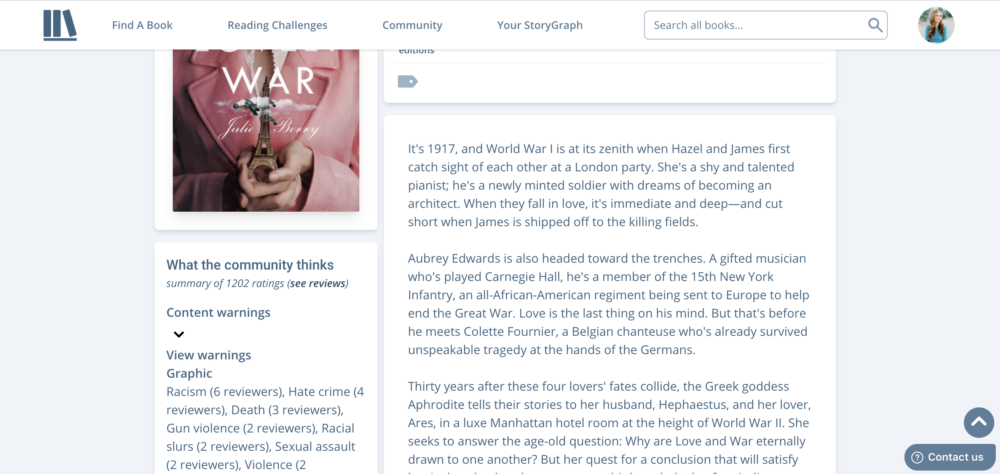 And you can also look at all sorts of data about your reading, like your monthly or annual breakdown of fiction versus non-fiction or the genres you read the most of or the moods of the books you choose or how your page numbers vary from month to month.
For someone like me who loves data, this is total nerd heaven.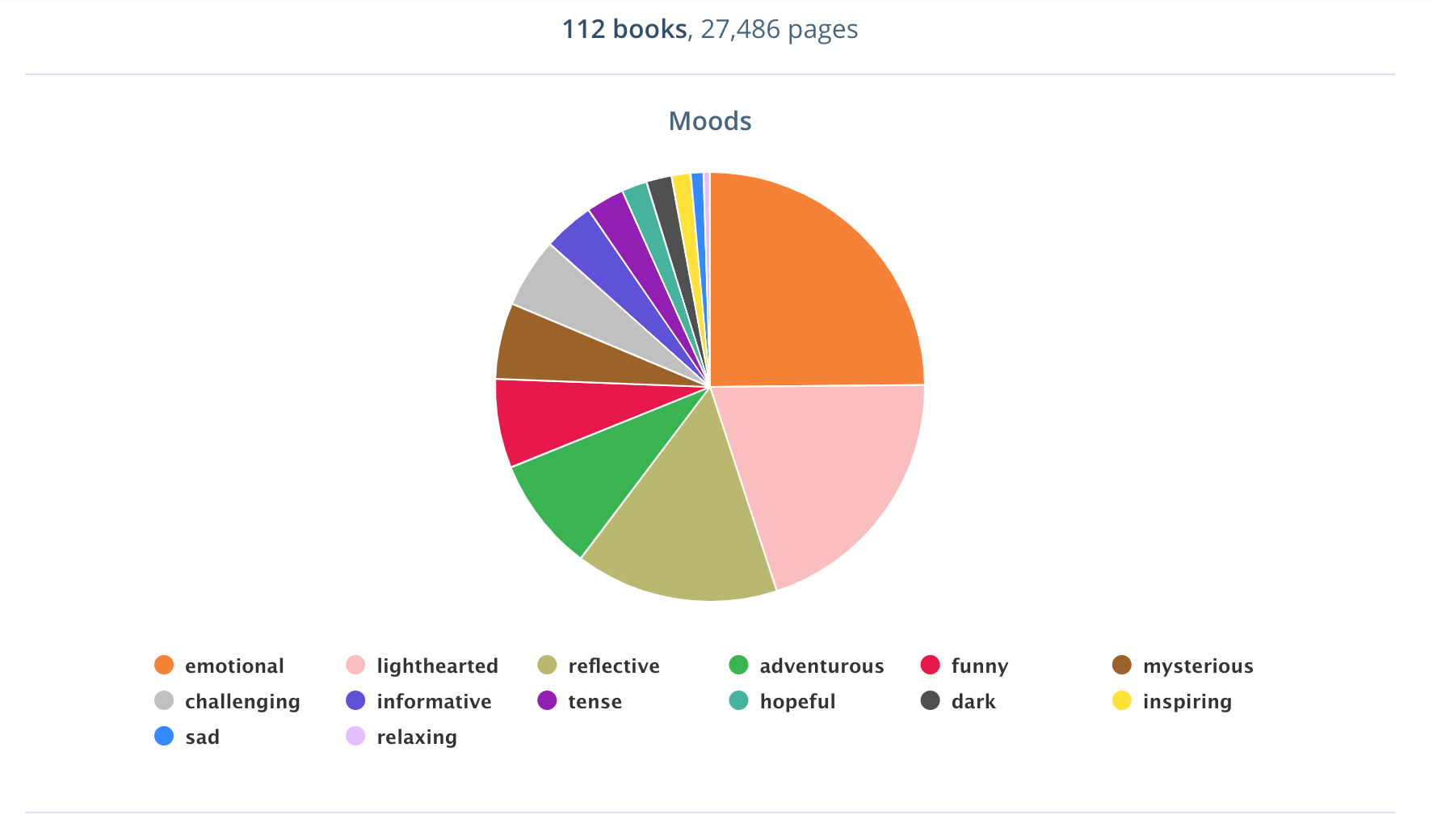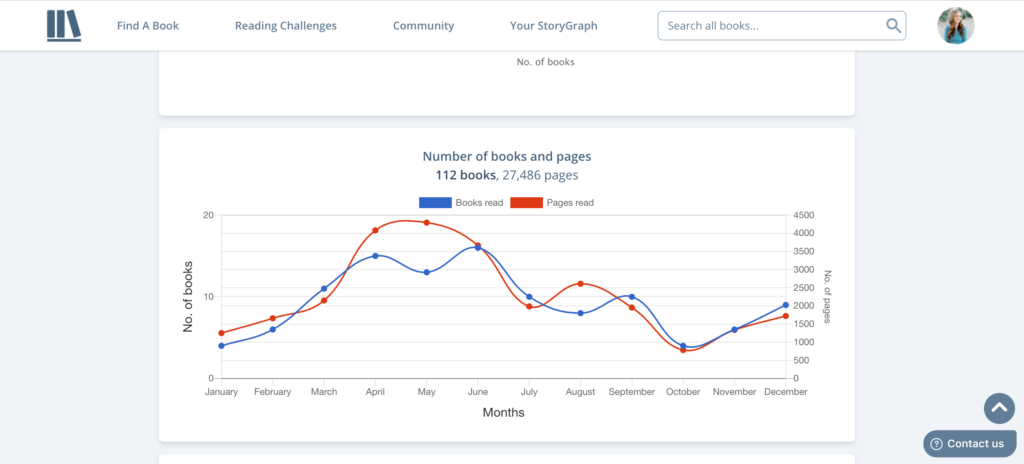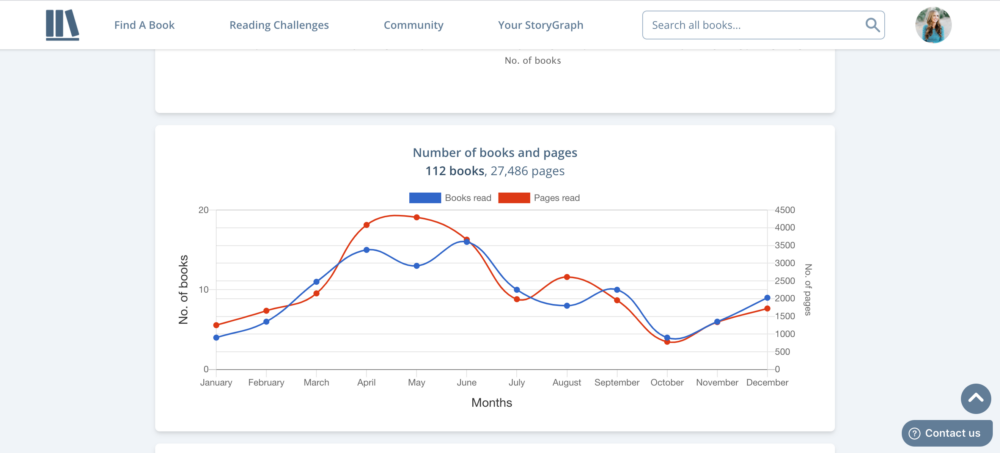 Since it's newer, it's definitely not as robust as Goodreads, but I think it offers some fun different things and I'm glad it's an option!
Am I going to give up Goodreads? Frankly, not likely. I've been using it too long at this point to jump ship entirely. But I'll probably export my library into StoryGraph periodically just for the fun of seeing the data.
It's for SURE fun to play around with and if it's interesting to you, I'd highly recommend trying it out and seeing what you think!
And if you have tried it, I'd love to know what you thought about it!
If you liked this post about StoryGraph, you might like these posts too: