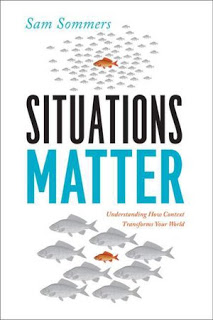 You know how you shouldn't judge a book by its cover? I judged Situations Matter as something I wanted to read solely on the basis that it was narrated by Joshua Swanson, who I loved as the reader for Split last year.
Is that a bad reason? (No).
Joshua Swanson is just as good a non-fiction narrator as he is for fiction.
Also, the book itself was just really fascinating.  So, that's a bonus.
situations matter by sam sommers
The basic idea is very straight-forward – the situations we are in change the way we act. But there was just so much more to it and I loved pretty much every second of it.
He talks about how how we respond differently in groups than we do on our own, how gender plays into scenarios, how authority changes our behavior, and how we can't easily stop ourselves from believing that what we see in a person is how they really are.
The gender chapter was the most interesting to me – for instance, there is this widespread belief that women are not as good at math and science. But it turns out that studies show that the gap is almost all due to the situation.
In one study, they gave a bunch of students who had scored well on a standardized test a math test. In the first study, the men far outscored the women. But in the second group, where the test said at the beginning that the questions had been formulated to be completely gender-neutral and get rid of any bias, the groups scored almost exactly the same (obviously, the questions were identical on both tests – just the disclaimer at the beginning was enough to eliminate an enormous gap).
Similarly, there was a study where supposedly people were coming in to offer opinions on clothing. When the subjects entered the dressing room, there was a large row of swimsuits (trunks for men and one-pieces for women). When they'd selected their size, they were told they needed to wear them for a bit to get comfortable before answering questions about it. Then, while they were waiting, the researchers mentioned that, next door, the school of education was looking for volunteers to take a test (of course, the math test was the real thing they were testing, not swimwear). As you might expect, women did much more poorly than men. But when they did the test again, this time having the subjects wear very non-gender specific clothing (this time a sweater), the gap shrunk remarkably. When women weren't reminded just before a test of their gender, they did much better on the test.
Bart and I had some long discussions about how we'd apply these things to our daughters. I hate the idea that girls would assume they aren't as good at math or science just because they are female. It's a nice thing that Bart's mom has a PhD in a science/math field.
I love hearing about the results of studies and Situations Matter really gave me what I was looking for – one interesting study after another, with excellent and relevant discussion in between.
It reminded me of Malcolm Gladwell's books (although I didn't like it quite as much as I've liked Gladwell's best works). Situations Matter, though, is much more personal than I find Gladwell's books to be. Sam Sommers talks about his own life and his own experiences quite a bit more, which I found delightful.
But I will not be following Sam Sommers advice to not find out the gender of your baby. No, no I will not be.

Audiobook received from publisher
If you liked this review of situations matters by sam sommers, you might also like these books: