A few weeks ago, I shared a list of books for kids who love Mercy Watson or the Princess in Black.
Of course, the minute that list came out, I was flooded with requests for a similar list for read-alikes to the Elephant and Piggie books.
You probably already know that mega-popular series and the simple illustrations and speech bubbles make them extra engaging for children who are just getting the hang of reading independently.
If your child has been flying through Elephant and Piggie books and needs more at that level, here are some other books with similar themes and reading level as Elephant and Piggie books!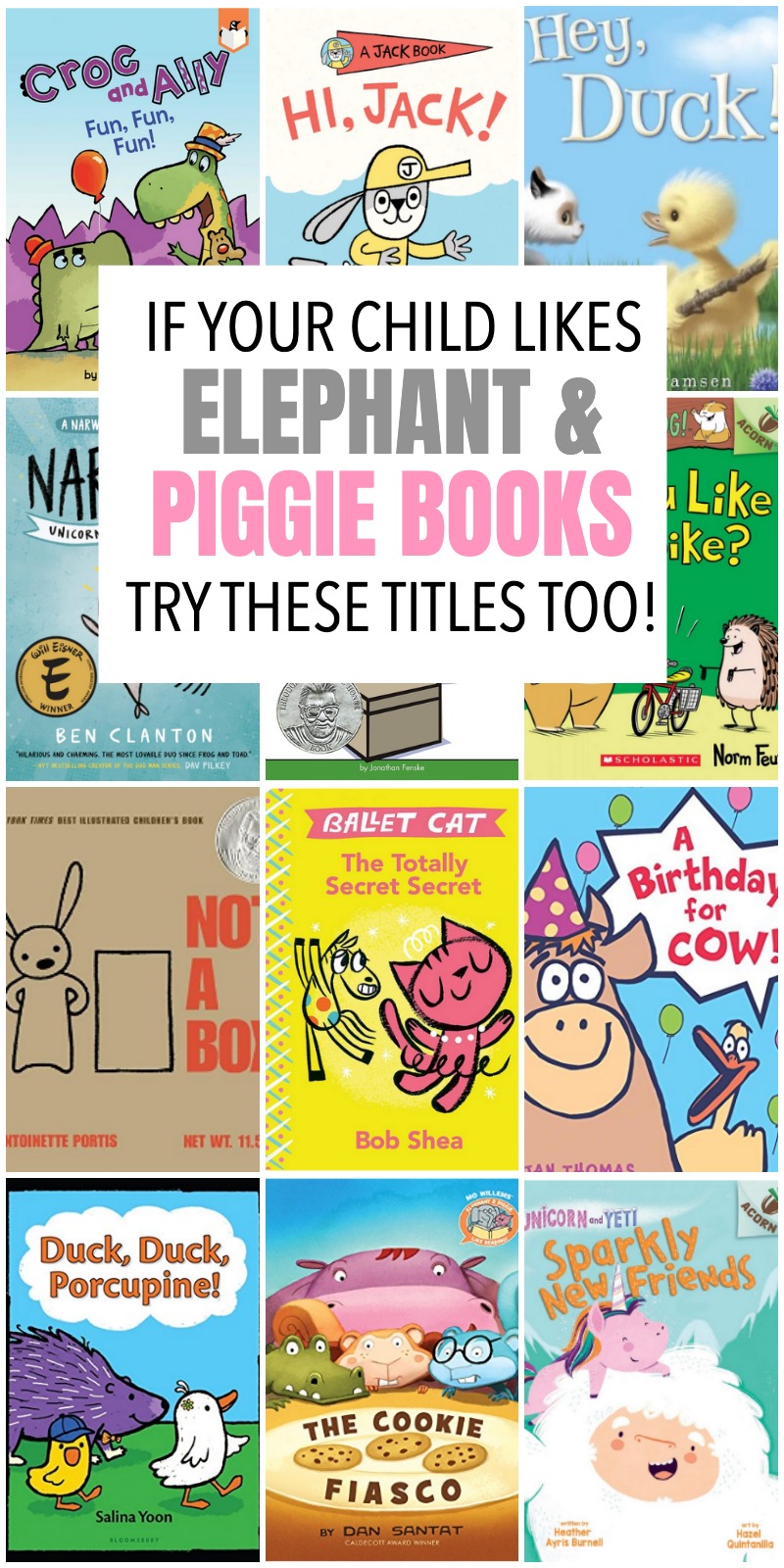 If Your Child Loves Elephant and Piggie Books, Try These Titles
Elephant and Piggie Like Reading! This series is a spin-off of the original Elephant and Piggie series and they are each introduced by Gerald and Piggie in the first few pages. Each book is a stand-alone and written and illustrated by a different (famous) person and we've loved every one of them. They're similarly charming and a little bit goofy. Definitely the next place to go after you finish all the Elephant and Piggie books.
Croc & Ally by Derek Anderson. This delightful little series reminds me of Frog & Toad books but at an easier reading level with fewer words per page and shorter chapters. There are currently only two books in the series but I'm crossing my fingers for more.
Hello Hedgehog! by Norm Feuti 
This sweet and funny little book series has more of a graphic novel series and clocks in at less than 50 pages (for reference, Elephant and Piggie books are around 64 pages each). It follows the adventures of a guinea pig and a hedgehog and their simple adventures together.
Narwhal and Jelly Ben Clanton. These four early graphic novels are perfect for Elephant & Piggie fans, told all in dialogue and with the images telling the story as much as the text does.
Ballet Cat by Bob Shea. This delightful and funny series has a lot of similarities to Elephant and Piggie books with simple art and the entire story told in speech bubbles. There are currently three books in the series.
The Giggle Gang by Jan Thomas. I can't tell you how many people recommend Jan Thomas when I asked for recommendations for Elephant and Piggie Read Alikes and it made me so happy because I find her books HYSTERICALLY funny. Definitely go check them out immediately.
Not a Box by Antoinette Portis. For a little rabbit, a box isn't just a box. Sometimes it's a mountain or a house. I love love love this delightful book with simple text and line drawings, plus it's included in Kindle Unlimited. (Not a Stick is the companion book and it's equally delightful)
George and Martha by James Marshall. You may know that my love for James Marshall runs deep (see this post if you need a hint at HOW deep) and I am obsessed with these semi-ridiculous stories about two hippo pals. I checked out nearly the whole series before our library closed and we've read them each dozens of times in the past four months. The stories aren't too long and each book has 2-3 little stories.
Hi, Jack by Mac Barnett, illustrated by Greg Pizzoli. The 8 books in this simple series have really easy text plus the kind of bright, clear illustrations that I love in the Elephant & Piggie books.
A Pig, a Fox, and a Box by Jonathan Fenske. This book has three short stories that are completely silly and wildly hilarious. My girls have all loved reading this one as they start to master the art of reading on their own. (His book I Will Race You Through This Book! is another good option).
Unicorn and Yeti by Heather Burnell, illustrated by Hazel Quintanilla. While Elephant and Piggie books aren't graphic novels, they have lots of similarities like all the text being dialogue in speech bubbles and the illustrations bringing in a lot of the humor and meaning. These Unicorn and Yeti graphic novels are a perfect readalike!
Hey, Duck! by Carin Bramsen. A little duckling discovers a new potential pal but doesn't realize that what he thinks is a duck is actually a cat. Can the two still be friends?
Duck, Duck, Porcupine! by Salina Yoon. This delightful collection of three short stories is told all through speech bubbles and features Big Duck and her little brother Little Duck, plus their friend Porcupine. (There is a second book in the series, My kite is stuck!).
Pumpkin trouble by Jan Thomas 
Jan Thomas is a sure hit at our house – every one of her books just amuses everyone to no end (although I have a special place in my heart for Let's Sing a Lullaby with the Brave Cowboy and Can You Make a Scary Face?) and this pumpkin-themed one is no exception. Duck wants to carve a pumpkin to surprise his friends, but then he falls in and can't get out, so he waddles away to find someone to rescue him, but all his friends think it's a haunted pumpkin and flee in terror.
Cranky Chicken by Katherine Battersby 
Cranky Chicken and a very friendly worm named Speedy are the most unlikely of friends. Cranky Chicken is focused on everything bad, while Speedy is always looking on the bright side of things.
William is a Star by Sally Rippin (School of Monsters series)
Perfect for beginning readers, the School of Monsters series is full of silliness, bright pictures and a great place to start for those just picking up how to read.
Hi! Fly Guy by Tedd Arnold (Fly Guy Book series)
The Fly Guy books are incredibly popular among early readers and I can see why. With fun pictures and silly scenarios always going on, what's not to love?!
See The Cat by David LaRochelle (See The Cat Series)
See the Cat is a delightful book that won the Geisel Award last year (this is is given each year to the most distinguished American book for beginning readers – if you're looking for good books for that age, you can see the previous winners and Honor books here!). The sequel, See the Dog, just came out.
And if you'd like a printable copy of this list of books that are like Elephant and Piggie that you can take to your library or screenshot on your phone for easy access, just pop in your email address below and it'll come right to your inbox!
Any other favorite books for kids who love the Elephant and Piggie books? I'd love it if you shared!
If you liked this list of books like Elephant and Piggie Books, you might like these posts too: