Later this month, the girls and I are headed down to Las Vegas to spend some time with my parents while most of our main floor gets painted (Bart gets to stay home, oversee the painting and work).
Of course, the biggest draw to Las Vegas – aside from my parents – is their backyard pool.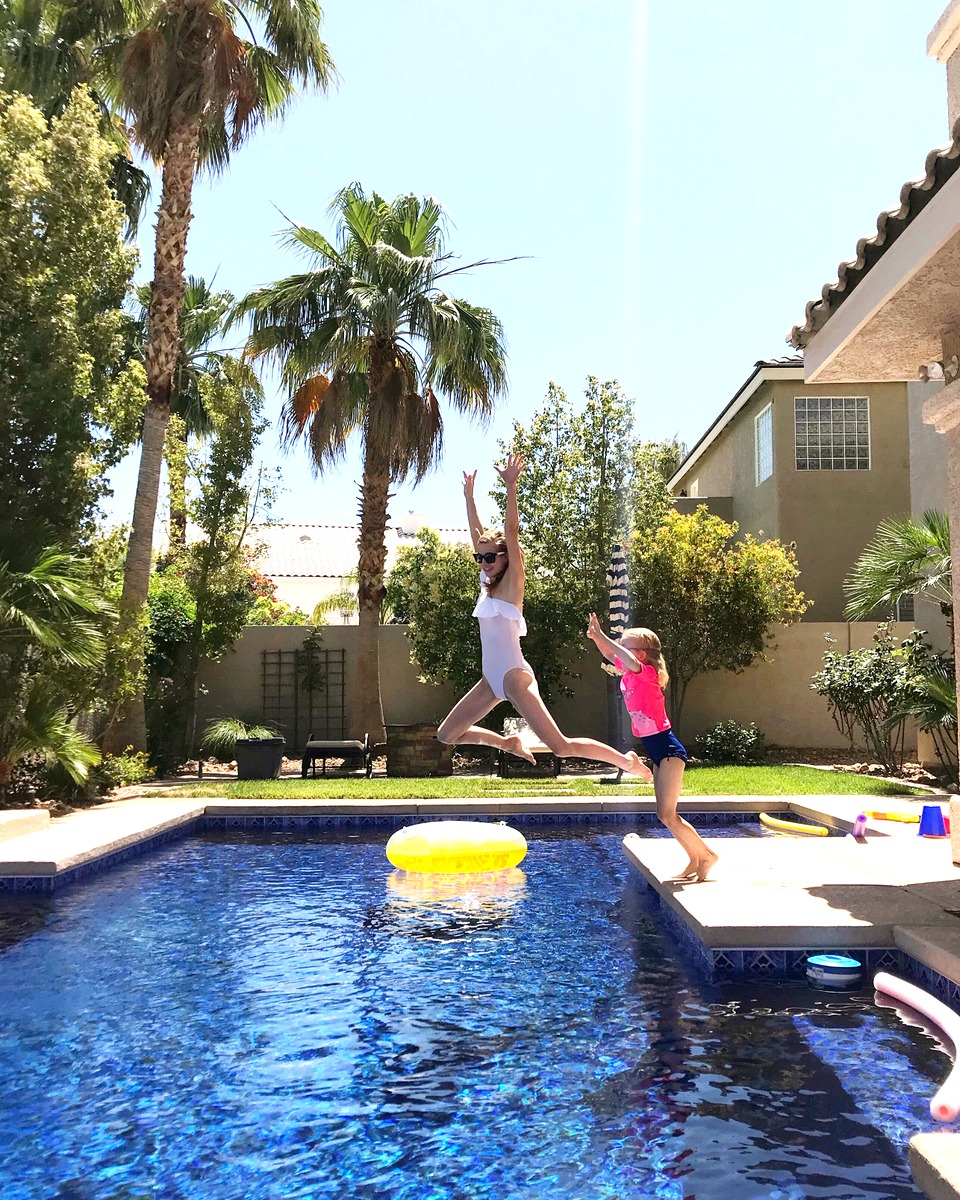 I cannot WAIT for nearly a week of hanging out in the pool (and the way my children sleep after spending all day in the pool).
Of course, planning this trip meant a little peek at my swimsuit situation.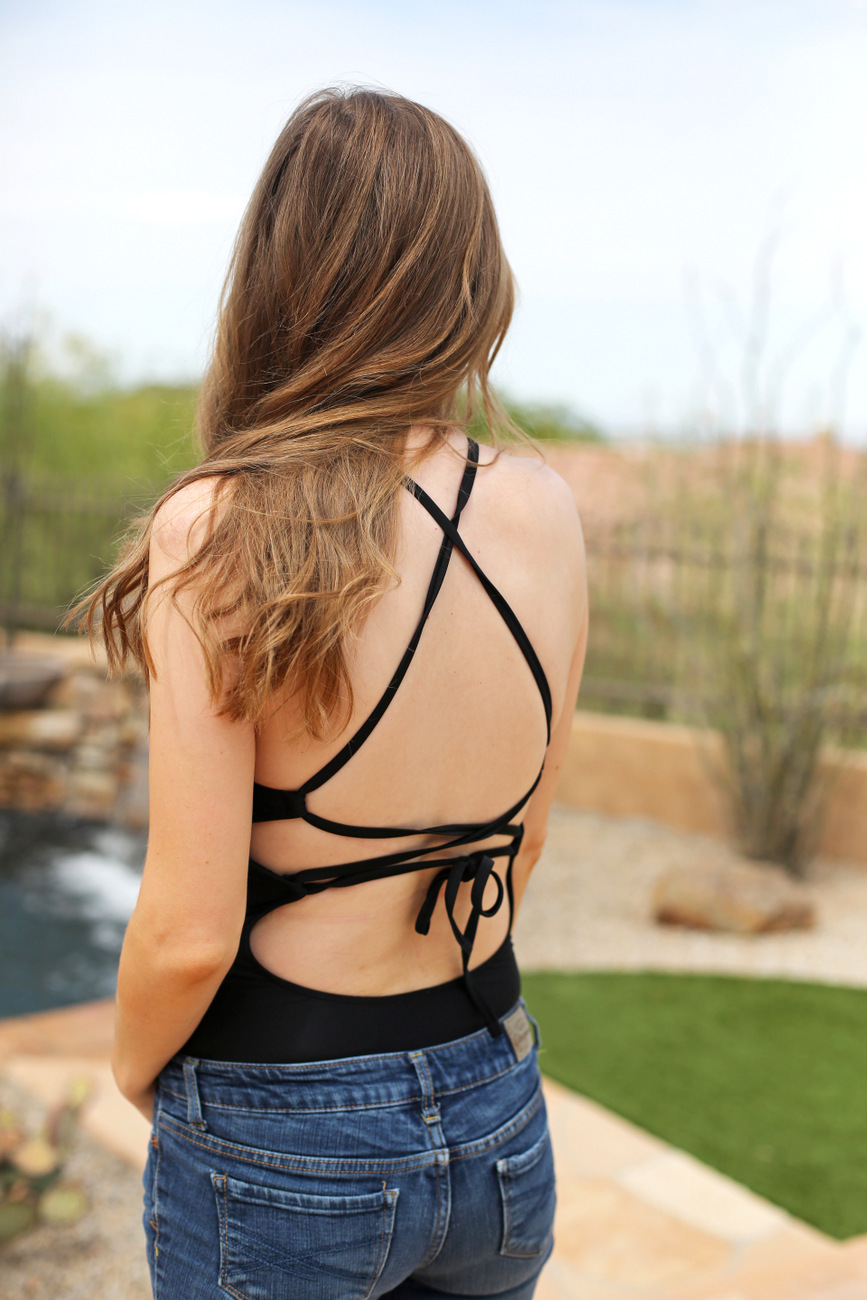 I'm not usually the kind of person that buys multiple swimsuits at once (I'm more like the kind of person who buys the minimum viable amount and then waits as long as humanly possible to make another purchase), but last week I suddenly found myself buying three new swimsuits.
I'm not sure what happened there, but I feel great about it.
(And I won't lie, I'm still tempted to buy this one too . . .).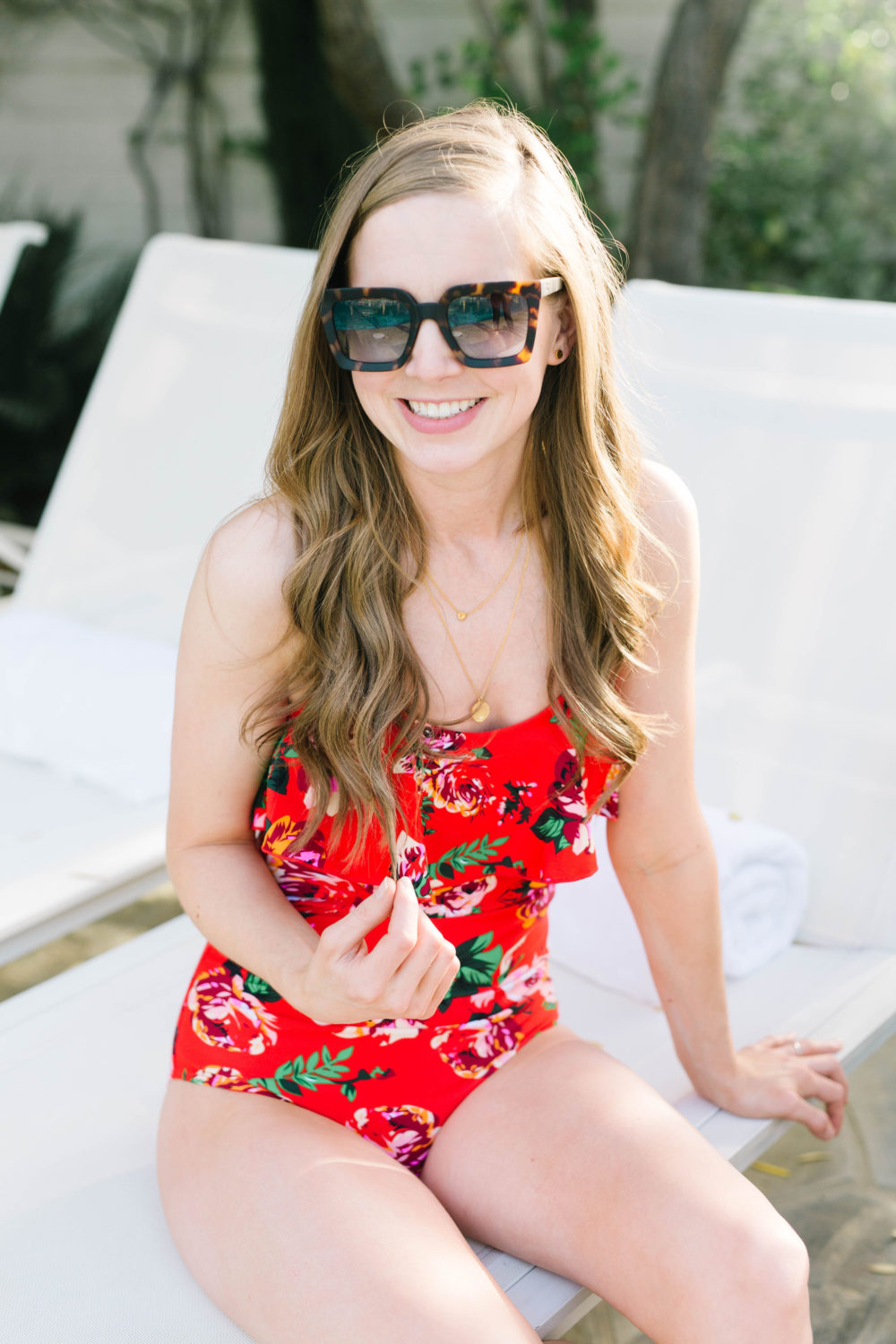 Here are the swimsuits I ordered: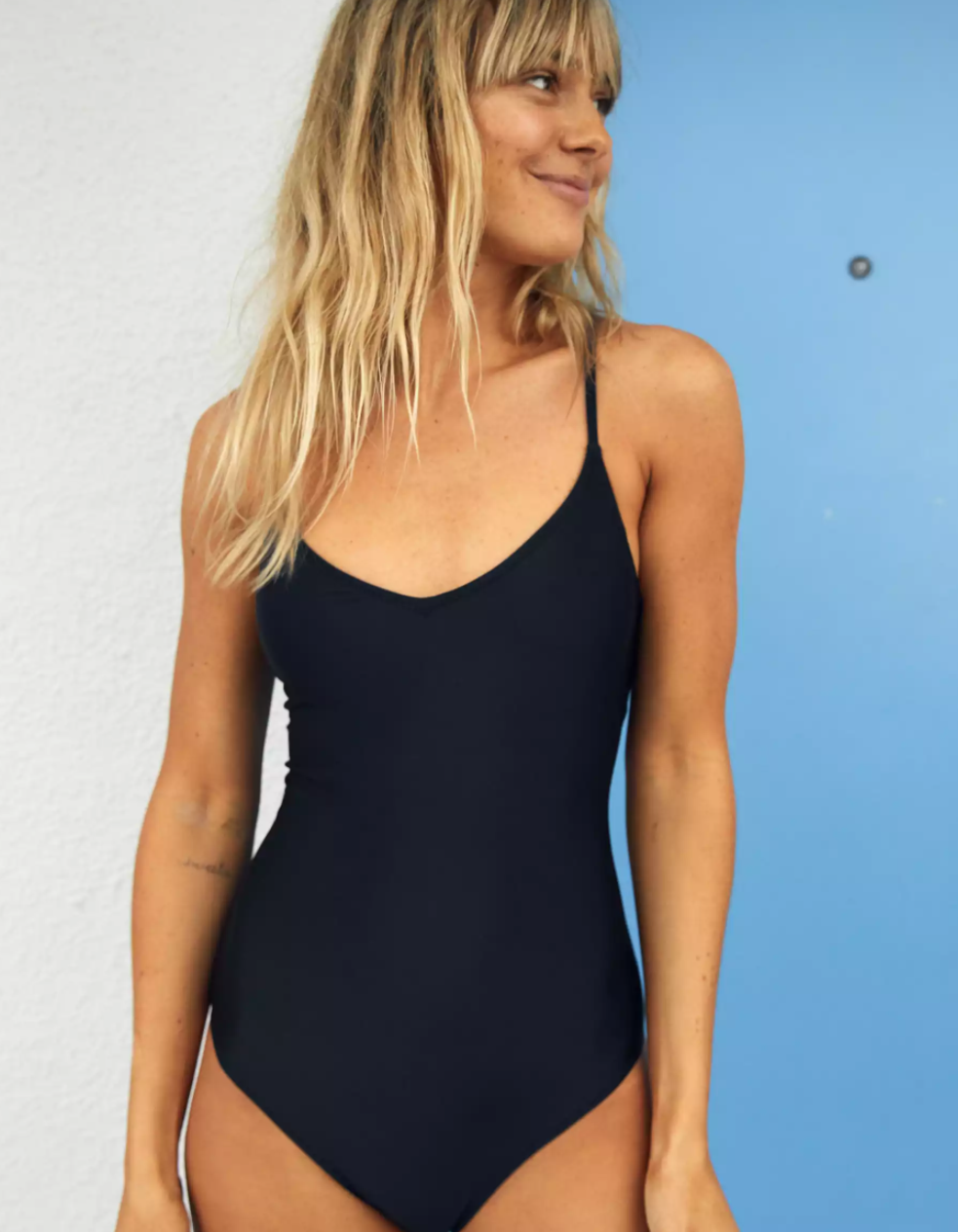 This black tie-back swimsuit from Aerie.
This is actually my second suit – I bought this exact suit 3 years ago and wore it constantly. I love the fit and it held up beautifully. I finally had to admit this spring that it was toast and I loved it so much I bought a duplicate of it. It's on sale for $33 and comes in a bunch of colors and I can't say enough good things about it. I bought my regular size (XS) but in a long length.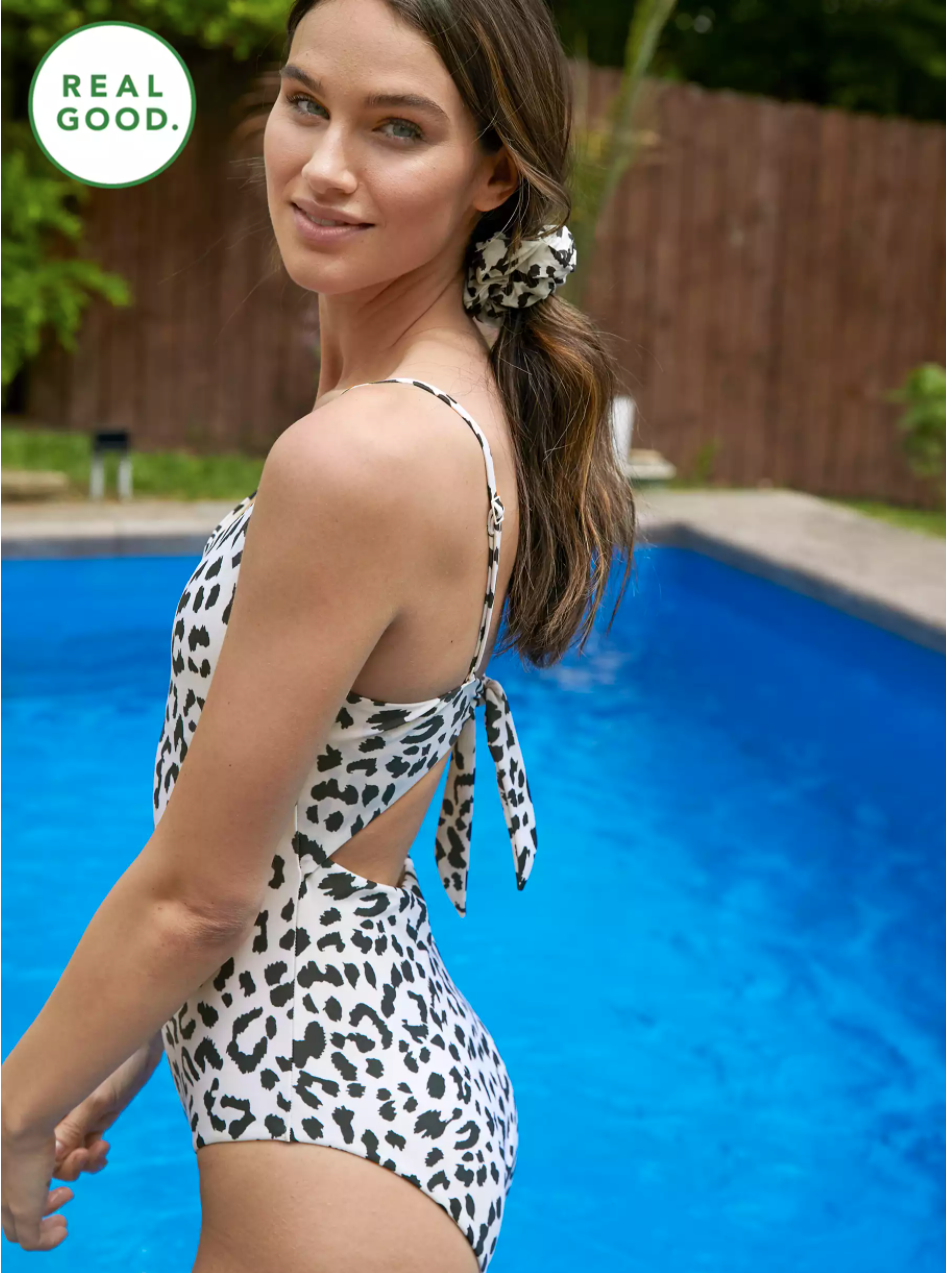 This leopard print swimsuit from Aerie.
Since I was already ordering another Aerie swimsuit, it seemed reasonable to just buy a second one too. And, no surprise, I love this one too. I ordered this one in an XS long too. It's under $40 and I love the back.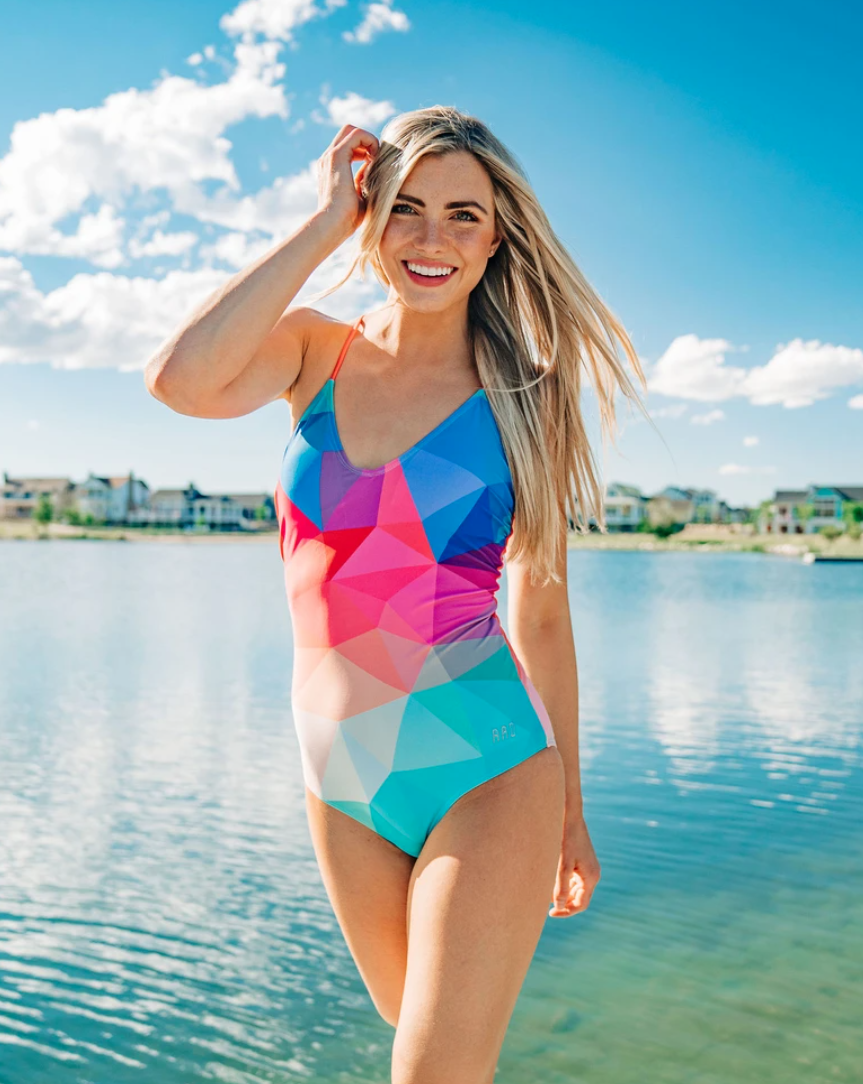 This prism swimsuit from Rad Swim.
I generally go for more subdued swimsuit patterns, but this one was so happy and fun, I couldn't resist.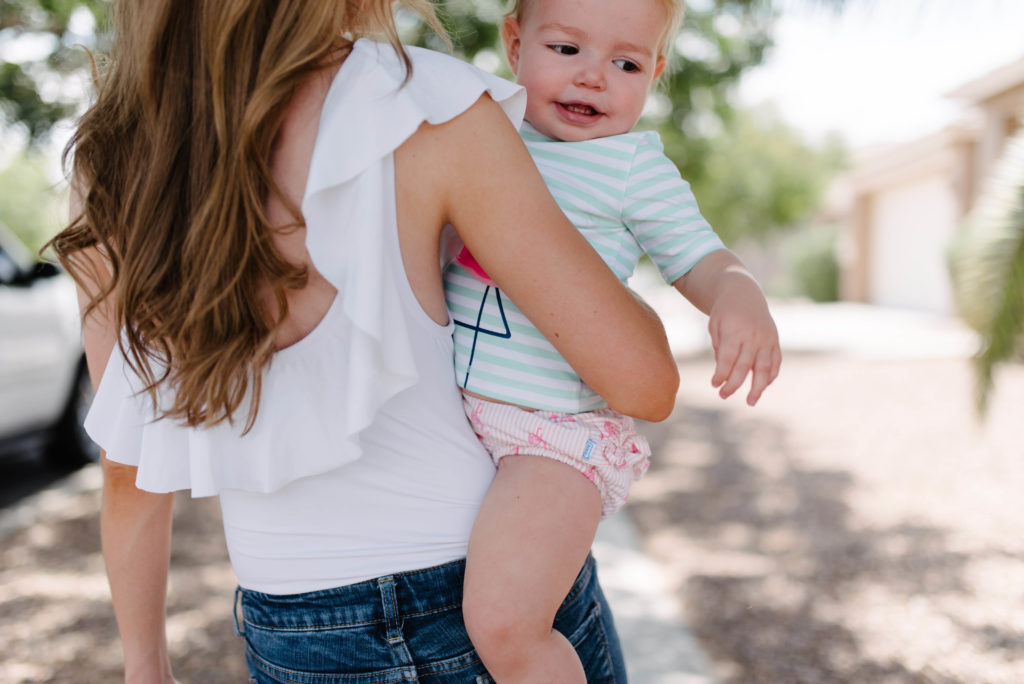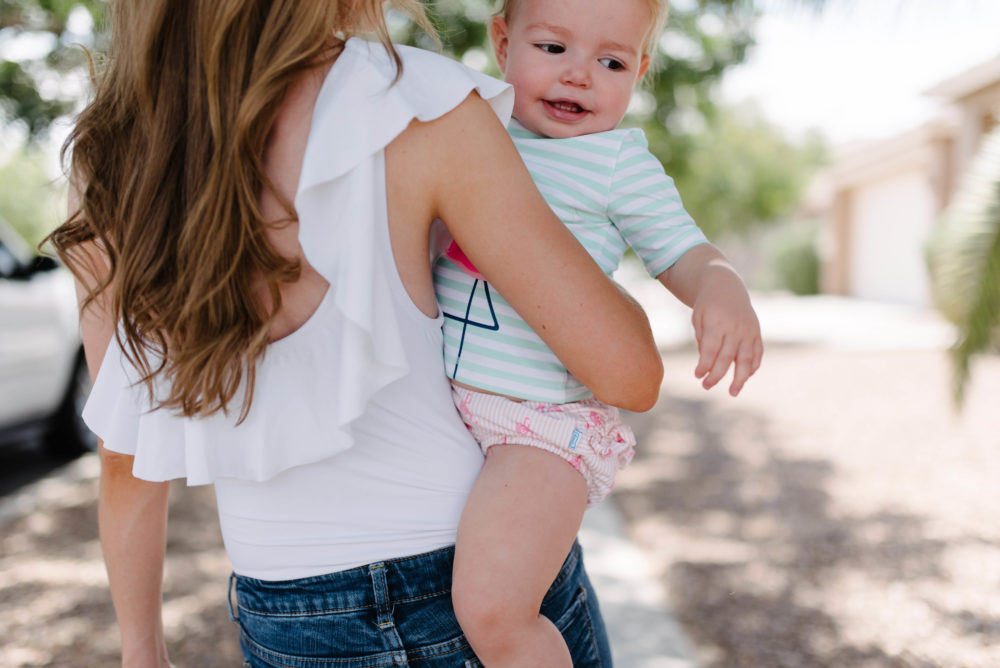 Here are the swimsuits I already owned: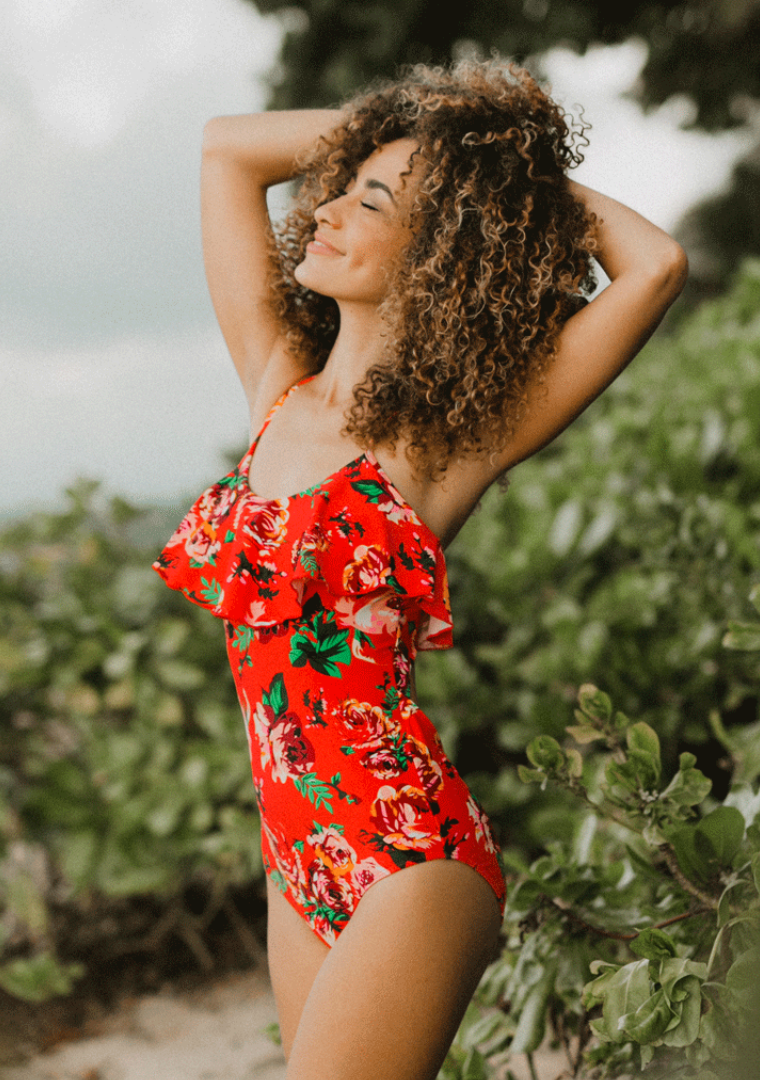 Red Floral Swimsuit from Janela Bay. 
I got this suit last year just before we went to Hawaii. And I just LOVE this swimsuit. It's such a bright fun color, plus it's super comfortable. It was definitely my go-to suit last year and I'm hoping to get another year out of it before it needs to be replaced.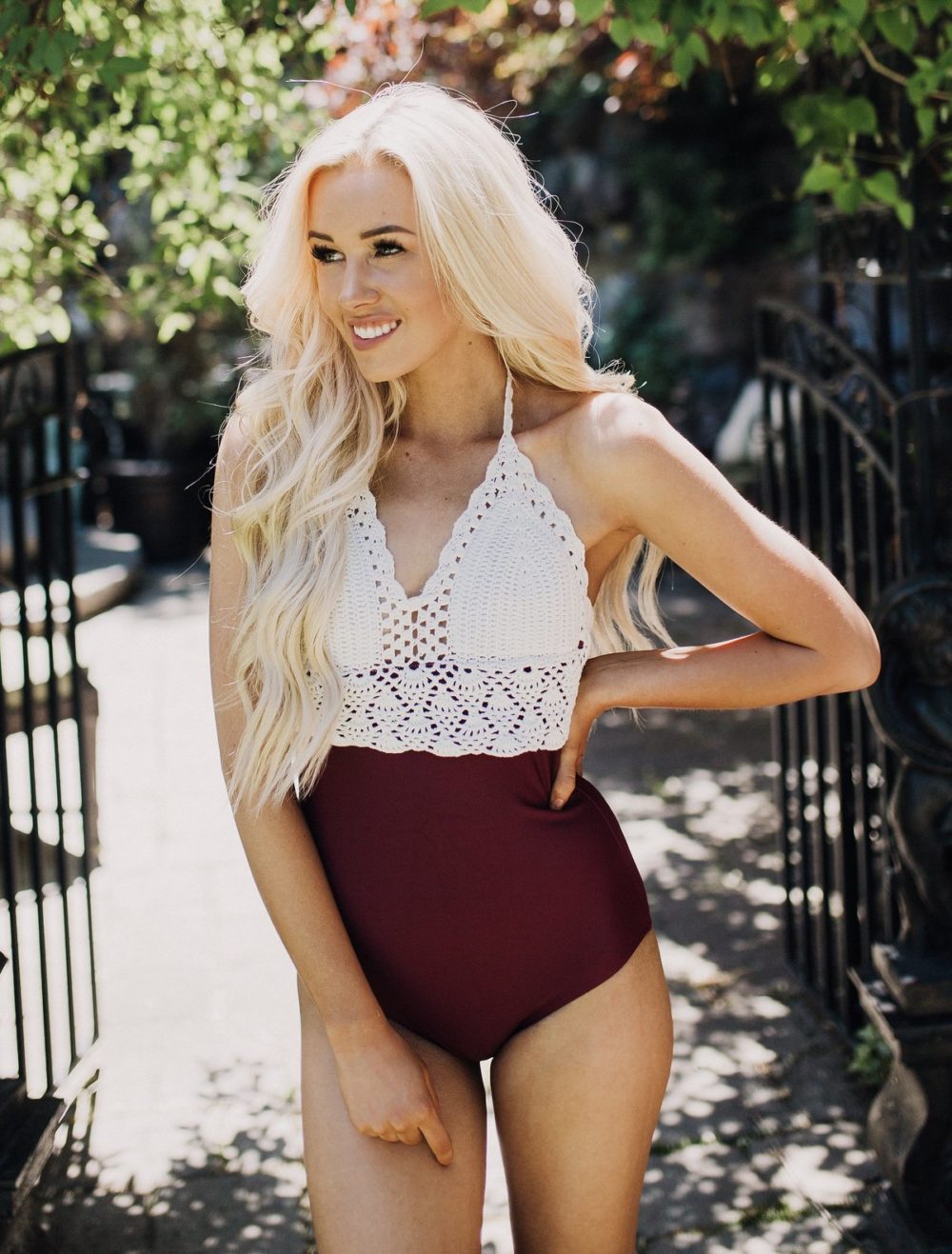 Crochet-Top Swimsuit from Rad Swim.
I haven't worn this swimsuit much (the one in the photo is maroon but mine is navy on the bottom) because I just got it at the end of last year, but I love how unique it is. The top is fully lined, and the whole thing is really comfortable. My only complaint is that the top strap can be tricky to untie when it's wet.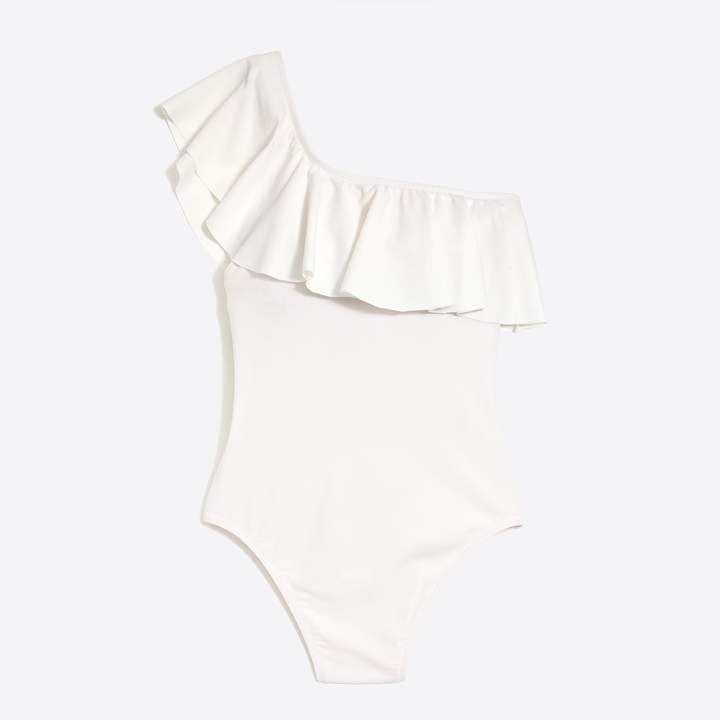 Ruffle One-Shoulder Swimsuit from JCrew Factory
This suit isn't available in white anymore, but it's still sold in a couple of other colors. I get compliments every time I wear it and it's such a fun mix of classic and unique.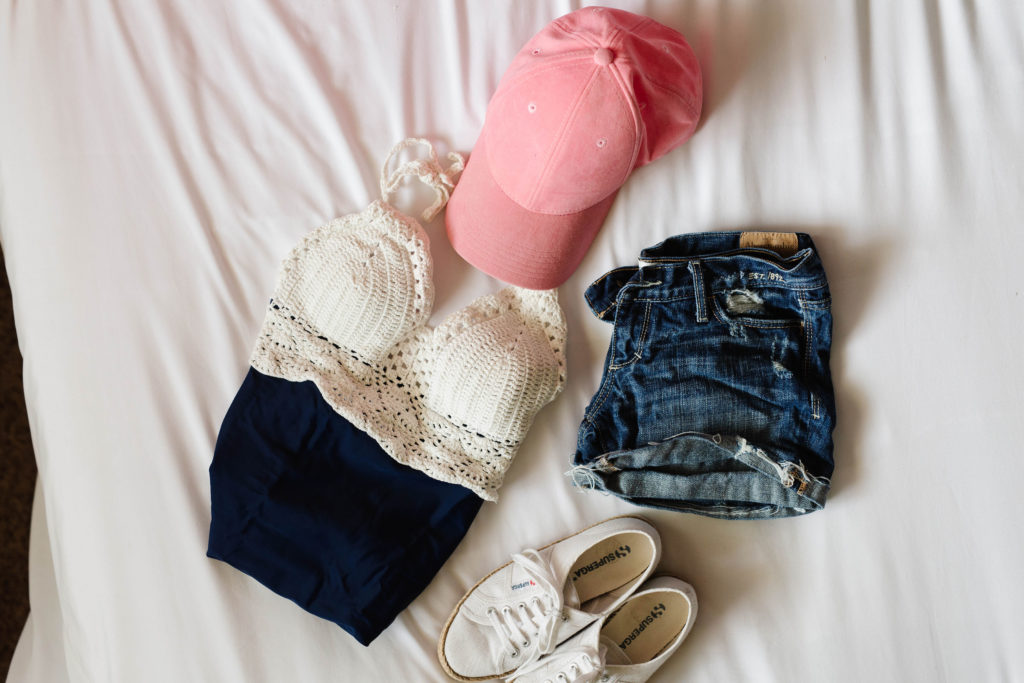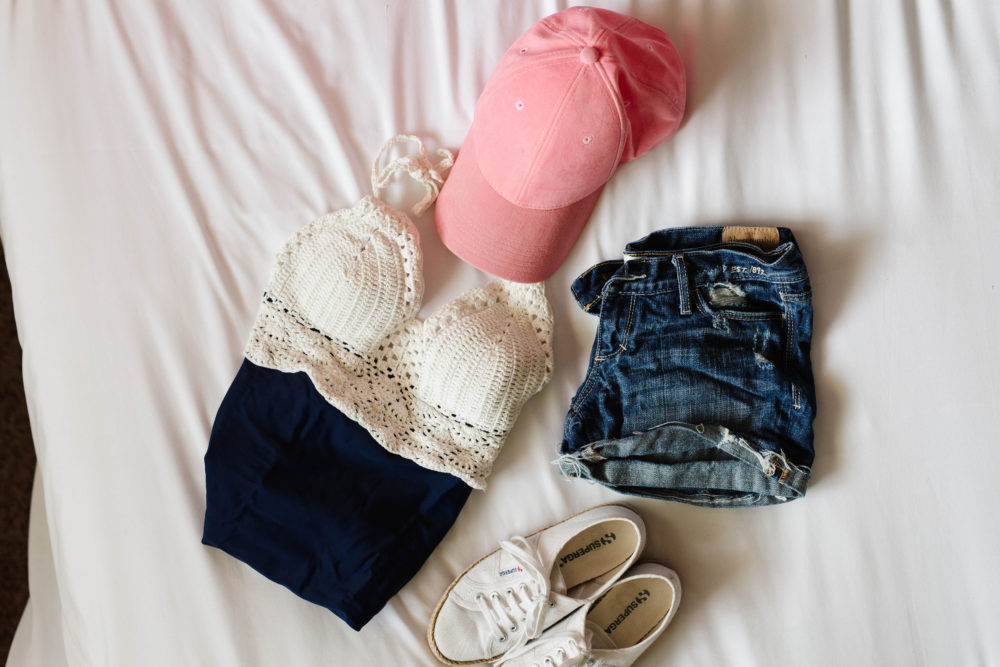 Swimsuit Cover Ups
As far as cover-ups go, my go-to is this pair of denim shorts (I bought mine on thredUP last year) or a lightweight maxi dress (mine is a maternity one that you'd never guess was maternity from 2012 that I love and dries in five seconds flat).
My favorite cover up when I'll be out in the sun for a while is a romper with sleeves because I do NOT like to worry about my shoulders or back getting burned. I ordered four from thredUP last week (this pink linen one, this black lace-inset one, this floral ruffled one and this pom-pom trimmed one) I'm crossing my fingers that I'll like at least one of them.
If you have a swimsuit (either brand or a specific one!) you really love, I'd love to hear! I'm apparently on a swimsuit buying roll here!
If you liked this post about swimsuits, you might like these posts too: