Of all the posts I do during the year, the $5 gift guide is definitely in the top ten. I love finding cool stuff that looks more expensive than it is and is just plain awesome.
Whether you're looking for stocking stuffers, a little gift for a teacher or neighbor, or something to add to a bigger gift for that little something extra, there's something here for every taste and age.
And for that person who you absolutely have no idea what to buy for? Might I suggest the Emoji Stickers?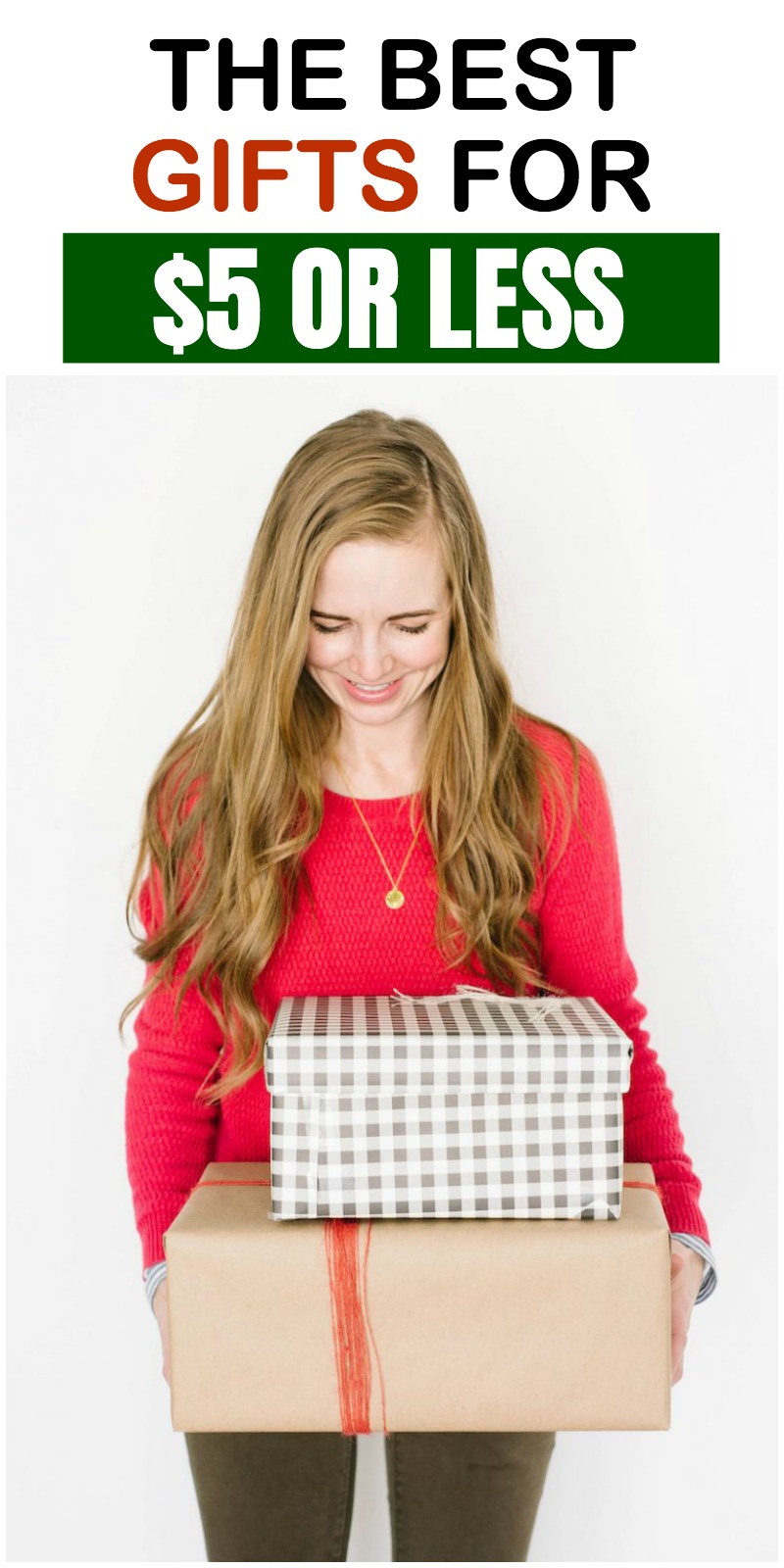 This year I did 30 of the best 5 dollar gifts instead of the 20 I've done for the past 4 years. Sometimes I just want to be an overachiever.
AND for the first time, the images are clickable (there are 3 on the very last image that you can't click through to, but everything else does). So, that might hopefully make your life a little easier.
Anyway! Here they are:
1. Frog Contact Lens Case ($3.90) – As a daily contact wearer, I'd love using this cute case instead of the totally dull one that comes with the contact solution. This googly eyes one is also fun.


2. Heart Whisk ($2.24 each) – Months and months ago, my friend Stephanie suggested this for the gift guide, telling me it was one of her favorite kitchen tools. I seriously love it. Tie it onto a stack of dish cloths or add a bottle of vinegar or olive oil for an extra fun gift.


3. Glass Beaker Pitcher ($4.95) – This is just really awesomely cool. Perfect for your science-loving friend.


4. Mini Colander ($4.99) – This is perfect for washing berries or a handful of spinach for a sandwich or just displaying a few things on the counter. It comes in half a dozen different colors too. It's so cheap, you could add a couple of winter citrus and still come in well under $5.


5. Classic Mug ($7.99 for 2) – I used to have some pretty nice glass mugs (like these ones which are also under $5) and they appear to have gotten lost in the move, so now I'm in the market for some new ones. These are a cool shape and a nice modern design.


6. Ninja Bandages ($6.68) – I'm really into ninja everything this year and these little bandages are killing me with the cuteness.
7. Munchkin Bath Crayons ($4.19 for a 5 pack) – After all our bath tub toys were getting disgusting, Bart chucked them all and I bought these bath crayons to replace the forty million rubber ducks we had. They write on the bathtub and tile then wipe right off and they are SO COOL.


8. Sally Hansen Golden-I Nail Polish ($2.52) – This is my current favorite nail polish; it's perfectly festive without being over the top. And the Hard as Nails line from Sally Hansen is just ridiculously good – I can get nearly a week of wear out of it, which is better than a lot of the higher-priced polishes.


9. Duncan Yo-Yo ($3.00) – When in doubt, get a yo-yo. My in-laws gave us one a few years ago and my girls love playing with it (even if they actually have no idea how to use it. I should probably show them).
10. Flameless Tealight Candles ($9.99 for 24) – I bought some of these for our Halloween luminaries a couple of years ago and they are (and this candle holder is also under $5 and perfectly festive but also appropriate year round).
If you liked this post of the best 5 dollar gifts, you might also like these posts: