Like probably every parent alive, I am drowning under "art" done by my children.
And, of course, once a single solitary crayon mark has been made, that paper is suddenly infinitely precious. Woe be upon the parent who is foolhardy enough to try to sneak it into the recycle bin.
This one uses clipboards, which I wasn't really interested in, and I didn't need QUITE that many (although Ella might beg to differ).
to this:
Also, I cleaned up the top of the shelf, so. . .you know, that helps too.
If you want to hang your own cork board tiles, you'll need:
Painters tape
A measuring tape
A pencil
Adhesive (they came with my cork tiles)
Hammer
Small nails
I measured 15 inches above the shelf and marked it along the whole length (if I did it again, I'd probably do 12 inches instead, but I'm reasonably happy with 15″ too). Line your tape up along those lines.
Repeat 15 inches above so you have two parallel lines of tape.
Put your adhesive on the back of the first tile and then line it up against the bottom row of tape and press in place. Measure three inches across and mark with your pencil, then hang up your next tile. Repeat with remaining two tiles.
Now hang your second row (above the first row). I did exactly the same thing, except I also lined my tiles up against the bottom tile and then slid them upward to be sure they were as symmetrical as possible.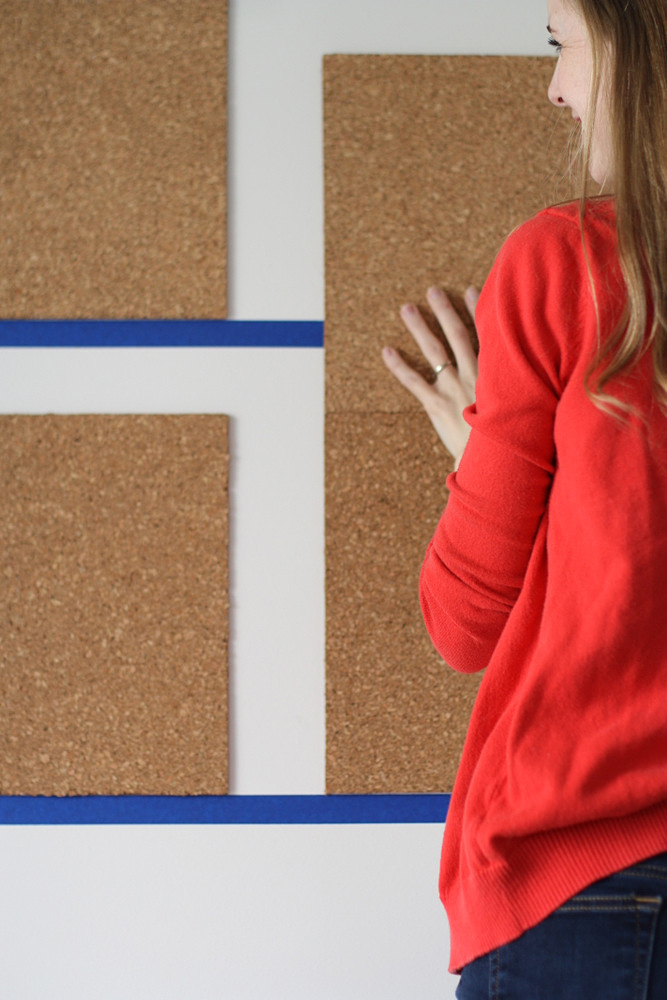 Once they are all in place, pound one small nail through each board to hold them in place (I didn't do this and when I came home from Zumba last night, three of them had fallen down, which broke the corner off of two of them. . . I'm totally thrilled about this. Which meant I was pounding nails at 9:15 p.m. last night to get them all back up and to keep them from falling off again).
Remove your painters tape and voila! Plenty of space for all your child's amazing artwork.
Of course, the minute I finished, Ella went and scrounged up 8 ratty pieces of paper and said "I've got art for all of them!"
If you liked this tutorial for hanging cork board tiles, you might also like these posts: