So, after totally clearing out my closet last week (and, after the fact, I purged another five or six things and an entire garbage bag of baby stuff. Hide your belongings), I'm ready to start thinking about what I'm missing.
(This is WAY more fun, although slightly less therapeutic).
Since we'll be living out of a suitcase this summer, I'm trying to keep things pretty minimal.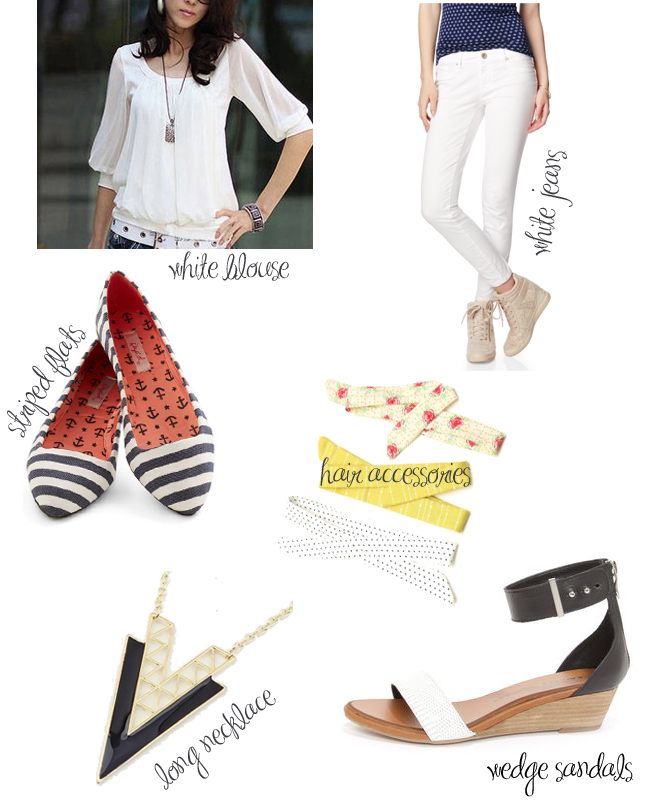 Shirts: I realized very very quickly that this is the major weak spot in my wardrobe. I seriously have about three shirts I like. Top of my list is a white shirt, and then I'm planning to check out the thrift store and see if I can score a couple more.
A Black T-shirt: I'm completely sold on these Pickwick & Weller tees (despite the fact I think they look pretty unflattering on the website). If only they sold stripes.
White Jeans: I bought a pair last year from H&M and. . .they just never quite worked for me. I ended up cutting them off into shorts for our cruise. I'm planning on getting these ones from Aeropostle, since I have a couple of pairs of their jeans and they fit me really super well (but I obviously will not be wearing them with hideous wedge sneakers. In case you were worried).
Striped Flats: I saw Merrick's a few weeks ago and was totally sold. I'm not as sold on the loafer look, though, so this pair seems more up my alley. I also like this black and white pair.
Sandals: For someone who has lived in basically endless summer weather for most of the last seven years, I have a very pathetic sandal collection. I have some Lulu's credit I won last year, so I'm planning to order a pair of flat sandals and a pair with a wedge.
A few necklaces: I've been a serious earring wearer for the last five years, but for some reason, I'm moving away from them right now. I'd like to get a few long necklaces for summer like this one: http://www.tbdress.com/product/Western-Exaggeration-Double-V-Alloy-Ladys-Fashion-Sweater-Necklace-2colors-10404851.html (because toddler hands have ruined too many pieces of my nice jewelry).
A couple of hair things: I've mentioned before that I am so super boring with my hair, but I'd like to be a little more fun this year. I have my eye on this fun set of hair wraps from Ivory Kate.
Anything on your summer wishlist?
P.S. I'm doing a quick Instagram sale for about 40 items I cleared out of my closet. Most things are $5 or less. It's all sitting on my guest bed right now, so anything not sold by the end of the week is going to the thrift store. Piles of anything make me twitchy.