Hair – whether it's little girl hairstyles or my own hair – is not my specialty.
The Internet is filled with YouTube videos, blog posts, and Instagram accounts dedicated to gorgeous braids and intricate hairstyles.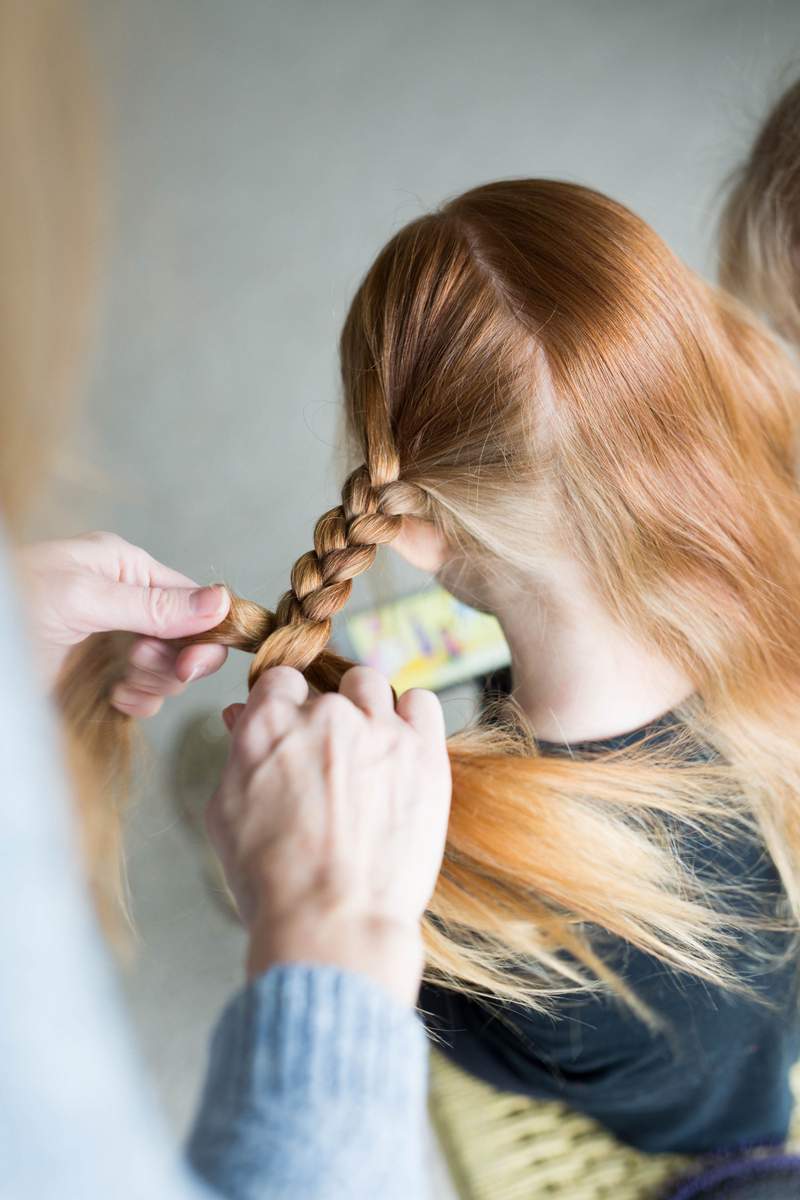 I will not be starting a hair channel anytime soon, that's for sure.
My own hair looks pretty much the same every single day, so I'd definitely be lacking for content.
And when it comes to little girl hairstyles, it took me years to figure out how to make my girls' hair look decent.
My goal when I'm doing my girls' hair is for it to be quick (preferably less than 2 minutes per girl), look neat and stay (mostly) put all day.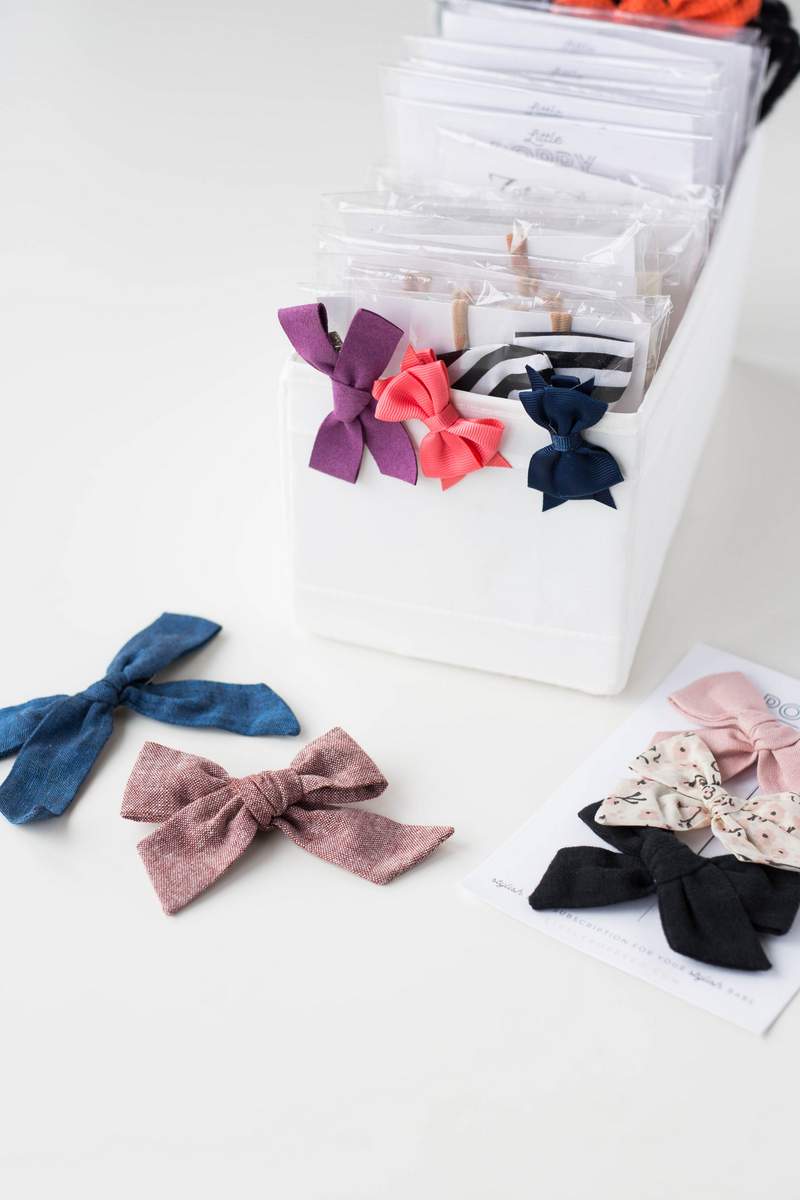 Over the past year, I've had a bunch of questions about how I do my girls' hair so despite the fact that my only qualifications are doing a LOT of French braids on my sisters while my mom read aloud to us (I'm also a master nail painter as long as you don't want anything fancier than one color), here are all my tips for little girl girl hairstyles that don't require any real skills.
I keep all my girls' hair supplies in the kitchen since I normally do their hair at the kitchen table after breakfast:
A hairbrush (I use this one)
A ziploc bag of rubber bands (these are my favorite)
A spray bottle of water
Some sort of gel or spritz hair holder (I don't have a favorite one – I basically just pick whatever is on sale)
A ridiculously large collection of hair bows
I usually let them watch Pinkalicious on my phone while I do their hair and they know that as soon as their hair is done, watching is over. They're good sports about it because they know I won't let them watch if they throw a fit about turning it off after 6 minutes.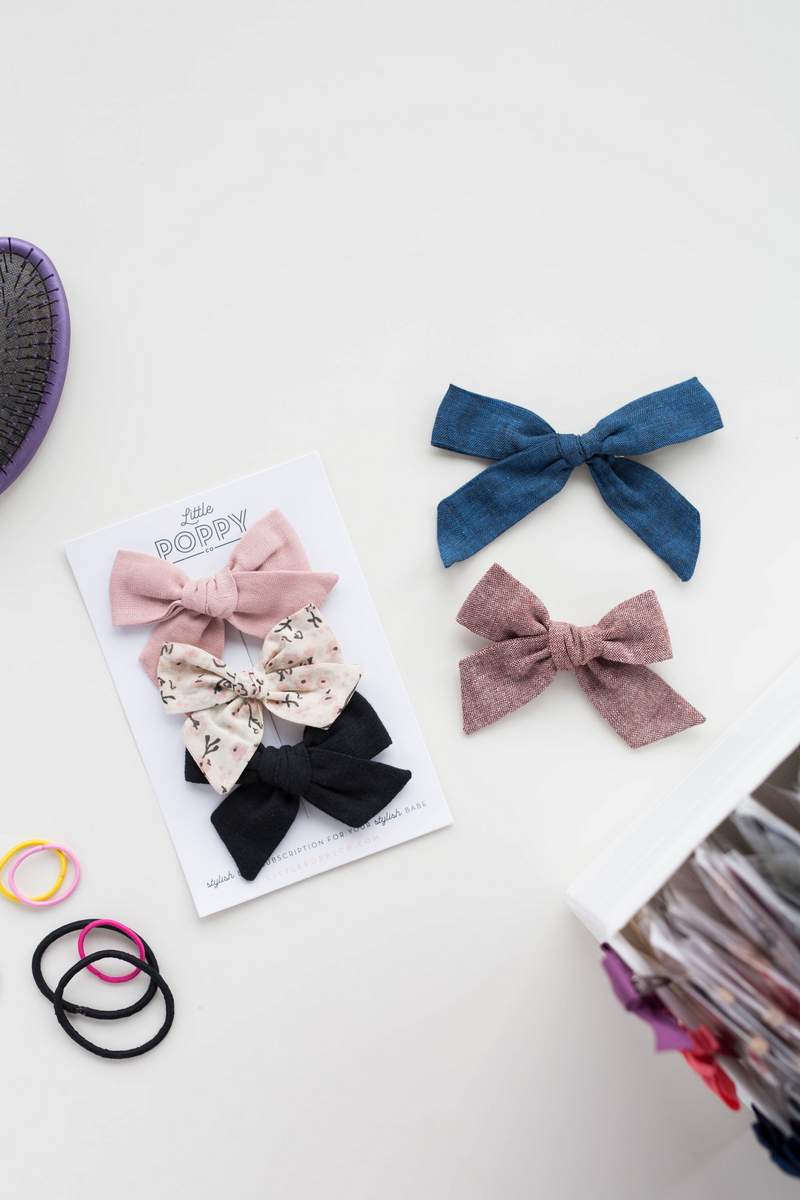 I pretty much just stick to the same 11 little girl hairstyles and rotate them depending on what the girls want on any given day.
11 Easy Little Girl Hairstyles
Two braids
This is one of my favorites – it's cute and classic (think Laura Ingalls or Pippi Longstocking) and it's so fast. I part their hair down the middle, put one side in a loose rubber band so the part stays, then spray the opposite side with the spray bottle, comb their hair flat and braid all the hair. I fasten it with a small rubber band and repeat on the other side. Sometimes, if I'm feeling very fancy, I'll put a small hair bow at the top of each braid.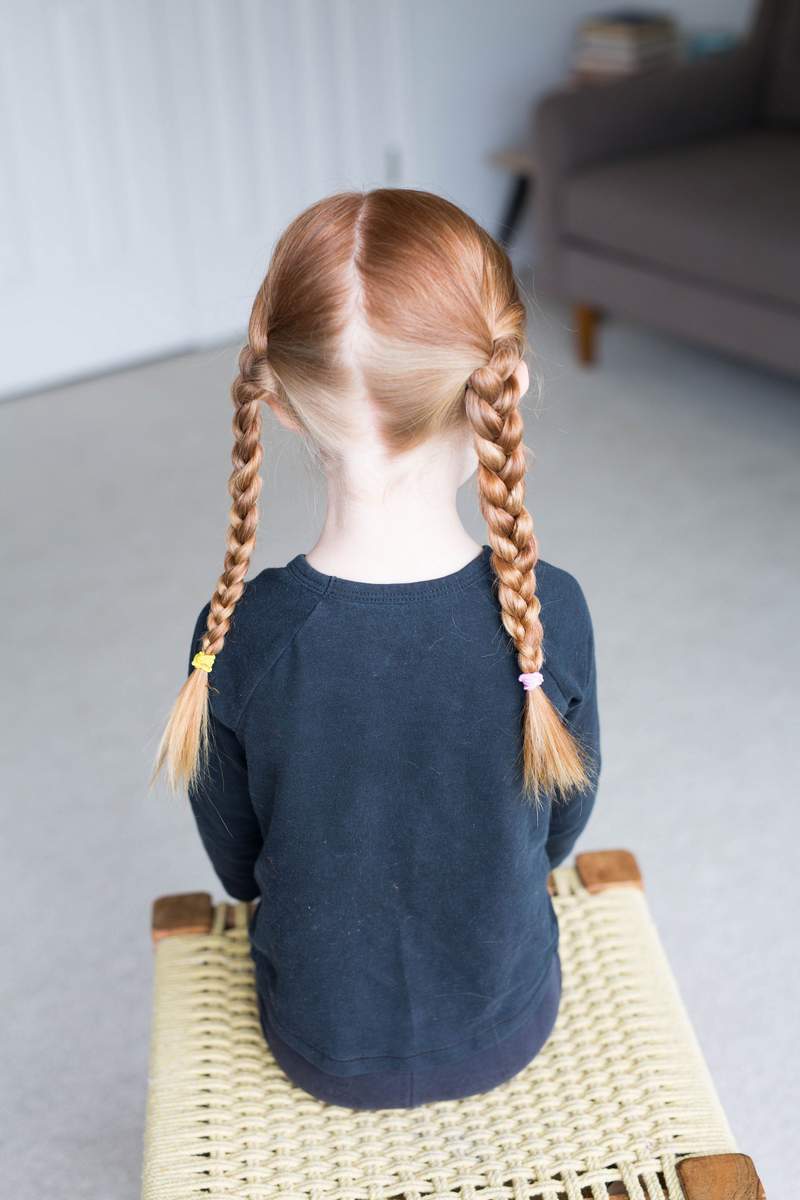 Ella's hair is fairly short, so I rarely do this one for her, but it's Star's favorite and Ani likes it too.
Two French Braids
This is the most time-consuming of any of the hairstyles for little girls I do, but I do love the look of French braids on my girls.
Milkmaid braids
Of all the braided hairstyles for little girls out there, this is my favorite because it LOOKS fancy but actually is just two braids plus a handful of bobby pins. I do two braids just like normal except I do them more over their ears/on the side of the head than I normally would if I was leaving them down. Then I cross them over the top of their head or across the back, tuck the ends under each other and then bobby pin them in place so they don't fall out.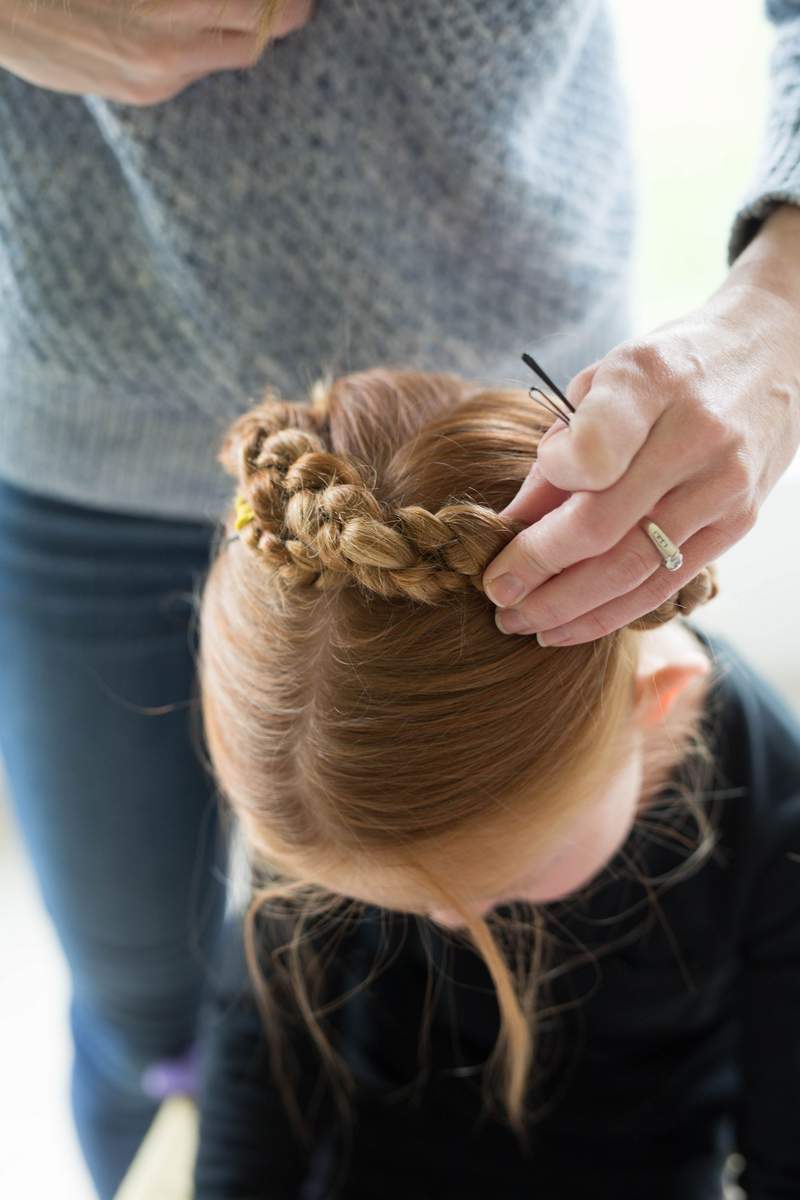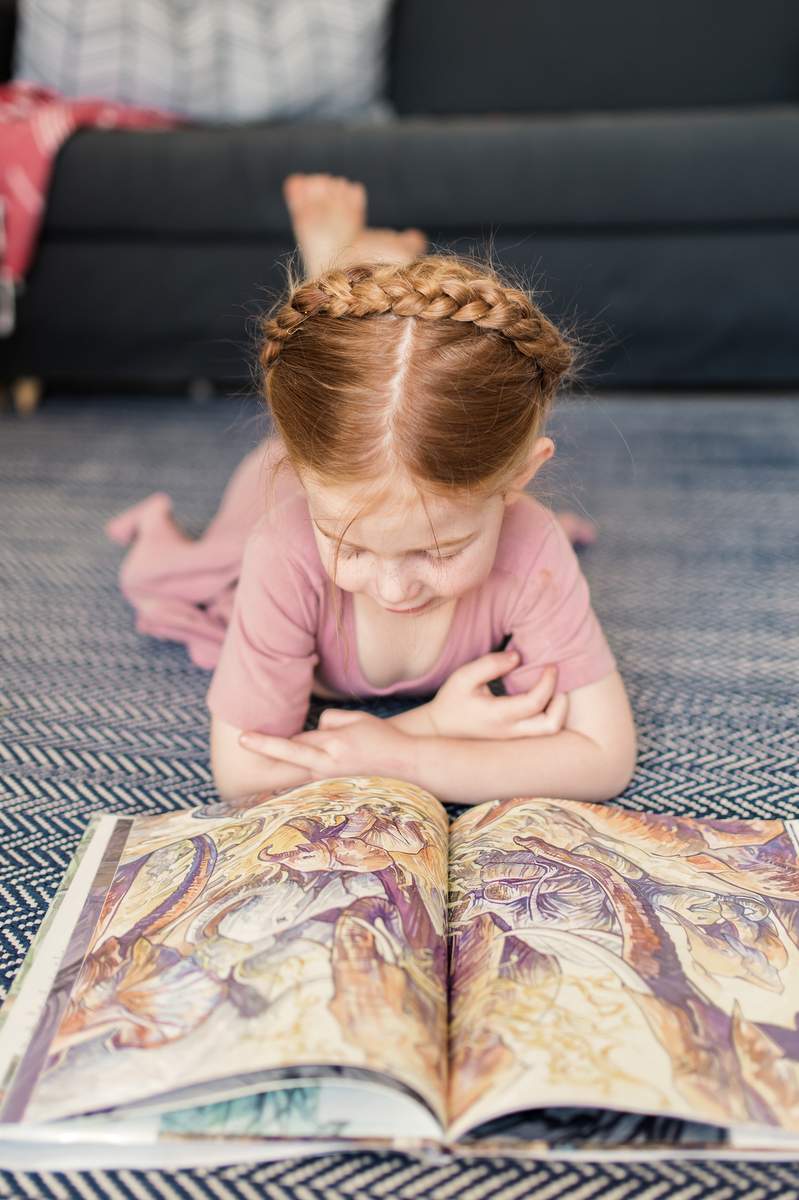 Top knot
This is one of my top hairstyles for little girls because it's so simple but looks so sleek and put together. I spray their hair with water, brush it into a high ponytail and then twist the hair before wrapping it around itself and securing it with another rubber band. I add a bow under the top knot and ta-da! Tiny ballerina.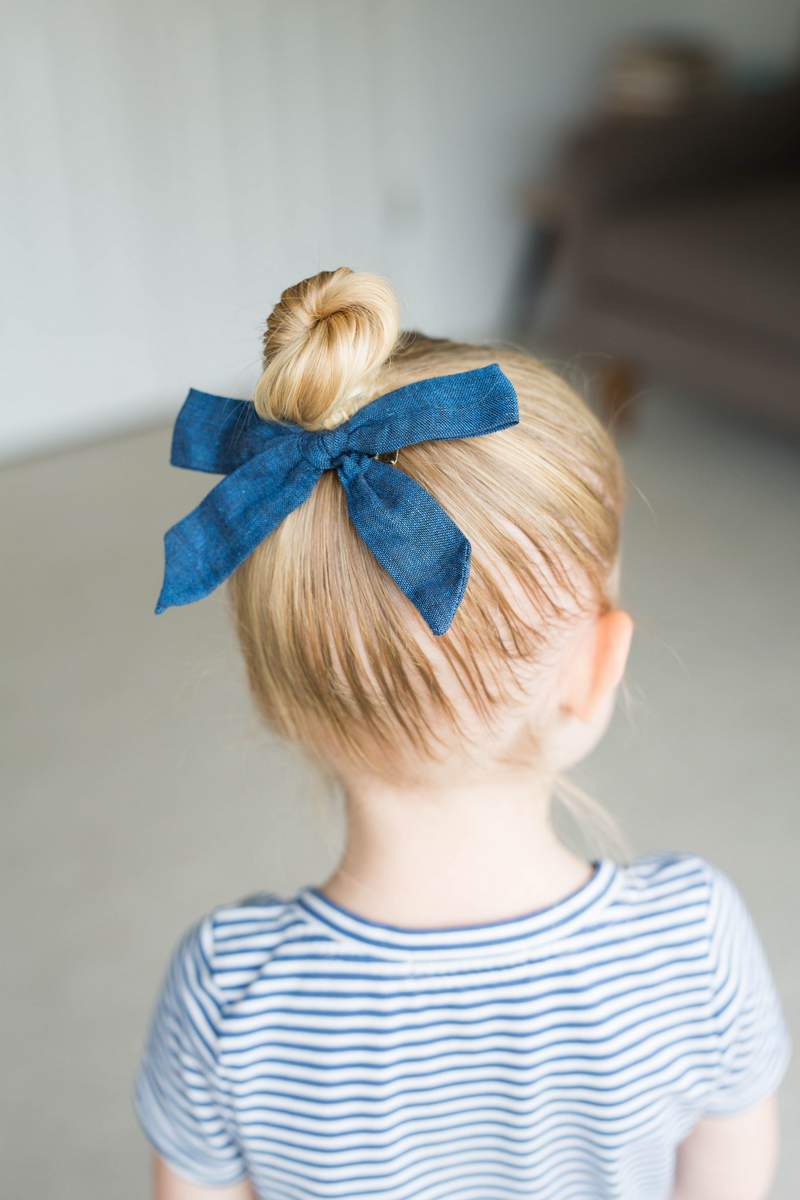 I do this hairstyle almost every day for Ella and as often as Star will allow it. I rarely do it for Ani because she has SO MUCH hair and the brushing just about kills her, but I love how it looks on her too. Tally, I'm coming for you with a top knot as soon as you have two inches more hair.
Low bun
This is similar to a top knot but I gather all the hair in a ponytail at the base of their head and then after twisting and wrapping the hair, I secure it with a second rubber band and add the bow above it instead of below it.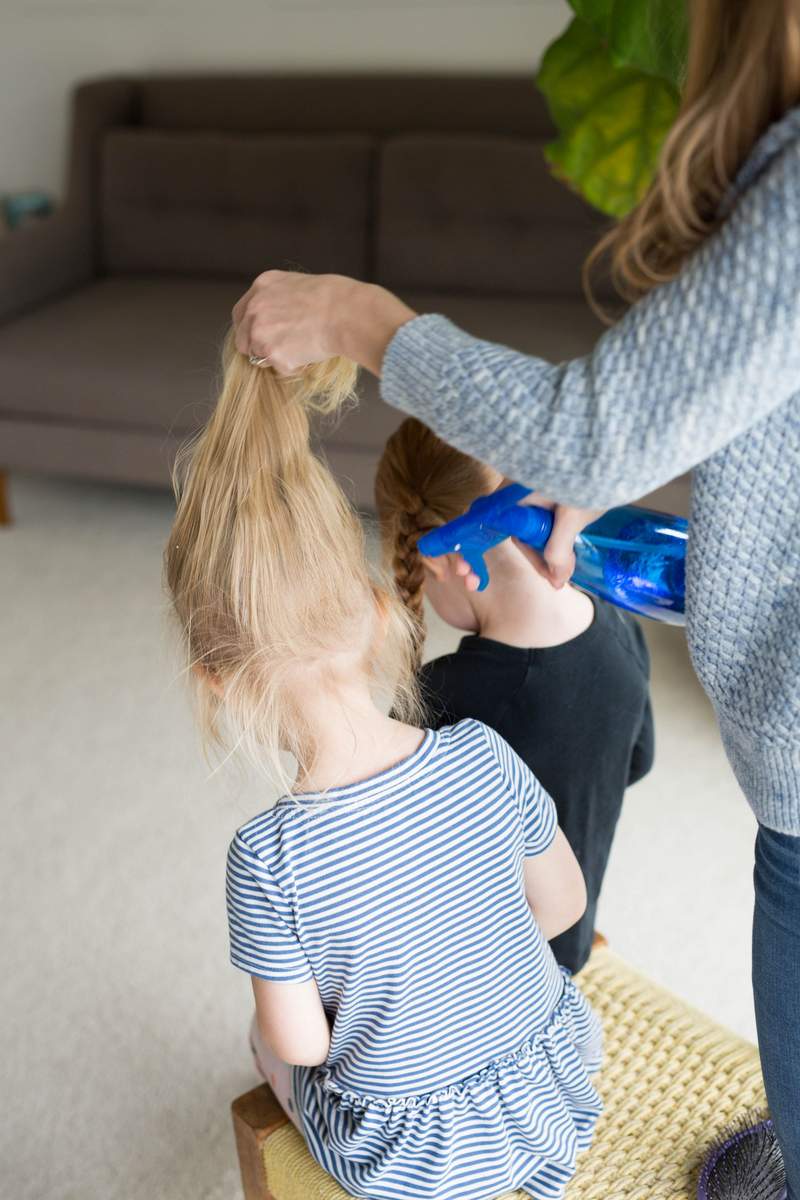 Side mini ponytail
I do this one for Ani a lot because she often wants her hair down, but this keeps it from getting QUITE as tangled. I part her hair on the side where it naturally parts brush the top into a small ponytail and add a hair bow.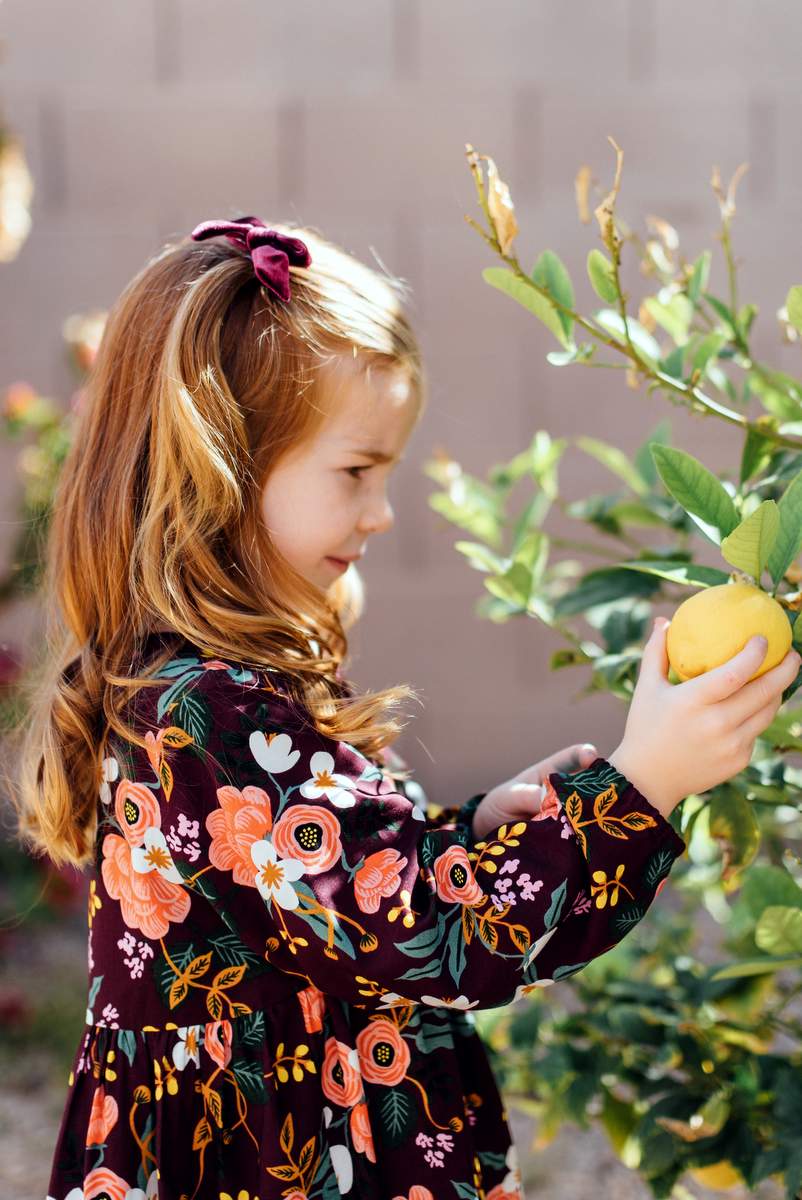 Side braid
This is one step fancier than the previous little girl hairstyle and instead of fastening it into a ponytail, I braid the small piece of hair and fasten it with a rubber band. Bow still not optional.
High Ponytail
This is currently Ella's favorite hairstyle and it's about as easy as you can possibly get. I just spray her hair really well, brush it into a ponytail and secure it with a rubber band, before adding a hair bow.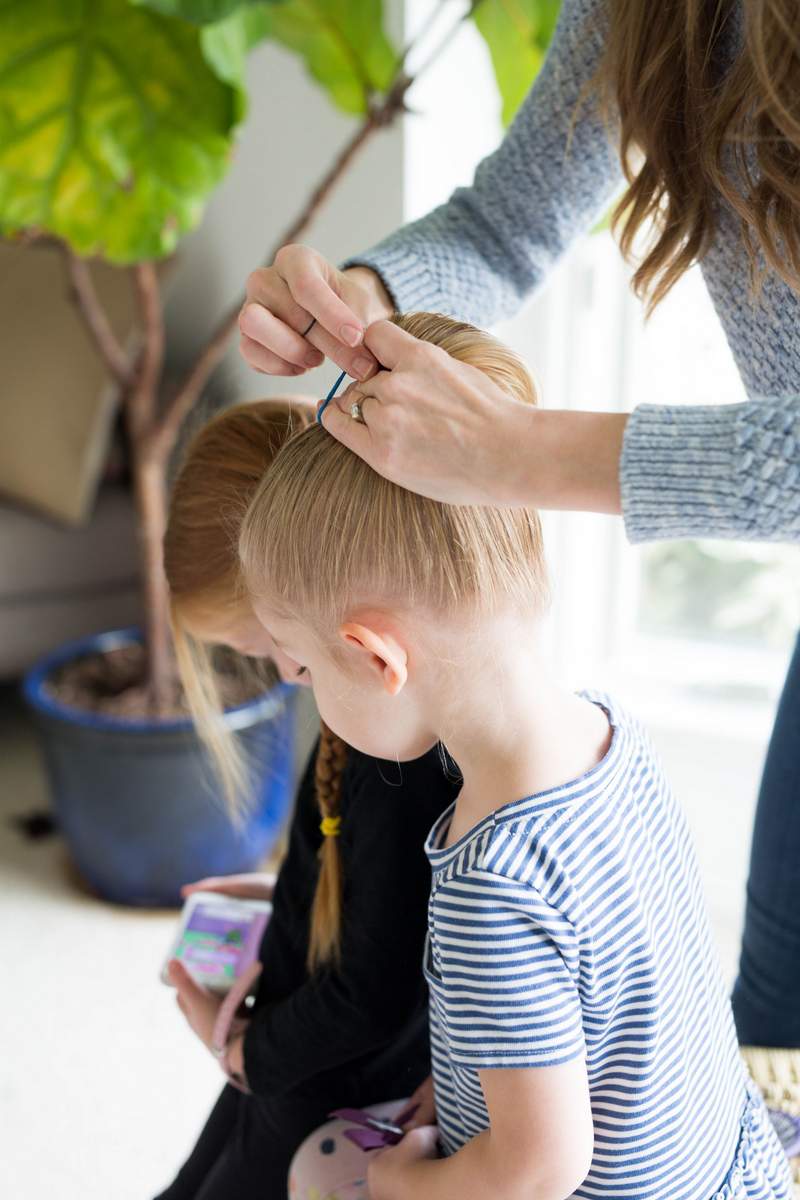 Two pony tails
I mean, does this little girl hairstyle even need any explanation? This one of my favorite toddler girl hairstyles when their hair is short and just starting to approach mullet status. The key is to comb their hair really nice and flat so it looks neat. I like to add little bows to the top of each pigtail. The other key is to not be annoyed when your toddler pulls out the rubber bands and bows.
Side french braid and ponytail
Of all the braided hairstyles for little girls I know how to do (which is not a long list), this is the one I did the most for Ella last year. I'd say probably 170 days out of 180 school days.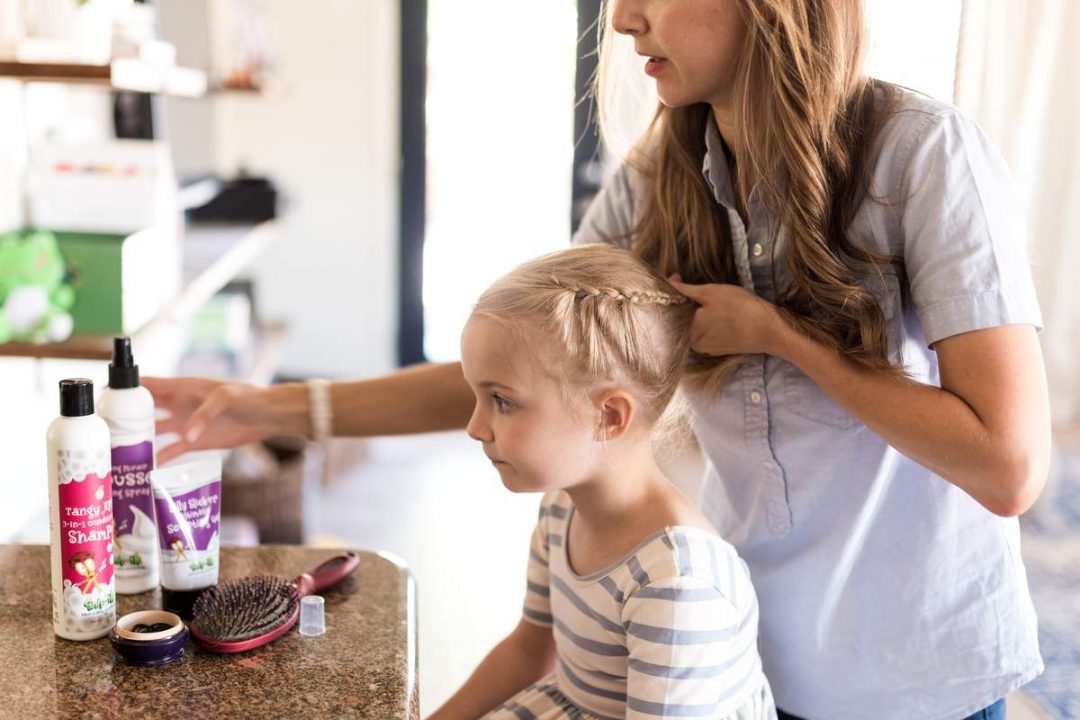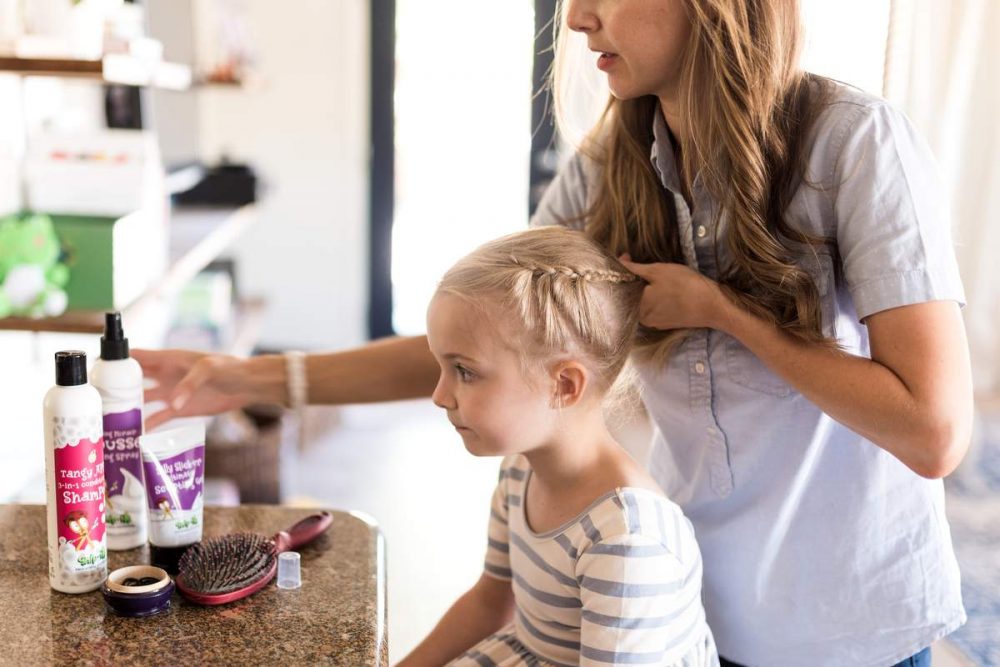 I part her hair on the side (which is it where it naturally parts) then French braid it across the front of her head and down the side (only adding hair on the side closest to her hairline). Once I've got it to the base of her ear, I just braid it normally and fasten it with a rubber band. Then I comb all the remaining hair into a ponytail, add the loose braid and fasten it with a rubber band. Add a bow to the top of the ponytail and voila!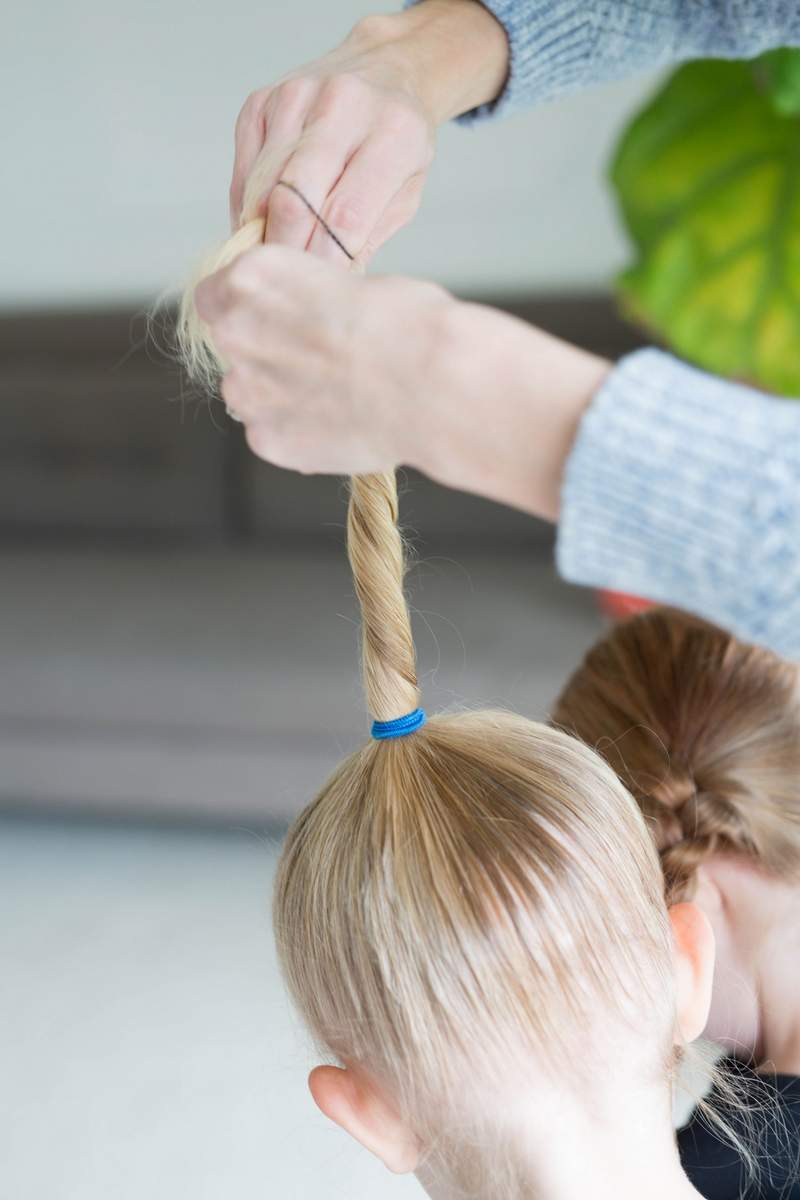 What are your go-to little girl hairstyles? I'd love to add a few more to my rotation!
If you liked this post about easy little girl hairstyles, you might like these posts too: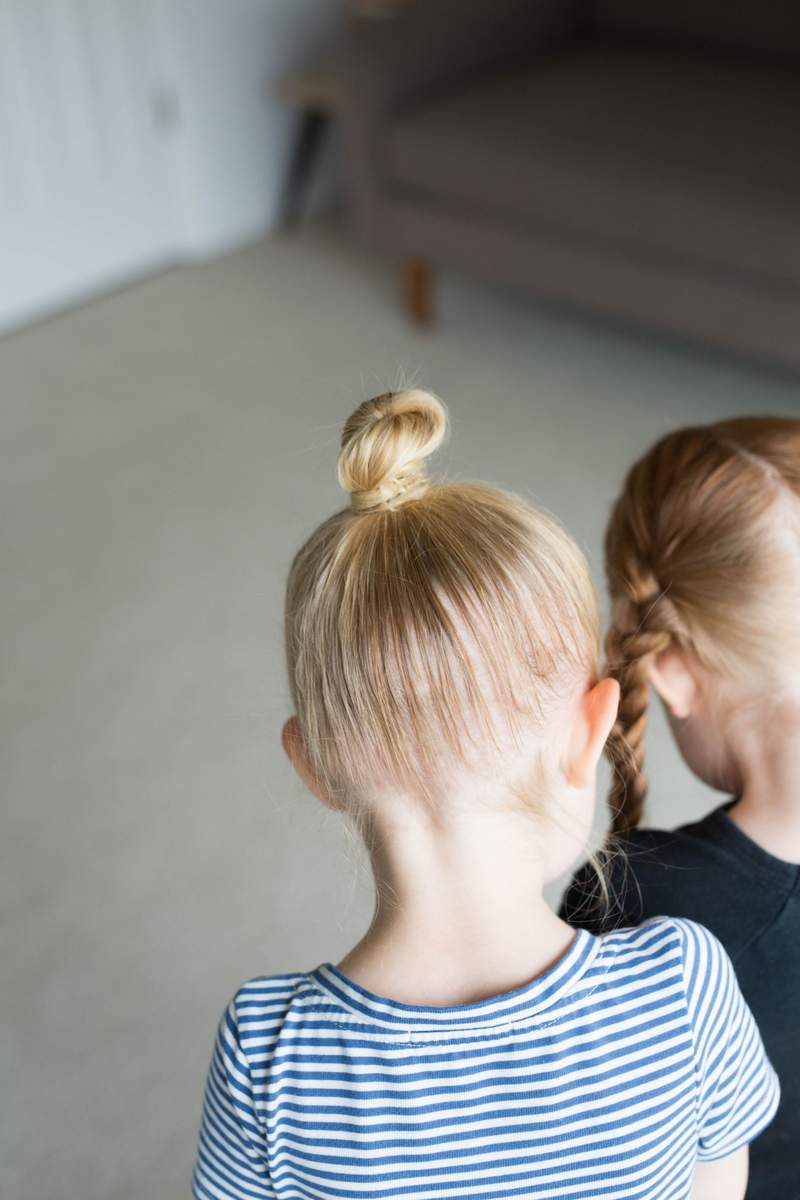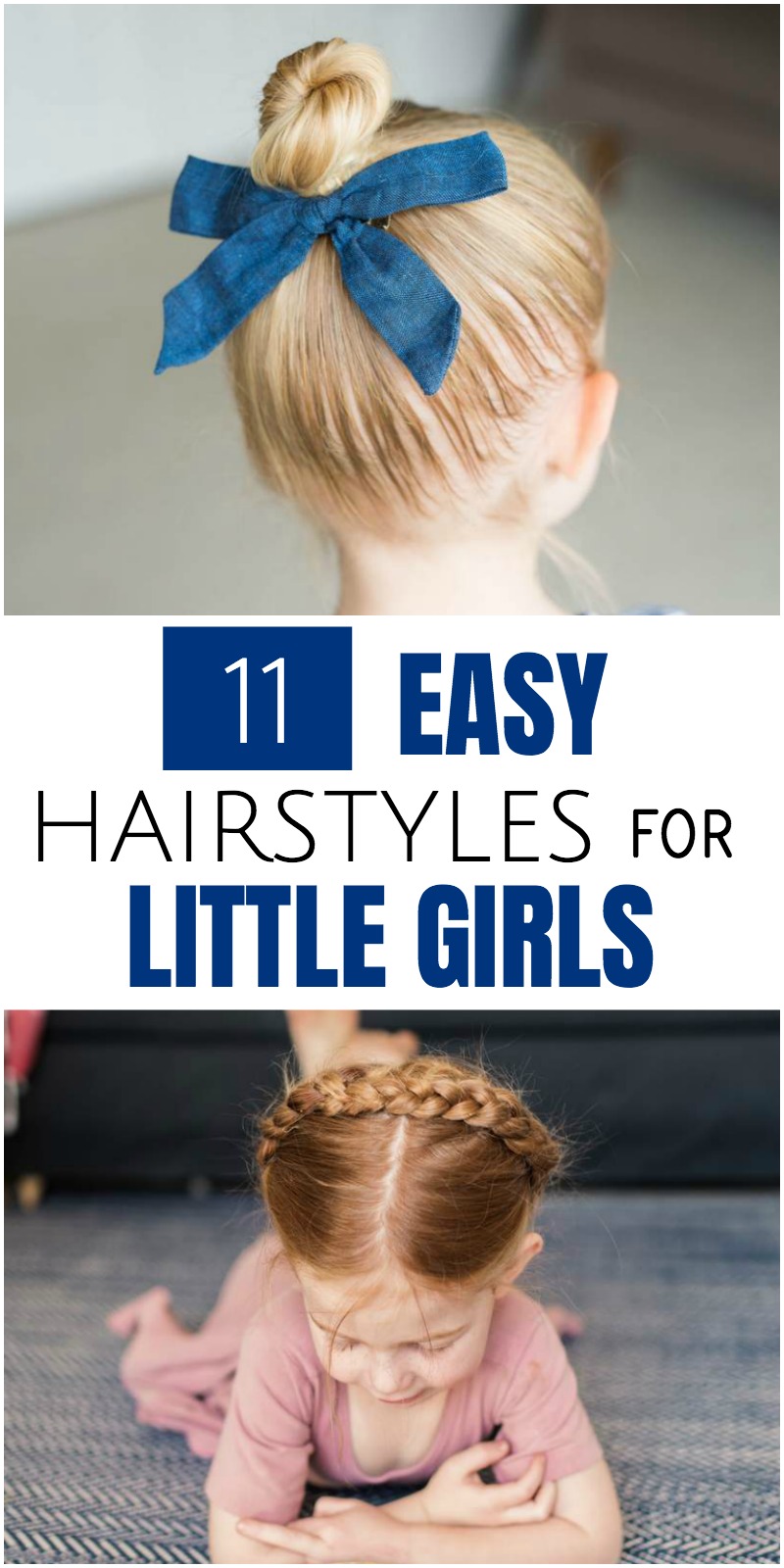 Photos by Heather Mildenstein