Most weeks on Instagram, I do a series called "Janssen's Read Alikes" – I pick a popular book and then suggest 4-5 other books that you might like if you've enjoyed that one. (You can see them here).
The most popular one I've EVER done is about books like The Nightingale and I figured it deserved it's own post with more book suggestions for readers who can't get enough of The Nightingale.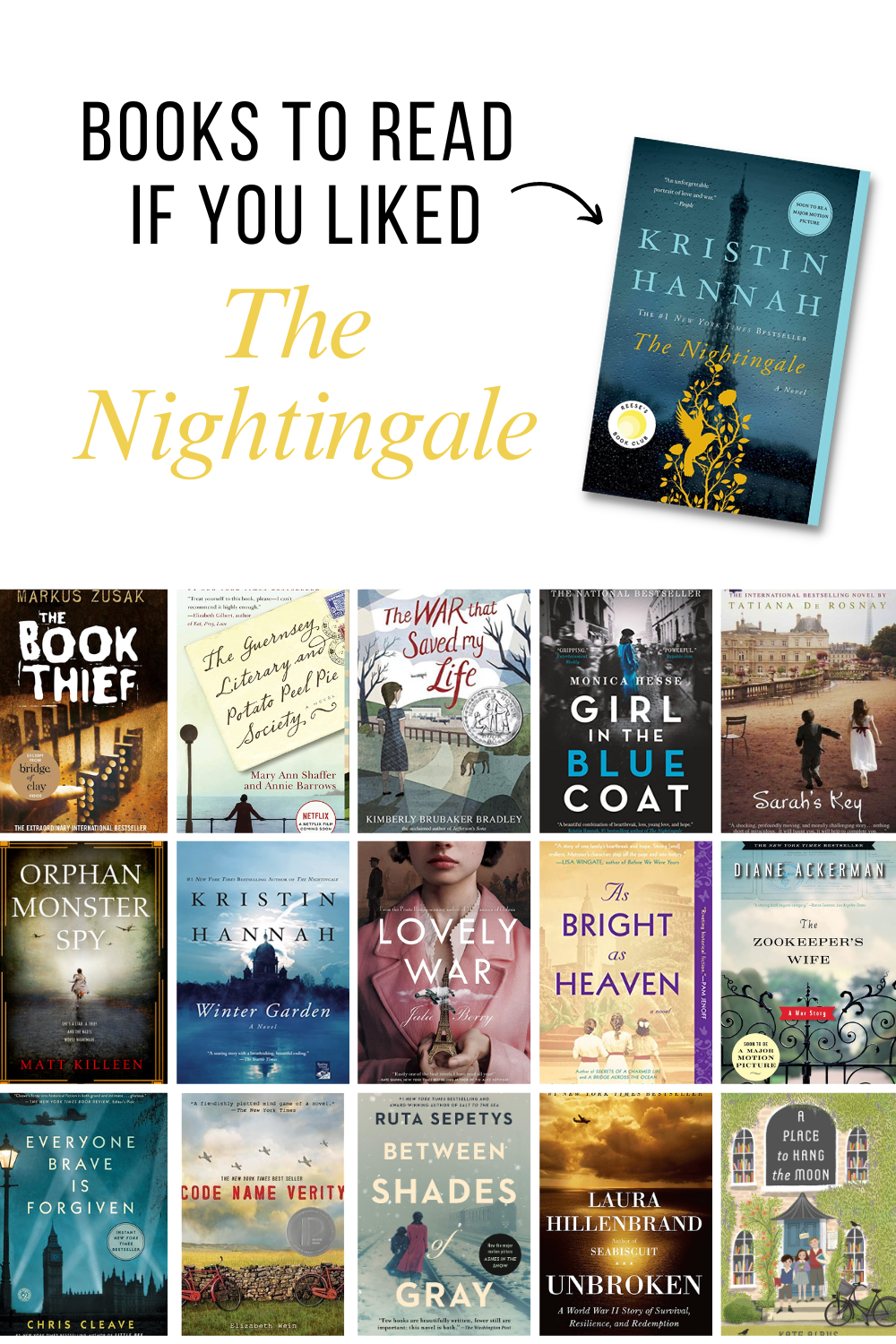 18 Books to Read If You Liked The Nightingale
Winter Garden by Kristin Hannah
I was so into this book when I read it for the 2022 Everyday Reading Book Club. It's the perfect wintery historical fiction title for when the weather is cold! Two estranged sisters are brought together again when their beloved father is dying. Their Russian mother has never been warm, but their father makes her promise to tell their daughters a story she began years earlier about a love story that spanned sixty years.
The Hiding Place by Corrie Ten Boom
This WWII book is such an incredible memoir about a woman who, along with her sister, is arrested for hiding Jews and survives the concentration camps. It's a classic for a reason.
The War that Saved My Life by Kimberly Brubaker Bradley
I already knew of Kimberly Brubaker Bradley from reading Jefferson's Sons several years ago and I'd heard such glowing reviews about this middle grade novel, and it didn't disappoint. Ada, a young disabled girl and her brother, Jamie, are evacuated to the English countryside during World War II, where they find life to be much sweeter away from their abusive mother. (Full review here)
The Guernsey Literary and Potato Peel Pie Society by Mary Ann Shaffer
This epistolary novel (all written in letters) is a delightful WWII novel about a group of book lovers thrown together by the war and their letters to each other that often end up being about their favorite books – my mom gave me a copy years ago when it first came out and I've read it multiple times. The audiobook version has a full cast that really brings it to life because the characters are SUCH big parts of the story! (Full review here)

Sarah's Key by Tatiana de Rosnay
Sarah's Key alternates between WWII Paris, with a young Jewish girl, Sarah, and a middle-aged journalist, Julia, living in Paris with her French husband and their daughter. Despite the decades between them, Julia discovers that her life links with Sarah's in unexpected ways. (Full review here)
Lovely War by Julie Berry
I mean, if you haven't read this book already, I'm probably falling down on my job here, but truly. THIS is the time to pick up a copy. The story takes place during World War I and follows four main characters. Even more fun? The story is framed by several Greek gods who are in a tiff of their own during World War II. I know it sounds weird, but trust me, it works. It's in the top 10 books I've ever read. And while I read a paper copy, I've heard the audio version is STUNNING. (Full review here)
Code Name Verity by Elizabeth Wein
It's sometimes easy to feel a little bit of World War II book fatigue, but this one is so different from any kind of WWII book I've read that I hope you'll give it a chance. Code Name Verity is about two girls, both working for the British Airforce during the war, one as a pilot and one as a spy. And the book opens with the spy being captured by the Nazis and revealing the secrets of her mission and the pilot's death in a plane crash. This book has so many twists and turns that I don't like to give more than that away – I highly recommend this one on audio because the two narrators? Fabulous. (Full review here)

Everyone Brave is Forgiven by Chris Cleave
Set in London during World War II, this historical fiction novel shares some little-known history about Britain and the island of Malta, as well as a wartime love story inspired by the real-life love letters of Chris Cleave's grandparents. In a time of little hope and great loss, this book shines a light on the power of love and connection.
As Bright as Heaven by Susan Meissner
I LOVED this book set in Philadelphia in 1918. Philadelphia was a city full of promise and opportunity, even amidst the Great War. Pauline and her husband are excited for a better life for their three daughters, but months after arriving, the Spanish Flu pandemic claimed thousands of lives in their newly adopted city. They soon find themselves in a world that looks nothing like the one they knew. (Full review here)
Rilla of Ingleside by L.M. Montgomery
From the Anne of Green Gables series Rilla of Ingleside is about Anne's daughter during WWI. This one is TREMENDOUSLY good. I probably read it 3 or 4 times when I was young.  If you've never read it, now is the moment (and you can absolutely read it as a stand alone).
The Book Thief by Markus Zusak
This book is absolutely stunning – it's a young adult book about an orphan girl who teaches herself how to read from stolen books and the story is brilliantly narrated by Death (I know it sounds weird but it works incredibly well). One of the best books I've read. (Full review here)
Between Shades of Gray by Ruta Sepetys
Ruta Sepetys does terrific YA historical fiction (probably her most famous is Salt to the Sea) and this is one I read a long time ago. It's excellent (and not to be confused with the other Shades of Gray book).
Last Christmas in Paris by Hazel Gaynor
This historical fiction Christmas book is set in WWI and is written entirely in letters (a format I don't normally go for). Evie's brother and his best friend are headed off to the front, but like most people, they assume the war will be over by Christmas and they have grand plans to spend it together in Paris. Of course, it doesn't go that way. If you can, I HIGHLY recommend listening to this one – the narration is so good! (Full review here)
The Zookeeper's Wife by Diane Ackerman
In this powerful story, the zookeeper's of the Warsaw Zoo save hundreds of people from the hands of the Nazis during World War II. My book club read this one years ago when I lived in Texas.
Unbroken by Laura Hillenbrand
This book is non-fiction but it's so amazing, it's hard to believe someone didn't make it up. Olympic runner Louis Zamperini's plane is shot down in the Pacific during WWII and after surviving on a tiny inflatable raft for 47 days, he's taken prisoner by the Japanese. And compared to being a POW, the raft time looks like vacation. Probably the best WWII book I've read. (Full review here)
The Girl in the Blue Coat by Monica Hesse
Another WWII book, this one a YA one. It takes place in Amsterdam and it was phenomenal. It was just such an exhilarating read from the first page to the last. Quick, intense, and well-written, I need more books like this in my life (Full review here).
Orphan Monster Spy by Matt Kileen
You know how some books, you can look at the cover even months or years later and the feel of the book comes rushing back to you? That is this book for me. The atmosphere of the German city, the Nazi boarding school, and the woods was SO strong for me it was like falling into those places headfirst while I read. There is also a sequel! (Full review here)
A Place to Hang the Moon by Kate Albus
This historical fiction title absolutely charmed me and it's been one of my favorite read-alouds in the past couple of years. Three young children lose their grandmother, leaving them orphans and no place to go. Her lawyer suggests that, since so many children are being shipped out to the English countryside during the bombings, they might join the exodus and conveniently not mention that they don't actually have a family. And just maybe the family that temporarily takes them in will want to keep them forever. This book has all the feelings of a classic and I definitely shed some tears at the end.
And if you'd like a printable copy of this list of books like The Nightingale that you can take to your library or screenshot on your phone for easy access, just pop in your email address below and it'll come right to your inbox!
if you liked this post about what to read if you liked The nightingale book, you might also like these other posts: