If you're doing a library audiobook, it's often nice for it to not be super long so that you have time to finish it up before your loan expires.
But if you're spending an Audible or Libro.fm credit, it can feel GREAT to get a long audiobook so it really feels like you're getting your money's worth out of that credit!
Or if you have a long drive ahead or you or lots of listening time while you do a house project, it's hard to beat long audiobooks!
Here are some recommendations for long audiobooks that will have you listening for hours, no backup audiobook required!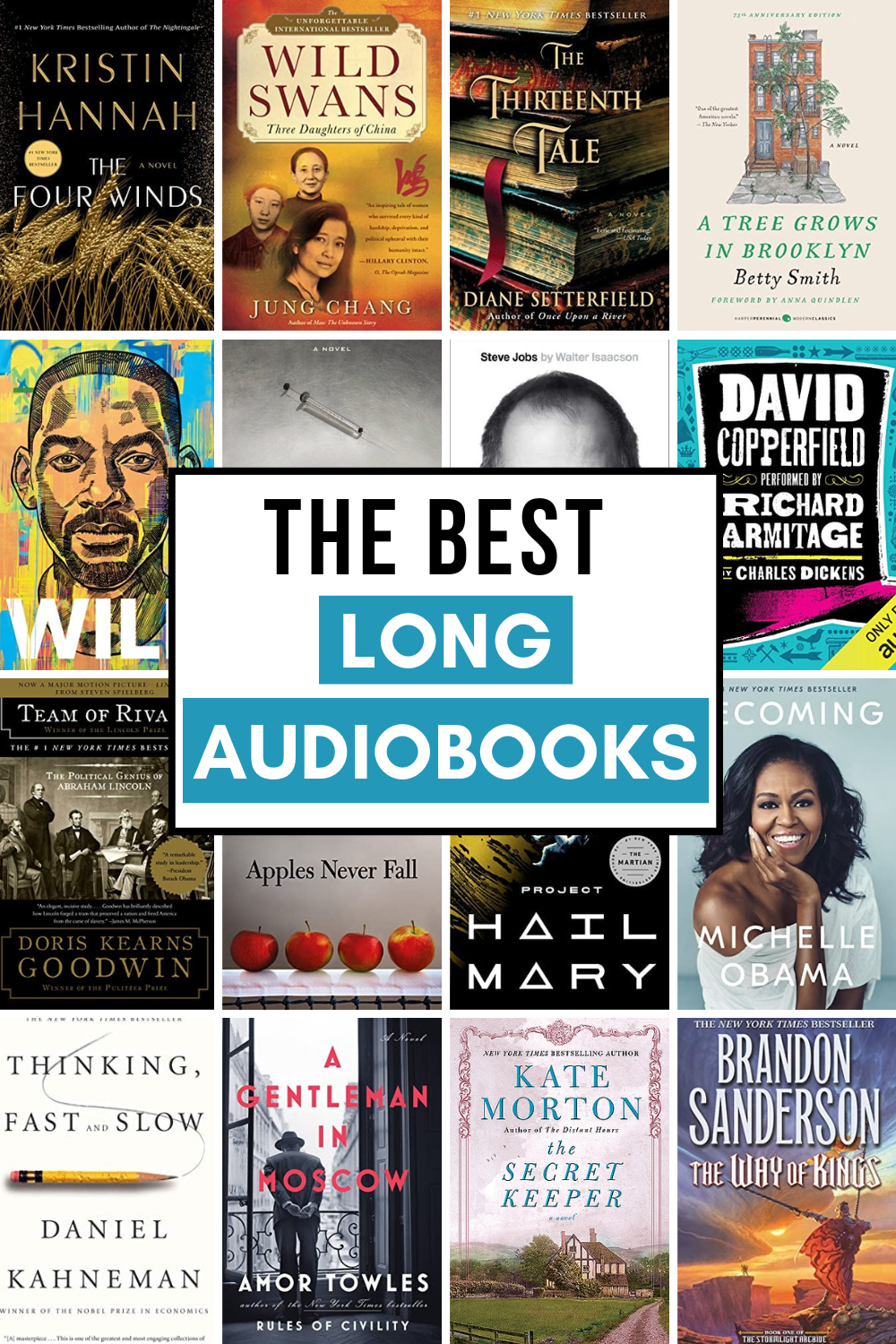 the best long audiobooks
The Way of Kings by Brandon Sanderson
45 hours
Brandon Sanderson is one of Bart's favorite authors and even though I'm not a huge fantasy reader, a lot of people recommended this one. It is the story of a land filled with conflict and war where characters from all walks of life struggle to survive.
The Count of Monte Cristo by Alexandre Dumas
53 hours
I read a very abridged children's version of this as a kid – I was delighted to enjoy the full version even more a few years later. An unbeatable story and a classic I would recommend to anyone, and everyone.

A Promised Land by Barack Obama
29 hours
After reading Michelle Obama's memoir for the 2020 Everyday Reading Book Club, there was no way I was going to miss his version of the story! I listened to this one because he reads it himself and I love hearing someone tell their own story (plus, he's an excellent reader).

A Gentleman in Moscow by Amor Towles
18 hours
SO many people list this among their favorite books they've ever read . . .and I still haven't read it. Bart read it a few years ago and really really loved it. The Lincoln Highway (17 hours) is an excellent option as well.
11/22/63 by Stephen King
31 hours
I have to recommend this one with a strong dose of warning that there is quite a bit of swearing and sex. But dang, I couldn't put down this story of a man who finds a time travel portal and tries to prevent the assassination of JFK.

Steve Jobs by Walter Isaacson
25 hours
Whenever I think of this book, I think of being nine months pregnant unpacking boxes in my new closet in North Carolina. And actually, I think about this book all the time – even years after his death, Steve Jobs is still such a household name and it's cool to know more of the backstory about Steve Jobs and Apple and Pixar. It's really long, but I loved basically every page of it aside from the early dull pages about his druggie years which made me quit the first time I tried this book (Full review here).

The Chemist by Stephenie Meyer
17 hours
This basically feels like a Jason Bourne movie in audiobooks form, with a female interrogation officer for one of the U.S. government agencies. She's known as The Chemist because she uses chemical cocktails to get information out of her subjects, but now she's less worried about her job and more worried about her life because the agency is now trying to kill her. This was just a FUN listen with lots of lauhg-out-loud moments – say what you will about Stephenie Meyer, but she can write some SNAPPY dialogue. (Full review here)
Becoming by Michelle Obama
19 hours
I'm not the first person to recommend Michelle Obama's autobiography (it's only been topping the charts since the minute it was released), but when it comes to great audiobooks, it feels impossible to leave this one off. Starting in her childhood and ending shortly after her husband finishes his eight years as president, hearing her tell her story in her own words is compelling and powerful. Plus, it's such an interesting look at the US political system, balancing career and marriage and motherhood, and life in the White House. (Full review here)
Project Hail Mary by Andy Weir
16 hours
I loved this book from the author of The Martian – it's clever and funny and fascinating. The audio is completely absorbing and you'll feel like you're out in deep space yourself!

Thinking, Fast and Slow by Daniel Kahneman
20 hours
There are two ways that we think: fast and instinctual, and slow and logical. In this lively conversation about thought, Kahneman shares insight on how these ways of thinking may benefit or hinder our personal lives and businesses, and the techniques that can be used to keep us out of trouble.
Sherlock Holmes by Arthur Conan Doyle
62 hours
Do we all imagine Benedict Cumberbatch now as Sherlock? Just me? Sadly, he doesn't narrate this Audible Original, but Stephen Fry (who you may know as narrator for Harry Potter) isn't going to disappoint you. This is a BIG collection, clocking in at 62 hours so . . . .you may not want to do it all in one go.
Apples Never Fall by Liane Moriarty
18 hours
One perk of my job is occasional early access to big titles coming out and this one is one I was VERY excited to see pop up. I love books by Liane Moriarty! After Joy Delaney goes missing, Stan, her husband becomes a suspect. Two of their children think their father is innocent, while the other two, well they aren't so sure. (Full review here). I would also highly recommended Big Little Lies (16 hours) too. 

A Tree Grows in Brooklyn by Betty Smith
15 hours
This was one I meant to read for years and didn't get around to until it was the only audiobook I had when I was doing hours and hours of driving every week down to my elementary school libraries in Boston. And I completely got the hype. (Full review here).

Wild Swans by Jung Chang
23 hours
This gripping memoir follows three generations of Chang's family during Mao's reign in China. She shares how about her grandmother's experience as a concubine, her parents' struggles as members of the Communist elite during the Cultural Revolution, and her own experience as part of the Red Guards. This one sounds absolutely engrossing!
David Copperfield by Charles Dickens
36 hours
If you've wanted to revisit (or experience for the first time!) some classic literature, this one, done by Richard Armitage, is stunning. And it'll keep you listening for a NICE long time because it's 36 hours long (good thing there isn't a due date!).

The Thirteenth Tale by Diane Setterfield
16 hours
This bestseller was one of the first books I read after I finished my undergrad degree and started reading in earnest again. It definitely has that Gothic feel to it and so many unexpected twists. Vera Winter is a famous novelist and has never told the real story about her life until her death is approaching and she asks a young woman she doesn't know to be the one to write her real biography. (Full review here)
The Warmth of Other Suns: The Epic Story of America's Great Migration by Isabel Wilkerson
23 hours
This terrific book chronicles the exodus of nearly six million Black individuals and families from the Southern states to the West Coast and Northern cities between 1915 to 1970 and focuses on three specific people that each go to a different city in a different decade. One of my favorite book club books we've ever read.

Will by Will Smith
16 hours
I didn't know a lot about his background (I've never even see a single episode of The Fresh Prince of Bel-Air!) and it was absolutely fascinating. Definitely better in audio because he reads it. This memoir gives a good look into his entire life – the good, the bad and the ugly.

Four Winds by Kristin Hannah
15 hours
I already know that The Four Winds is divisive. I LOVED it and couldn't stop listening – blowing through the 15 hour of audio in just days – but I know other people found it too depressing. I was sucked in to this story of the Dust Bowl during the Great Depression and a woman who will do whatever it takes to protect her children. After growing up in a family that consider her too weak (thanks to a childhood illness) and too homely to ever marry and then a husband who can't find the happiness he seeks with his family, she knows that the only person she can really rely on is herself. If you love historical fiction and strong characters, this one is a winner. And if you love Kristin Hannah's historical fiction, you also can't go wrong with The Nightingale (17 hours).

Team of Rivals by Doris Kearns Goodwin
42 hours
This is one that I've started and never finished, probably just from the sheer length of it. There are plenty of biographies out there about Abraham Lincoln, but this one, focuses on his cabinet and highlights the multiple men involved in one of the most memorable presidencies of our nation.
If you love these presidential biographies, Goodwin also wrote The Bully Pulpit, (37 hours) about Theodore Roosevelt and William Howard Taft.
The Secret Keeper by Kate Morton
20 hours
I've read several of Kate Morton's books and this is by far my favorite. When Laurel is sixteen, a stranger arrives at a family birthday party, calling Laurel's mother by name and her mother stabs and kills him. The family never mentions it again and the story splits into two parts – Laurel, fifty years in the future, now an extremely successful actress, knows her mother is close to death, and finds herself desperate to understand, before it's too late, what exactly happened with her mother and this mysterious man she murdered. The other story takes place in the early 40s, during WWII, in London where two young women become friends in the days of the London Blitz. Somehow these stories intersect and Laurel is determined to figure out how. (Full review here)
Other Long Audiobooks Recommended By Readers
The Radium Girls by Kate Moore
16 hours
Van Gogh: The Life by Steven Naifeh
45 hours
The Hemingses of Monticello: An American Family by Annette Gordon-Reed
31 hours
Strange the Dreamer by Laini Taylor
18 hours
The Sparrow by Maria Doria Russell
15 hours
Empire of Pain: The Secret History of the Sackler Dynasty by Patrick Radden Keefe 
18 hours
Middlemarch by George Eliot
32 hours
The Storyteller by Jodi Picoult
18 hours
Other audiobook recommendations by Jodi Picoult:
Mad Honey (15 hours)
Age of Vice by Deepti Kapoor
19 hours
The Heart's Invisible Furies by John Boyne
21 hours
The Invisible Life of Addie LaRue by V.E. Schwab
17 hours
The Lost Sisterhood by Anne Fortier
25 hours
Lonesome Dove by Larry McMurtry
37 hours
Beneath a Scarlet Sky by Mark Sullivan
18 hours
Other audiobook recommendations by Mark Sullivan:
The Last Green Valley (16 hours)
Pillars of the Earth by Ken Follett
41 hours
Know My Name by Chanel Miller
15 hours
Anna Karenina by Leo Tolstoy
36 hours
Demon Copperhead by Barbara Kingsolver
21 hours
Coming Home by Rosamunde Pilcher
41 hours
Other audiobook recommendations by Rosamunde Pilcher:
Winter Solstice (18 hours)
The Shell Seekers (19 hours)

The Cuckoo's Calling by Robert Galbraith
16 hours

The Winners by Fredrik Backman
21 hours
The Winds of War by Herman Wouk
46 hours
The sequel, War and Rememberance(56 hours)
The Source by James A. Michener
55 hours
Angle of Repose by Wallace Stegner
22 hours
The Black Prism by Brent Weeks
21 hours
From Blood and Ash by Jennifer L. Armentrout
20 hours
Dune by Frank Herbert
21 hours
Sapiens: A Brief History of Humankind by Yuval Noah Harari
15 hours
Court of Thorns and Roses by Sarah J. Maas
16 hours
The Secret History by Donna Tartt
22 hours
Ready Player One by Ernest Cline
16 hours
Fairy Tale by Stephen King
24 hours
Fellowship of the Ring by J.R.R. Tolkien
19 hours
The Rose Code by Kate Quinn
16 hours
Other audiobook recommendations by Kate Quinn:
The Alice Network (15 hours)
The Light in Hidden Places by Sharon Cameron
16 hours
The Goldfinch by Donna Tartt
32 hours
The Choice by Nora Roberts
15 hours
Jefferson's Daughters: Three Sisters, White and Black, in a Young America by Catherine Kerrison
17 hours
Follow the River by James Alexander
16 hours
Les Misérables by Christine Donougher
66 hours
Surrender: 40 Songs, One Story by Bono
20 hours
Redeeming Love by Francine Rivers
17 hours
Other audiobook recommendations by Francine Rivers:
A Voice in the Wind (21 hours)
Alexander Hamilton by Ron Chernow
37 hours
The Only Plane in the Sky: An Oral History of September 11, 2001 by Garrett M. Graff
16 hours

The Lost Queen by Signe Pike
18 hours
Spinning Silver by Naomi Novik
18 hours
Truman by David McCullough
54 hours
Other audiobook recommendations by David McCullough:
John Adams (30 hours)
The Emperor of All Maladies: A Biography of Cancer by Siddhartha Mukherjee
22 hours
The City of Brass by S. A. Chakraborty
20 hours
The Most Fun We Ever Had by Claire Lombardo
21 hours
America's First Daughter by Stephanie Dray
23 hours
Song of Exile by Kiana Davenport
17 hours
The Five Wounds by Kirsten Valdez Quade
16 hours
And if you'd like a printable copy of this long audiobook list that you can take to your library or screenshot on your phone for easy access, just pop in your email address below and it'll come right to your inbox!
if you liked this post about long audiobooks, you might also like these other posts: