We have family Friday movie night almost every week and have for nearly five years – it's such a fun way to kick off the weekend!
We have homemade pizza and then pile on our super-cozy big (not Intstagram-worthy) couch in the basement and watch a movie. Usually with a treat.
It's one of our favorite family rituals.
And what's better for family movie night than a movie that's been adapted from a beloved children's book?
It's so fun to read a book together and then watch the movie version – you can talk about what the movie makers changed, how it was different from how you imagined it, and what you liked and didn't like better about the movie versus the book.
Here are more than 35 children's books made into movies that might be the perfect fit for your next family movie night.
35+ Children's Books Made into Movies
The Story of Ferdinand. It's something of a trick to turn a picture book into a full-length movie but this one does it fantastically. We laughed our heads off at this movie. (Book // Movie)
Anne of Green Gables. The movie version is VERY faithful to the book and I've probably seen the movie at least 50 times.  (Book // Movie)
A Wrinkle in Time. I haven't seen the movie version of this one but if you love the book, you might not be able to resist watching it come to life on the screen.  (Book // Movie)
Paddington. This beloved bear gets into all sorts of scrapes that are just as fun to watch on screen as they are in a book. (Book // Movie)
The Spiderwick Chronicles. This is one of those rare instances where I've seen the movie but not read the book! (Book // Movie)
Bridge to Terabithia. I mean, just be prepared to bawl your eyes out.  (Book // Movie)
Ella Enchanted. This is a fairly terrible movie adaptation of the most delightful book, but if you can just see them as their own separate things, the movie isn't so bad (and I live for the singing scene).  (Book // Movie)
Fantastic Mr. Fox. My girls all went through stages of listening to this on repeat and the movie is really well done. (Book // Movie)
Jumanji. I probably wouldn't show my girls the new Jumanji yet, but the old one with Robin Williams is a fun one for younger audiences. (Book // Movie)
Matilda. This is my favorite Roald Dahl book and the movie version is a win (even if, per usual, it's not as good as the book). (Book // Movie)
Inkheart. A man who can read characters and objects out of books? Sign me up. (Book // Movie)
The Tale of Despereaux. This book about a little mouse in a castle won the Newbery. (Book // Movie)
Mr. Popper's Penguins. I have this movie checked out from the library right now for an upcoming movie night! (Book // Movie)
Mary Poppins. This is one of those books where a lot of people prefer the movie (the book version of Mary Poppins is a lot stricter and less lovable than Julie Andrews).  (Book // Movie)
Charlotte's Web. This book is such a beloved classic and the movie version manages to be just about perfect.  (Book // Movie)
Ballet Shoes. Until I was working on this post, I didn't even know there was a movie version but now I'm dying to watch it.  (Book // Movie)
The Lion, The Witch, and the Wardrobe. This is such a lush, magical movie version of the beloved book. (Book // Movie)
Heidi. I think this is the sweetest book and you can't go wrong with a Shirley Temple movie. (Book // Movie)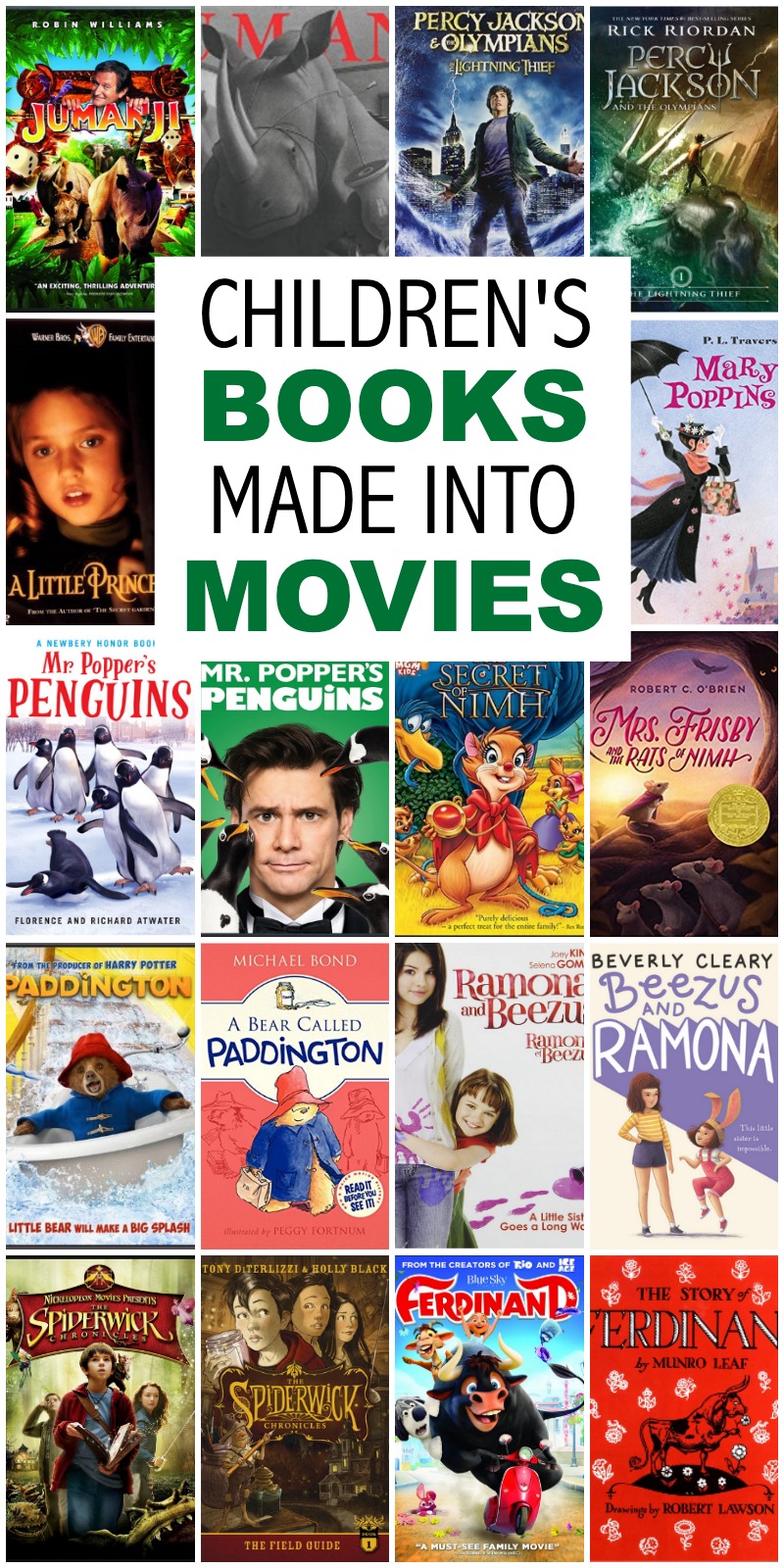 Freaky Friday. We haven't read the book (I read it decades ago when I was young) but we all laughed ourselves silly at the movie version. (Book // Movie)
Harry Potter. We've only let Ella watch the first couple of movies with us on account of the fact that we don't want terrified children sleeping in our bed for the next year.  (Book // Movie)
Babe. I love Dick King-Smith and Babe is his most famous. The movie is a little offbeat, but delightful. (Book // Movie)
Holes. This book is on my list to read to the girls this year and then I can't wait to show them the movie. (Book // Movie)
The Lightning Thief. Ella just started this book, although I think the movie might be a bit much for the younger girls right now. (Book // Movie)
The Invention of Hugo Cabret. Despite the massive size, you can read this 500+ page book in a few hours since it's mostly wordless. (Book // Movie)
How to Train Your Dragon. There are about a million (e.g. 12) books in this series and the movie version is excellent. (Book // Movie)
Black Beauty. I mean, can you go wrong with a horse movie? (No). (Book // Movie)
A Series of Unfortunate Events. Ella and Ani are currently blowing through this series on audio and I think they'll get a kick out of the movie version. (Book // Movie)
A Little Princess. Bart and I both sobbed our eyes out at the end of this movie (the ending is different than the book). (Book // Movie)
The Borrowers. I'll admit, I find this book a little odd. But my girls loved it. (Book // Movie)
Ramona and Beezus. To be honest, I don't think the movie is that close to the book, but it's DELIGHTFUL. (Book // Movie)
Where the Red Fern Grows. Another one where you should just buy stock in Kleenex. (Book // Movie)
Winnie the Pooh. I think Disney did such a good job making these classic into movies. (Book // Movie)
101 Dalmatians. Even a non-animal person like me finds myself thinking "I could go for 100 dogs. . ." (just kidding). (Book // Movie)
Mrs. Frisby and the Rats of NIHM. We just read this book and now I'm looking forward to watching it for movie night sometime soon! (Book // Movie)
Watership Down. I haven't read this book in 25 years but I've heard raves about the Netflix series. (Book // Movie)
The Giver. This one is a bit old for my girls right now, but I LOVE this book. (Book // Movie)
Nanny McPhee. The book versions are called Nurse Matilda, and we haven't read them yet, but we LOVE the movies. (Book // Movie)
And if you'd like a printable copy of this list that you can take to your library or screenshot on your phone for easy access, just pop in your email address below and it'll come right to your inbox!
Any favorite books made into movies I've missed? Let me know in the comments!
If you liked this post about children's Books Made into Movies, you might like these posts too: