The book deals this weekend are NUTS – I cannot believe how many good things are on sale!
And all the audiobooks below are Libro.fm deals (if you're new to Libro.fm, I have a whole post about it here!) and that means you can use these files to make your own Yoto cards if you have a Yoto player!
However you're reading or listening, I hope you'll find something to love this weekend!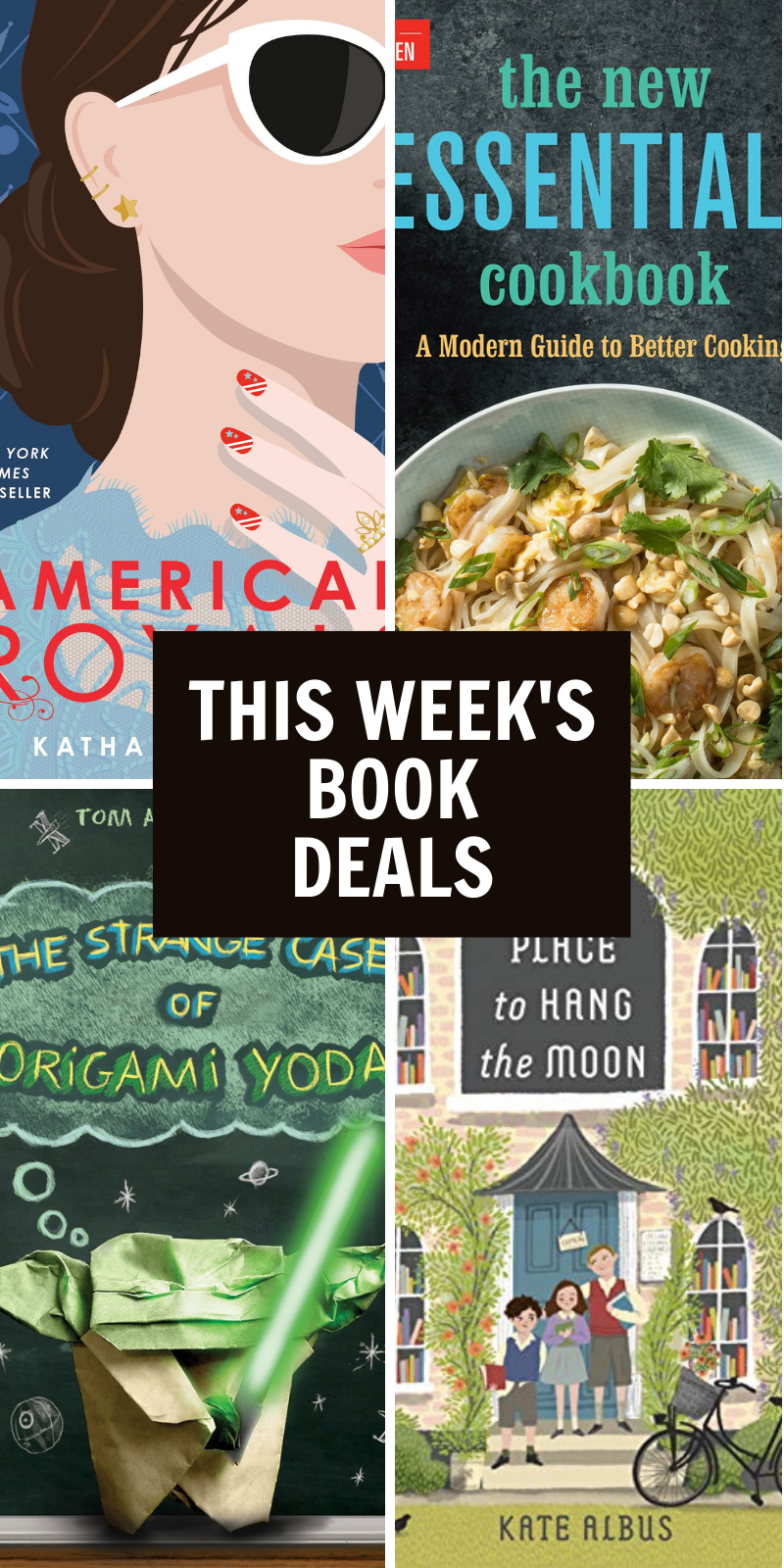 14 Book Deals for a June Weekend
American Royals by Katharine McGee – ebook
I read this on our Labor Day trip to Boise a few years ago and blew through it one day. It's totally fluffy and absolutely fun in an alternate reality where George Washington took the role as king instead of president and now the US is ruled by his descendants. If you love royal drama, this is a super fun, quick read. The newest sequel is on my 2022 Summer Reading List!
Divergent by Veronica Roth – ebook
This dystopian novel was at the top of all the charts when it came out a decade ago and it's still a fun read for teens and adults!
The New Essentials Cookbook: A Modern Guide to Better Cooking by America's Test Kitchen – ebook
You absolutely cannot go wrong with any cookbook by America's Test Kitchen and when it's under $3? You REALLY can't go wrong!
The Giver of Stars by Jojo Moyes – ebook
I got The Giver of Stars in my Book of the Month Club subscription and it was a huge hit in Everyday Reading Book Club last year! It follows five women during the Depression who are part of the delivery system for Eleanor Roosevelt's traveling library program. I mean. . . .how could I resist? (Full review here)

A Place to Hang the Moon by Kate Albus – audiobook
This historical fiction title absolutely charmed me and it's been one of my favorite read-alouds in the past couple of years. When three young children lose their grandmother during WWII, they find themselves orphans with no place to go. Until their grandmother's lawyer suggests that they go to the English countryside with all the children being shipped out of the city for safety and see if they can't find a temporary family to take them in and cross their fingers that it might turn into a permanent situation. 

Rosie Revere and the Raucous Riveters by Andrea Beaty – audiobook
You may know Andrea Beaty's picture books but have you checked out her chapter book series featuring the same characters? They're under two hours long and read by a FABULOUS narrator. Ada Twist and the Perilous Pants and Sofia Valdez and the Vanishing Vote from the series are also on sale for $0.99!
Unspeakable: The Tulsa Race Massacre by Carole Boston Weatherford – audiobook
This historical picture book snagged about a million awards in January during the ALA awards, including a Caldecott Honor, the Coretta Scott King author book award,  the Coretta Scott King illustrator award and a Sibert Informational Award honor. Don't miss this one!
The Strange Case of Origami Yoda by Tom Angleberger – audiobook
I read this when it first came out and I was working as an elementary school librarian. I knew immediately it would be a hit with my students and I'm pretty sure it never touched the shelf again for the rest of the year! The series starts out with Dwight, a sixth-grade oddball who loves origami. And when he makes an Origami Yoda finger puppet, it suddenly starts to seem that this little paper Yoda can predict the future and give great advice. How could this be!? The next book in the series, Darth Paper Strikes Back, is also on sale for $3.99!
My Papi Has a Motorcycle by Isabel Quintero – audiobook
This was one of my FAVORITE picture books published in 2019 about a little girl and her father going for a motorcycle ride around their neighborhood in Corona, California. This book is so engrossing, making me feel like I'm right there on the motorcycle ride with them.

Encyclopedia Brown Finds the Clues by Donald J. Sobol – audiobook
I read and re-read these books as a child and loved trying to figure out the mysteries before flipping to the back to check out the answer. Also, I just really want an encyclopedic memory.

Hamster Princess: Harriet the Invincible by Ursula Vernon – audiobook
This fractured fairy tale series is one of Ella's favorites and she's read and re-read them, reading aloud her favorite lines to me and . . . I have to admit, they are truly laugh-out-loud funny. Don't let the title fool you – they're great for boys and girls who love adventure and humor.

Princess Cora and the Crocodile by Laura Amy Schlitz – audiobook
Ani and I read this together and got a huge giggle out of this tale of a crocodile and a princess who switch places.

Escargot Collection (Books 1 & 2) by Dashka Slater – audiobook
I checked this out from the library and Bart was the first one to read it aloud and his French accent was so funny that I was almost crying laughing as I made dinner. It's about a little French snail who just DESPERATELY wants to be a pet. And he wouldn't mind a little salad either.

Amelia Bedelia and the Baby by Peggy Parish – audiobook
I've never met a child who doesn't just love Amelia Bedelia and her crazy antics as she misunderstands virtually every direction ever given her. With, of course, hilarious results.