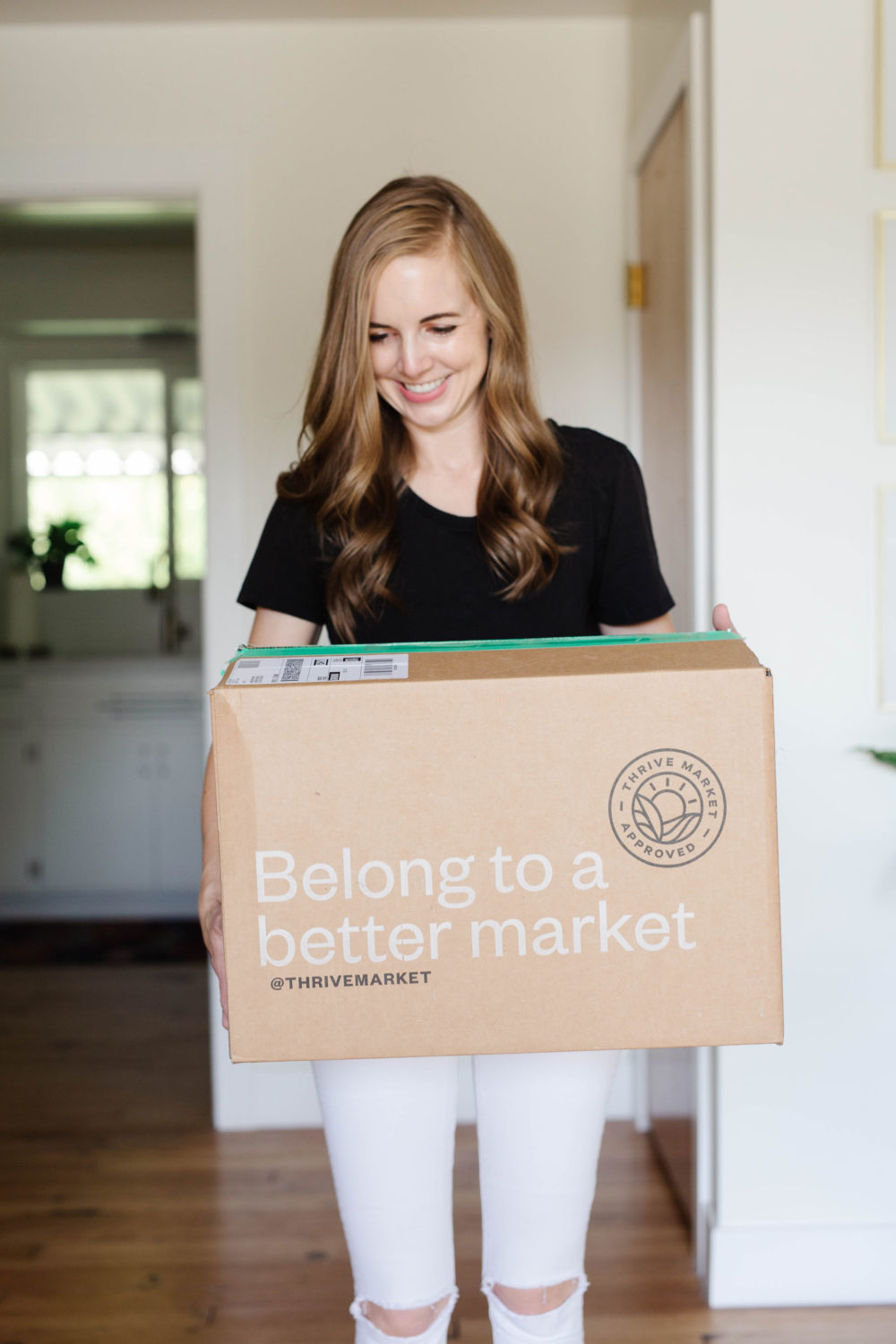 Have you heard about Thrive Market? It's the best place to get healthy products delivered right to your door. (Plus you can use this link to get 25% off your first order!) 
My goal is always to reduce the number of errands I have to run.
If I can get it delivered to my door? I am here for it.
About a year ago, I started using Thrive Market after having heard about it from various friends over the last couple of years.
I feel like it's always hard for me to make that initial jump into using something new, but once I get into it? I'm ALL in. (thredUP was like this for me)
Now that I've been using Thrive Market for a while, I'm a MASSIVE fan and can't believe I waited so long to try it out.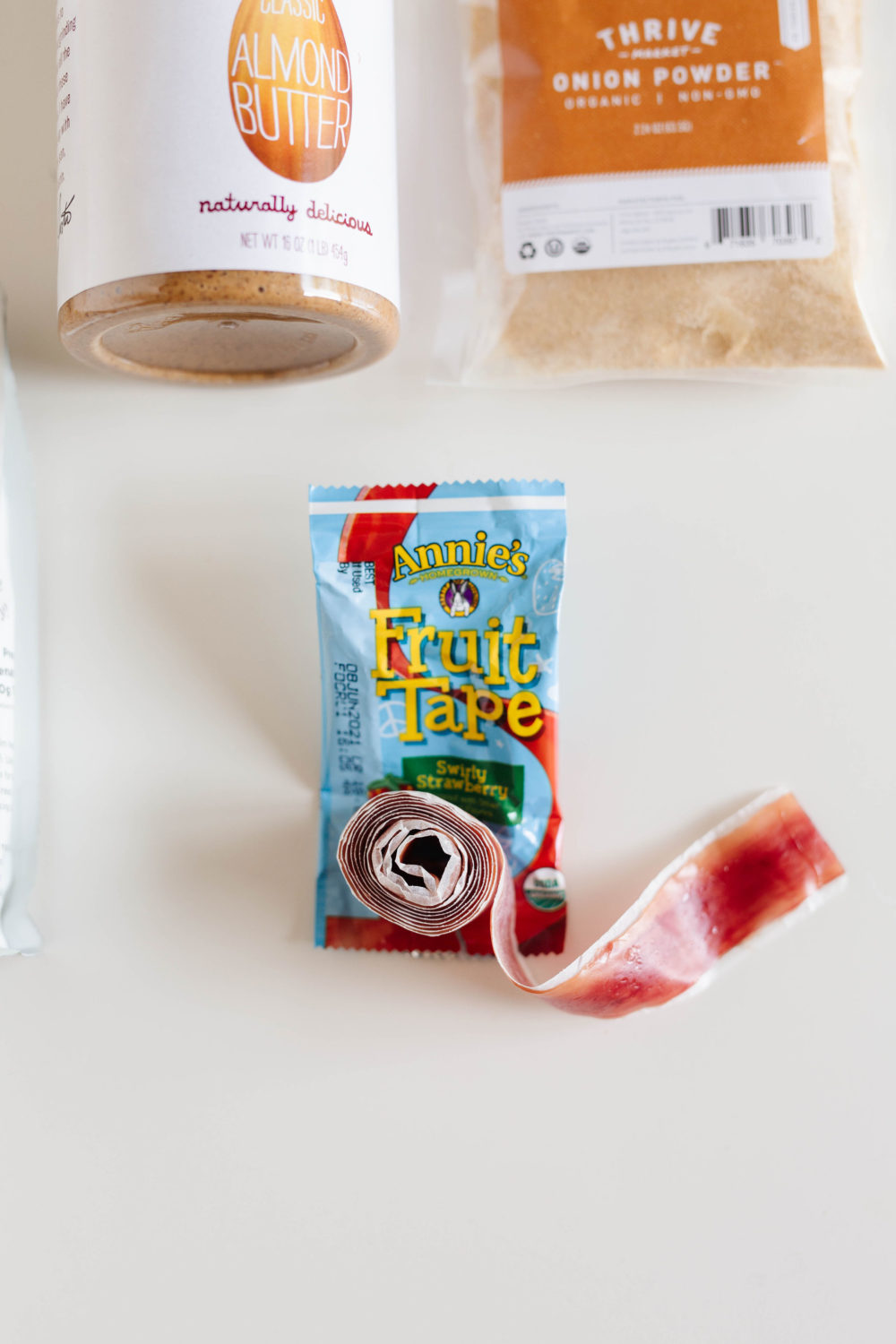 All About Thrive Market
Here's how Thrive Market works.
It's a membership healthy products online store (an annual membership is $59.95 – which works out to just under $5 per month or a monthly membership at $9.95 per month) and then you have access to all their products.
They also guarantee that if you don't make back your membership fee in savings in the first year, they'll credit you the difference when you renew your membership.
They also have a bonus going on right now where you can choose a free gift (about a $15-25 value) when you sign up for a membership. The current gift options are a 10 pack of Chomps (beef jerky sticks), a facial scrub, a cold brew blend or a large bottle of coconut oil.
They sell virtually every healthy living thing you can think of from snacks to supplements, beauty products to pet food, baking mixes to meat, wine to cleaning supplies. It's truly one-stop shopping.
It's also SUPER easy to sort by diet or allergies – if you need gluten-free items or dairy-free items or vegan items? No problem. Following a Keto diet or Whole 30? You can filter for products that meet those criteria in about five seconds.
Thrive Market sells more than 6000 products and they're all 25-50% off the retail price. Shipping is free on orders over $49 and it'll come right to your doorstep in a couple of days.
They sell tons of brands you know and love (like Annie's Homegrown or Justin's or Seventh Generation) AND they also have their own Thrive Market brand products.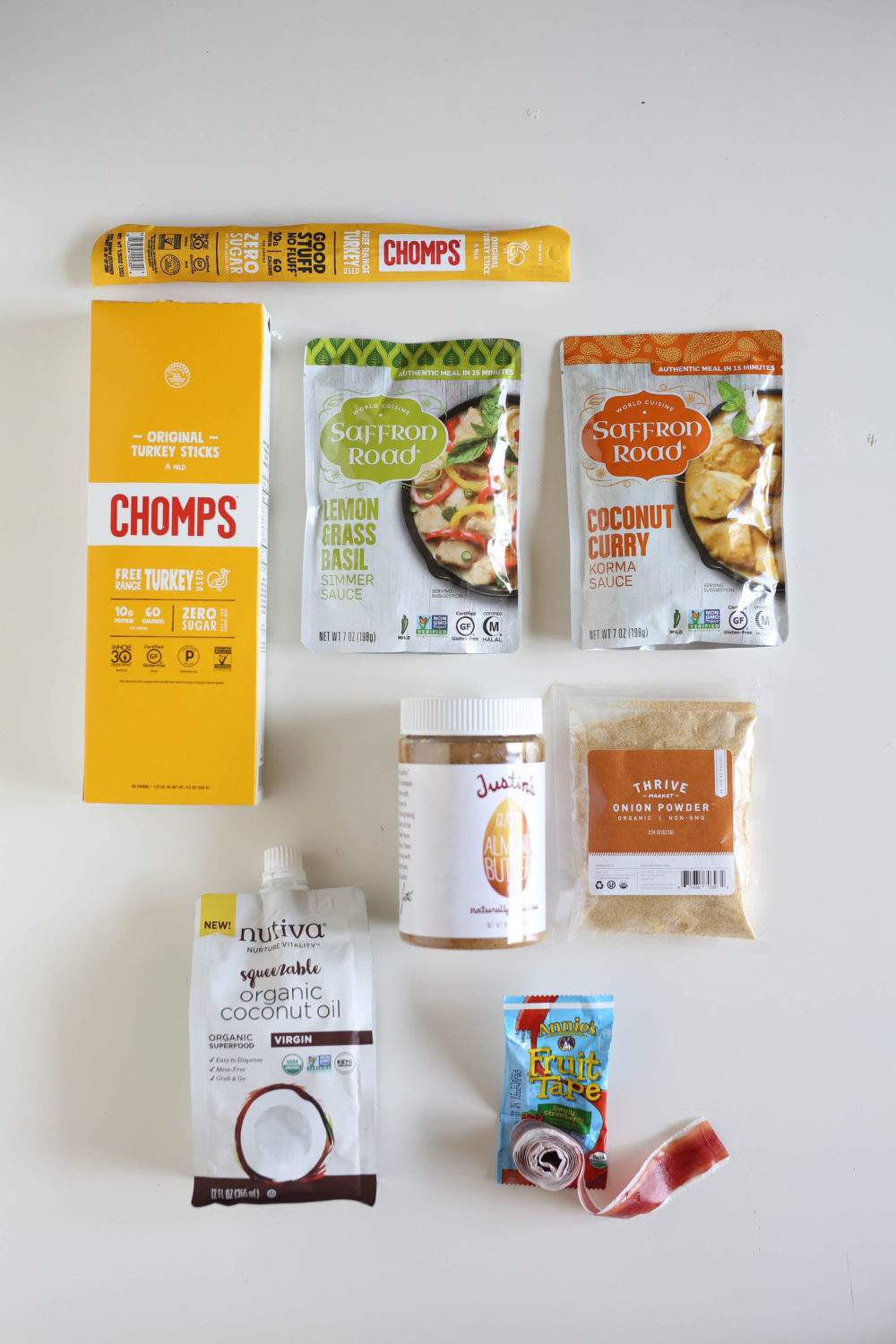 Here are a few of my favorite products to order from Thrive Market: 
Bulk Spices. When we lived just down the street from Winco in Arizona, I bought all my spices in bulk, but now it's a 25 minute drive to Winco and . . . saving a dollar or two on paprika is not worth that to me very often. So having their fresh spices delivered right to my doorstep? Gold.
Honey. We go through a lot of honey and this is one of the best brands I've ever tried. I pretty much order a new one every time I place a Thrive Market order.
Maple Syrup. This is so good and usually cheaper than buying it at the grocery store.
Skinny Dipped Nuts. These are one of my favorite quick little treats (the salted caramel cashews are especially delicious). The only ones I don't like are the super dark chocolate because the cocoa powder gets EVERYWHERE.
Green Pea Crisps. I always keep a couple of these on hand for Bart who loves these as a little crunchy, salty snack.
Toaster Pastries. I have never grown out of my love of PopTarts and these are a terrific alternative that aren't so sweet but still delicious (also, the actual pastry part is WAY better).
Olive Oil. I always add a bottle of this to my orders.
YES Bars. I keep a box of these in my desk drawer for when I'm just starving and want something delicious and filling. I am obsessed with these.
Paw Patrol Fruit Pouches. These are definitely on the pricey side for applesauce pouches but they're better than any other brand I've ever tried (and the only ones that all four of my girls will eat). I stock up on these for school lunches, hikes, road trips, and family outings.
Coconut Milk. If you check out my pantry, you'll always find at least a dozen of these cans. I hate to be without them!
Tomato Paste Tube. Tomato paste in a can is just an obnoxious way to go – there's always a ton leftover and it makes such a mess. I'm completely hooked on this simple alternative (they also do a garlic paste I love).
Vanilla Extract. Vanilla is through-the-roof pricey right now and Thrive Market is no exception, but at least it's a little MORE affordable.
Curry pouches. I used to buy bottles of curry sauce when we lived in London and they made the fastest easiest dinner. I was thrilled to discover these pouches on Thrive Market for less than my grocery store sells them for and they are DELICIOUS. I keep a half dozen of them in my pantry all the time for back up dinner options.
Whisps. I discovered these little cheese crisps a few years ago when Bart and I did keto and I still love them. Tally especially loves them and usually has a few with her lunch.
Basmati Rice. I pretty much only use basmati rice when I cook and this is a great one – I love that Thrive Market has their own house brand.
Granola. I usually make my own granola (and it's basically unbeatable) but if I DO buy it, this is one of the only brands that I've ever thought was actually worth eating. This one is DELICIOUS.
Coconut Oil. I love their house brand coconut oil – it adds a little extra something wherever I use it.
Dried Pineapple. It's really hard to find unsweetened dried pineapple and this one is incredible. One of my favorite road trip snacks.
Thrive Market also has a great referral program. If you refer a friend to Thrive Market, you'll get $25 of Thrive Cash which you can use toward any order. And your friend will get 25% off their first order. Win-win.
If you want to try out Thrive Market yourself, you can get 25% off your first order here or choose the free gift option!
If you have other questions about Thrive Market, I'm happy to try to answer. And if you have favorite things to order from Thrive Market, I'd love to hear!
If you liked this post about Thrive Market, you might like these posts too: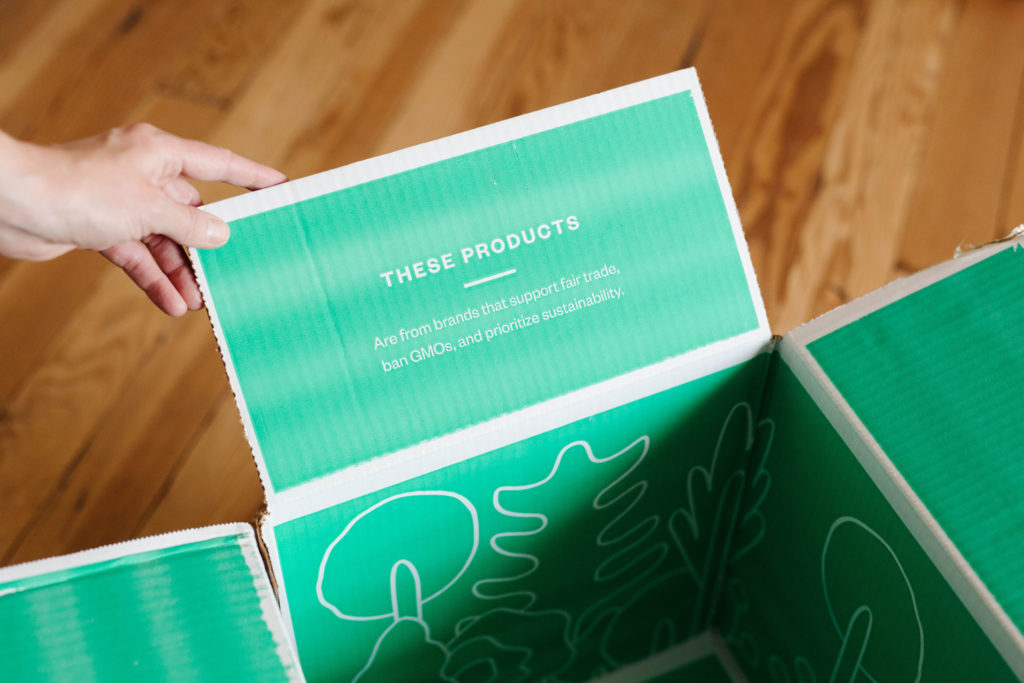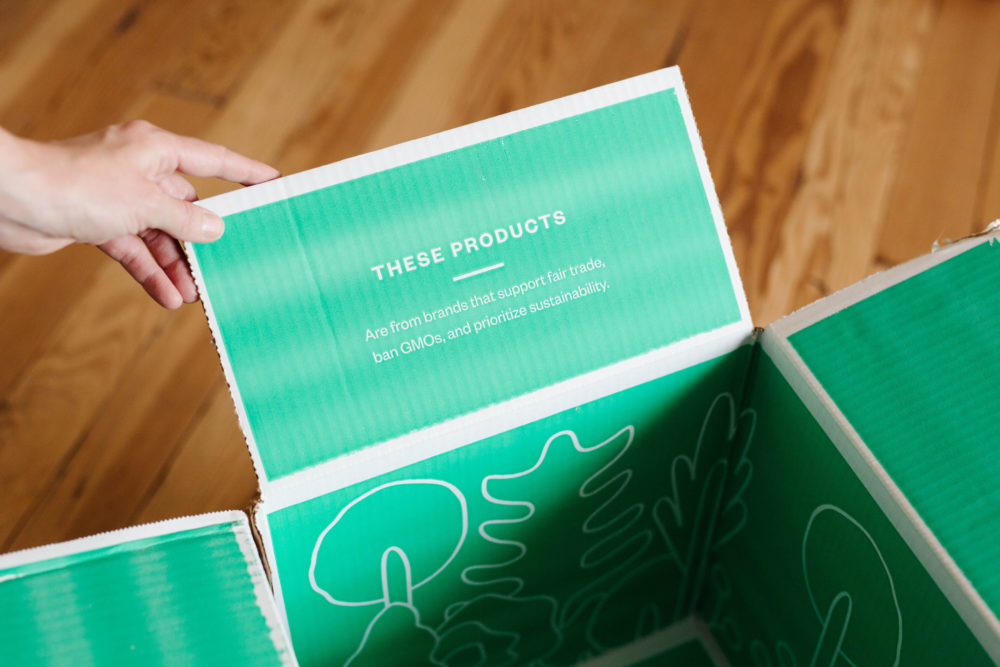 Photos by Heather Mildenstein