Of all our children, Ella was the most unenthusiastic about moving.
So, it was a big priority to make sure her new room was something she'd feel happy about (although, in fairness, her old bedroom was the worst in our whole house with plastic wood paneling, lime green carpet that was ripping all over the place, brown plastic baseboards and you couldn't get into her room without either walking through Bart's office (the converted garage) or through the only downstairs bathroom. I was hugely relieved that I never had to figure out how to make that space work because it was such a mess).
Her new bedroom is the smallest one in the house and was originally part of one enormous bedroom that we split in two when we remodeled the house. The two middle girls share a room, so theirs is bigger, and Tally's bedroom doubles as the guest room, so it's also a bit bigger.
But what Ella's room lacks in size, it makes up for in coziness and I'm really happy with how it turned out (and so is she!). It's also SO much more functional than her old room was.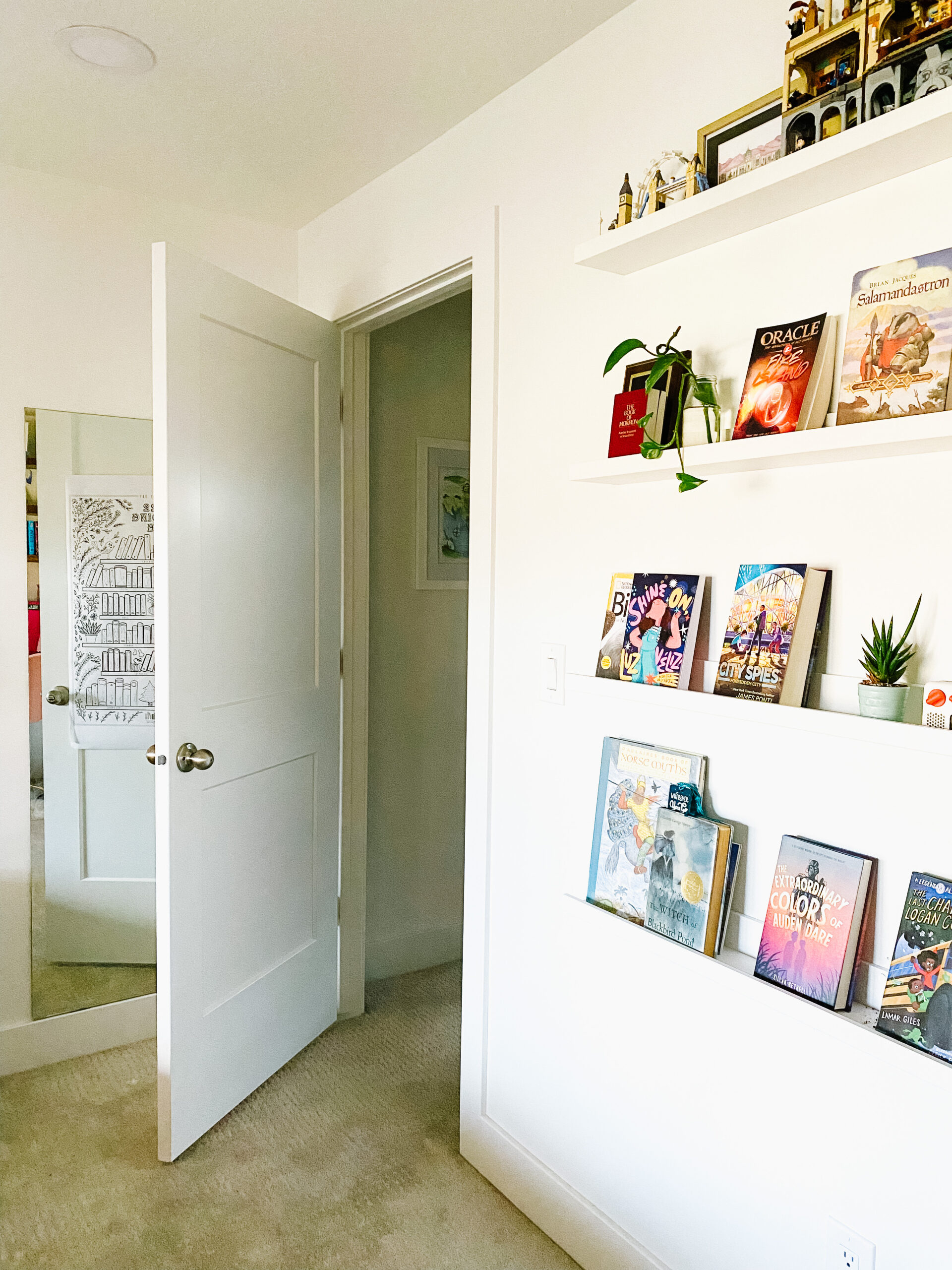 When we were designing the room basically from scratch, Melissa from Rye Interiors suggested that we make the closet a bit smaller and leave space for a built-in desk with shelves in the corner. I knew Ella would LOVE this and indeed, it's been a huge hit.
Even better, our contractor suggested we save the solid wood from the mantle of the basement fireplace we removed completely and use it to make the desk and shelves. Our carpenter did a phenomenal job on them and then we stained them dark to add some contract to the room.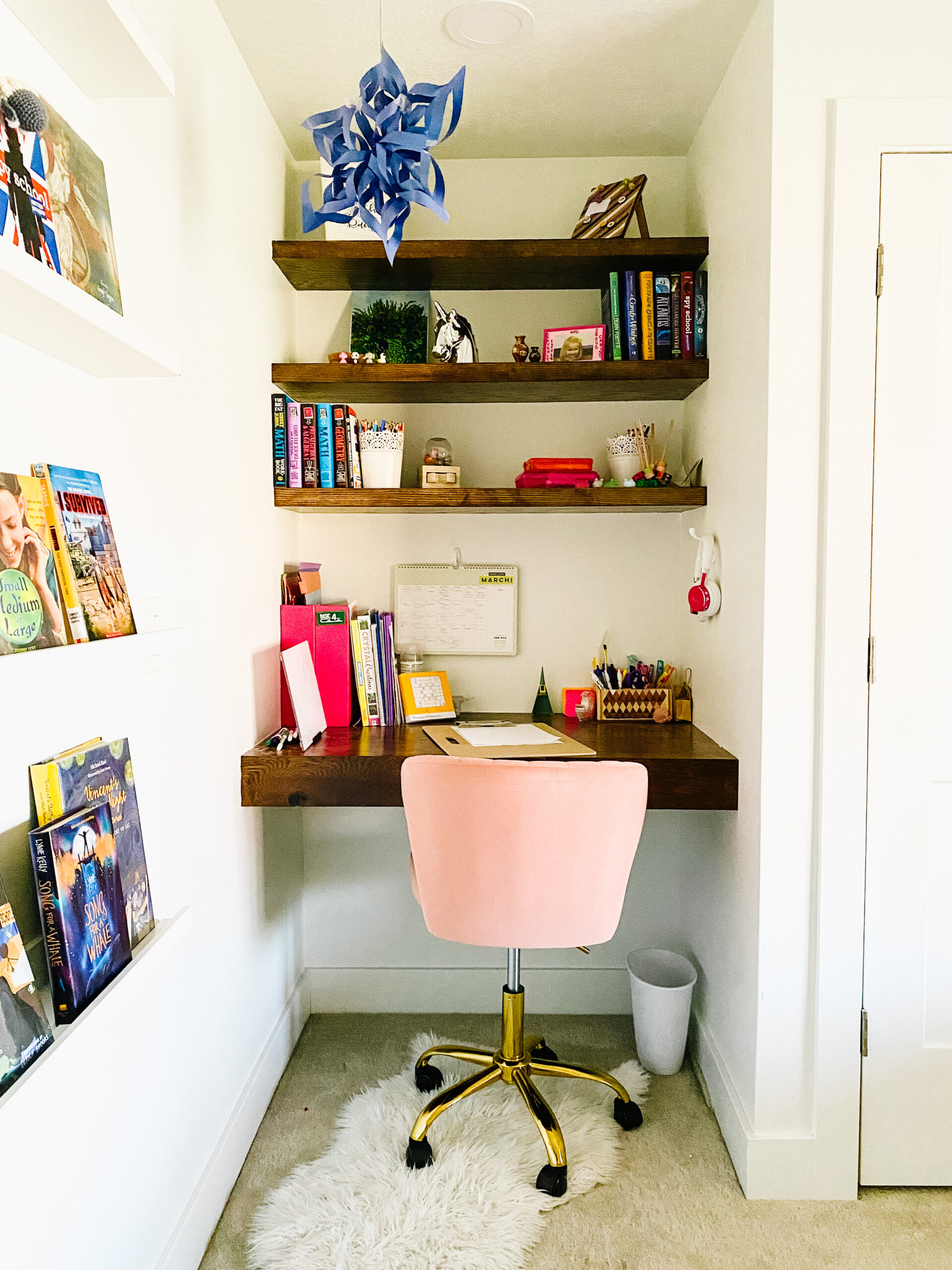 On the window wall, he added some pencil trim and then we painted that wall Shoji White by Sherwin Williams for a little more depth and subtle contrast (the other walls are all Silent White by Clark & Kensington, which is the white we used throughout the house).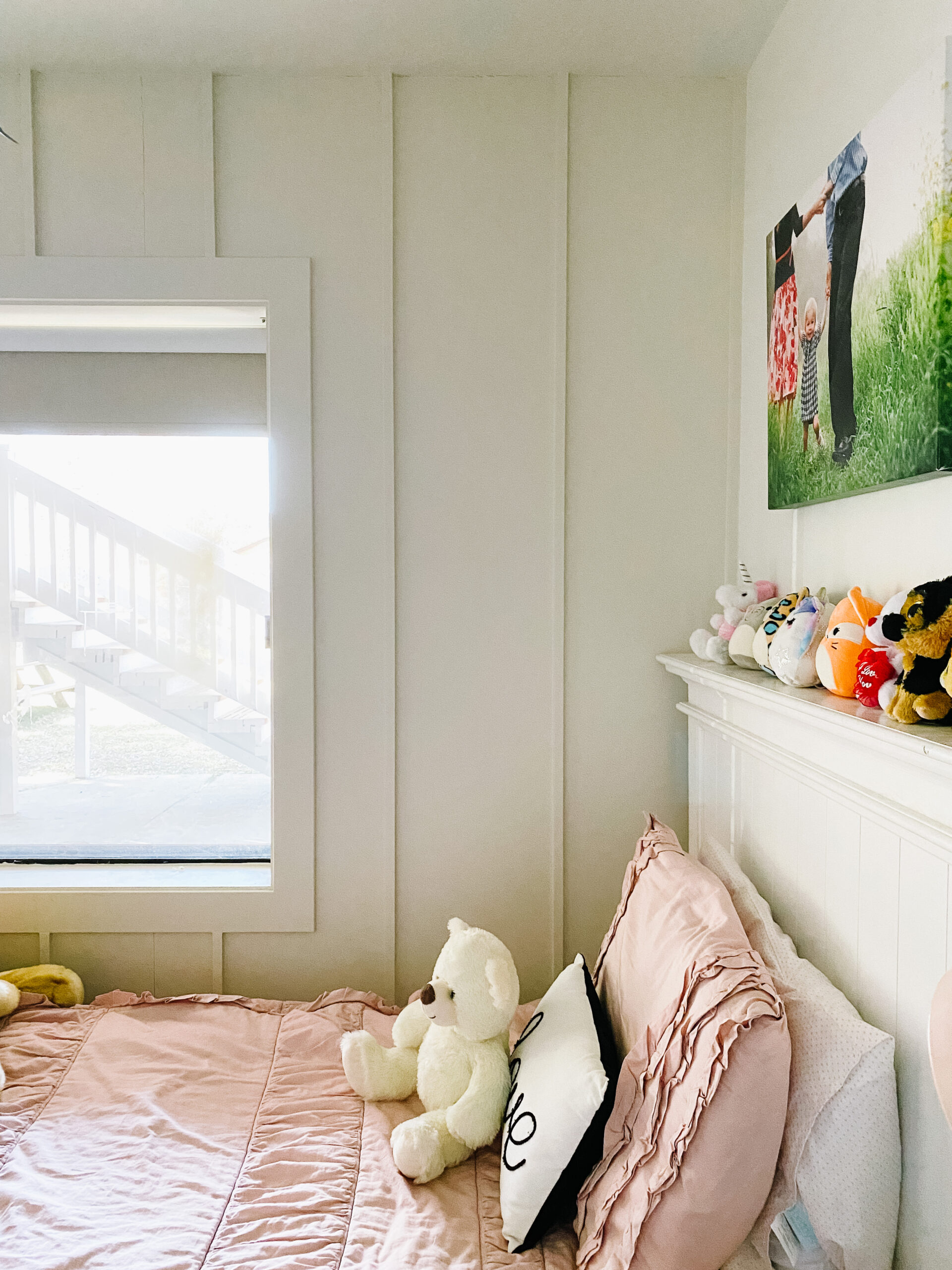 It was a bit of a blow for Ella to downgrade back to a twin bed from the queen bed she'd had for the past several years, but there was zero space in the room for a queen bed so she got back the twin bed frame that had been in Tally's room in the old house and in her original bedroom in Arizona.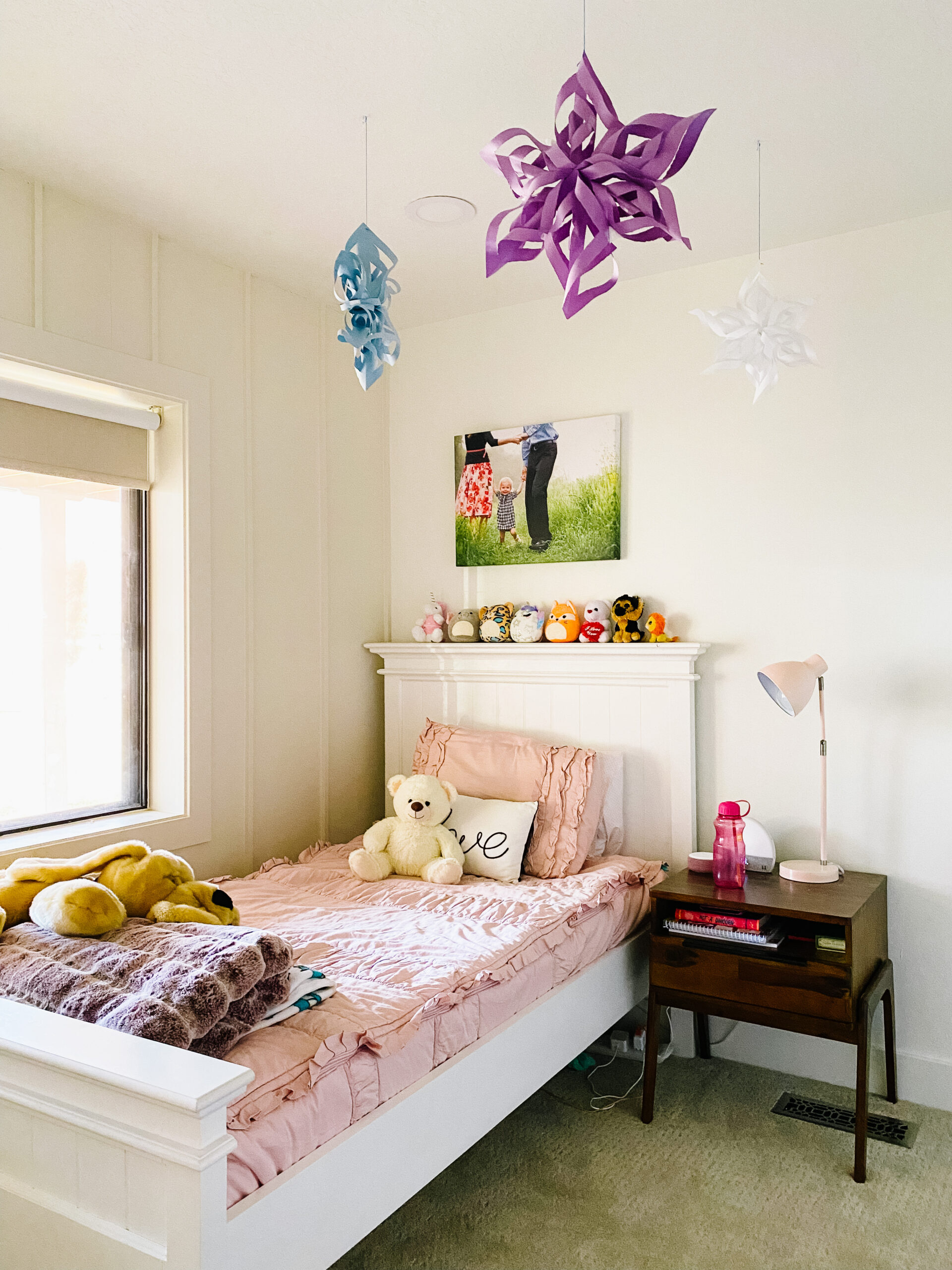 We ordered a pink velvet chair for her desk which almost perfectly matched the twin Beddy's bedding we already had and the room started coming together!
The day we moved in, we hung up these book ledges on the big blank wall so that she'd have a place to keep her library books and current reads organized and easily accessible (we put art and a few mementos on the top shelves that she couldn't really reach anyway).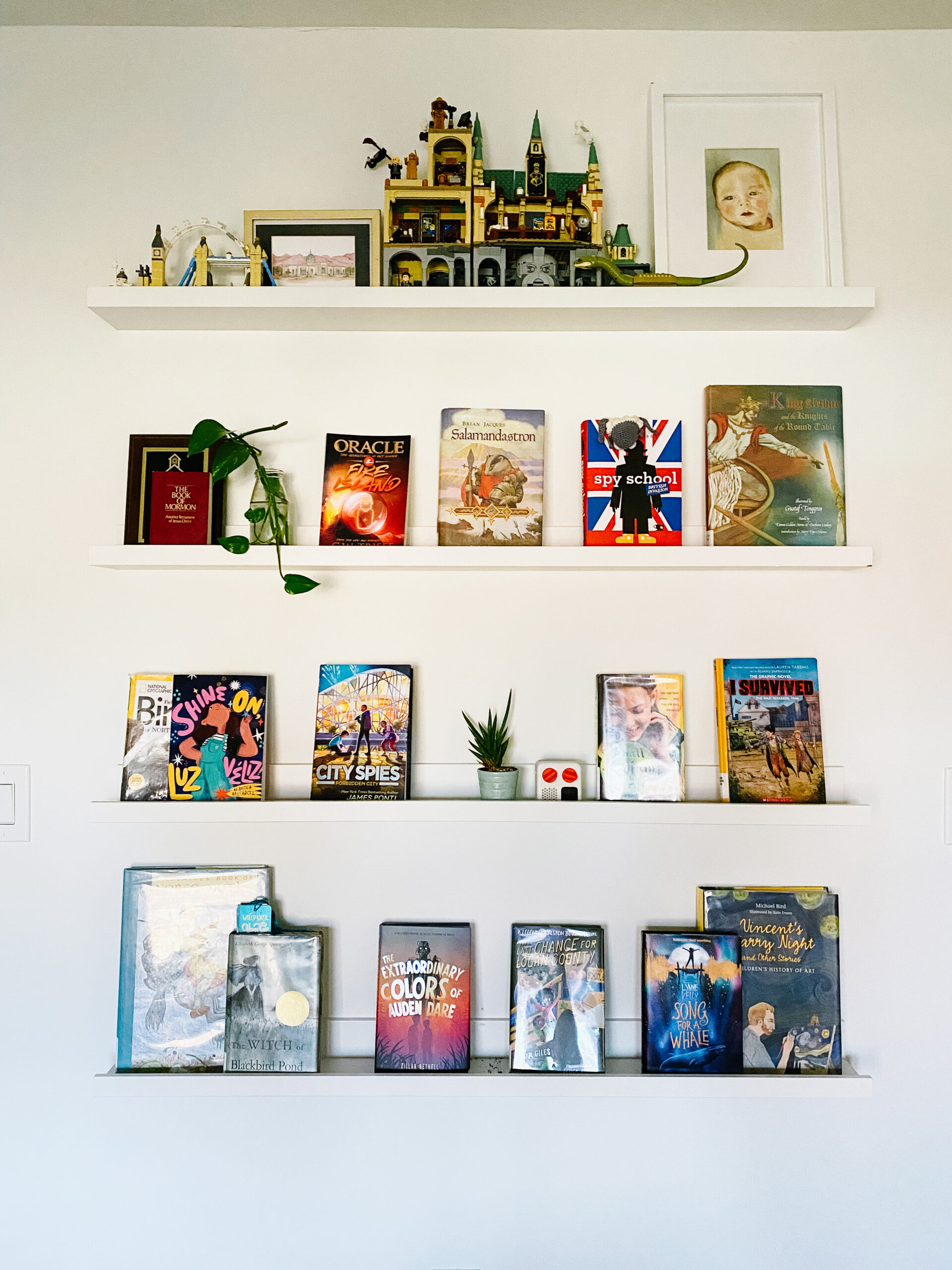 Our bedroom had massive mirrored closet doors and when we took out the closets to make our room bigger, our contractor salvaged the mirrors for our gym wall and then cut one of the leftover pieces and we mounted it behind Ella's door so she'd have a full length mirror as well.
The last piece was a bedside table. We ordered a set of two of these side tables from Apt2B and one is in our living room between our two big armchairs and the other was perfect to reflect the dark stain on her desk and shelves. It houses her Hatch Restore (which is great for gently waking her up in the mornings since her room is quite dark) and a bedside lamp for late night reading.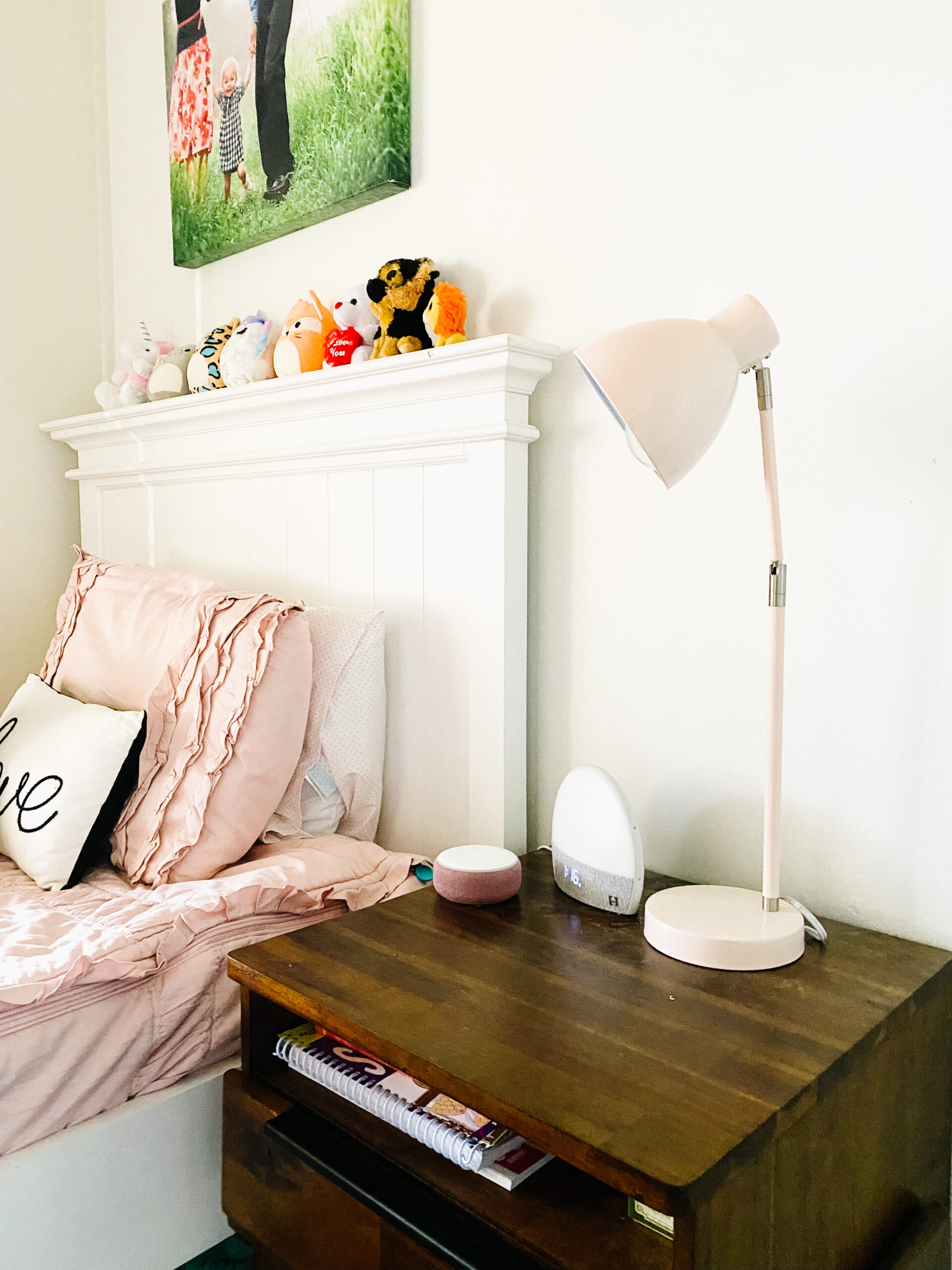 She spends hours a day in her room, reading, listening to audiobooks, and crafting, and it's just the sweetest tween room.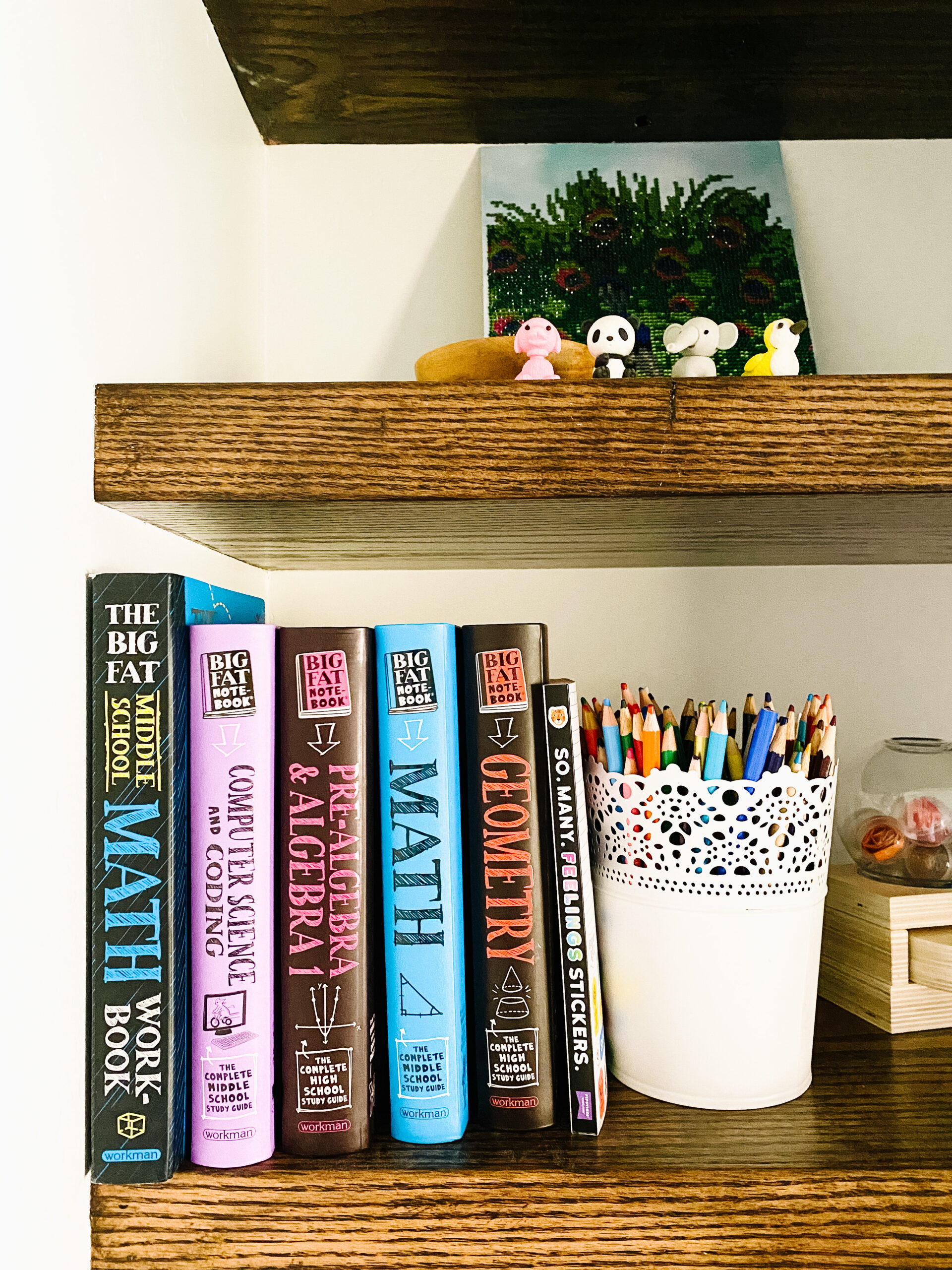 SOURCES:
Twin Bed: Hayneedle
Bedding: Beddy's
Bedside Table: Apt2B
Rug: IKEA
Desk Chair: Wayfair
Book Ledges: IKEA
Bedside Lamp: Target (old and no longer available)
Hatch Restore: Hatch
Any other questions about Ella's room? Happy to answer!
if you liked this post about

tween bedroom ideas

, you might also like these other posts: