Last year, at the beginning of summer, I talked on Instagram about making your home and family a place where your kids WANT to be (if you're curious, you can watch those videos here), and since then, I've had lots of questions about the specific things we do in our family that make it a welcoming place to be.
My goal is for our home to be positively reinforcing – that they know there are lots of good things to look forward to and that there are massive benefits to being a part of our family.
These aren't things that are rewards attached to certain behaviors, but instead create positive momentum. It might looks like saying "let's get the house cleaned up so we're ready for Friday movie night" or "when your backpacks and school stuff is all put away, the Kiwi crates came and we can do those!"
Knowing there is something good to look forward to helps make the tedious parts of family life much more palatable.
Here are some of the things that make being in our family fun and positive. Some of these are bigger things and some are very small. Some of them happen daily or weekly and some happen intermittently.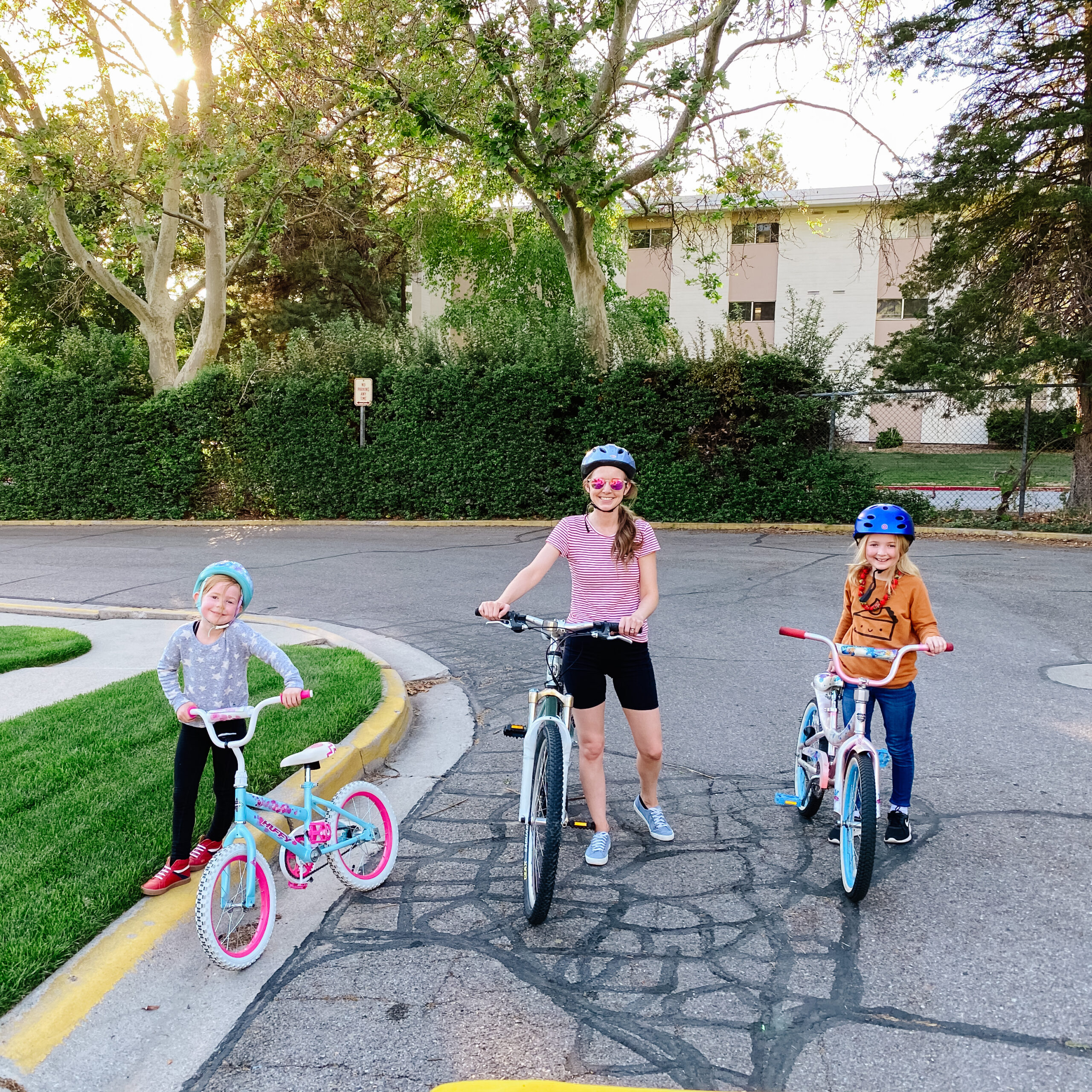 20 Things That Make Our Home A Positive Place to Be
Friday pizza and movie night. This is such a simple and fun tradition that takes little effort on my part but is something everyone looks forward to every week.
Fun music in the car. We watch a lot of Disney musical movies in our home, and the girls LOVE listening to the Descendants soundtrack or the Zombies soundtrack or Teen Beach soundtrack. Bart also plays them all sorts of his favorite music when he drives them to school in the morning and I've successfully made Train converts out of all of them.
Saturday puff pancakes. This is legit the easiest breakfast of all time (if you can put six ingredients in a blender, you can make this), but it feels like a fun different treat from the rest of the week.
Bed time read alouds. This is one of my favorite (almost) daily rituals. It's such a pleasant, soothing end to the day that helps us all unwind and spend some quality time together.
Family bike rides. We bought secondhand bikes a few years ago and it's been so fun when the weather is nice to head off on a neighborhood ride before bed.
Going to the library. You won't be a bit surprised to hear that we are regulars at the library and whether we're attending a library program or just picking up holds, it's a fundamental part of our family culture to be library-goers.
Visiting local playgrounds. Even my almost 12 year old loves a good park and we love visiting new ones, especially in the spring and fall.
Snuggling on the couch. This is literally the easiest thing in the world and yet makes such a difference in the mood of our home. Whether someone is grumpy or tired or hurt, a little snuggle with a soft blanket is a miracle worker.
Family jigsaw puzzles. We've never eaten a single meal as a family around our dining table – it's used entirely for games and puzzles and there is almost always a jigsaw puzzle in progress on it. I love everyone popping in and out to work on it, sometimes all together, and sometimes just one or two of us.
Playing board and card games together. We are definitely a game playing family. We play games all together, the girls play games on their own, and when the big girls are at school, Tally and I play a card game together almost every morning over breakfast. (Here are some of our favorite games).
Backyard games. We got a croquet set from Bart's parents for Christmas a few years ago and we love playing after dinner a few times a month. We also enjoy Kubb or jumping on the trampoline or playing ping pong!
Fancy Sunday dinners. Fancy in our case means cloth napkins, 99 cent goblets and a bottle of sparkling cider, but it's a fun, simple tradition that we all love.
Having friends over. We love to have people over and that includes the girls' friends. Whether it's another family coming over for dinner, hosting an outdoor movie, or just having neighborhood kids over to play, we try to keep our home open to family and friends!
Nightly family dinner. Bart and I both grew up in homes where family dinner was part of the routine and so it felt really natural to us to keep that up with our own family. It's such a nice wind down to the day to
Screens on road trips. We're fairly low-screen at home, but when we go on a road trip, we pass out the tablets and everyone plays all the games and watches all the shows they want until we get to our destination.
Visiting grandparents. We visit my parents in Las Vegas a few times a year and stop by Bart's parents' house in our neighborhood frequently.
Planting a garden. My girls love the experience of planting a seed and watching it sprout and then miraculously grow herbs or flowers or vegetables.
Clean clothes. My oldest daughter does her own laundry now, but my other three girls have clean clothes magically appears in their rooms each week, ready to be folded and put away and worn.
Water park passes. Our local waterpark has season passes for a smoking deal (and even more of a deal when you buy them on Groupon) and it's made it so simple for us to go visit for a few hours on a hot afternoon or on Saturday morning after everyone finishes their chores.
Lots of art supplies. My girls love to draw and color and having a good supply of markers, crayons, paper, and colored pencils goes a long long way to making a lazy afternoon feel fun.
Some of these things might feel like neutral things – of COURSE we go to the library – instead of fun privileges, but it's important to me for my kids to be aware of how many good things they have in their lives that aren't just givens but instead are something that someone has to make happen (namely, their parents).
It's so easy for kids (and all humans, really) to feel entitled and not recognize how much work goes into keeping life going. I love to point these things out to my children and help them see that their lives are WONDERFUL and help them appreciate those things.
I'd love to hear any of things that make your home a positive environment and great place to be – it can be tiny or ordinary or big – I'll take them all!
if you liked this post on how we make our home a positive a ENVIRONMENT, you might like these other posts: