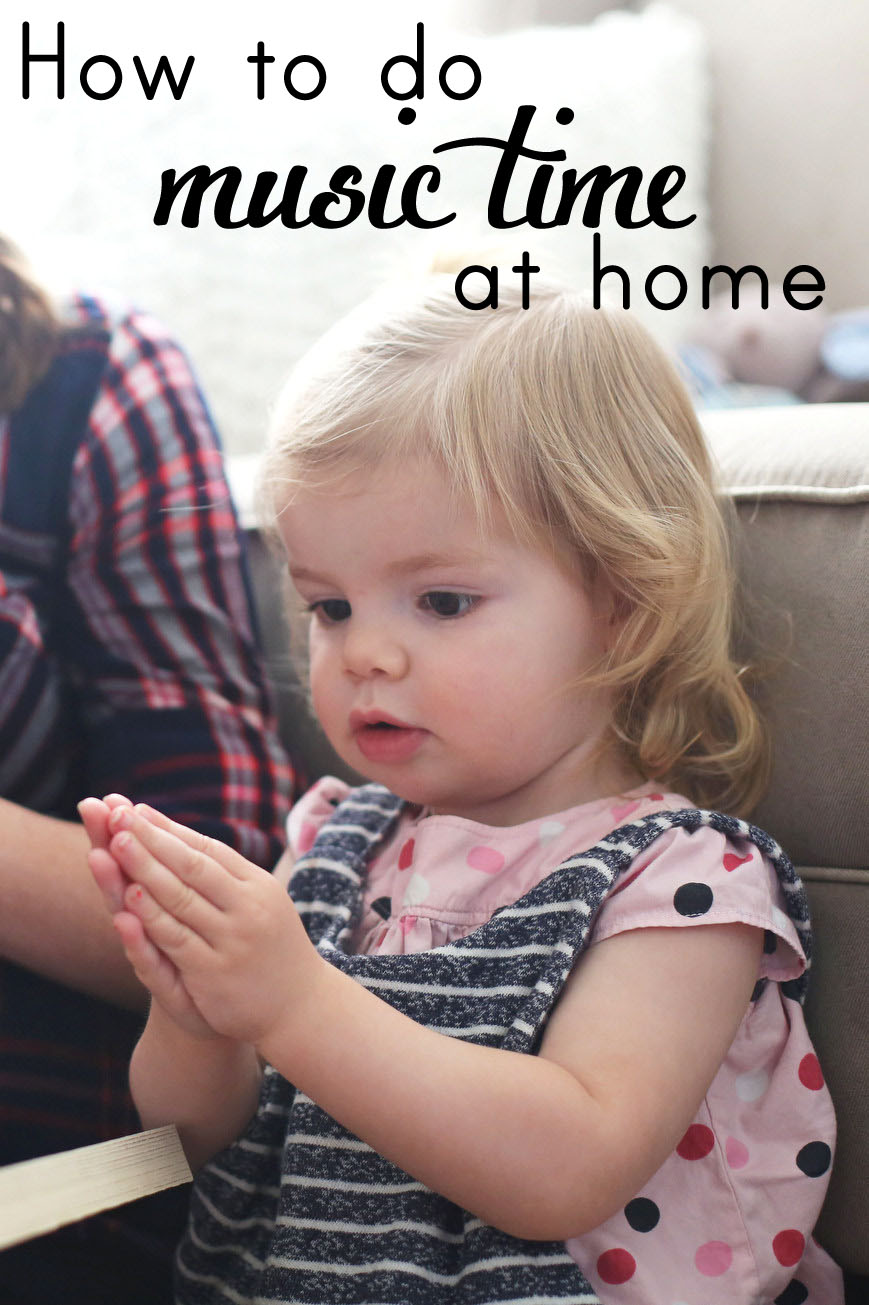 A friend of mine hosts a little weekly toddler music group at her home, and it's pretty much the highlight of Ella's week. She spends the whole car ride over shouting, "MUSIC!" at the top of her lungs.
After attending this toddler music time for six months or so, I realized that I could use many of the same songs (and a few of my own favorites) to burn through some of that late afternoon time when we both get antsy and it's just too hot to go outside.
This has become Ella's favorite home activity, and she drags out a large quilt for us to sit on and anxiously requests particular songs.
I generally just pull the songs up on YouTube (and I've linked to them below) and have them play while we do the actions or use some simple props. Some of these songs were ones I've known before and others are ones I've learned from my friend and come to love.

Shake My Sillies Out – I remember being a five-year-old bouncing on our tiny indoor trampoline to this song. It's a great active song to start out with.
Slippery Fish – I love this little song and watching Ella make an octopus with her hands is pretty much the most darling thing ever.
I Love Colors – I give Ella a set of Uno cards (blue, red, yellow, and green) and we march around holding them and putting the appropriate color on top as we sing that verse. My friend uses paint chips on a metal ring.
Willoughby, Wallaby Woo – We have a stuffed elephant that Ella carries around and places on our heads during this song. I sing our names loudly over the music and then (because there are only two of us), I sing things like "Willoughby Wallaby Woor, an elephant sat on the floor" and so on with objects (bench, chair, shelf, blanket) around our living room.
Count Your Fingers – A nice sitting on the floor song.
The Noble Duke of York – I set Ella on my knees and lift her up when the song says "up" and "down" when it says THAT. Count it as exercise.
Open Shut Them – I love the huge mouth Ella makes when we get to the "open wide your little mouth, but do not let them in" part.
Old McDonald – We have a little barn with animals and we take them all out and put them back in the barn one at a time as we sing about that animal.
Apples and Bananas – I give her a banana and an apple and she holds up the appropriate one. I lay on the floor.
Head, Shoulders, Knees, and Toes – Time to get off the floor and pretend to have energy for one last song. You all know this one, right?

And if you have songs your child loves to sing along to, please share! I'm always looking to expand my repertoire. Can't let Ella think I'm getting old and boring.