All month, I've been talking about All The Money in the World: What the Happiest People Know About Wealth on InstaStories as part of the 2021 Everyday Reading Book Club.
It's been such a fun conversation (no talk about money is ever dull!) and if you missed it, you can catch it all here in this highlight bubble and this one!
Each month, as we wrap up the conversation, I like to create a list of related books so that if you're looking to do more reading on personal finance, you have some suggestions for what to pick up next!
Some of these titles are my favorites, some of them are personal finance books recommended by you guys as part of the discussion.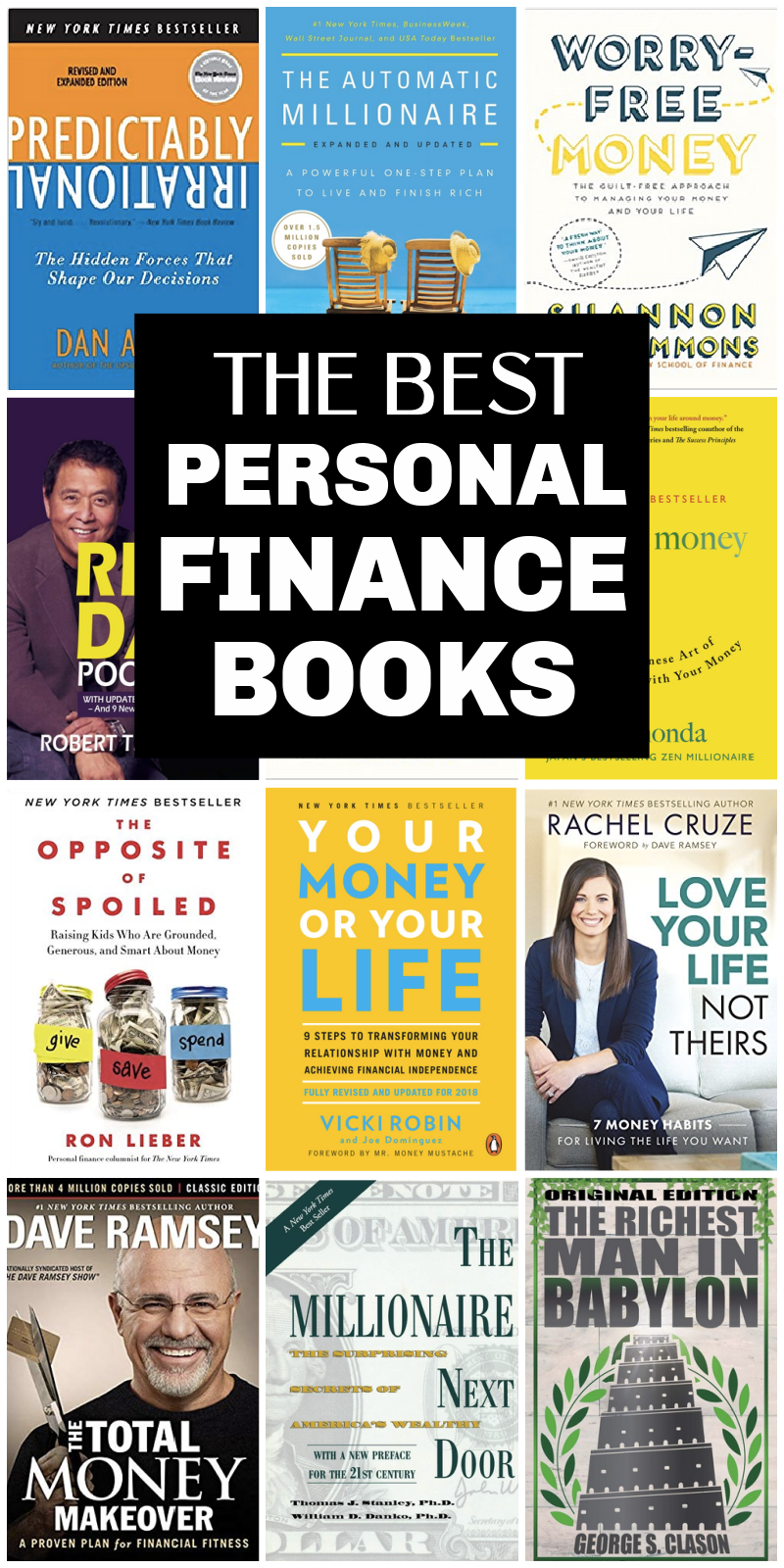 best personal finance books
Predictably Irrational: The Hidden Forces That Shape Our Decisions by Dan Ariely
This book isn't JUST about money, but it's absolutely fascinating about how we make decisions that aren't rational, even when we think we know better. (He is a professor at Duke and Bart reported that it is SO hard to get a seat in his class because he's so popular). It's also on sale for $2.99 right now!
The Automatic Millionaire: A Powerful One-Step Plan to Live and Finish Rich by David Bach
David Bach is a big name in the world of personal finance books and this book is about the power of automatic savings. It does make me laugh that it takes 275 pages to tell you how to implement a single step method.
The Richest Man in Babylon by George S. Clason
I've never read this one but multiple people raved about it, calling it their favorite money book and totally life changing in how you think about finances. It also has 15,000 5 star reviews and is on sale for $1.99, so it doesn't feel like taking a big risk to read this one.
Love Your Life, Not Theirs by Rachel Cruze
I've never read any of Rachel Cruze's books, but many people suggested this one and I immediately place a hold on it at the library. I love any book that focuses on making the choices that work for YOU, so I think I'll enjoy this one.
Happy Money: The Japanese Art of Making Peace with Your Money by Ken Honda
This is another one I've never heard of but it looks like a great suggestion to go along with All the Money in the World because it's more about how to use money to bring happiness rather than all about scrimping and saving.
Rich Dad Poor Dad: What the Rich Teach Their Kids About Money That the Poor and Middle Class Do Not! by Robert T. Kiyosaki
I remember Bart telling me about this book shortly after we started dating (clearly, money has been a topic of interest for us both since the beginning). I read it back then, but now I feel like I need to re-read it because I hardly remember it at all!
The Opposite of Spoiled by Ron Lieber
This is really a terrific book about helping your kids to grow up smart about not only saving money but also using it and sharing it. (it's also on sale currently for $1.99 as an ebook or for $4.99 as an audiobook).
The Total Money Makeover by Dave Ramsey
I have a LOT of Dave Ramsey fans in my audience and this book came up over and over again. While I don't agree with all of Dave Ramsey's advice (credit card user for life over here), I do think he has some very solid advice for people trying to take control of their finances and get themselves out of debt.
Your Money or Your Life by Vicki Robin, Joe Dominguez, and Mr. Money Moustache
I have zero desire to live at the level that some of the people in this book are willing to live at, but the general idea that you give up time and life to earn money has stuck with me for more than a decade and I think about this book ALL the time.
Worry Free Money by Shannon Lee Simmons
I read the description of this one and was immediately on board (my library doesn't have it, unfortunately). The basic idea is that money should be spent both for your needs and future needs, but ALSO to be enjoyed without guilt. Sign me up for this!
The Millionaire Next Door by Thomas J. Stanley and William D. Danko
I remember my parents reading this one when I was growing up and then Bart and I both read it shortly after we got married and it's had a big effect on how I think about money, both earning and spending it. Bonus, it's included in the Kindle Unlimited library, so you can read it for free!
And if you'd like a printable copy of this list that you can take to your library or screenshot on your phone for easy access, just pop in your email address below and it'll come right to your inbox!
Any other favorite personal finance books? I'd love your recommendations!
If you liked this list of
best personal finance books, you might like these posts too: