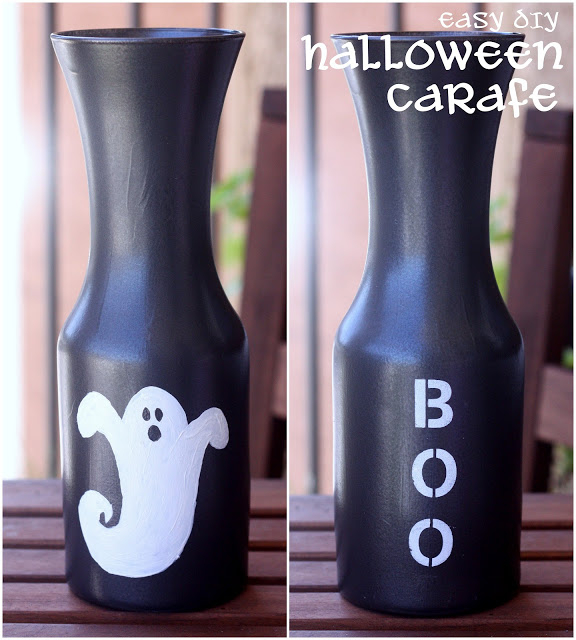 Of course, I had to use Google to double-check that I'd spelled "carafe" correctly and of course, I felt like the smartest person alive when it turned out that I HAD. Probably I should be awarded a PhD immediately.
One of my goals this year is to make the holidays fun for Ella (and for the whole family), and, for me, part of holiday celebrations is decorations. I am not a knick-knack kind of person at all, but I really like having a few fun things for each major holiday.
Also, I really enjoy the food part of most holidays, so decorations that are food-centric? Ideal.
And I've discovered that glass painting is pretty much no-talent needed project but quite impressive, which is just my speed. I spent two lovely afternoon naptimes sitting on my patio, listening to an audiobook and feeling very able.
Supplies: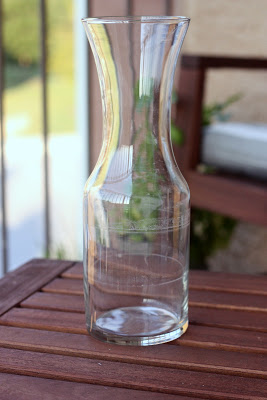 So I started with this. Boring. But cheap. Also thoroughly washed and sanitized in my dishwasher because, I have to admit, thrift stores give me the heebie-jeebies.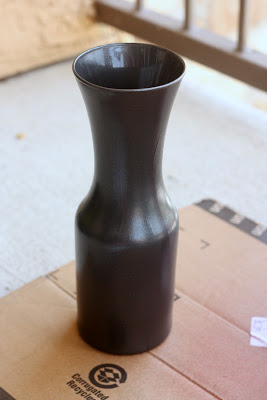 I know. Your envy for my
craft room
patio is overwhelming. Someday you too might be the proud renter of a six foot cement square with a parking lot view.
I originally tried using a roller to put the paint on this and it was not a pretty sight – the texture wasn't as smooth as I wanted and it took forever (but happily, it washed right off with soap and water, so I just started over).
The spray paint kit, where you just mix your paint with some spray paint medium, was a MUCH better route. Not only did it look much better, but it used a fraction of the paint (I thought I was pretty conservative with how much paint/medium I mixed up and I still only used just over half of it).
I did a little too thick of a coat the first time around and the paint ran quite a bit, so I smoothed it out with a cotton ball and went a little lighter for the next two coats. I used my blow dryer to help the paint set quickly after each coat so it wouldn't run – I highly recommend this technique.
Also, it's been forever since I used spray paint. This stuff is fun!
I let it dry overnight (although this was mainly because I'm lazy, not because it needed nearly that long to set) and then I found a little ghost silhouette on the internet and printed it out.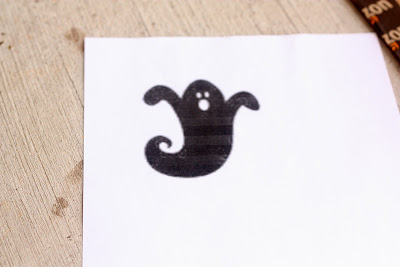 I cut it out and traced around it with a pencil on the carafe (it was HARD to see the pencil – a wax pencil would probably have been way better, but I don't own a wax pencil).
Then I carefully painted in the ghost with white paint and did a couple of coats to make it nice and white.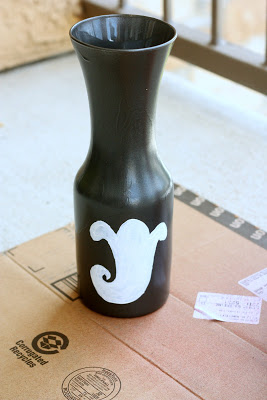 Once it was dry, I used a tiny paintbrush and some more black paint to give the ghost eyes and a mouth.
And then on the opposite side, I used the stencils to write "Boo."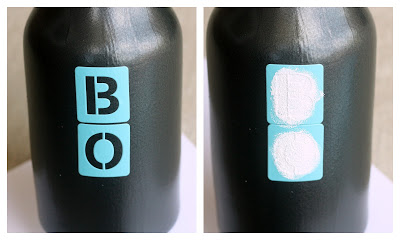 These stencils are adhesive, so you can just stick them on, paint in the blanks, and then peel them off. Ridiculously easy, especially when you're working on a curved surface that would be much more difficult with traditional stencils. And by some dark magic, they stay adhesive even after you wash them with soap and water.
A quick bake in the oven and you're done! I think it took me twice as long to write this all out as it did to actually make it.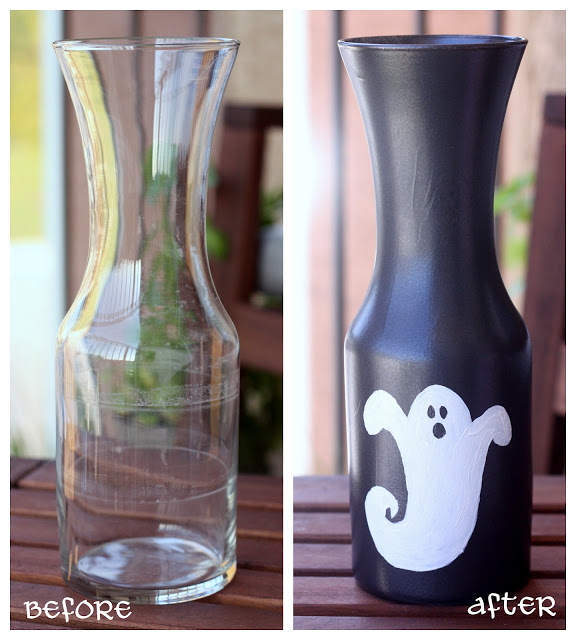 Now to wait impatiently for October 1st so I can legitimately pull this baby out. Because Halloween should not be celebrated in September, no matter what Pinterest would have you think.
I wrote this post as part of a paid campaign with Plaid Martha Stewart Glass Paint and Blueprint Social, but I designed my own project and all opinions are my own.