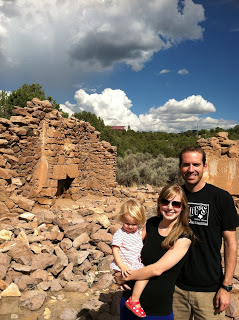 In Cedar City
When I took my car in because it was overheating at the drop of a hat and they couldn't find anything wrong, so they just flushed out and replaced some fluid, didn't charge me, and the car has now not had a problem for weeks.
Afternoon Tea at the Grand America with my grandparents. Such a lovely afternoon (and many thanks to Bart's parents for watching Ella while we were gone for several hours).
Ella, at Top Pot Doughnuts, telling the table next to us, "I eating doughnuts! For breakfast!"
Spending more time doing some creative projects. It's been just really relaxing for me to listen to my audiobooks and do something with my hands.
These creamy strawberry lemonade popsicles. I bought a new popsicle mold at the grocery store a couple of weeks and now I'm obsessed with homemade popsicles.
This cake stand I got my mom for her birthday – I thought it was just LOVELY.
Attending three shows at the Utah Shakespeare Festival. I've gone with my family many many times since I was a child, and it was so fun to be there for the first time in a couple of years. I'd be hard-pressed to pick a favorite this year.
The woman who told Ella she had beautiful eyes and asked where she'd gotten them from. Ella exclaimed, "From my daddy!"
Several home organizational projects. I am just so happy with the changes we've made. I will bore you with way too many details about them over the next couple weeks, I'm sure.
These red maternity jeans. I am rather obsessed with them (and trying to figure out if buying a purple pair would be overkill. . . ).
Vacations, obviously.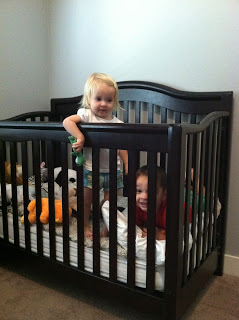 With her cousin Peanut (Merrick's little boy)