September is always one of my favorite months. A return to school (which I love as a stay-at-home mom because the library and the grocery store and the parks are much less crowded during the day), my birthday, and the promise of cooler weather someday.
Some specific things I loved in September: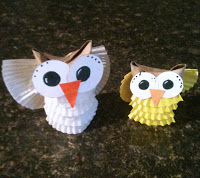 These little owls Ella and I made one Saturday afternoon.
Leaving my keys in the trunk lock for two hours on Main Street while we were at the library and them still being there when I got back (I'm not usually this kind of person – I guess I was just REALLY excited about the puppet show that day . . . ).
My new birthday boots from my parents. Now if it will just get cool enough to even think about wearing them.
A new dayplanner. I use my phone now for most scheduling things, so this is more of a to-do list kind of planner. Emily Kate has raved about Paper Coterie and she was not wrong. I am so happy with the final product (and with a coupon code, I only had to pay shipping, so the whole thing cost me about $7).
Bart being home again after many many weeks of traveling in the last month and a half. Nice to be a complete family again. And have someone else to get up with Ella on Saturday mornings.
Anything you loved in September?