One of my favorite things each year is checking out all the new picture books for Christmas that have been released this year.
Some years are stellar years for new books for Christmas and others are so-so. Happily, this has shaped up to be a pretty great year for new Christmas picture books (any year with a new Mercy Watson book is off to a solid start!) and I hope you'll enjoy adding a few to your personal collection or checking them out at the library!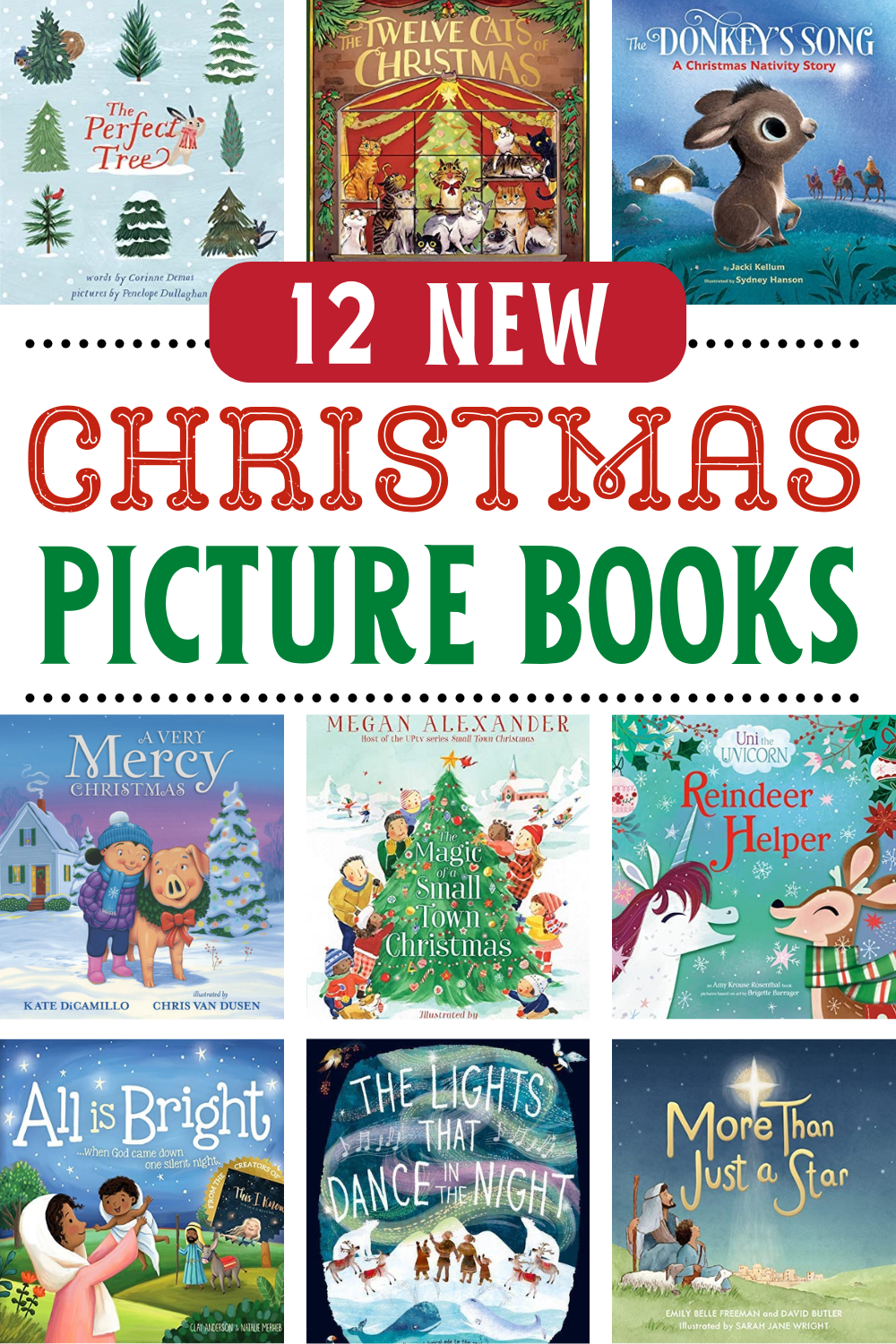 12 New Picture Books for Christmas
A Very Mercy Christmas by Kate DiCamillo, illustrated by Chris Van Dusen
I'm so excited to see a Christmas edition added to the Mercy Watson series – we LOVE that funny little pig in our house! This one is delightful and surprisingly tender. Note that this is a full-size picture book, not a smaller early chapter book like other Mercy Watson titles. 
The Christmas Pine by Julia Donaldson, illustrated by Victoria Sandoy
We are big fans of Julia Donaldson at our house, and this new Christmas book is a wonderful addition to our Christmas book collection. It is inspired by the annual journey of London's Trafalgar Square's Christmas Tree from the woods to the bright and shining city square where it brings joy and the spirit of Christmas to all who see it and it makes me want to go back to London IMMEDIATELY.
The Donkey's Song: A Christmas Nativity Story by Jacki Kellum, illustrated by Sydney Hanson
The classic nativity story is told through the eyes of the donkey that carried Mary into Bethlehem in this sweet picture book with minimal text. It's perfect for the youngest little readers and the illustrations are absolutely darling.
Uni the Unicorn: Reindeer Helper by Amy Krouse Rosenthal, illustrated by Brigette Barrager
If your kids have been fans of any of the other Uni the Unicorn books, be sure to check out this Christmas addition where Uni goes on adventure to help a lost reindeer and make sure Santa's route on Christmas Eve goes smoothly.
More Than Just a Star by Emily Belle Freeman and David Butler, illustrated by Sarah Jane Wright
Micah, a shepherd boy learns about prophecies of Christ's birth and wonders about them, until one night he wakes up to hear a choir of angels and see the much anticipated star in the sky. He runs with others to see if this is the time that was foretold and taught be his father. I am a HUGE fan of Sarah Jane Wright's illustrations (she did the Lola Dutch books), so I'm thrilled about this new book.
Strum & Drum: A Merry Little Quest by Jashar Awan
This imaginative story shares the adventure of Strum and Drum, a pair of Christmas tree ornaments. They encounter multiple obstacles but don't give up on their quest to reach the great star on top of the Christmas tree.
All is Bright: When God Came Down One Silent Night by Clay Anderson, illustrated by Natalie Merheb
This book tells the story of the Nativity in rhyming verse that is built around the lyrics of Silent Night. It is such a fun read aloud and brings a fresh perspective to a classic and beloved story.
The Perfect Tree by Corinne Demas, illustrated by Penelope Dullaghan
Bunny is searching to find the perfect Christmas tree and all the forest friends have strong opinions about what makes a perfect Christmas tree – it needs to be bushy and tall with a perfectly pointy top for a star. But, in the end Bunny realizes the perfect tree is the one surrounded by friends.
The Twelve Cats of Christmas by Feather Flores, illustrated by Carrie Liao
If you're a cat lover, (and even if you're not!) this is a fun take on the twelve days of Christmas with a festive feline twist!
Unwrapping the Names of Jesus for Kids by Asheritah Ciuciu 
A mother in biblical times tells her children stories from her childhood when she encountered Jesus. Each story highlights a different name of Christ like the Bread of Life, the Good Shepherd, and the Light of the World.
The Lights that Dance in the Night by Yuval Zommer
I still remember seeing the Northern Lights when I was really young and we lived in Wisconsin, so I was already inclined to love this book about the Northern Lights' journey from space to Earth and how the animals and people on earth react to the magic of this natural phenomenon.
The Magic of a Small Town Christmas by Megan Alexander, illustrated by Hiroe Nakata
A small town Christmas is truly picture perfect with the beautiful Christmas tree, ice skating, perfectly iced gingerbread cookies and handmade stockings. But all the town's residents know that the most important thing is the love shared by everyone. This one is so sweet and has a delightful retro feel to it!
And if you'd like a printable copy of this Christmas picture book list that you can take to your library or screenshot on your phone for easy access, just pop in your email address below and it'll come right to your inbox!
if you liked this post about books for Christmas, you might also like these other posts: