For so many families, Santa Claus is an integral part of the holiday season! And Santa books lend themselves so well to hilarity, sweetness, and imagination.
Here are some of our favorite books featuring the jolly St. Nicholas – I hope you'll love them as much as we do!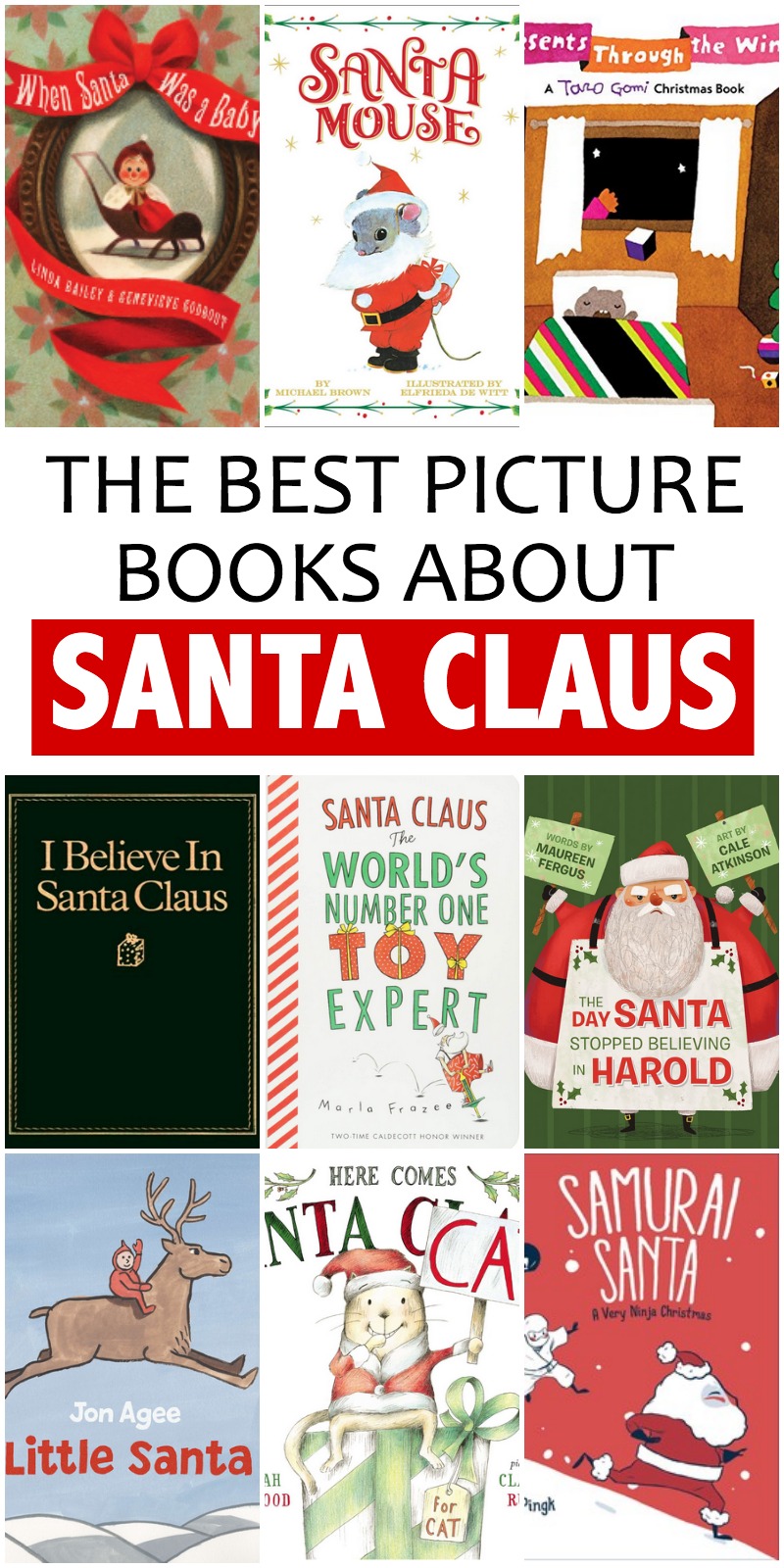 Favorite picture books about santa claus
The Day Santa Stopped Believing in Harold by Maureen Fergus and Cale Atkinson
Santa loves Harold. He loves getting yearly letters from Harold and waits eagerly for the cookies that Harold leaves out for him. But this year? Santa isn't convinced any longer that Harold is real. Some of his friends are sure that Harold isn't real and last year, when Harold came to sit on Santa's knee, he didn't look quite the same anymore. Santa is determined to find out the truth.
Samurai Santa: A Very Ninja Christmas by Rubin Pingk
Yukio loves snowball fights and is THRILLED when snow starts falling on Christmas Eve. But none of his other ninja friends will play with him because they're too afraid that they'll end up on Santa's naughty list and forgo all their gifts. What's Yukio going to do?
I Believe in Santa Claus by Diane G. Adamson
I love this beautiful book that shows the symbolism between Santa Claus and Jesus. It's a perfect marriage of the Santa story and the real meaning of Christmas.
When Santa Was a Baby by Linda Bailey, illustrated by Genevieve Godbout
If we had to choose a single favorite Santa book, this would be it. Every year, my girls beg to read this over and over again about how Santa displayed early signs of his eventual profession, from his love of the cold to his desire to give away all his toys to his friends. I love the warm illustrations and the jolly tone of the whole book.
Presents Through the Window by Taro Gomi
In this clever book with cut-outs on each page, Santa peeks in the window and leaves the right gift for the sleeping recipient. Except that when you turn the page, you realize that what you're seeing through the window frame isn't the whole story and the gifts might not be QUITE right. This Santa book is a huge favorite in our home.
Santa Claus the World's Number One Toy Expert by Marla Frazee
Is there anyone on earth who knows toys better than Santa Claus? I'd say no! And Marla Frazee agrees in this delightful book that shows Santa playing with all the toys . . .er, testing them out, so that when Christmas Eve comes, he knows just what to give to every child.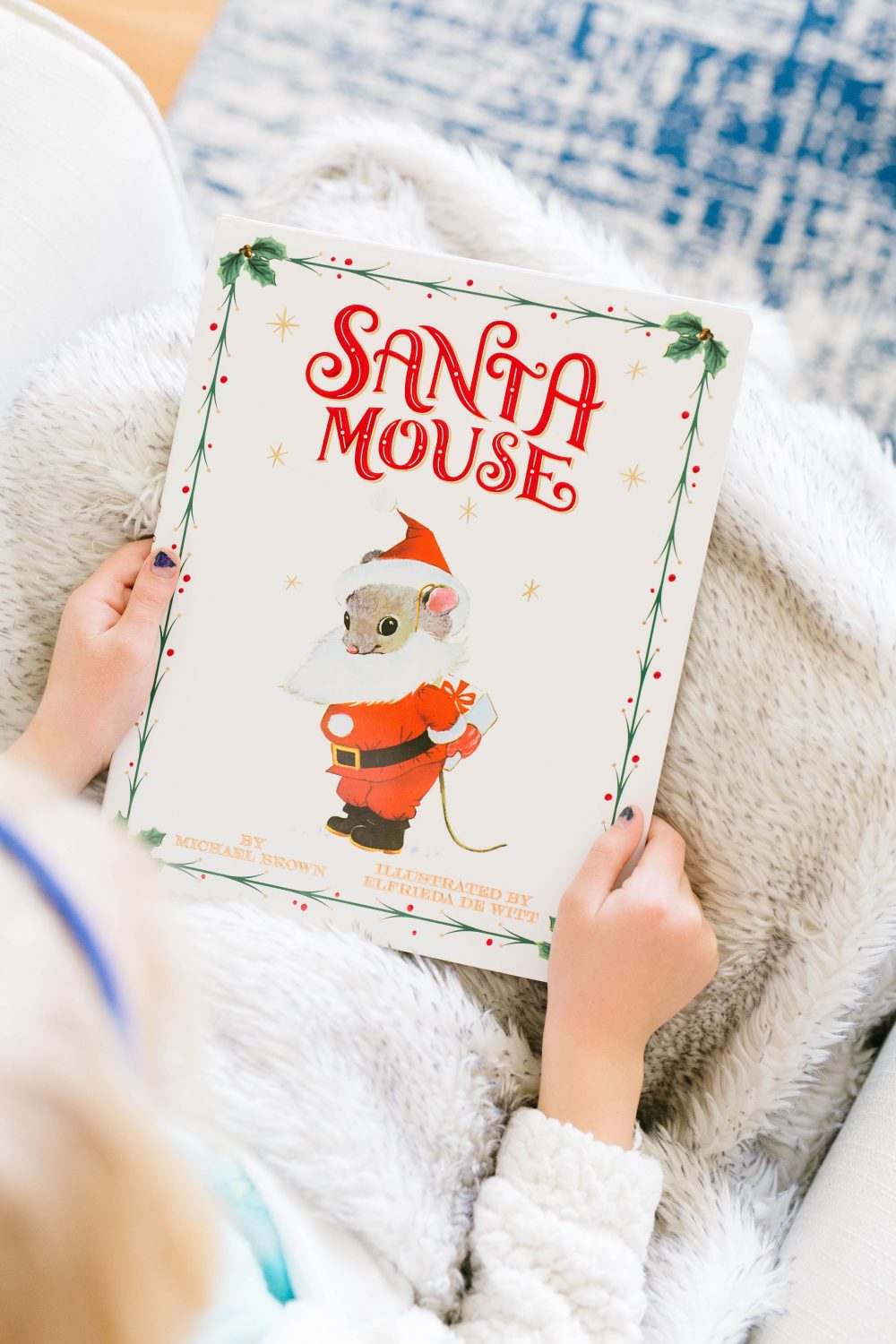 Santa Mouse by Michael Brown
First published in 1966, this classic Santa book was just re-released this year about a tiny nameless mouse who wants to give a special gift to Santa Claus, with delightful results for both Santa and the mouse.
My Pen Pal Santa by Melissa Stanton, illustrated by Jennifer A. Bell
When a little girl writes her annual letter to Santa, she imagines that's it. But when a few cookies are left uneaten on Christmas morning, she writes him a note to see what happened. And soon they're writing back and forth all year long!
Little Santa by Jon Agee
Young Santa loves living in the North Pole but the rest of his family hates the cold and eventually decide to relocate to Florida. But just as they're ready to depart, a terrible blizzard strikes, trapping them all in the house. Happily, Santa figures out a solution to rescue his family!
Here Comes Santa Cat by Deborah Underwood, illustrated by Claudia Rueda
I LOVE the Cat series – they're so clever and surprising. In this Christmas version, Cat is very worried he might not be on the nice list. So he tries to give out gifts himself which turns out to be harder than it looks. This might be a job for the real Santa.
And if you'd like a printable copy of this list of books about Santa that you can take to your library or screenshot on your phone for easy access, just pop in your email address below and it'll come right to your inbox!
Do you have a favorite Santa book I left off this list? I'd love it if you left them in the comments to make this post even more helpful!