I have to admit, I kind of like the challenge of getting dressed these days.
The enormous box of hand-me-downs that Ralphie left me last week (that someone had given HER) hasn't hurt either.
Also, I'm learning an important lesson about taking photographs of myself. Namely, don't take them before nine a.m., because my eyes will look like death. About two in the afternoon is a much better time.
AND, if you'd like to feel like a bit of a moron, wearing a hat indoors is a perfect solution (or perhaps I just think I'm Neal Caffery from White Collar).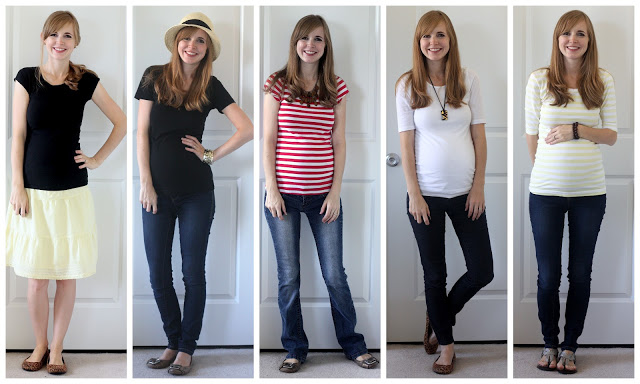 Left to Right:
Skirt: Walmart (super old), Shirt: ModBod, Shoes: Kohl's
Jeans: Ross, Shirt: Target, Shoes: Fossil, Hat: Old Navy, Bracelet: Claire's
Jeans: Ross, Shirt: Old Navy, Shoes: Fossil, Necklace: Claire's
Jeans: Forever 21, Shirt: Old Navy, Shoes: Kohl's, Necklace: Gift from my in-laws
Jeans: Old Navy, Shirt: Shade, Sandals: Old Navy, Bracelets: Old Navy