I can hardly believe today is the last day of 2020!
This has been a solid year of reading for me, in large part thanks to the fact that there was basically nowhere to go for 80% of the year.
I read more books this year than I've read since 2012!
One of my favorite traditions is going through all the books I read over the year and choosing 10 favorites.
There are the books I've loved the very most this year and if you're looking for something great to read, I hope you'll enjoy one of these.
I especially love seeing that on this list there are new books and older titles, books for adults and YA or children's books, mysteries, historical fiction, novels in verse, and non-fiction.
For me, one of the best parts of reading is the variety and I like seeing that reflected in the books I loved most in 2020.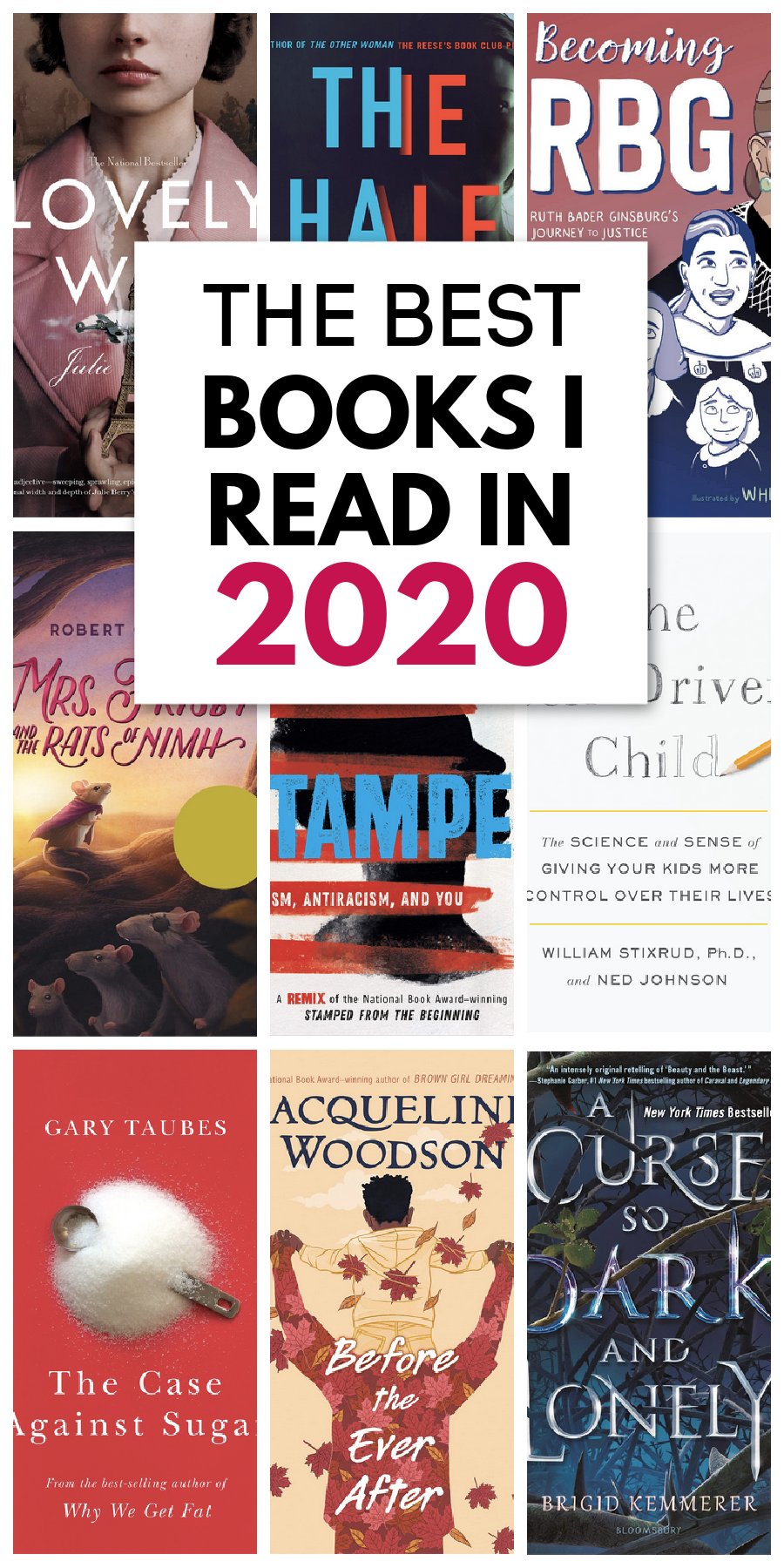 The Best Books I Read in 2020
Lovely War by Julie Berry
You are SO shocked to see this one on the list, aren't you? I loved this World War I book so much – it had everything I wanted in a book: great characters, lots of plot twists, romance, history, and plenty of clever writing. I want everyone to read it. It's definitely gone on my mental list of best books I've ever read. (Full review here)
The Half Sister by Sandie Jones
I listened to this on one of our road trips to Las Vegas this summer and I LOVED it so much. It's about a family where the dad has recently died and then a woman in her twenties shows up, claiming that he was her father. The other sisters? Not thrilled about this development.
Becoming RBG: Ruth Bader Ginsburg's Journey to Justice by Debbie Levy, illustrated by Whitney Gardner
This was a total spur-of-the-moment read. I'd gotten a copy from the publisher and picked it up one morning during breakfast. Embarrassingly, I knew very little about RBG and this graphic novel was the perfect introduction to understand why she's so beloved and why her work was so groundbreaking.
A Curse So Dark and Lonely by Brigid Kemmerer
I read this back in March when the whole world was closing down and I desperately needed something fun and engaging to read. This Beauty and the Beast retelling was JUST what I needed – it's so clever and fun and surprisingly funny. I went on to listen to the sequel and can't wait for the third book to come out in January! (Full review here)
Mrs. Frisby and the Rats of NIMH by Robert C. O'Brien
I read this one aloud to the girls this year and it was such a delight to revisit it. It's one of my all-time favorite Newbery winners and I just think the whole thing is so excellent. The first chapter or two are a bit slow, but after that, it's just fantastic.
Stamped: Racism, Antiracism, and You by Jason Reynolds and Ibram X. Kendi
This is an excellent remix of Stamped from the Beginning: The Definitive History of Racist Ideas in America for younger readers (it's still not meant for really young kids – I think it'd be way over the heads of most elementary schoolers because it assumes you have a fair amount of background knowledge of US history and politics). Jason Reynolds is a terrific writer and also a top-notch narrator – I highly recommend listening to the audio version!
The Self-Driven Child: The Science and Sense of Giving Your Kids More Control Over Their Lives by William Stixrud and Ned Johnson
WHOA. This book was so good – probably the best parenting book I've ever read. I loved discussing this in the Everyday Reading Book Club and it was so helpful to me as a parent. I can't recommend it highly enough. Also, if you missed the Zoom call I had with the authors where I did a Q&A, you can catch that here! (Full review here)
Jackpot by Nic Stone
I read this in January and it was such a strong start to my year of reading. I loved this funny, tender and real book about a winning lottery ticket and two teens' search for the woman who bought it and hasn't redeemed it. I loved it so much, it landed a spot on the 2020 Summer Reading Guide.
The Case Against Sugar by Gary Taubes
In a perfect world, this book would have made me never eat sugar again. In reality, it just was a good reminder to keep my sugar intake down and also how it's basically poison. Kind of a bummer since. . .like most people, I love sugar.
Before the Ever After by Jacqueline Woodson
I often struggle with novels in verse, so listening to them makes them much easier for me to appreciate. This one is TERRIFIC – it follows a young boy who's father is a professional football player and hugely beloved. And now he's starting to act strangely with angry outbursts followed by long periods of silence. I won't lie – I sobbed through the end of this one.
And if you'd like a printable copy of this list that you can take to your library or screenshot on your phone for easy access, just pop in your email address below and it'll come right to your inbox!
I'd love to hear YOUR favorite books from 2020 – let me know in the comments.
And if you're looking for more favorite books, you can see all my past lists of my favorite books of the year here!
If you liked this list of the Best Books 2020, you might also like these posts: