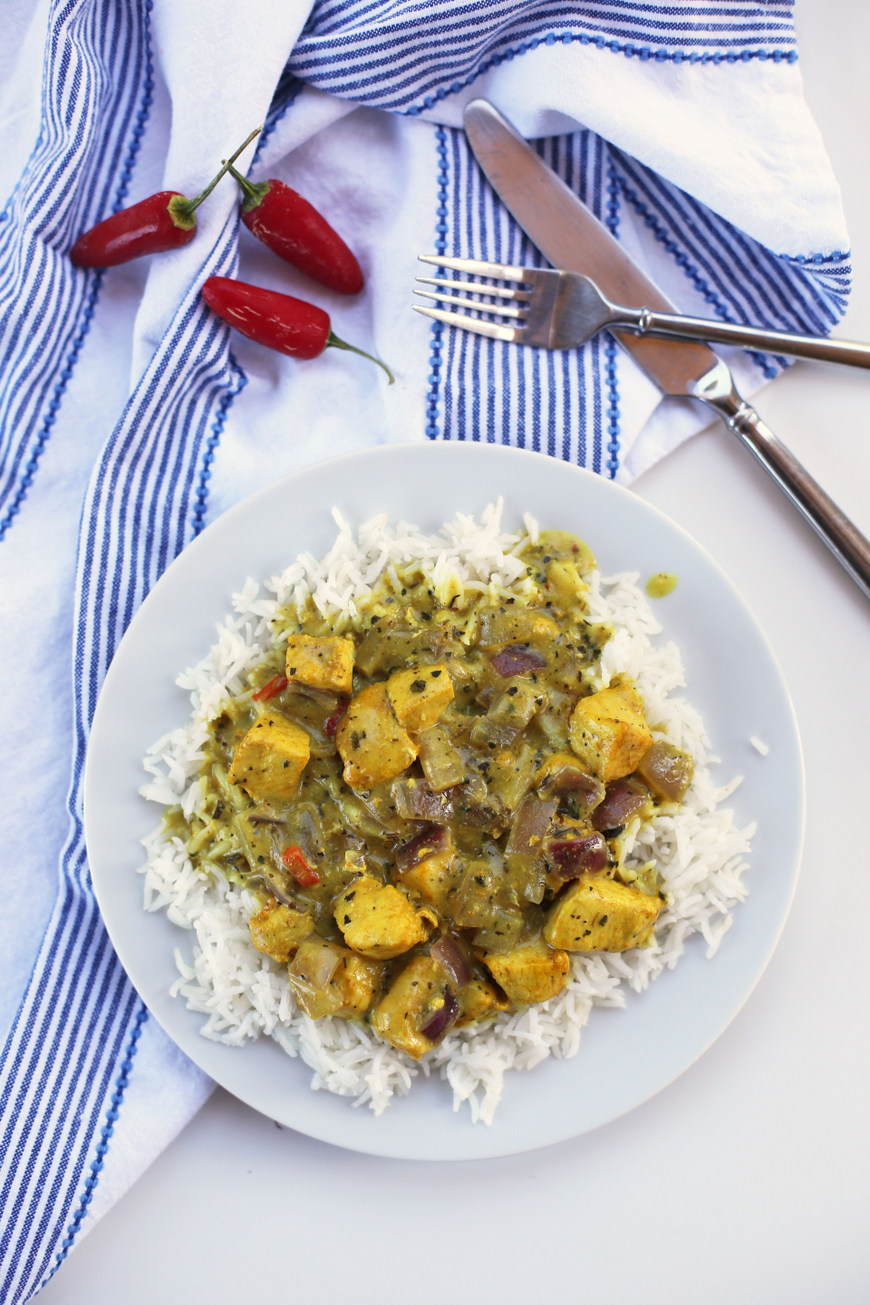 When I wrote this post about routines, I mentioned that grocery shopping was killing me – I had no regular system for meal planning and grocery shopping (even grocery pickup isn't helpful if you don't know what you need to buy).
A few weeks ago, I had a doctor's appointment for Tally scheduled on Monday afternoon. As I was looking at the calendar for the week ahead, I realized I could go straight from her appointment to the grocery store, which is pretty nearby.
So on Sunday night, as part of my planning, I made a menu and a grocery list and tucked it in my purse. After Tally's check-up, we headed to the grocery store, grabbed all the things we needed, and were home to put everything away just in time for dinner. It was kind of like magic.
Coincidentally, I had my own doctor's appointment scheduled for the following Monday afternoon, so riding on the success of the previous week, I planned to go again right after my appointment.
And it worked perfectly.
I already do a lot of planning on Sunday night, so adding my menu planning to it wasn't hard, plus Monday is the day that I feel the most motivated and accomplishment driven, so it's been a good fit so far.
Best of all, it's meant MUCH less scrambling to put dinner on the table. Not only do I have a menu planned and all the ingredients for it, but starting the week off with a plan gives me all sorts of momentum to keep making dinner each night for the rest of the week.
It's ridiculous how much of a relief it is to have this reoccurring issue finally solved.
At least for now, since if there is one thing I know about life, it's that it's always changing.
But one unchanging thing is how much we love this basil coconut chicken curry – I've been making it for the last five years and it's always a hit. It isn't spicy (just the tiniest bit of heat) and it comes together super quickly in one skillet.
And it has pretty basic ingredients, so even if I hadn't gone to the grocery store on Monday, I still would have been able to whip it up for dinner.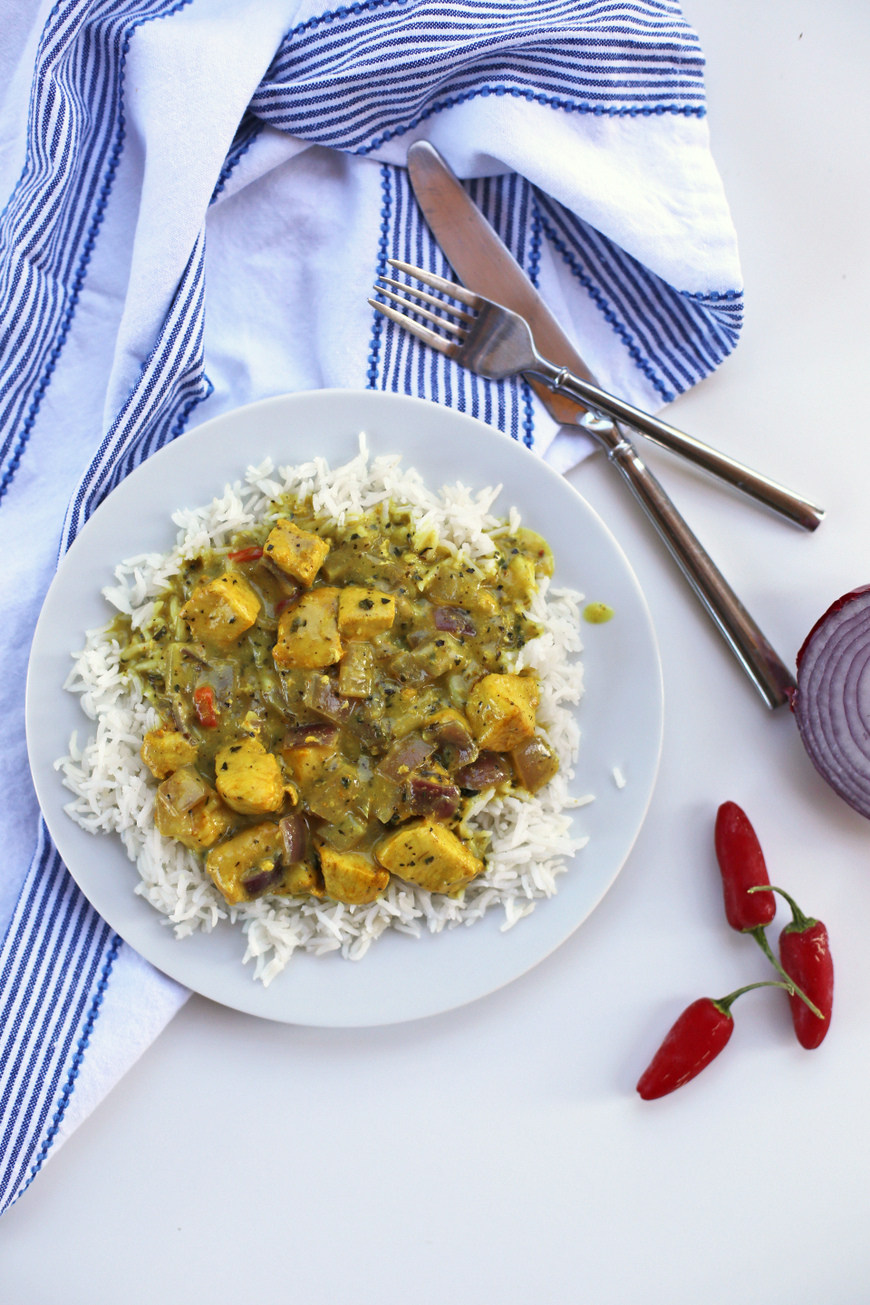 basil coconut chicken curry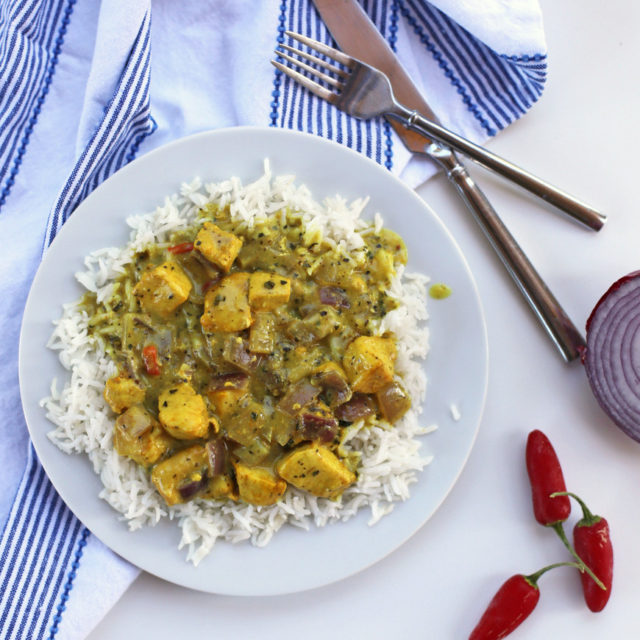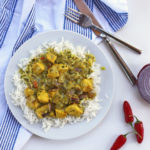 Basil Coconut Chicken Curry
An easy one-pot curry that's made with ingredients you probably already have in your pantry!
Total Time
1
hour
30
minutes
Ingredients
2

chicken breasts

cut into 1-inch pieces

2

teaspoons

yellow curry powder

1

teaspoon

salt

1/4

teaspoon

ground black pepper

1/4

teaspoon

chile powder

(I used ancho chile powder but any type is fine)

2

Tablespoons

olive oil

1/2

red onion

diced

2

jalapeno peppers

seeded and diced

4

cloves

garlic

minced

1

teaspoon

fresh ginger

grated

1

Tablespoon

dried basil

1

can (14 oz)

coconut milk

2

Tablespoons

cornstarch

cooked rice

for serving
Instructions
Mix together the curry powder, salt, pepper, and chile powder. Sprinkle over the diced chicken pieces in a mixing bowl and stir until everything is well-coated. Cover and place in the fridge for 1-2 hours.

In a large skillet, heat the olive oil over medium heat, then add the onion and jalapeno and cook until soft, about 8-10 minutes, stirring occasionally to keep it from burning.

Add the garlic, ginger and basil and cook for 30 seconds, stirring constantly. Add the chicken pieces, including any juices from the bottom of the bowl and cook until the chicken is almost cooked through, about 5 minutes.

Pour a few tablespoons of the coconut milk into a small bowl and whisk with the cornstarch. Add the rest of the coconut milk to the skillet, scraping the bottom, until everything is well-combined. Add the coconut milk/cornstarch mixture, stirring constantly, and then let cook about 3-5 minutes until the sauce is thickened and the chicken is completely cooked through.

Salt and pepper to taste and serve over rice.
if you liked this basil coconut chicken curry recipe, you might also like these other posts: