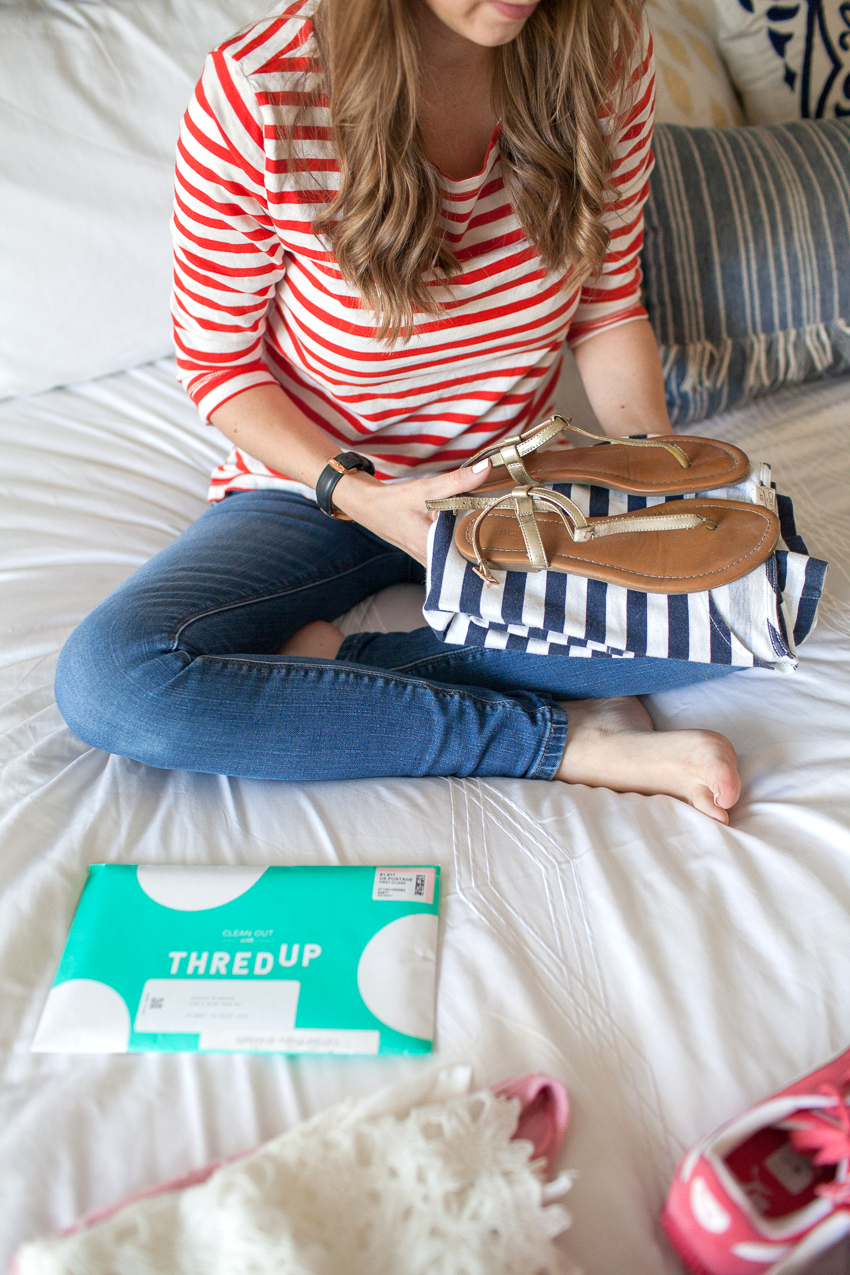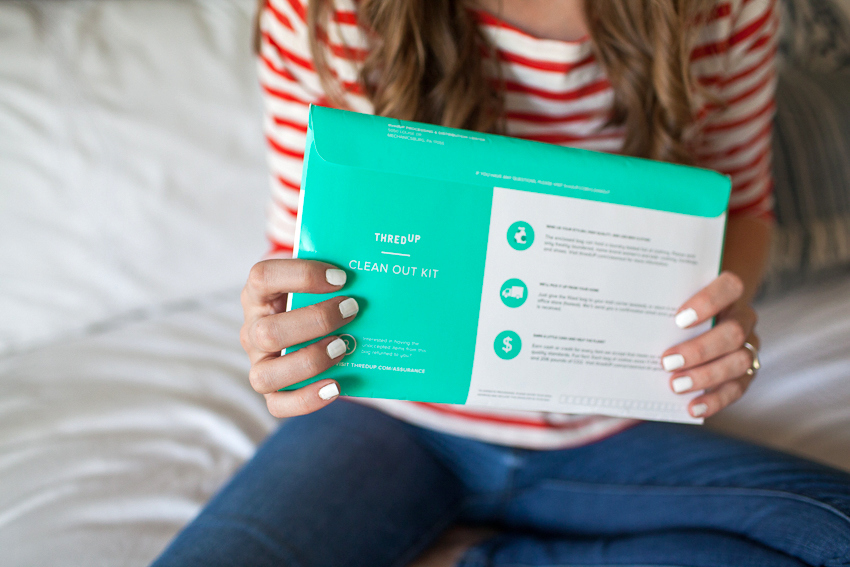 This post was created in collaboration with thredUP, a company I'm completely obsessed with, as you already know
Toward the end of my pregnancy, I started getting super tired of all my maternity clothing.
I was so ready to bring back my regular clothing and be done with the same three pairs of pants, two dresses and handful of tops.
At that point, with only a few weeks left in my pregnancy, it didn't make sense to buy anything new, but with the killer combo of nesting and spring cleaning fever hitting me hard, I was dying to do SOMETHING.
So I ordered a Clean Out Bag from thredUP.
It comes folded down to almost the size of standard envelope but the thing opens up to be a pretty enormous bag – this is my third or fourth and I still can't get over how much you can squeeze into it!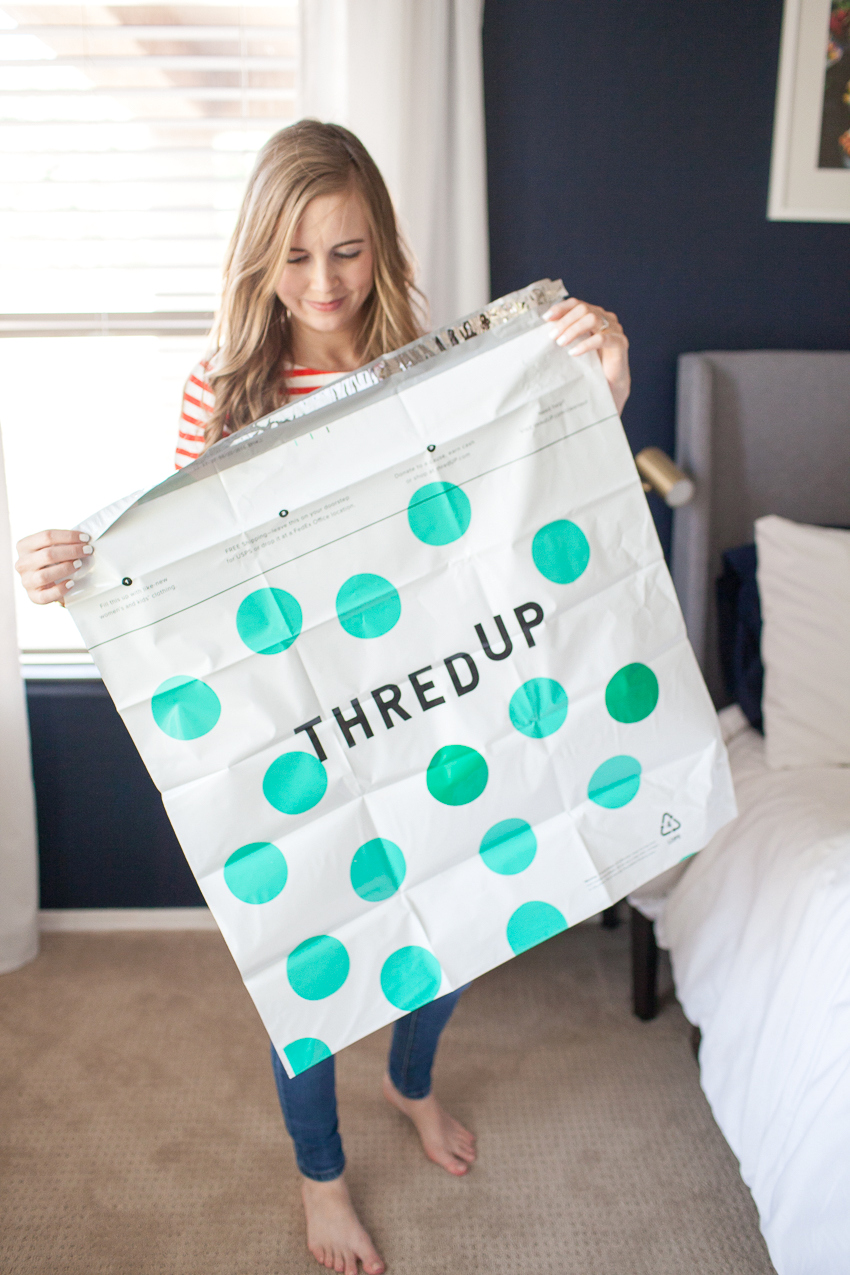 I put the Clean Out Bag in my closet and started collecting a few items over the next few weeks, both from the girls' closets as I got ready for Tally's arrival, and in my own closet. I'd grown out of some of my maternity items by that point so with each one I decided if it was something I'd be willing to wear again if I had another pregnancy and if it wasn't, into the bag it went.
I also went through my shoe collection and added a few pairs to my Clean Out bag.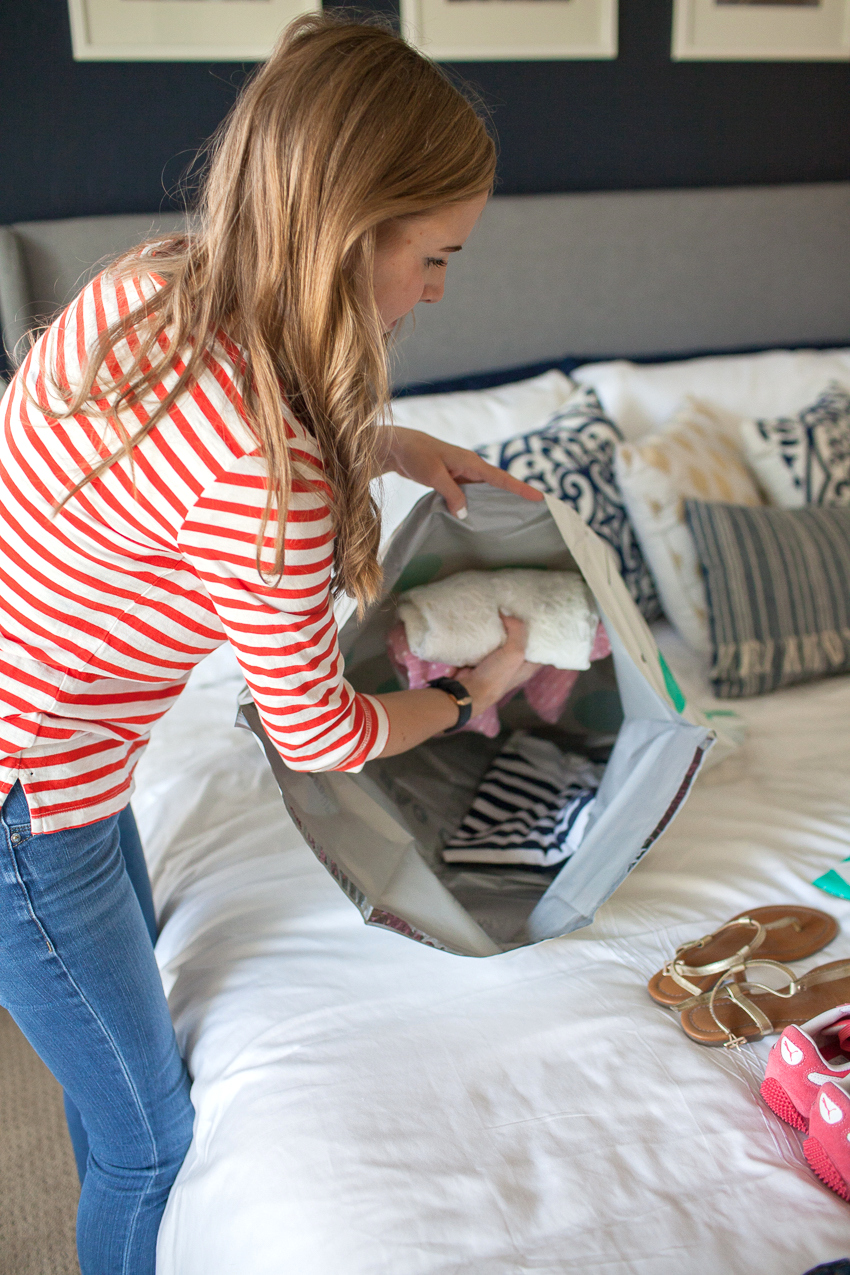 Once Tally was born and I unpacked all my regular clothing from the basement, the real fun began.
It's kind of nice to go through everything in your closet at once and to see it all with fresh eyes.
As I looked through everything, I asked the basic questions (is it in decent shape? does it fit well? have I worn it in the last year?), but my main determining rule is this:
If it's a question mark, the answer is no.
This is my number one tool when I'm either buying clothing or deciding to keep something. If it isn't basically perfect and something that makes you think, "I LOVE THIS ITEM SO MUCH," get rid of it (or don't buy it).
I can't tell you how many times I've tried something on in a dressing room and thought, "Well, it might shrink a little and then it'll fit perfectly" or "it might work better with some other pants."
News flash – this has NEVER happened to me.
In fact, it's the opposite. Something that was ALMOST right in the dressing room (or when you try it on at home when you order online) suddenly becomes almost completely wrong when you go to wear it for real a few days or weeks later. I don't know what this dark clothing magic is, but it's so predictable for me that now I just know to expect it.
It's like hair cut day – you're DYING to chop it off and get it all cleaned up and then the day or two before your appointment, you have the best hair days of your life (or is that just me?) and you think "Maybe I should cancel my hair cut."
Similarly, it's easy to look at something you haven't worn in a year and think, "Oh, I can't get rid of this – I'll definitely start wearing it/get it repaired/lose weight/start liking these unflattering colors on myself."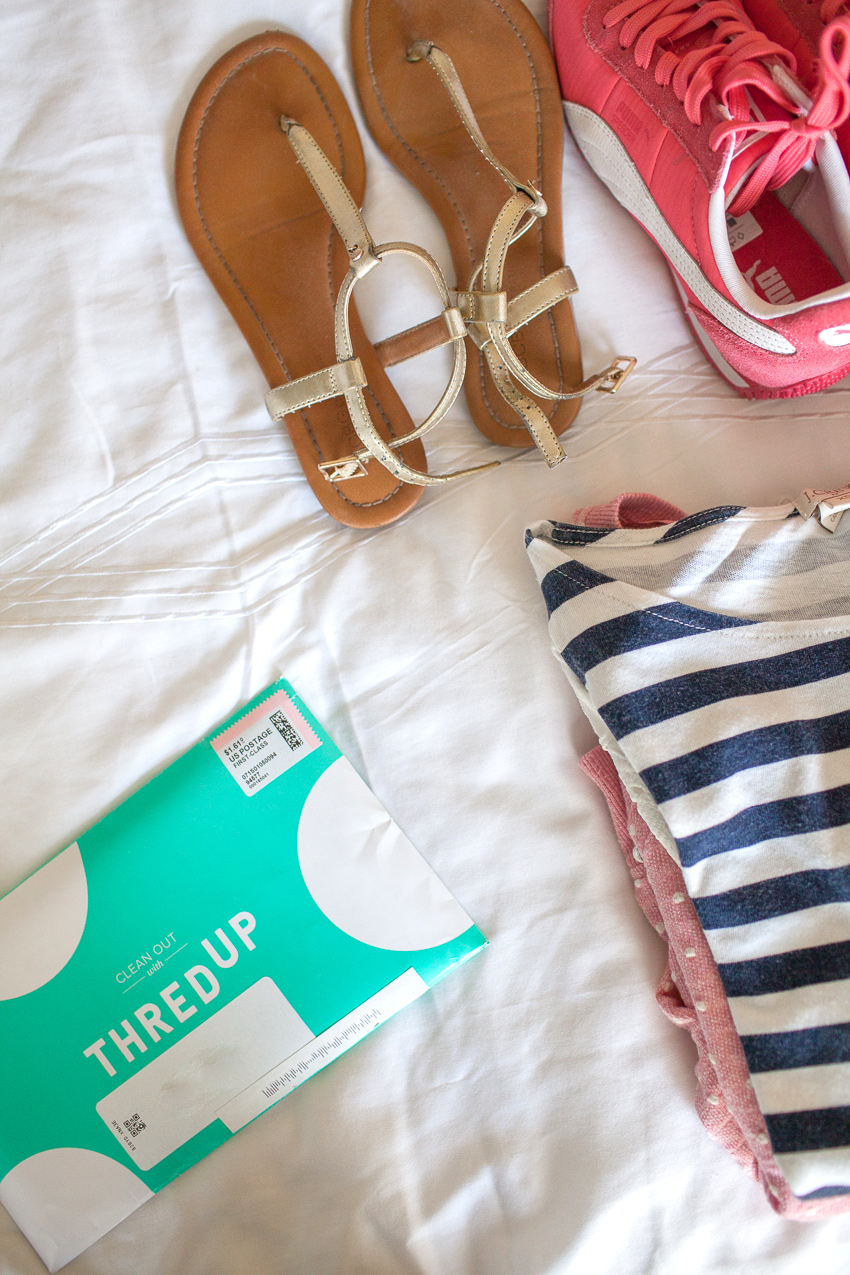 The witty folks at thredUP calls this "throwmo" – fear of throwing out clothing because you might miss them someday. They put together this funny little infographic quiz to help you decide whether or not it's worth keeping.
I've gotten much better over the years about not hoarding my clothing that no longer (or maybe never did) work for me. I try to regularly go through my closet and get rid of things that were poor purchases, don't quite fit, or are just worn out.
And the Clean Out Bag is the simplest way to do it! You just order a Clean Out Kit and it shows up in your mailbox a few days later. Fill it up with clothing that doesn't work for you, hand it over to your mailman (or mailwoman, in my case) and done!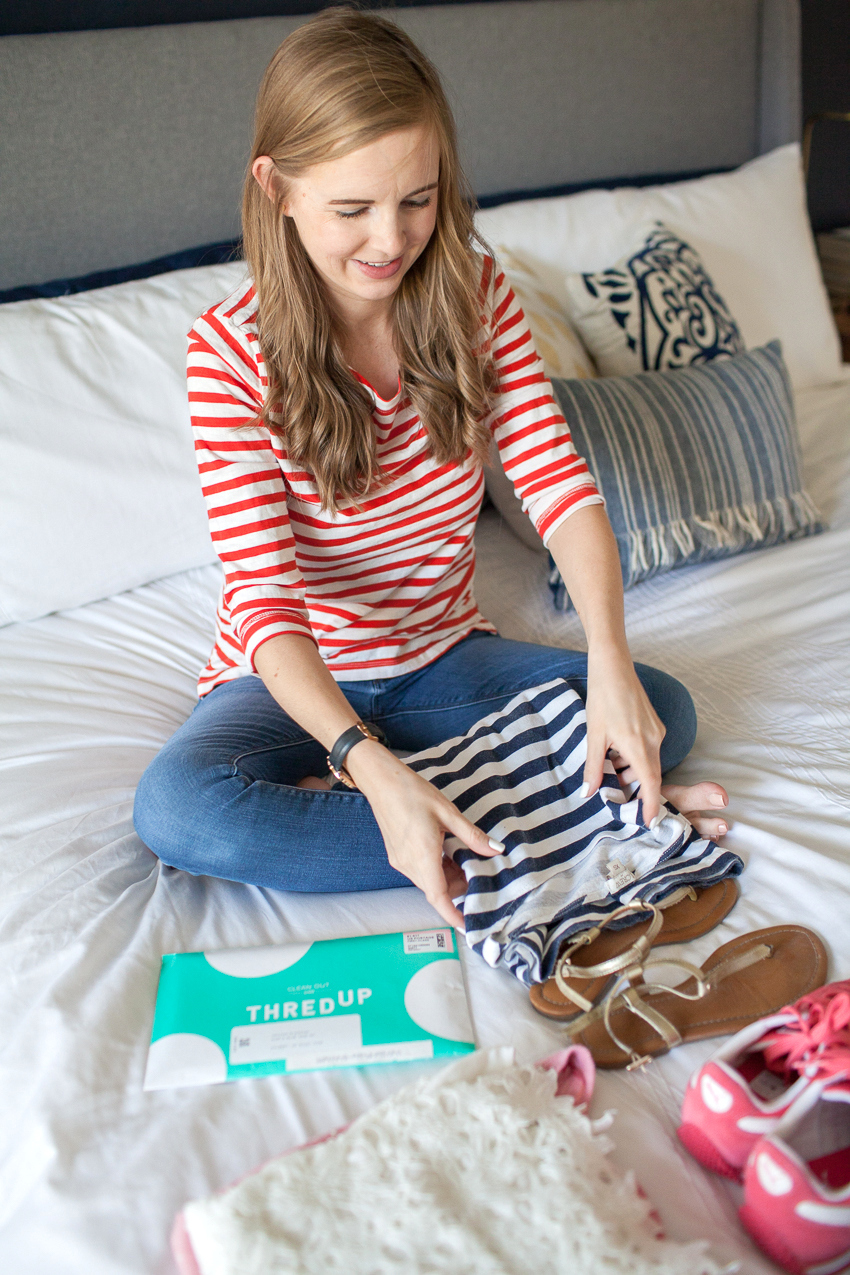 You can choose to have thredUP send back your unaccepted items by choosing Return Assurance, but I've never used it. Once I've decided I'm done with something, I don't want it back – I want to clear things out and have space for new things I love more.
Also, be aware that the Clean Out Bag is not a way to make mountains of money – it's a service to get rid of things you don't want in a guilt-free (and super convenient) way. The EPA says that 85% of all clothing donated ends up in landfills, and thredUP guarantees that none of your donations will end up there.
Plus, you don't have to make a trip to donate it (anyone else suffer from that thing where your donation pile sits around for WEEKS before you finally take it to donate? Just me?) and you can make a few bucks in the process (or you can choose to have your payout go to charity). Wins all around.
And, of course, now that I've cleaned out my closet, it's so much easier to get dressed because I'm not wading through things I don't like and don't wear, AND there's room for some fun new additions for spring and summer.
And I'm so happy that none of those additions will be maternity.
P.S. You can get 40% off your first thredUP order with the code READ40 through June 30th (maximum discount of $50)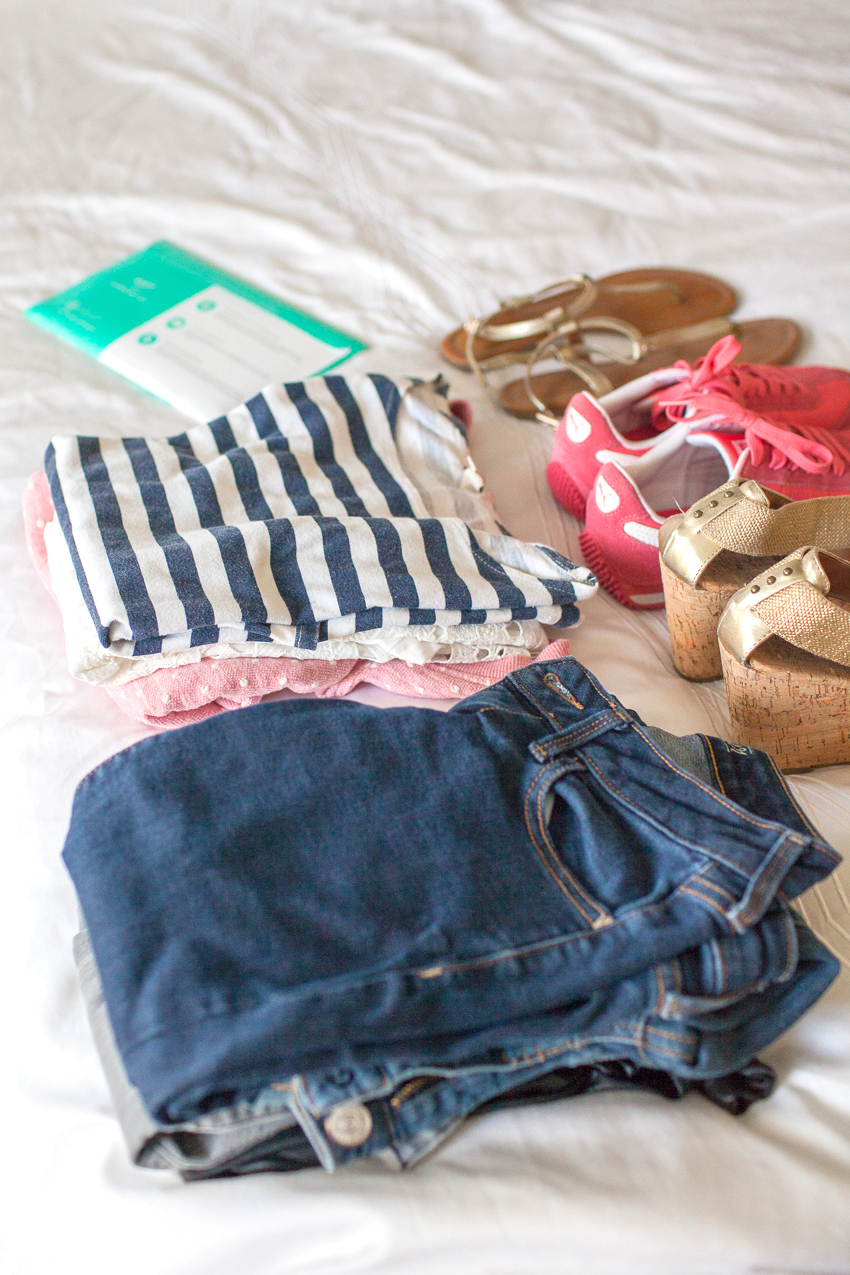 if you liked this post about how to clean out my closet, you might also like these other posts: