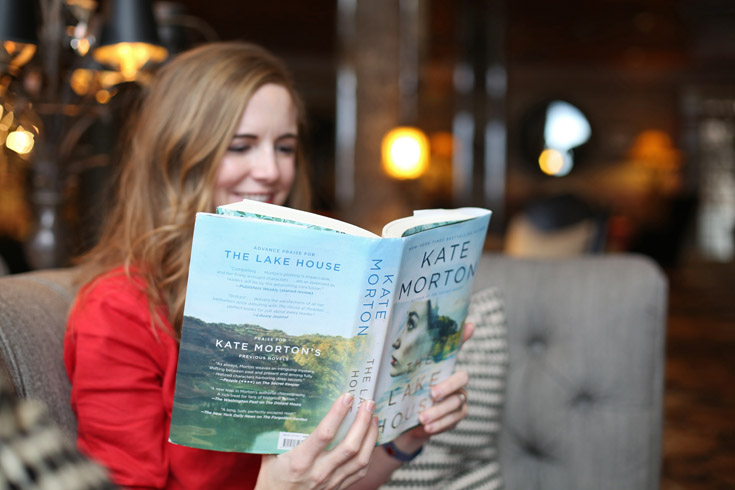 The Lake House is Kate Morton's fifth book, but only the second one I've read.
A couple of years ago, for Tell Me What to Read, I finally read The Secret Keeper, after several years of meaning to try her out (my mom and my sisters are all big fans of Kate Morton books).
And I LOVED The Secret Keeper. It was phenomenal and I still remember finishing the last pages with thrill at discovering how the whole plot had unfolded.
Then, I promptly proceeded to read zero more of her books. I have no excuse.
The Lake House book came out last fall and I started to hear more and more about it, how it was her best one yet, and still. . . I didn't read it.
And here's what I feel like I never hear about Kate Morton books – I think her books take a little bit of time to get in to. I read the first few pages and then weeks passed before I picked it up again.
She just has so much going on in the beginning, usually multiple narrators and two different time-periods, plus very little info about how any of it fits together, that it takes me a while to plow through enough that reading becomes enjoyable instead of a little bit frustrating.
So if you've picked up a Kate Morton and given up, know that you're in a good company (assuming you think I'm good company. If not, know you're in poor company)
Finally, a day or two before I left for Seattle, I picked it up again and restarted from the beginning (since it'd been months since I began it and I couldn't remember what happened in the first 40 pages), and this time, I got in the swing of it and was able to move quickly through it. My mom happened to be reading it too and we compared notes about our progress during our trip.
Anyway! The basic plot of the story.
the lake house by kate morton
Alice is a teenager in the 1930s. Her family owns a gorgeous mansion in England called Loeanneth where Alice and her sisters and little brother live quite the enchanted life with their parents. But then, on the night of the annual summer party, that youngest brother (Theo, age 11 months or so) goes missing.
Of course, the family is in an uproar and the police comb the grounds and surrounding town and country trying to figure out what might have happened to Theo. His body is never discovered so they don't even know if he's been killed, died in an accident, or been kidnapped.
Within a year, the family moves back to London and Loeanneth is left abandoned.
Fast-forward seventy years, and Sadie, a detective with the London police force, finds herself suspended from her job and seeks refuge with her grandfather in the countryside. Of course, she happens upon the abandoned (and now very overgrown) Loeanneth and asks enough questions to find out about baby Theo and the mystery of his disappearance that was never solved.
Since she has all the detective skills but nothing to actually work on, thanks to her leave of absence from her job, she starts poking around since working through this mystery helps take her mind off the case back in London that got her in trouble.
Sadie soon discovers that Alice is still alive (of course, very old by now) and is the best-selling author of dozens of mystery novels. But Alice wants nothing to do with Sadie and REALLY doesn't want to talk about what happened back in 1933 the night that Theo disappeared.
But Sadie isn't one to let the mystery go, and she's not about to be stopped by an old lady who doesn't want to talk.
The book jumps between 1933 (the night of the party where Theo disappears) and the present, and then also gives lots of flashbacks into the lives of Alice's parents before their marriage, early in their marriage, the years of WWI, and the years leading up to Theo's disappearance.
You also get Alice's point of view and Sadie's point of view, plus a few other minor characters (like Alice's assistant). Once you get into it, it's not hard to keep track of, but you might need a little faith in the beginning.
I rarely stay up late reading a book, but The Lake House was one I just couldn't put down because I had NO idea how it was going to play out and I had that rare heart-pounding/can't-read-fast-enough experience that is really pretty fun.
She just keeps you guessing until the very end. She loves giving you enough clues that you think you've solved the mystery and then you find out a few more details and suddenly your brilliant deduction is proved wrong.
I heard Modern Mrs. Darcy say on her podcast recently that Kate Morton likes her endings tied up neatly, but I thought this one was more than neat. While I loved the perfect way everything fit together in The Secret Keeper, this one was just TOO tidy.
I mean, I like a clean ending without a bunch of loose ends as much as the next person (LOST, this is me giving you the side eye), but the ending of The Lake House book was just too much for me to swallow.
But either way, I think I'm finally convinced to go back and read more Kate Morton books. If you have suggestions about which one to try next, I'll welcome your input.

If you liked this review of the lake house, you might also like these books: