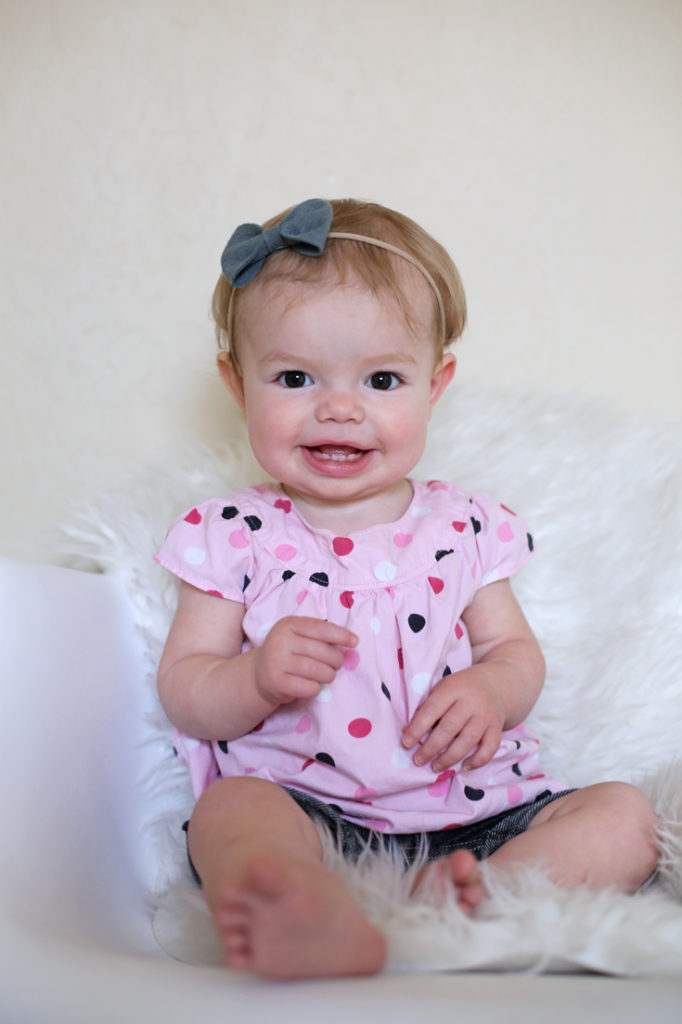 Yesterday, Star turned one.
I've done a terrible job of documenting her first year on my blog (I did monthly posts for a whole entire four months before I stopped and never did one again, which I regret).
But that lack of posting is no indication of our ridiculous affection for her. Our whole family is basically obsessed with her.
She started early attempts at walking over a month ago and now walks almost exclusively. She's also into everything, pulling out the kid dishes, the DVDs, the books, and everything under our bathroom sinks in an endless loop. I'd kind of forgotten about this stage.
She also wants to be involved in whatever the rest of the family is doing. If we're reading a book on the couch, she wants to join in. If we're eating, she better be in that high chair too. And if we're all snuggling in bed in the morning, she will let you know that she is unhappy about being on the floor.
She is a HUGE eater, and Bart and I joke all the time that we've never actually seen her get full – we just stop feeding her when we're tired of providing food. She'll routinely eat an entire banana just as a warm-up and then eat a full meal. She can knock back three clementines in a row for a snack without blinking an eye. And she still nurses four solid times a day. I'm dying to know how much she weighs at her doctor appointment next week and where she is on the growth charts (updated: she was 19lb, 14oz which put her at 50% and 30 inches long which was 74%. Her head was 18 1/2 inches, which was 93% – we like our babies big-headed around here).
The older girls both love Bart, but if they're hurt or sad or overly tired, they usually pick me. Not Star. She is a daddy's girl through and through, and she can't get enough of him. Occasionally, she'll grab my legs and then look up and discover it is me and scoot over to Bart. It's just so cute – I don't mind a bit.
She developed a habit months ago of holding her pacifier clip when she's tired and rubbing it on the side of her nose. It's a dead giveaway that she needs to be put in bed immediately.
And she is a huge fan of her pacifier. By the time Ani was about 8 months old, we only gave her the pacifier at night (once we went to London, we also kept one in the stroller because it was one of the few ways we could convince her to stay in), but Star always has hers clipped to her clothing, and loves that thing. She must be a pretty aggressive sucker too, because she has already completely destroyed one pacifier, something that took the older two girls years to do.
Her hair is just barely starting to come back in and is getting a bit shaggy around the ears, and I just want to rub her little head all the time. Whenever I do, I think of the first moments after her birth – Bart was holding her and she was looking around with her big eyes and then he started gently rubbing her head and she closed her eyes and just settled right in.
And she's definitely a brown-eyed girl. I think she looks a little bit like my sister, Merrick, with her dark, wide-set eyes. If Merrick is any indication, Star has good things to look forward to in the looks department.
Star also wants to snuggle everything in sight. When I got my flu shot at Target, the pharmacist gave her a little stuffed dog and Star immediately tucked it under her chin and held it close with both arms. Yesterday, we went to the grocery store and Bart handed her a little bag of bulk fruit and she tilted pulled it up to her ear, tilted her head down against it and held on with both arms. If there is any possibility of snuggling something, she's going to do it.
I've never felt particularly like my children were growing up too fast, but with this sweet little girl, I feel like her first year raced by and she's growing up too fast.
Almost every night, when I've finished nursing her on the bed in her room, I stand next to her crib, rock her for a moment or two while she fights to keep her eyes open and whisper, "Thanks for being my baby."
I just love this little girl.