I don't drink coffee (the smell of coffee makes me think of vacation, because, as a child, the only time I ever smelled coffee was when we stayed in hotels), but that doesn't keep me from occasionally splurging on a bottle of coffee creamer.
I mean, a liquid that is flavored like creme brulee (the first flavor I ever bought about four years ago)? Would it be wrong to pour that on my cereal? (Bart would say yes, but he also doesn't like whole milk, so I ignore his opinion on all things dairy).
When I saw this recipe for individual pumpkin cheesecakes that used coffee creamer, I thought "This is something I should make."
Also, I had a big bag of gingersnaps in the pantry (this is very unusual – they were leftover from when I made this dulce de leche pumpkin cheesecake dip), so obviously they needed a gingersnap crust.
(Although, if you want to make them even easier, skip the crust, pour the filling right into the cups and crumble some gingersnaps on top. Easy).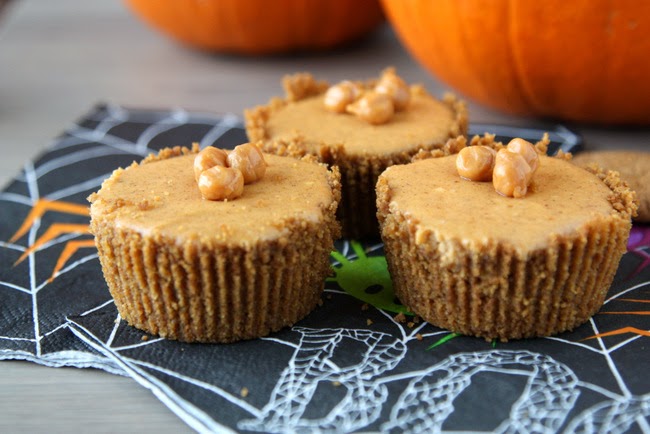 mini pumpkin cheesecakes
Mini Pumpkin Cheesecakes with Gingersnap Crust
Fun, fall snack to make for an autumn day.
Ingredients
12

muffin cup liners

10

ounces

gingersnaps

ground into crumbs

8

Tablespoons

butter

melted

1

8-oz package cream cheese, softened

1/4

cup

granulated sugar

1

teaspoon

ground cinnamon

1

Tablespoons

all-purpose flour

1

teaspoon

vanilla extract

Pinch

of salt

1

egg

1/4

cup

pumpkin puree

1

Tablespoon

Pumpkin Spice Flavor Liquid Coffee Creamer

if you don't have coffee creamer, you can use sour cream instead, and a dash each of ground nutmeg and ground cloves.

Caramel pieces or sauce for topping

optional
Instructions
Preheat oven to 325. Line your muffin tin with muffin cup liners and set aside.

Combine gingersnap crumbs and melted butter until completely combined. Press into muffin cups, including up around the sides. Bake for 10 minutes.

While the crusts bake, beat the cream cheese with an electric beater or stand mixer until smooth. Add remaining ingredients and beat until smooth, scraping down the sides as needed.

Divide filling evenly among the muffin cups (it won't rise, so you can fill it just below the top line) and bake for 15-18 minutes, just until set.

Let cool on the counter, then chill in the fridge until serving.

Drizzle with caramel or top with caramel pieces.
Recipe Notes
(adapted from here)
if you liked these mini pumpkin cheesecakes, you might also like these other posts: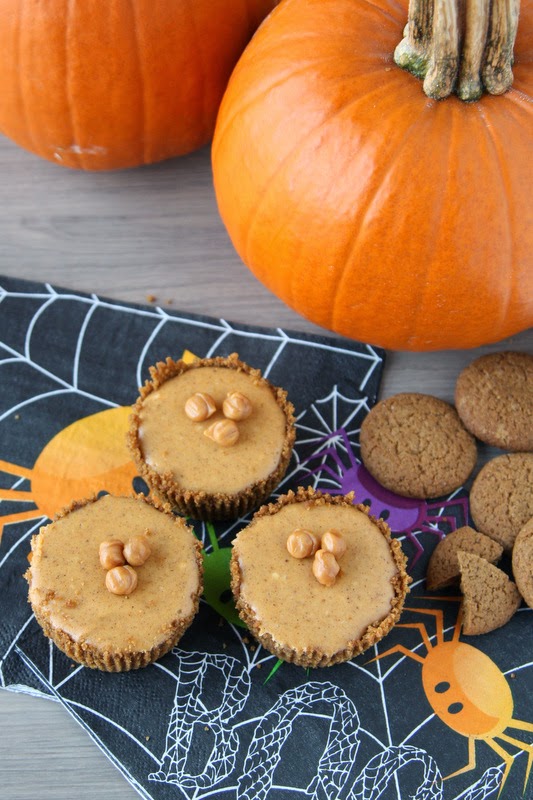 (And I think what the Internet needs, besides more pumpkin dessert recipes, is more pictures of children at a pumpkin patch. I'm here to serve. We went last weekend with all the families in the MBA program – happy to see Bart's tuition dollars at work.)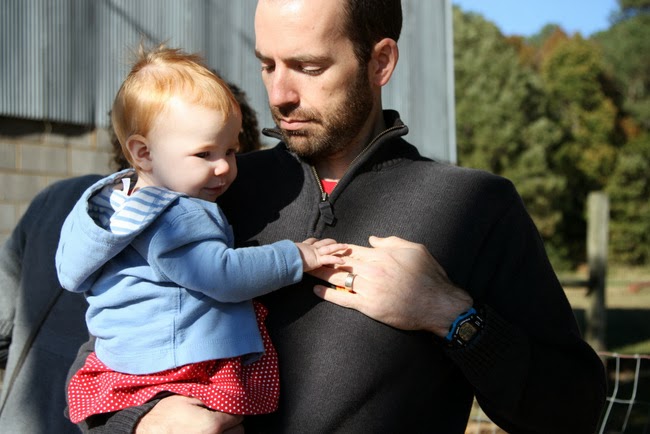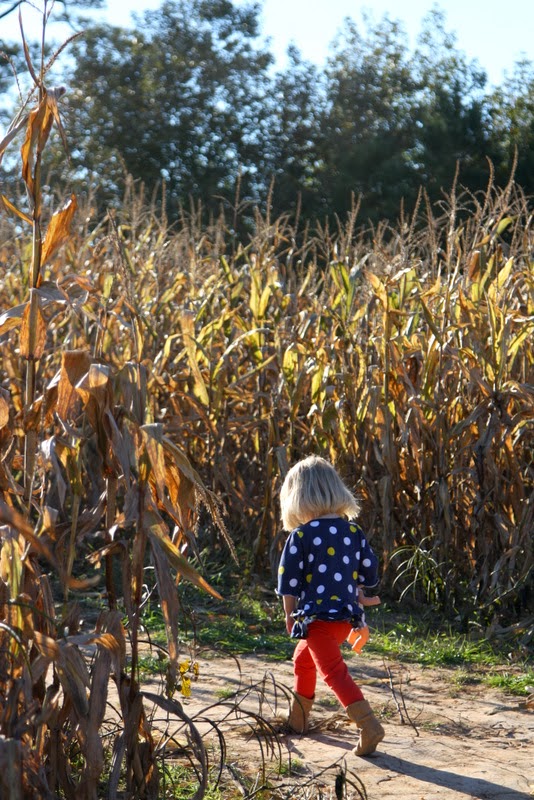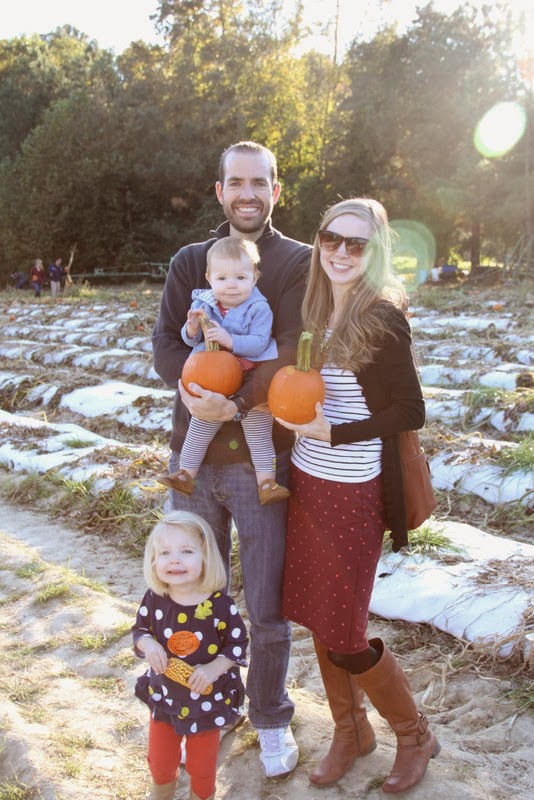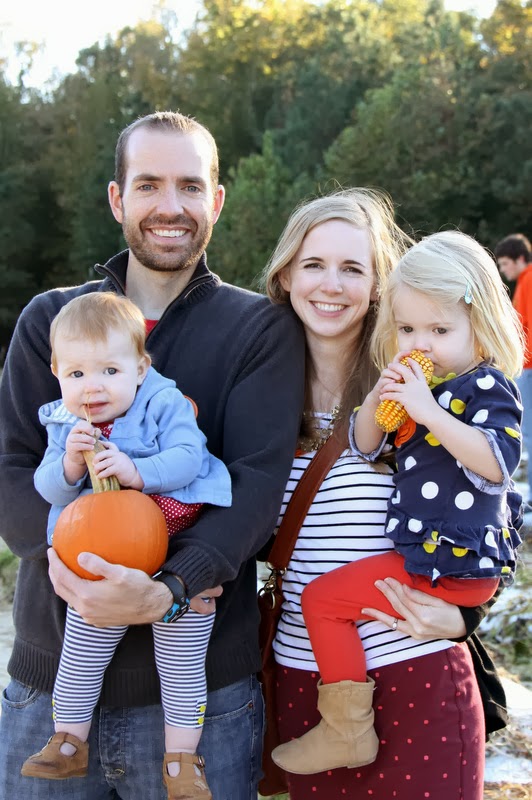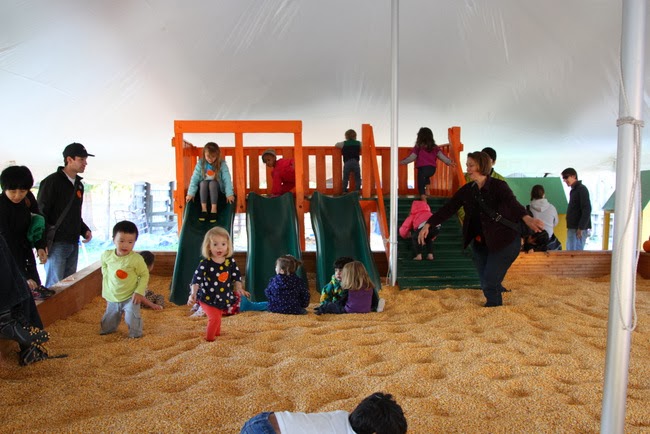 This corn crib was EVERY kid's favorite part. Both of my girls didn't want to leave.