Oooh, the book deals are just ON FIRE this week!
So many good options and it's making me so happy – here are some of my very faves.

Mid September Book Deals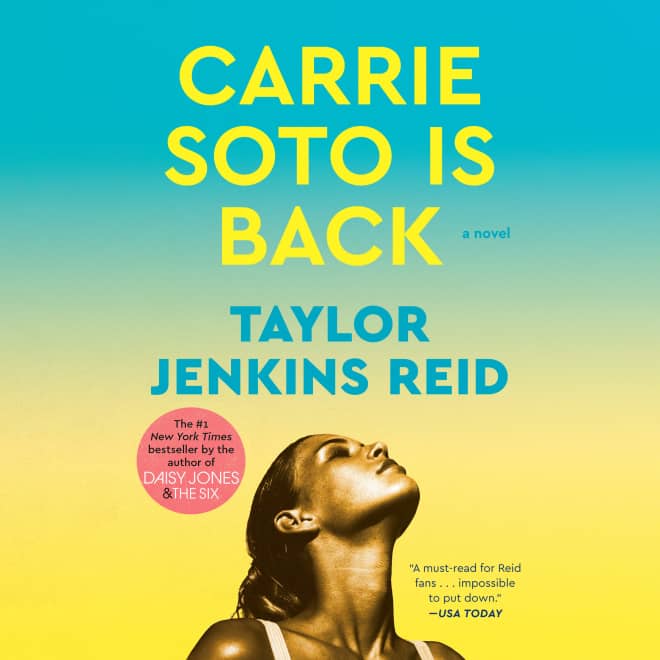 Carrie Soto Is Back by Taylor Jenkins Reid – audiobook
I've read every book Taylor Jenkins Read has written and I think this is her best one. Carrie Soto is the best tennis star tennis has ever seen. She's been retired for six years and now someone young and up and coming is gunning for her title. Well, Carrie Soto is not about to let that happen, so she comes out of retirement, asks her dad to coach her again, and she is going to do everything in her power to try and keep that title (even though being a 35 year old tennis star is not the same as being a tennis star in your twenties). I blew through this book in a single sitting in one afternoon. I LOVED it so much! (If you're new to Chirp, here's a whole post about how it works). 

Big Magic: Creative Living Beyond Fear by Elizabeth Gilbert – ebook
This book is definitely on the woo-woo side, but I LOVED it and found it so inspiring. It's a great book if you're wanting to try something new in your life and need some inspiration. (You can see my full review of it here).
The Secret Keeper by Kate Morton – ebook
I've read several of Kate Morton's books and this is by far my favorite. When Laurel is sixteen, a stranger arrives at a family birthday party, calling Laurel's mother by name and her mother stabs and kills him. The family never mentions it again and the story splits into two parts – Laurel, fifty years in the future, now an extremely successful actress, knows her mother is close to death, and finds herself desperate to understand, before it's too late, what exactly happened with her mother and this mysterious man she murdered. The other story takes place in the early 40s, during WWII, in London where two young women become friends in the days of the London Blitz. Somehow these stories intersect and Laurel is determined to figure out how. (Full review here)

Moon Over Manifest by Clare Vanderpool – ebook
One of my favorite Newbery winners in recent years, this story is told by two different voices – a young girl during the Great Depression and a young boy just before WWI breaks out. This one is just phenomenal.  (Full review here)

Flying Solo by Linda Holmes – ebook
Laurie is confident in her decision to not get married and have children (in large part inspired by her Aunt Dot's life). After her aunt's passing, Laurie returned to her hometown to go through Dot's things. Among them is a wooden duck decoy, which sends Laurie down a rabbit hole to trace the decoy's origins. The rabbit hole ALSO might include a second-chance romance with the man who now is the town's librarian. I ALMOST put this on the Summer Reading Guide when it came out – it was just a delightful read. 

Leila, The Perfect Witch by Flavia Z. Drago – audiobook
This is a fun story of Leila Wayward, a little witch is who is excellent at. . .everything. That is, until she tries to enter a bake off and realizes she's not so perfect in the kitchen. Fortunately, she has three magical sisters who are more than happy to help her with her recipe. I recommended it in my post about new Halloween books in 2022 and I was delighted to see it as an audio version for such a good price! (P.S. you can make a Yoto Card with it if you'd like!). 

Magic Marks the Spot by Caroline Carlson – audiobook
This book is so fun and Ella loved the whole series about a very determined girl who is set on joining a league of pirates. The audiobook is fantastic – it's read by my all-time favorite narrator. 

Originals: How Non-Conformists Move the World by Adam Grant – audiobook
If you're a Malcom Gladwell fan (which I am), this is a book in the same sort of vein and I LOVED it. I especially loved that it ends with practical ideas for implementing these principles into your own life, whether that's as a parent, a business owner, a neighbor, or a student. (Full review here)