Isn't summer just so great?
Even when you're mostly just staying at home, it's hard to beat the season of fresh produce everywhere you look (I bought 12 boxes of raspberries the other week and it was the BEST) and evening bike rides.
Here are a few of my favorite things right now: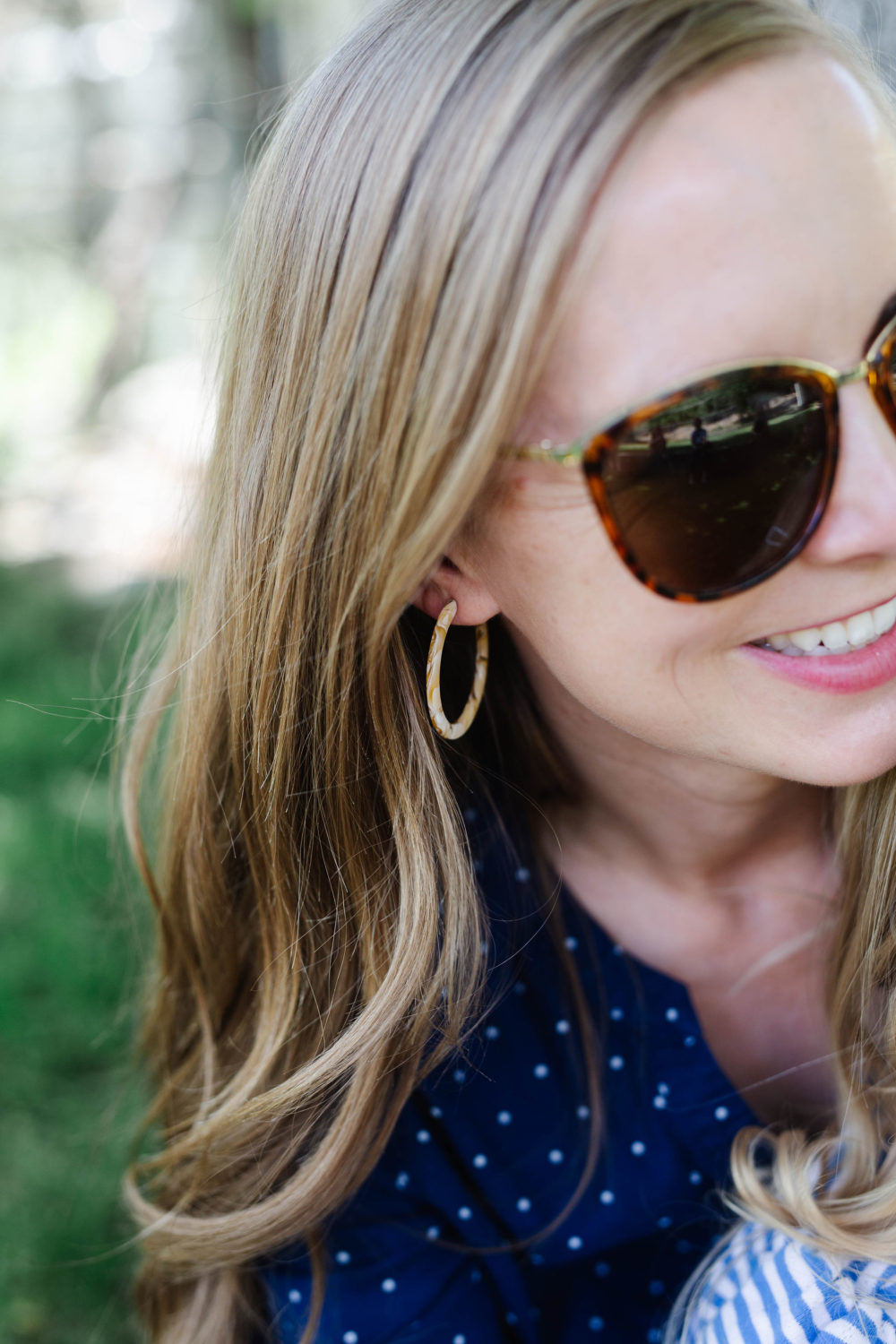 Four Favorite Things This Month
Tortoise Shell Hoop Earrings
There is probably no item I've been asked more about in the past few months than these earrings. When I find a piece of jewelry I like, I wear it virtually every day for months, and these earrings are that item for me right now. They dress up any outfit instantly and they're very light-weight, plus they're under $15 and ship free. AND? You can use the code SPIN25 for an extra 25% off. Win.
Bondi Sands Self Tanner
I've used St. Tropaz self-tanner for the last four or five years, but this spring when I went to order a new bottle, it just felt pretty expensive to me (it's $42 for an 8 ounce bottle) and I suddenly remembered that, months ago, my friend Elisabeth had mentioned that she WAY preferred the Bondi Sands self-tanner to the St. Tropaz one. And it was almost half the price of the St. Tropaz, so I figured I'd give it a spin (I went with the light/medium). I LOVE it and I'm in total agreement with Elisabeth that it's better than the St. Tropaz. It's less streaky, more natural looking, and easier to apply.
Burley Bike Trailer
Bart and I both got bikes this spring (if you're in Utah check out Bicycle Collective for used bikes!) and we started borrowing our neighbors' bike trailer so we could go as a family. It was so fun, we ordered our own bike trailer. This one comfortably fits our two younger girls (who love it!) and we've been doing several family bike rides a week since we got it, both shorter ones around the neighborhood before bed and longer ones in the canyons. It's some of the best money we've spent in years.
Winky Lux Rainbow Balm
I got this in my FabFitFun box in the spring and I LOVE it. I use it every single day, I love the color which isn't too dark or too light, and how it's ZERO percent sticky or tacky. It's seriously the perfect summer lip color, keeps my lips from getting dry, and looks good with everything. Highly, highly recommend.
What are your favorite things this month? I'd love to hear!
P.S. IF YOU LIKED THESE June FAVORITES, YOU MIGHT ALSO LIKE THESE PAST FAVORITES!