Ah, you can tell it's the holiday season because the book deals are coming fast and furious! Usually I try to stick to four, but I couldn't even choose this week!
I hope you find something delightful to read (or listen to!) this weekend!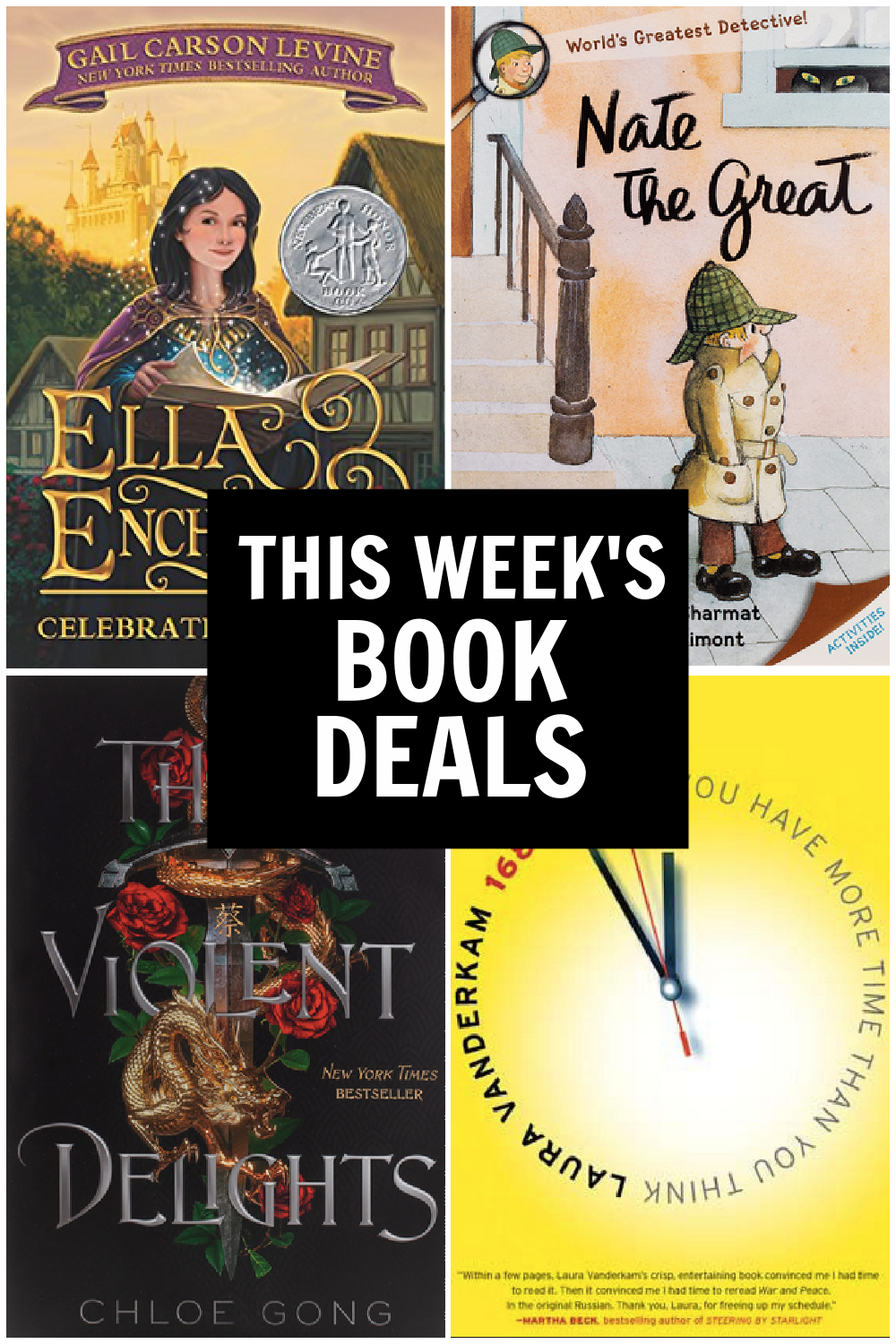 How to Catch a Turkey by Adam Wallace, illustrated by Andy Elkerton – hardcover
If you want a fun, light picture book to add to your Thanksgiving collection, this one is on sale for under $7.50 which is a terrific price for a hardcover book!
Salt to the Sea by Ruta Sepetys – audiobook
I've enjoyed all of her YA historical fiction books, but I haven't read this one yet, despite the fact that it's been recommended to me approximately forty million times. Now I can get myself a copy that won't be due back to the library. This is on sale through LibroFM – if you're not familiar with LibroFM, I have a whole post here about how it works.

Ella Enchanted by Gail Carson Levine – audiobook
I loved this book when I first read it when I was 11 and re-read it when I was 18! I just LOVE this clever, funny, and sweet retelling of Cinderella. I read it on the plane on the way home from Italy and definitely cried into my Kindle a little bit.

These Violent Delights by Chloe Gong – audiobook
This retelling of Romeo and Juliet set in 1920s Shanghai is totally immersive! I started reading it earlier this year and it was due back at the library before I could finish and I've been meaning to pick it back up every since!
Nate the Great Collected Stories 1 & 2 – audiobook

This is a terrific audiobook collection for little listeners, clocking in at just under two hours! That's a lot of entertainment for less than $6! Plus you can use the code EVERYDAYREADING30 for 30% off if this is your first purchase with Chirp!
What Alice Forgot by Liane Moriarty – ebook
I've read pretty much every book she's written (maybe all of them?) and Big Little Lies is what shot her to stardom, but this is my all-time favorite of her books and it has the same "how is this going to resolve" and snappy writing that makes me love Attachments. (Full review here)

168 Hours: You Have More Time Than You Think by Laura Vanderkam – ebook
This was last year's January book for the Everyday Reading Book Club and I'm so happy to see it on sale! I've read a lot of books about time management and this is one of my all-time favorites.  It made me feel so empowered to fit the hobbies and activities I love into my life, get more sleep, and strengthen my relationships with my husband, my children and my friends. (Full review here)