I can hardly believe we're nearly halfway through November – time is FLYING!
I'm meeting up with some friends today but mostly I'm hoping for a quiet weekend at home where I can do a LOT of reading!
Here are some of my favorite book deals going on right now!

A November Weekend of Book Deals
One Last Christmas by Cynthia Gunderson – audiobook
I have to admit that I have already started reading festive holiday books! This friends-to-lovers, small town romance book looks like the perfect read for the holiday. And with a price tag of under $1 for the audio version, now is the time to buy!
My Reading Life: A Book Journal by Anne Bogel – hardcover
I wrote a whole post about this reading journal (see that post here) and it's just a delight! It's packed with places to record your reading, new book lists, and places to keep track of the books you want to read. This is a great price to snag it at! (It makes a great gift for friends or book club members!) 

Hamnet by Maggie O'Farrell – audiobook
This bestselling historical fiction gives more insight into the life, marriage, and loss of a child that Shakespeare went through before writing one of his most well-known plays Hamlet. I've been hearing about this book since it came out and I'm dying to read it!
The Anne of Green Gables Collection: Books 1-6 and Avonlea Short Stories by L. M. Montgomery – audiobook
This is an absolute STEAL for 8 books totaling 73 hours of run time! I read this so many times as a child! And I was so excited to dive into it with my girls a few years ago. Luckily they loved it as much as I did and then loved watching the movies together! A pure delight!
The Terrible Two by Mac Barnett & Jory John – audiobook
Ella and I listened to it together several years ago (she went on and listened to the rest of them alone) and it's hilarious about two boys trying to out-prank each other. Now, all four of my girls can recite pretty much the entire book from memory because they've listened to it so many times. It's also a Libro.fm deal so you can make it into a Yoto card!
Belly of the Beast by Jonathan Auxier – audiobook
My girls have loved the books in this series about Auggie who is in charge of the one-of-a-kind Fabled Stables. This is book #3 in the series, and book #2 is also on sale for $2.99. (Like Mercy Watson books, you can read these in any order if you'd like). This is another Libro.fm deal so you can make it into a Yoto card – no subscription required!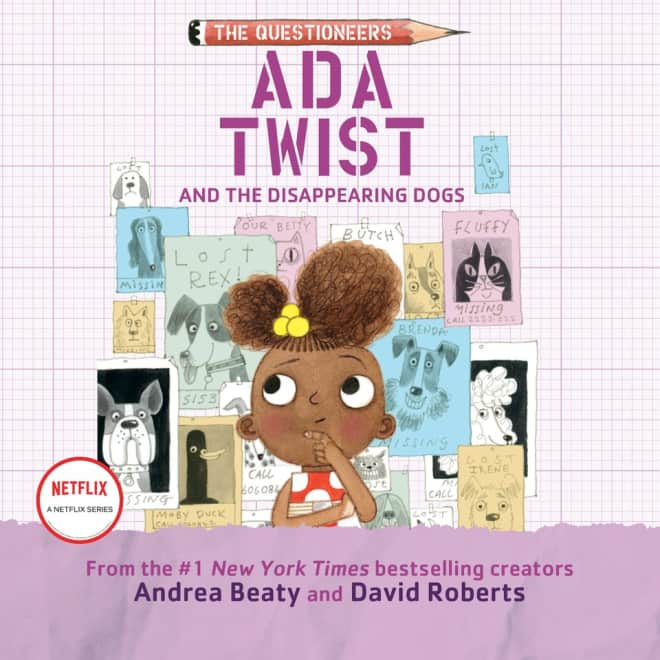 Ada Twist and the Disappearing Dogs by Andrea Beaty & David Roberts – audiobook
You may know Andrea Beaty's picture books but have you checked out her chapter book series featuring the same characters? They're under two hours long and read by a FABULOUS narrator.