I can hardly believe it's already December!
It feels like once the calendar turns over, it's just a flash until Christmas arrives. Our Christmas tree arrived yesterday, so we'll be spending this morning getting it decorated and I can't wait. There's always something special about a first Christmas in a new house!
I also checked out a big stack of Christmas novels from the library and I'm hoping to dive into at least one or two of those this weekend.
AND there are some great book deals going on right now – if you need some new reading material for the holiday break, check these out!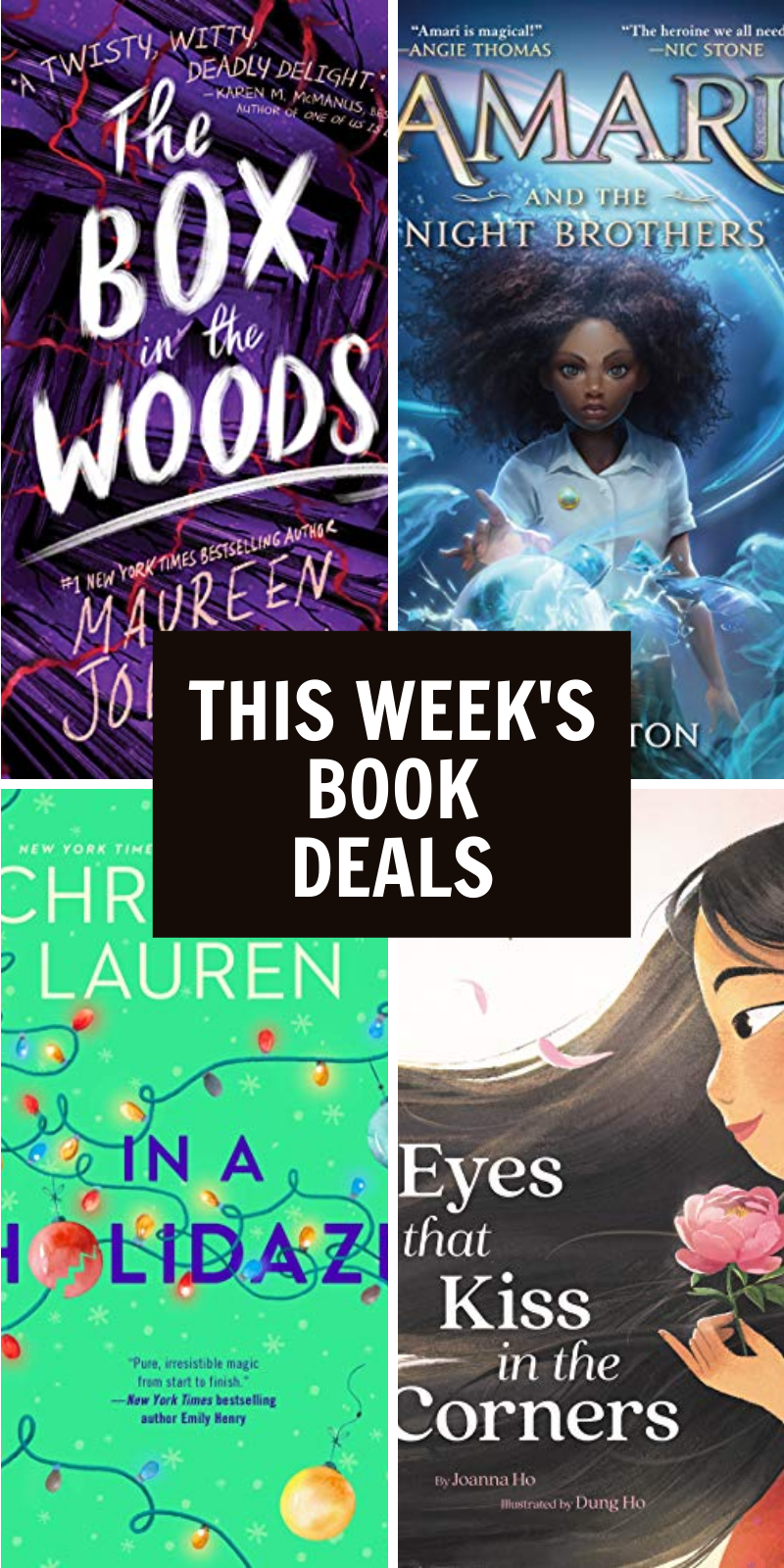 Book Deals for the First December Weekend
The Box in the Woods by Maureen Johnson – ebook 
I knew all year that I was going to read Truly Devious during October and then I loved it so much I blew through the whole trilogy. This is the fourth Truly Devious book but more of a stand-alone because it focuses on a new case than the previous three and I can't wait to dive in!
Amari and the Night Brothers (Supernatural Investigation Book 1) by B.B. Alston – ebook
This one has been on my radar all year – so many people have suggested it and I think Ella especially would REALLY love it. I'm snatching it up at this sale price and sending it to both Ella and my Kindles!
In a Holidaze by Christina Lauren – ebook
I read this fun Christmas romance last year from Book of the Month Club and it was a fluffy delight (like most of Christina Lauren's books). In this one, Maelyn Jones is not feeling very merry – she has a lousy job, lives with her parents, and now has just found out that the mountain cabin where her family spends every holiday with two other family friends is being sold. And then . . . Groundhog Day begins where she starts living the same day over and over. If you like Sophie Kinsella books, this is along the same lines (although not quite as funny).
Eyes That Kiss in the Corner by Joanna Ho, illustrated by Dung Ho – ebook
This is a STUNNING picture book and one where you'd be hard pressed to decide whether you love the text or the illustrations better. It follows a young girl who notices that the shape of her eyes is different than some of her peers and realizes that her eyes are like her mother's and her grandmother's. If I was forced to choose a single best picture book of 2021, it'd probably be this one.
Where the Mountain Meets the Moon by Grace Lin – audiobook
This was a GREAT book about a little girl, Minli, who sets out on a quest to find the Old Man on the Moon so she can find a fortune for her poor family. It was especially fun for my girls who are in a Mandarin Chinese immersion program at school. It's full of little side stories that weave wonderfully into the main plot and gorgeous illustrations. Highly recommend.