I cannot believe the end of April is here – this month has just flown by!
Here are some of the best deals going on right now (many of these are Libro.fm titles which means they can be used to make your own Yoto cards!).

End of April Book Deals
Thank You For Listening by Julia Whelan – audiobook
I LOVE Julia Whelan's audiobook narration of this book that has been a chart topper since it was released last year. This book is especially fun because it's all about the world of audiobook narrating. The main character, Sewanee, used to be an actress, but now she has moved into audiobook narrating. She got her start in romance novels which she's decided to leave that behind her, but she gets roped into doing one last romance project. This final project ends up being with the most popular male audiobook narrator of the romance genre, Brock McKnight. Heads up for one brief open door scene, but you will definitely want to listen to this one on audio!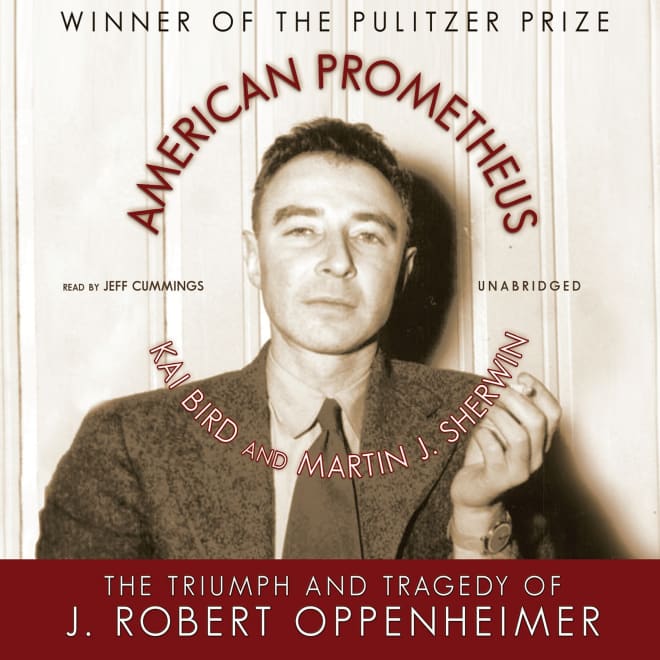 American Prometheus: The Triumph and Tragedy of J. Robert Oppenheimer by Kai Bird & Martin J. Sherwin – audiobook
A biography about Oppenheimer, the man who helped lead the building of the atomic bomb during a time of war, and a Pulitzer Prize winner? This one has to be good! (Especially with the movie coming out this summer!).
The Girl Who Drank the Moon by Kelly Barnhill – audiobook
This Newbery winner about a witch raising a child in the woods of a fairytale land has been on my list to read. . . .since the moment it snagged that shiny sticker. I still haven't read it but Ella absolutely loved it!

The Storied Life of A. J. Fikry by Gabrielle Zevin – audiobook
I just read this last September for Everyday Reading Book Club and I loved reading it again! AJ Fikry is a grumpy bookshop owner who is losing money, has his rarest book stolen, and then finds a baby left on his doorstep. This book is a reader's DELIGHT. (Full review here)

The Cheat Sheet by Sarah Adams – audiobook
Bree is in love with her best friend, who just happens to the very attractive NFL legend, Nathan Donelson. He clearly only sees her as a friend, but after a drunken night and an interview with a TMZ reporter they might turn out to be the perfect couple after all. Her book The Off Limits Rule is also on sale for $4.99 right now. She's a great clean romance writer and I've loved all her books I've read so far. 

Mossflower by Brian Jacques – audiobook 
I grew up on this series (this is the book #2 in the Redwall series but all the books in the series can be read as standalone books) and I was so delighted to discover that they're full-cast audio productions. For your fantasy and animal lovers, these are unbeatable and perfect for summer road trips!
Ada Twist, Scientist: The Why Files: All About Plants by Andrea Beaty & Theanne Griffith – audiobook
This is a great series by Andrea Beaty, these nonfiction stories answer all of your young scientist's budding questions. This one is perfect for springtime, answering everything you need to know about plants. There is also a new Netflix show based off this series.