The weather's taken a turn for the cooler here and we're trying to take advantage of it with daily walks or bike rides.
It's also perfect weather for snuggling up inside with a great book or audiobook (or in the kitchen with a cookbook!) – if you're looking for something new, check out these five book deals!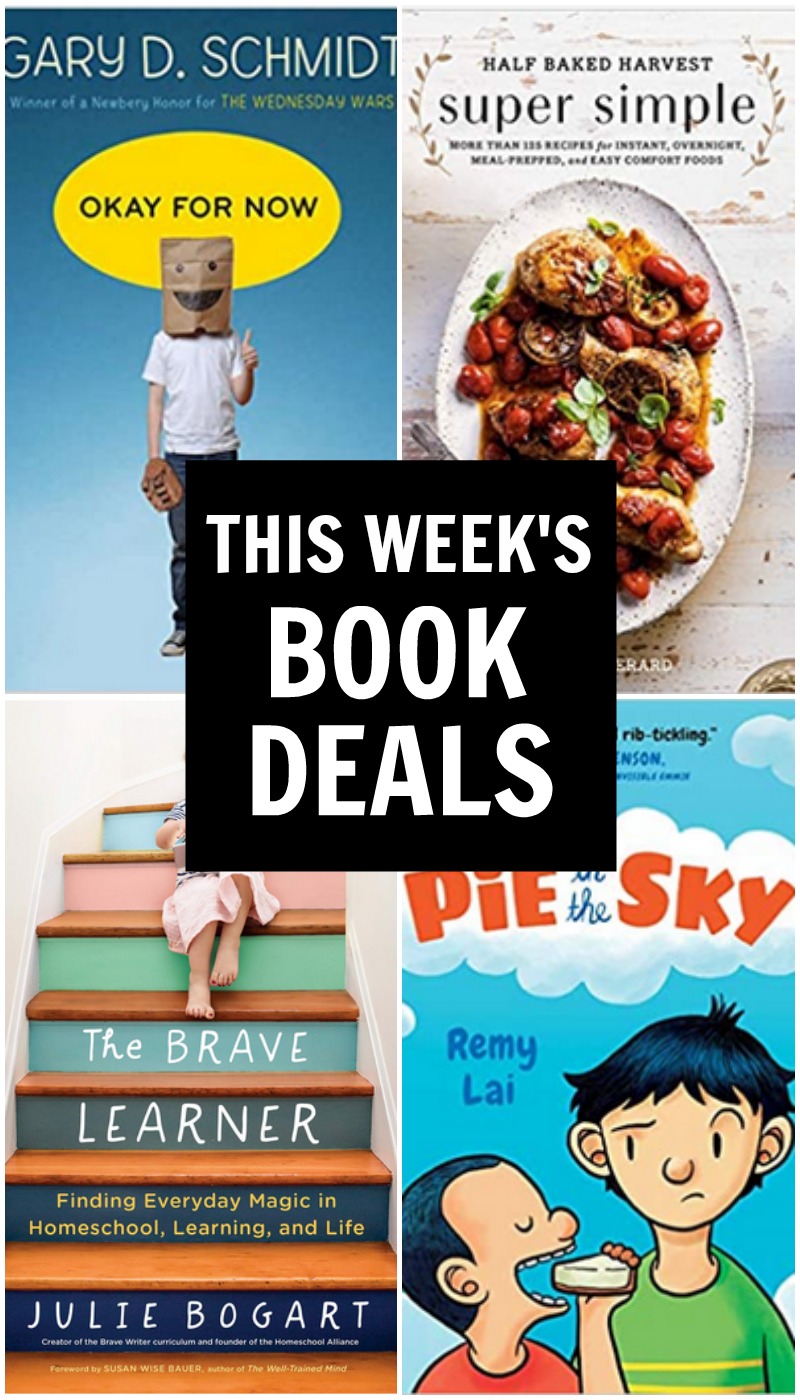 5 Great Weekend Book Deals
Half Baked Harvest Super Simple: More Than 125 Recipes for Instant, Overnight, Meal-Prepped, and Easy Comfort Foods by Tieghan Gerard – ebook for $1.99
I've loved the food blog Half Baked Harvest for years and I can't BELIEVE the price on this cookbook. It has thousands of five stars reviews and it's perfect for the upcoming fall and winter weather.
Pie in the Sky by Remy Lai – ebook for $2.99 
My children's lit bookclub did a month of graphic novels last year and this was one of them – in the interest of full disclosure, I didn't get to this one but everyone raved about it and I can't wait to read it!
The Brave Learner: Finding Everyday Magic in Homeschool, Learning, and Life by Julie Bogart – ebook for $1.99
I've been listening to this audiobook but I think a version you can easily refer back to is better! I was so happy to see this one on mega sale this weekend!
Okay for Now by Gary D. Schmidt – ebook for $2.99 (or free if you have FreeTime Unlimited!)
If I was forced to choose a single favorite book, it would be The Wednesday Wars, and this companion book is JUST as good (dare I say . . . even better?). You don't need to read The Wednesday Wars to read this one – it absolutely stands on it its own.  (Full review here)
The Two Princesses of Bamarre by Gail Carson Levine – audiobook for $3.99
You probably recognize the author's name from her fabulous book Ella Enchanted. To be honest, this one is not as good as Ella Enchanted (but what is?). It's still a fun fantasy tale and I'm glad to have read it! The audiobook is on sale through LibroFM – if you're not familiar with LibroFM, I have a whole post here about how it works, plus you can get a free audiobook here! (Full review here)