I swear, these Saturdays just keep rolling around faster and faster!
The best deal this week (in my opinion) is the Audible 2-for-1 sale – it ends tomorrow night and all the details are here, including my picks of the best audiobooks included in the sale.
But there are also some other fun book deals going on this week that you won't want to miss!
Happy weekend reading!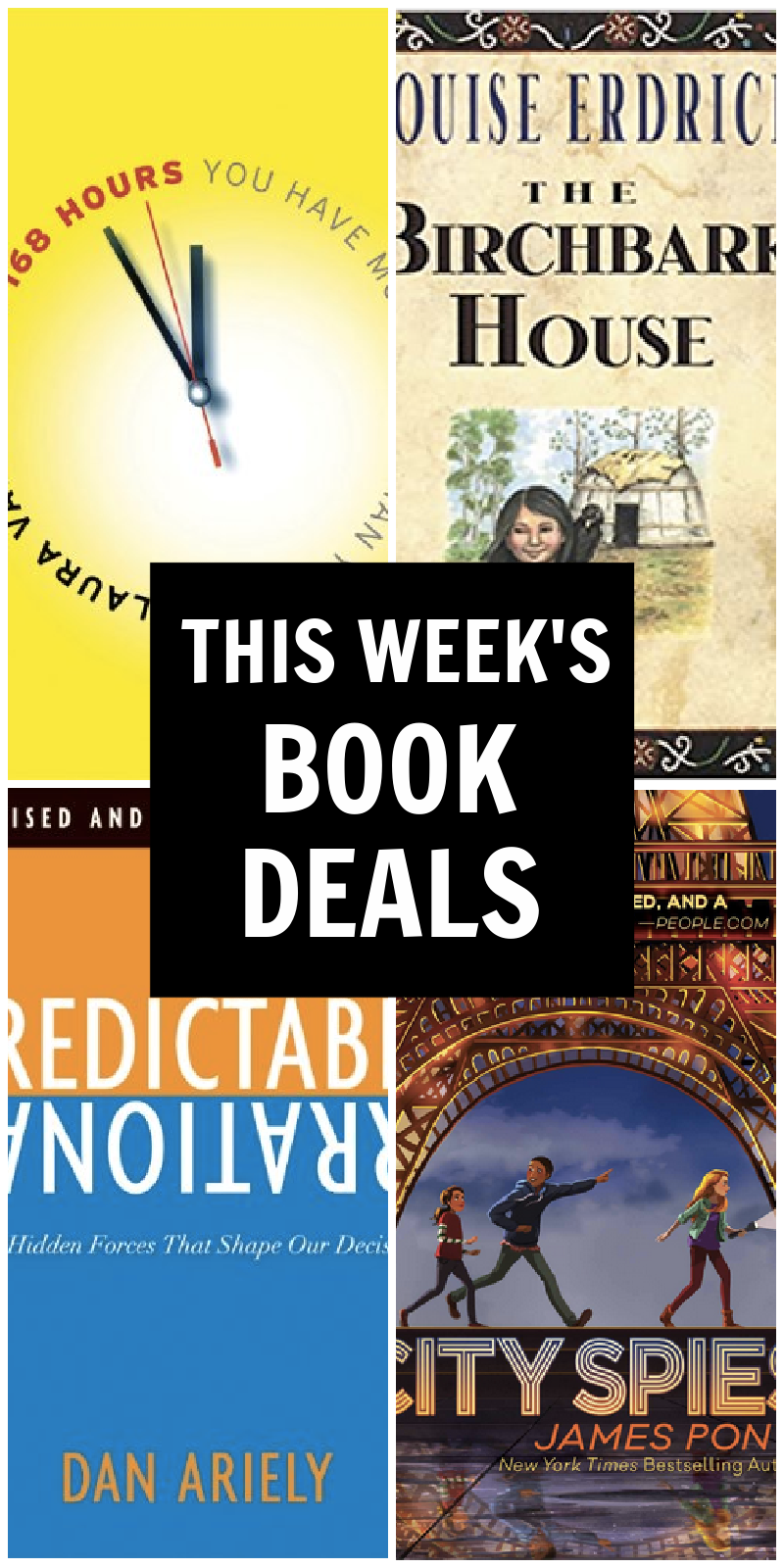 Book Deals for the End of January
168 Hours: You Have More Time Than You Think by Laura Vanderkam
This was last year's January book for the Everyday Reading book club and I'm so happy to see it on sale! I've read a lot of books about time management and this is one of my all-time favorites.  It made me feel so empowered to fit the hobbies and activities I love into my life, get more sleep, and strengthen my relationships with my husband, my children and my friends. (Full review here)
The Birchbark House by Louise Erdrich
I read this story of a seven year old Native girl, Omakayas who lives on an island in Lake Superior in the 1840s to my girls over the summer and we finished the last few chapters on audio during a road trip.  This deal is a Chirp audiobook deal – if you've never used Chirp before, here's a whole post about how it works. Plus if it's your first Chirp purchase, you can use this link for an additional 20% off their already rock bottom prices. Or if you have an Audible subscription, it's included free as part of Audible Plus!
Predictably Irrational: The Hidden Forces That Shape Our Decisions by Dan Ariely
This book is so fascinating – it has the world's dullest cover and title, but I promise, I couldn't put it down. It's all about how we as humans do plenty of things that aren't rational, even when we think we know better. (He is a professor at Duke and Bart reported that it is SO hard to get a seat in his class because he's so popular).
City Spies by James Ponti
This is a super fun read aloud and I was hooked by the end of the first chapter. Sara Martinez is a twelve-year-old hacker who landed herself in jail after she hacked into the NYC foster care system to prove that her foster parents are using their foster funds for their own gain. But then a British spy shows up just before her hearing and after posing as her lawyer, springs her free and invites her to come work with four other child spies. Well, she's not going to refuse that offer. This is the first book in a new series and I can't wait for the next one.