Happy Saturday!
We put up our Christmas decorations this week and have Christmas music playing non-stop and I'm basically feeling the holiday spirit big time.
I'm planning to spend some of quiet time wrapping gifts today (because I like to spread it out – wrapping allllll the gifts on Christmas Eve is not how I like to spend the night before Christmas) and listening to some audiobooks.
No matter how you're spending your weekend, I hope you'll enjoy some of these book deals – there are some GREAT ones!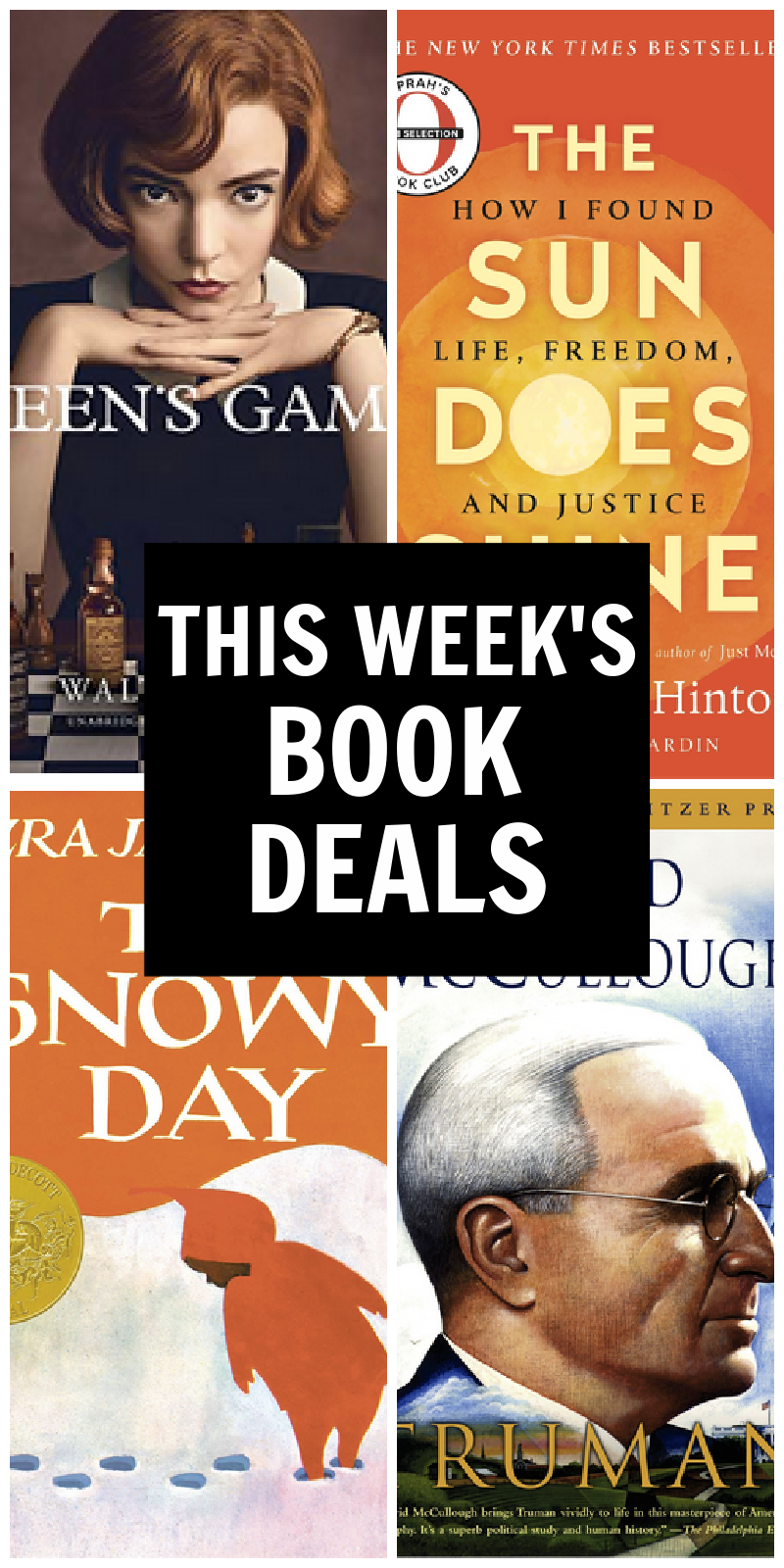 4 Great Weekend Book Deals
The Snowy Day by Ezra Jack Keats – audiobook for $0.69
This Caldecott-winning picture book is perfect if you need a reminder of how magical snow and winter can be. Bonus, you can also grab Whistle for Willie for 69 cents! You don't need an Audible subscription to take advantage of these deals – just buy it in Amazon and it'll show up in the free Audible app, ready to listen to on your phone, computer, bluetooth speaker or Alexa device.
The Sun Does Shine: How I Found Life, Freedom, and Justice by Anthony Hinton – audiobook for $3.99
If you read Just Mercy, you'll already know Bryan Stevenson's name as a lawyer who fights for wrongfully imprisoned inmates on Death Row. This book is written by one of his clients who he saved from being wrongly executed after twenty seven years on Death Row. Many many people told me they liked this book even MORE than Just Mercy. This is on sale through LibroFM – if you're not familiar with LibroFM, I have a whole post here about how it works, plus you can get a free audiobook here!
The Queen's Gambit by Walter Tevis – audiobook for $2.99
I've seen this book popping up everywhere, thanks to the Netflix show about an orphan girl who discovers that she is incredibly good at Chess. I snatched this one up this week and can't wait to listen. This deal is a Chirp audiobook deal – if you've never used Chirp before, here's a whole post about how it works. Plus if it's your first Chirp purchase, you can use this link for an additional 20% off their already rock bottom prices.
Truman by David McCullough – ebook for $3.99
This is on my list to read over the summer in conjunction with Bomb for the 2021 Everyday Reading Book Club – I think the two would go together perfectly and I can't believe the price on this one! It's over 1100 pages, so . . . I probably should start on it today.