This is part two of our trip to a few Southern cities last month. We spent the first couple of days in Charleston and then drove down to Savannah, stopping to spend the afternoon in Hilton Head.
After eating a bunch of decadent meals in Charleston, we decided to just stop at Whole Foods and grab some lighter lunch. I stayed in the car and fed Star, while Bart took the older girls in to pick out some food. Forty five minutes later. . . .
Finally armed with sustenance, we drove into Sea Pines Resort and let the children free at the Harbor Town Playground.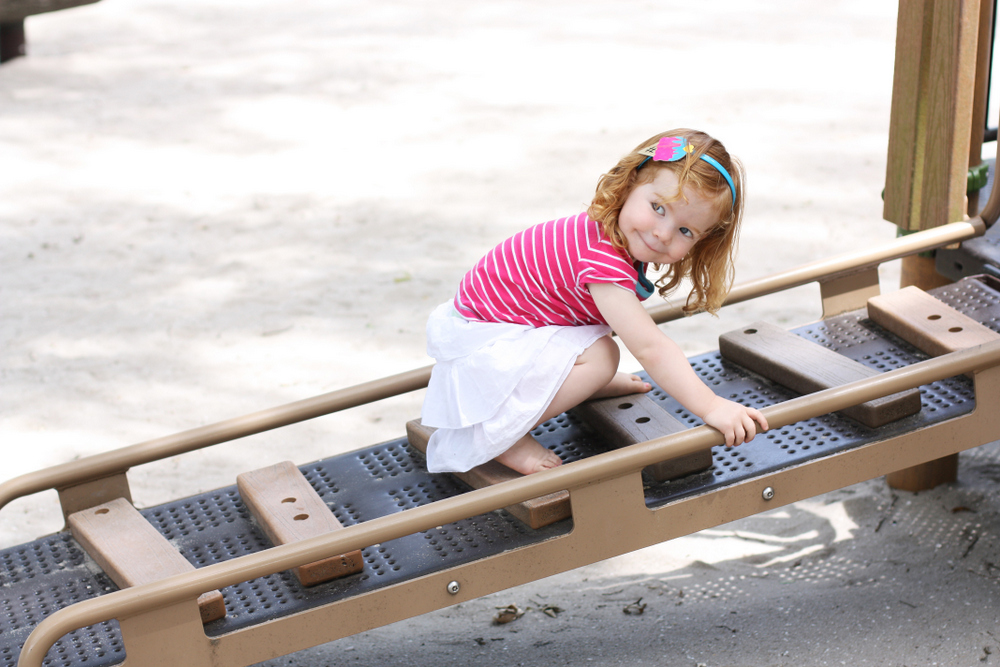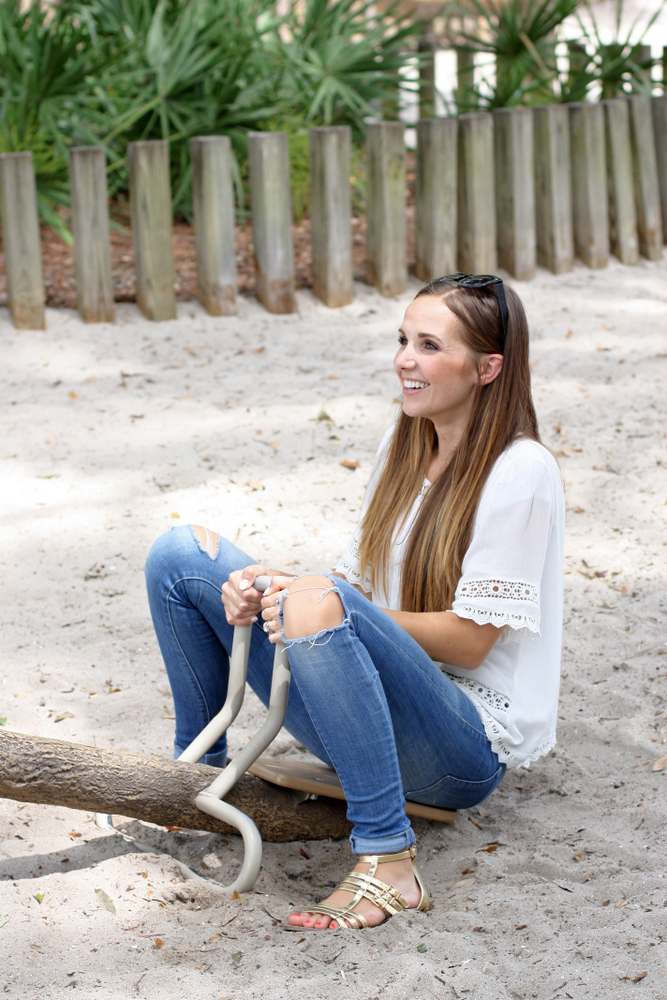 It's right on the water, so after everyone had successfully worn themselves out, we wandered over to the dock and Bart, Ella, Philip, and Benson climbed to the top of the lighthouse, while Merrick and I kept the toddlers and Star.
Obviously we had to try out the rocking chairs too.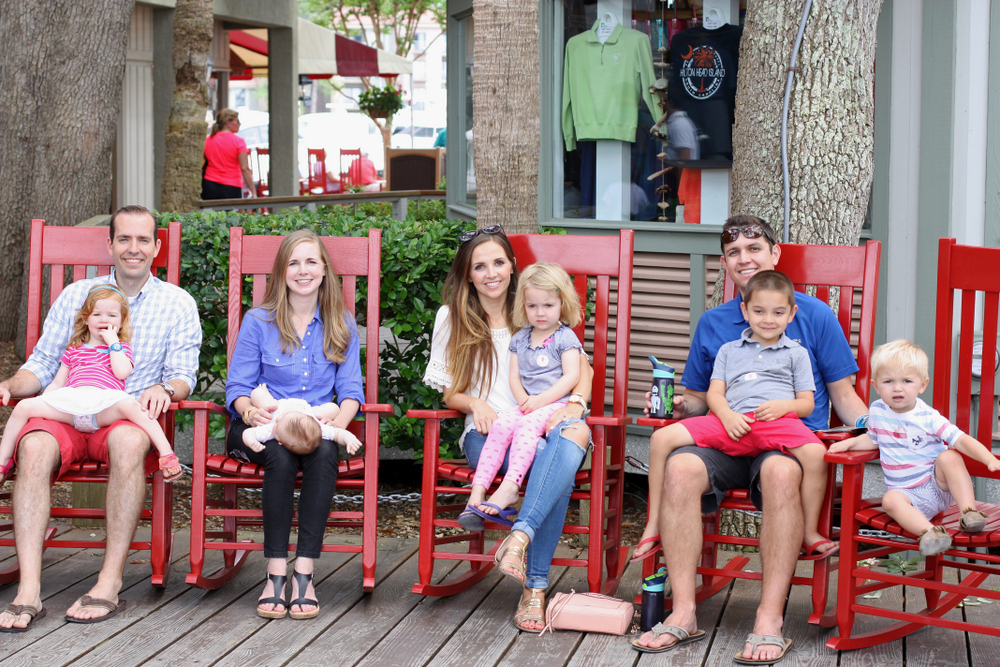 Then it was back in the car and down to Savannah, which, happily, is a pretty short drive.
When we got there, we checked into our hotel (the mega nice Bluegreen Vacations Studio Homes at Ellis Square) and then headed out to dinner. The walk was fantastic, through several beautiful squares and past live music going on, and it was just a completely gorgeous city, although quite different from Savannah.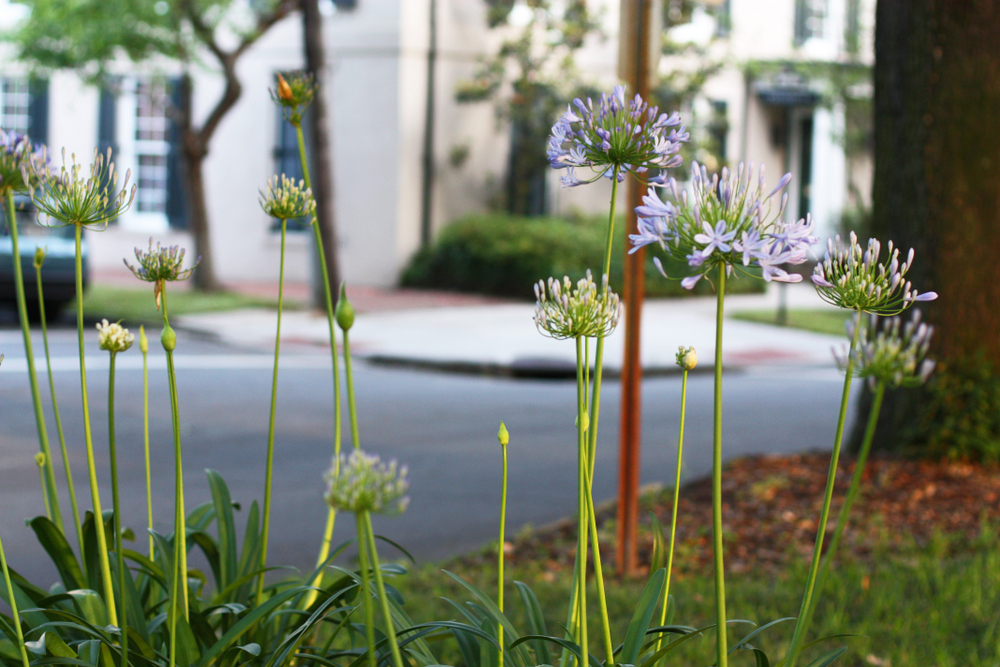 Philip had made us reservations at The Pirate's House which I was mega super dubious about (after dinner when I told Philip, "This was a great choice. I was skeptical, but it turned out to be fantastic," he was like "yeah, I could tell.")
The kids loved the menus that turned into pirate hats, mustaches, and eye patches, and Bart and I loved the mango-glazed salmon. There was also an enormous treasure chest of Dum-Dums in the lobby and Ella loved making a little expedition to get one for everyone on her own.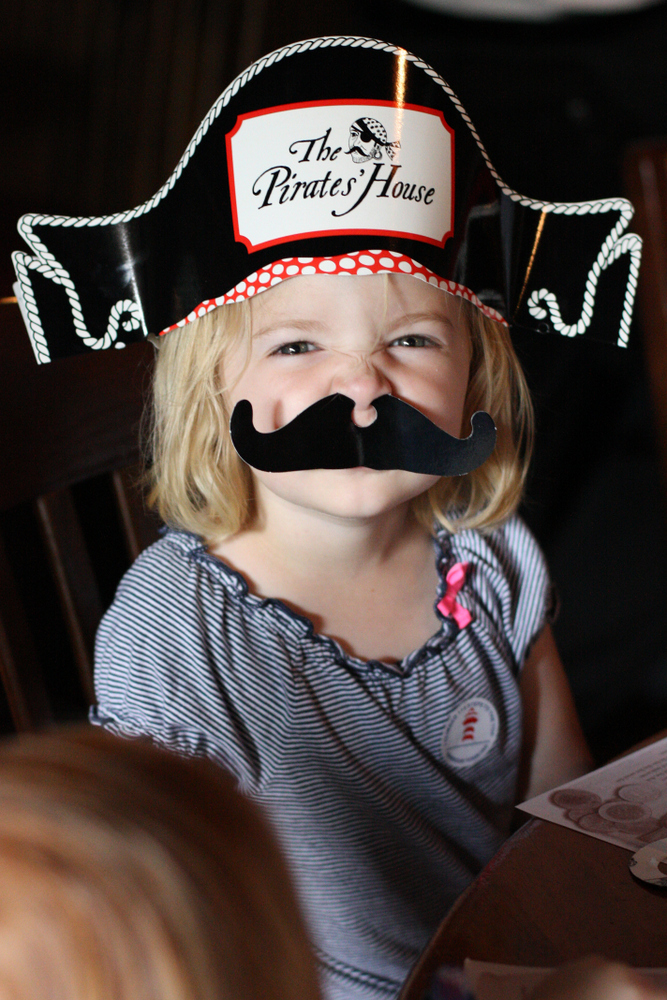 After dinner, we walked down to Leopold's Ice Cream for some dessert and then headed back to the hotel.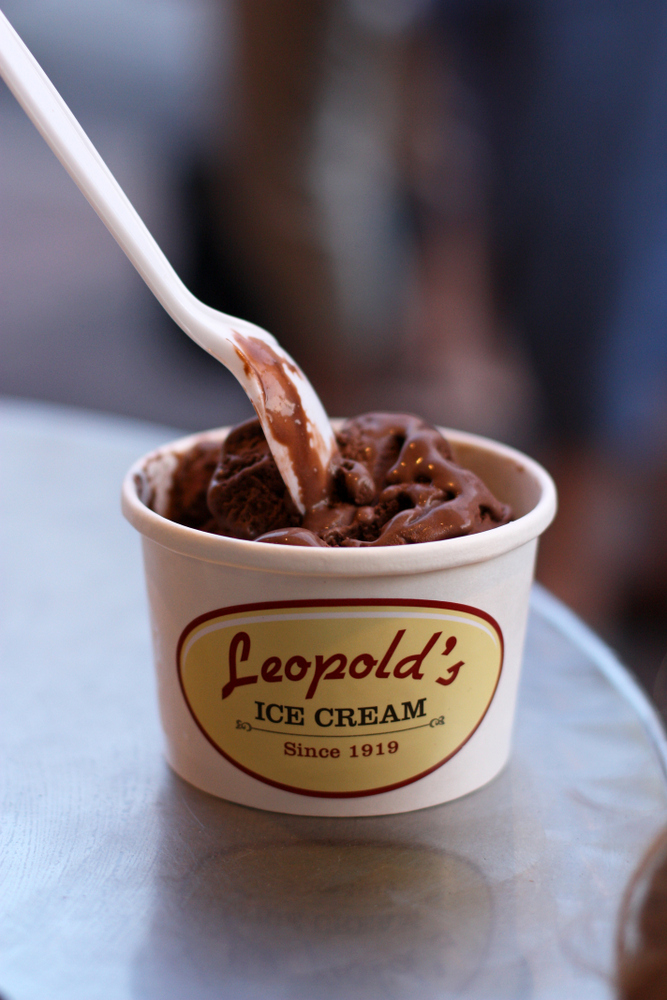 We'd planned to put the kids to bed and then hang out at Merrick and Philip's apartment (the apartments were right next door to each other) but we were all so exhausted, we went straight to bed instead.
The next morning, we got up, had breakfast at Goose Feathers Cafe (where Bart, standing in line just ahead of Philip, ordered the very last chocolate croissant on the premises) and then made our way to the Savannah Children's Museum.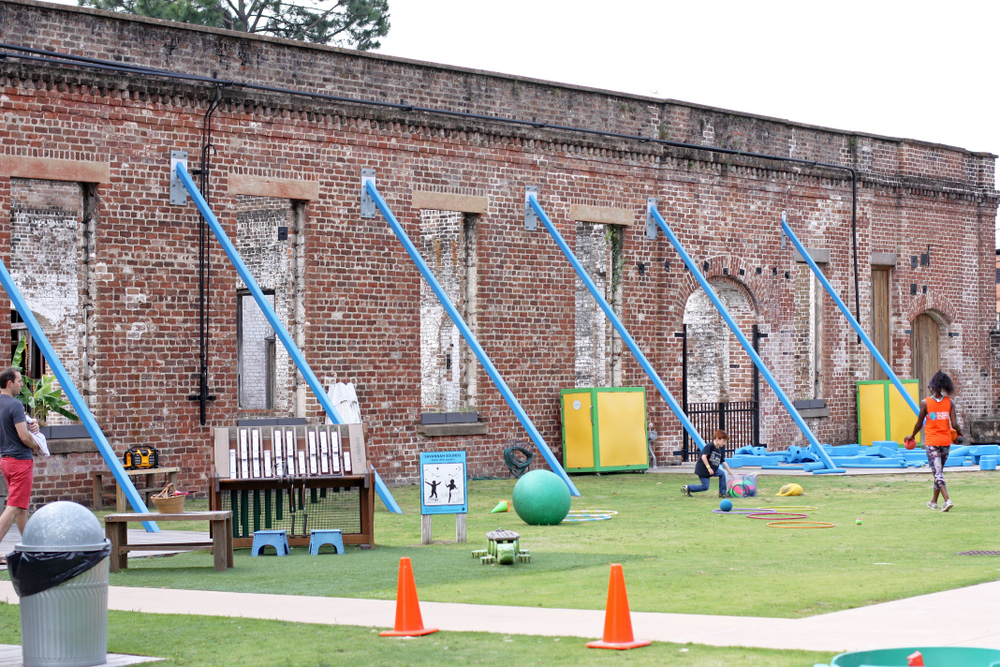 We've seen a LOT of children's museums over the years, and this one is unique because it's entirely outdoors. There a huge water table (that Ani stayed glued to most of the morning), huge foam building blocks, hula hoops and other outdoor playthings, and then a slide (or stairs) down to a lower level with a playground, giant maze, gardens, a spray feature, and a giant chalkboard water painting table.
We stayed for several hours and the kids would have been happy to stay even longer. I didn't feel like there was tons to do in Savannah, necessarily, so I was glad for this stop.
Next was lunch – we stopped first at a sandwich shop that turned out to be completely out of sandwiches from an event the night before and we decided that their offering of pretzels was probably not a sufficient lunch, so we joined the long line at Zunzi's for some fantastic sandwiches and wraps.
Full and happy, we went back to the hotel and put the toddlers (and Bart) down for naps and then Philip, Merrick, Benson, Ella, Star, and I walked down to the waterfront.
When we came out of the elevator that took us from the upper street level down to the lower street, it was like stepping into a European town. It was so cute and looked a lot like the German towns we visited last fall.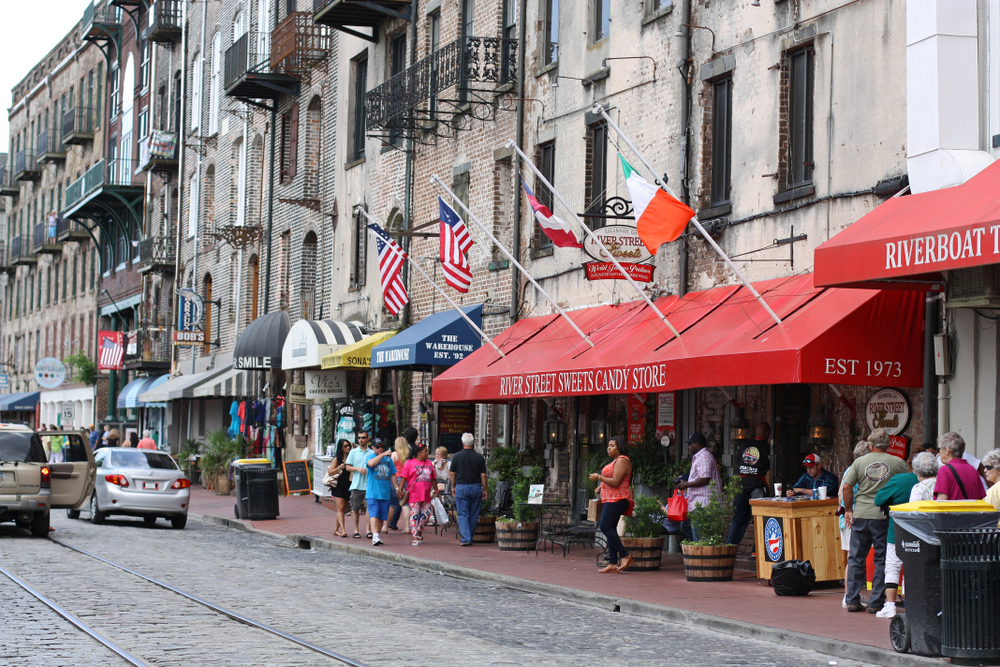 We stopped in a few candy shops and enjoyed praline samples before heading back up to meet Bart and the kids.
Our last meal in Savannah was at Paula Deen's restaurant The Lady and Sons.  At this point, I don't know that any of were that hungry. Bart ordered the chicken pot pie which, when it came, was the size of a dinner plate and covered in puff pastry. When the waiter came back a few minutes later and noticed Bart hadn't yet taken a bite, he asked "Do you need a road map, brother?"
Merrick and I helped him eat it, while Philip tried out the buffet. After a few desserts (the chocolate chip butter cake being by far the best), we loaded our girls into the car and headed for home.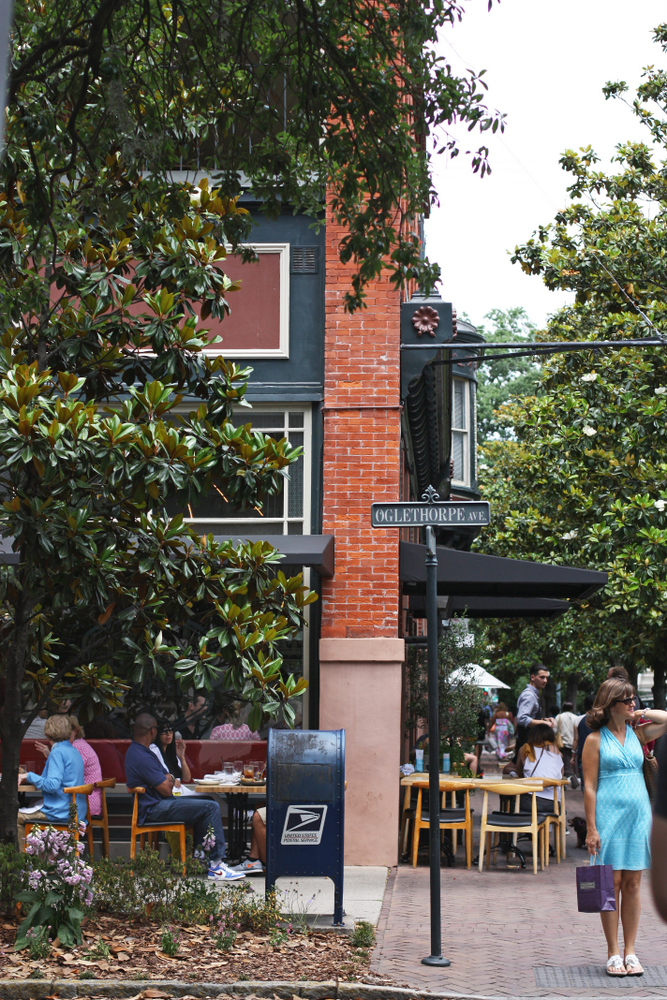 It took a couple of hours for the girls to fall asleep – they are not champion car sleepers – and we arrived home around midnight. We were glad to be back, since our car kept alerting us to the low oil, getting down to the 2% mark as we rolled into our neighborhood.
Philip and Merrick stayed the night in Savannah and then drove back to Durham the next day, arriving in time for a picnic dinner at the Duke Gardens before they went to the airport hotel to spend the night and catch a super early morning flight.
It was a great trip and I'm so happy we could do it together. With us moving within six hours of them next month, I have high hopes of many more trips with their family over the years.
And I'm really glad we won't have left North Carolina without visiting some of those famous Southern cities.
And I don't think I need to eat anything fried for the next six months.