Right after we moved back to Texas, my friend Jeannie invited a couple of us over to show us how she made the world's best cinnamon rolls.
I can't remember all the details except that she mentioned that her secret of good baking was to double the vanilla. "Actually," she said, "A lot of the time I triple it."
Then, last summer, at a little "favorite things" party Ralphie hosted, Jeannie brought bottles of real vanilla for everyone.
Up until that moment, I'd been buying those enormous bottles of generic imitation vanilla, but after one use of real vanilla, I was a convert. I haven't bought imitation vanilla since.
I think real vanilla might be the key to convincing Bart that vanilla is an acceptable flavor (he's pretty much a "chocolate or die" man).
But Bart likely won't have a chance to be convinced by these cupcakes since I think I'm going to go finish off the last one right now before he gets home.
(By the way, I used this frosting because Ella absolutely insisted on a chocolate frosting, but I think it was way too sweet and strong for these cupcakes, and totally overpowered the cupcake itself. If I'd had my way, which I obviously did not because I was not turning 3 yesterday, I would have made this strawberry frosting which I made last year and was so ludicrously good I ate it with a spoon for a week afterward).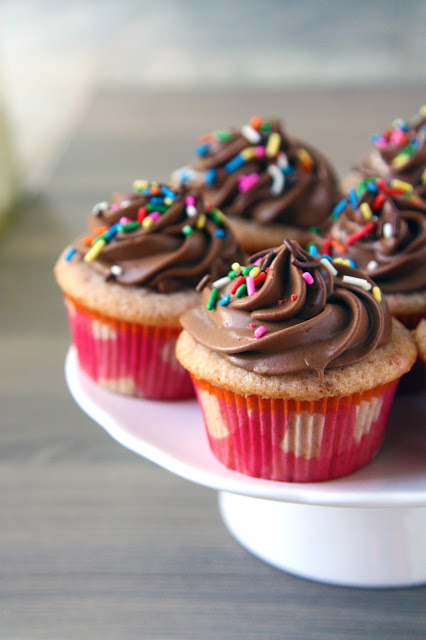 strawberry vanilla cupcakes recipe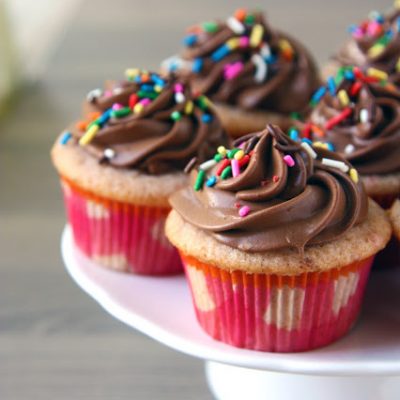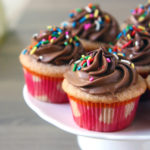 Strawberry-Vanilla Cupcakes
After being converted to using real vanilla, I couldn't resist making these delicious Strawberry Vanilla Cupcakes for my daughter's birthday.
Ingredients
1

cup

all-purpose flour

2

Tablespoons

cornstarch

3/4

cup

granulated sugar

1 1/2

teaspoons

baking powder

1/4

teaspoon

salt

6

Tablespoons

butter

room temperature

1/2

cup

pureed fresh strawberries

2

egg whites

1/6

cup

half-and-half

1

teaspoon

real vanilla

such as Nielsen-Massey

optional a few drops of red or pink food coloring (I didn't use this because I don't believe in artificial food coloring couldn't find my bottles of food coloring
Instructions
Preheat the oven to 350 degrees. Line 10 muffin tin cups and set aside.

Sift the flour and cornstarch into a bowl and then whisk in the sugar, baking powder and salt.

In a mixer, beat the butter and strawberries until well-combined, about 2 minutes. Add the flour mixture and beat until very thick and smooth.

In a small bowl, whisk together the egg whites, half-and-half, and

vanilla

, then add it to the mixer in three parts, beating to combine between each addition.

Evenly divide between the muffin tins (they should be about 3/4 full each).

Bake for 20-25 minutes, until a toothpick comes out clean.

Let cool completely before frosting.
Nielsen-Massey sent me a free bottle of vanilla extract (so well packaged that I used the wrapping to safely transport THREE of my serving dishes from Austin to Durham), but I was not paid for this post, and all opinions are my own. Also all the dishes after making this recipe were done by me. And all the working out I should be doing (but won't) to burn off the calories in these cupcakes rests on me. 
They've also offered to send one of my readers a bottle of real vanilla too, so if you'd like to be entered to win, just leave a comment telling me one of your favorite things to make with vanilla (I recently made this vanilla ice cream and, seriously, it was probably the best ice cream I've ever made). And thus ends the longest disclosure of a two-ounce bottle of liquid ever written.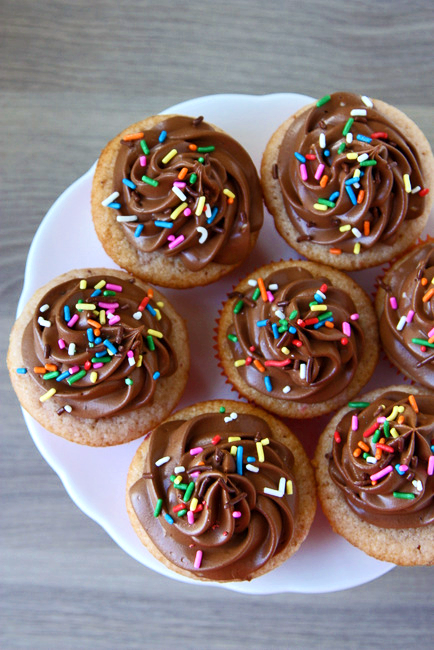 if you liked this strawberry vanilla cupcake recipe, you might also like these other recipes: