Thirteen years ago this November, my dad stayed at the hospital with my youngest brother, Shepard, while my mom took the other four of us children to do some Christmas shopping.
Earlier that year, Crawford (who was 4) had gotten a little Winnie the Pooh umbrella that he absolutely loved. Shepard was really enamored with it, and so I picked out a little 101 Dalmations umbrella for him.
I paid my $10 for it at Dillard's, then brought it home and put it away, ready to be wrapped for Christmas morning.
Shepard died of cancer just a week or so later, at the age of three, and that little umbrella remained in my closet, unwrapped, for several more years.
When I got married, and Bart and I bought a house, I brought it out to Texas along with most of my other belongings. It made the move to Boston with us, and then survived the great purge when we sold nearly all our belongings and moved back to Texas.
Two weeks ago, when we packed up all our material possessions again, that umbrella got put in yet another box and drove all the way to North Carolina with us.
On Monday night, the day before Ella turned three, I finally pulled that umbrella out and wrapped it up.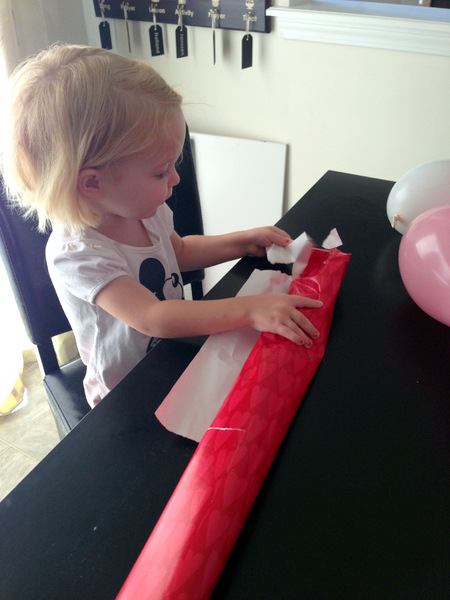 After all these years of seeing that umbrella, unused with the tags still on, it chokes me up a little to see another little blond three-year-old finally getting to enjoy it. I think Shepard would approve.